---
Crew
Director – Alexander Sokurov, Screenplay – Marina Koreneva & Alexander Sokurov, Story – Yuri Arabov, Based on the Play by Johann Wolfgang Goethe, Producer/Music – Andrey Sigle, Photography – Bruno Delbonnel, Visual Effects Supervisor – Tuomo Hintikka, Visual Effects – Anima, Generator Post & Trix, Special Effects Supervisor – Kamil Jafar & Eggert Ketilsson, Production Design – Elena Zhukova. Production Company – Proline-Film.
Cast
Johannes Zeiler (Professor Heinrich Faust), Anton Adasinsky (Mauritius Muller), Isolda Dychauk (Margarete Emmerich), Georg Friedrich (Wagner), Hanna Scygulla (Muller's Wife), Antje Lewald (Greta Emmerich), Sigurdur Skulasson (Faust's Father), Florian Bruckner (Valentin Emmerich)
---
Plot
The scholar Faust is a doctor and an astrologer who is obsessed with determining the nature of the soul. Starving and poor, he is forced to go to the moneylender Mauritius Muller but has nothing to sell. Accompanying Muller to a washhouse, he becomes transfixed by the beautiful, young Margarete Emmerich. Later at an inn, Muller starts a riot after miraculously causing a stone pillar he strikes to gush forth wine. In the midst of this, a fork appears in Faust's hand and stabs a young man. Muller gets them to flee the scene, just as Faust realises it is Margarete's brother Valentin that he has killed. Moved by Margarete's upset, Faust begs Muller to do something to alleviate the family's distress. After Muller showers the mother with gold coins, Faust begs to spend one night with Margarete. Muller says he will provide this but in return asks one thing of Faust – a contract for his soul.
---
The tale of Faust has emerged from classic literature. It is the story that gave us the image of someone selling his soul to the Devil that has been repeated countless times in different forms. Versions appear in German legends and folktales dating back to the 16th Century. These were first put down in print by English author Christopher Marlowe in the play The Tragical History of the Life and Death of Dr Faustus (1604). The classic version of the story came from German author Johann Wolfgang von Goethe in the play Faust (1808). The Faust story has been adapted to the screen a number of times – the IMDB lists more than a hundred films with Faust in the title. Most notable of these was F.W. Murnau's amazing silent Faust (1926) and Jan Svankmajer's gonzo part-Claymation Faust (1994), while there has also been a classic adaptation of the Marlowe play with Doctor Faustus (1968) starring Richard Burton.
Alexander Sokurov is a Russian director who has been making films, initially documentaries, since the days of the Soviet Union. During this period, he made Days of Eclipse (1988), which has sometimes been interpreted as a science-fiction film (although not by this author's definitions). Sokurov gained critical acclaim with Mother and Son (1997) and then embarked on a trilogy of films about the lives of the great dictators with Moloch (1999), Taurus (2001) and The Sun (2004) concerning respectively Adolf Hitler, Josef Lenin and Emperor Hirohito. The film he is most well-known for is Russian Ark (2002), in which the camera drifts through various eras of Russian history. The most astounding aspect of this was that Sokurov shot the entire film in a single 96-minute take at the St Petersburg Hermitage Museum, which involved the marshalling of some 2000 extras.
Alexander Sokurov gives us a very different Faust story than we have had before. He retains the classical setting but this is an earthy, cluttered world – one that has been shot with a beautifully faded look by cinematographer Bruno Delbonnel. We are first introduced to Faust (Johannes Zeiler), for instance, eviscerating a corpse in search of its soul. The next few scenes contrast Faust's philosophical quest with the filthy medical conditions of the period – chickens running freely through the hospital, Faust's father conducting dubious gynaecological operations.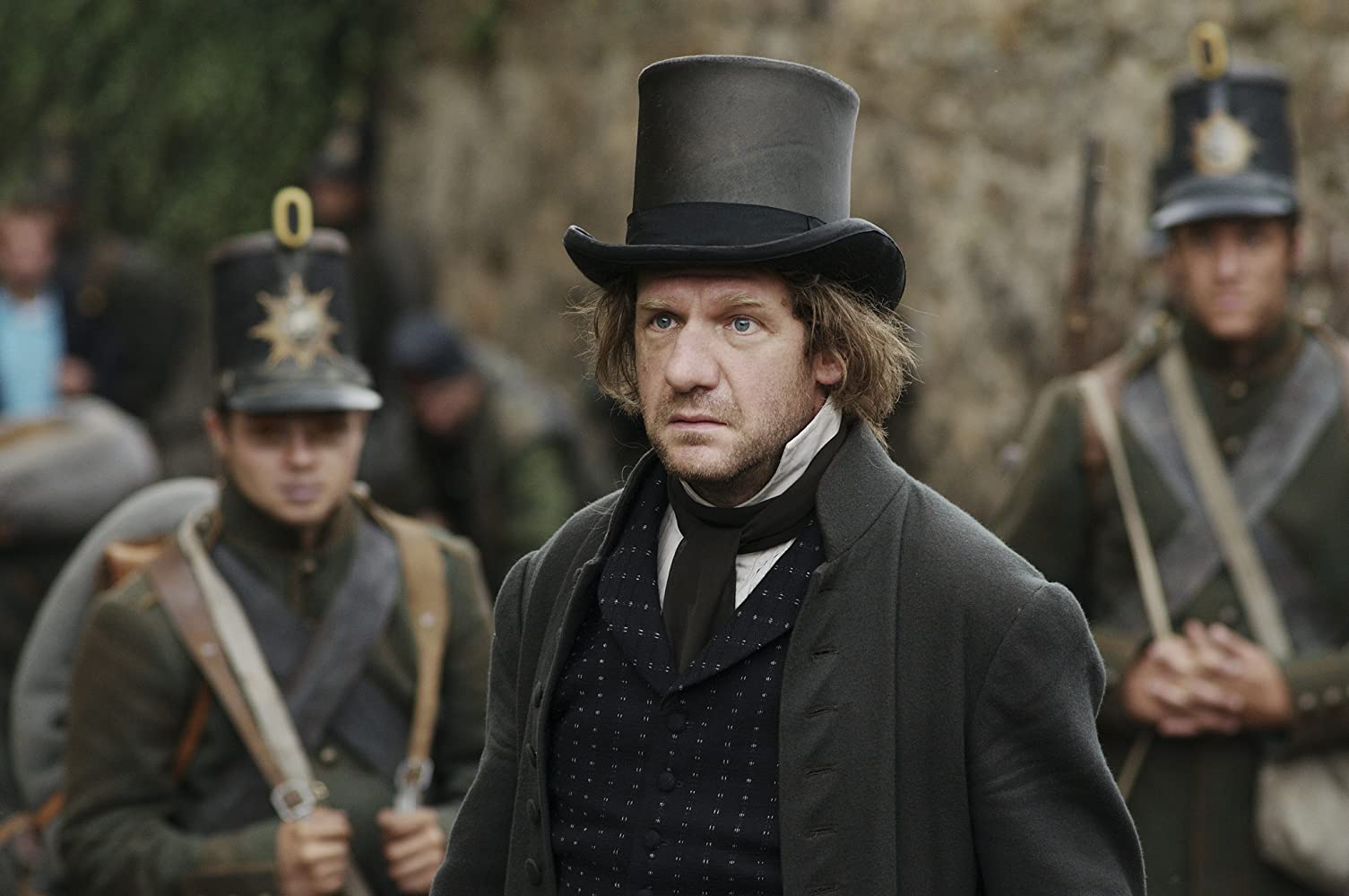 All of the events are seemingly constrained within a small walled-off village (the film was shot around several castles and a small town in the Czech Republic). Sokurov gives the film a fascinating enclosed feel – it is not shot in a single take like Russian Ark but you get the feel with the camera constantly on the move through the town and the whole film essentially taking place as a conversation between two men passing through various locales (just as Russian Ark was) that it easily could be.
It feels for a time that is going to be a version of the story that is mounted as a weighty philosophical work, with much philosophical debate about the existence of the soul and the nature of the world. However, with the introduction of his Mephistopheles figure, the moneylender Muller (Anton Adasinsky), Faust takes a turn for the decidedly entertaining. Adasinsky is outfitted as the classic characterisation of a moneylender like Shylock but plays it with a wicked glint.
He first appears to Johannes Zeiler, drinking the hemlock that he was about to take to commit suicide only for it to leave him unaffected but in the next few scenes starts feeling stomach upset and decides he needs to go to the toilet. "Not beside the church," Faust protests as Muller drops his pants in the churchyard, "No, better inside it," Adasinsky responds, buttoning himself up and heading indoors. He insists he is not The Devil – "that's what stupid girls call me." Although when we see him naked in washhouse bath, he has been made up with rolls of fat and a stubby tail, while later he complains about how his wings hurt.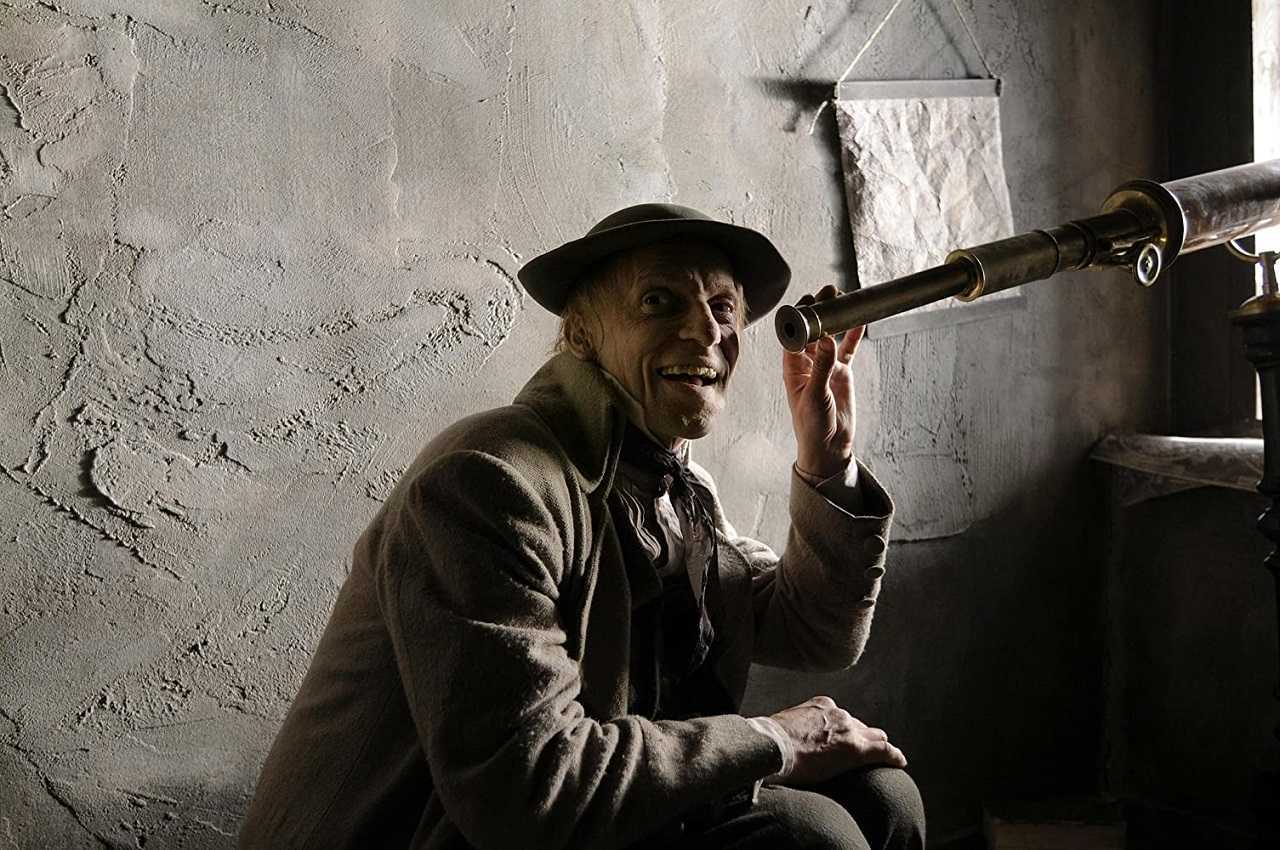 In one of the more captivating scenes, he takes Faust to an inn filled with soldiers and students, hammers an iron spike into the stone pillar, which immediately gushes forth wine and as the patrons crowd around to get some, Faust suddenly finds himself with a fork in his hand that has stabbed a man. One of the slyest scenes is where Adasinsky produces the contract for the soul, Faust goes over it with a quill pen to correct it and is about to sign it only to find the ink has dried up whereupon Adasinsky craftily suggests "Better sign it in blood then."
The interplay between Johannes Zeiler and Anton Adasinsky makes the film. Where the film loses it is in the climactic scenes where Faust gets together with his Margarete (Isolda Dychauk) and [PLOT SPOILERS] Sokurov abruptly cuts to an aftermath where the mother appears to have been murdered and the house is strewn in chaos, although it is never made clear what has happened. From there, we cut to brief scenes that appear to take place in an asylum and a sequence that has been shot with Faust and Muller debating amid the gorgeously raw scenery of the boreholes in Iceland. It is an ending that never feels like it dramatically brings the classic Faust story to a boil or proper resolution.
---
---