---
Crew
Director – John Stevenson, Screenplay – Ben Zazove, Story – Kevin Cecil, Emily Cook, Kathy Greenberg & Andy Riley, Producers – David Furnish, Steve Hamilton Shaw & Carolyn Soper, Music – Chris Bacon, Songs – Elton John, Visual Effects Supervisor – Freddy Chaleur, Animation Director – Eric Leighton, Production Design – Karen deJong. Production Company – Rocket Pictures.
Voices
Johnny Depp (Sherlock Gnomes), James McAvoy (Gnomeo), Emily Blunt (Juliet), Chiwetel Ejiofor (Dr Watson), Jamie Demetriou (Moriarty), Matt Lucas (Benny), Ashley Jensen (Nanette), Stephen Merchant (Paris), Mary J. Blige (Irene), Dexter Fletcher (Gargoyle Reggie), Javone Prince (Gargoyle Ronnie), Maggie Smith (Lady Bluebury), Michael Caine (Lord Redbrick), James Hong (Salt Shaker), Ozzy Osbourne (Fawn), Julio Bonet (Mankini), Gary Bradbury (Barry the Toilet Gnome), Julie Walters (Mrs Montague), Richard Wilson (Mr Capulet)
---
Plot
The Montagues and Capulets relocate to a new home in London, taking their garden gnomes with them. As the gnomes adjust to their new surrounds, Lord Redbrick and Lady Bluebury announce their retirement and hand the reigns of power over to the newlywed Gnomeo and Juliet. However, taking on these duties soon start to cause a rift in Gnomeo and Juliet's relationship. Gnomeo comes up with a madcap scheme to break into a florist and steal a flower in the hope it will rekindle their relationship. This goes wrong and Juliet has to rescue him. They return to the garden to find all the other gnomes missing. They then encounter the gnome detective Sherlock Gnomes, who has sworn to protect all gnomes, and his associate Dr Watson. Sherlock is certain the culprit is his nemesis Moriarty, a mascot for a pie company that became an evil genius and has devised a dastardly scheme to abduct all gnomes. Gnomeo and Juliet join Sherlock and Dr Watson as they follow a trail of clues to where Moriarty has the gnomes in hiding.
---
Gnomeo & Juliet (2011) was a real head-scratcher when it came out – an animated film in which William Shakespeare's Romeo and Juliet (1591-5?) was retold between garden gnomes. It was produced by Elton John's husband David Furnish and featured a soundtrack made up of Elton's songs. Furnish and most of the voice cast have returned for a sequel with Sherlock Gnomes. Original director Kelly Asbury has departed and has been replaced by John Stevenson, a former storyboard artist for Jim Henson whose work goes all the way back to the days of The Muppet Show (1979-81). In more recent years, Stevenson worked as a story artist at DreamWorks and then made his directorial debut as a co-director of Kung Fu Panda (2008).
Quite why Gnomeo & Juliet has produced a sequel now is a good question – well I suppose there is the fact that the original did earn just short of $100 million in the US, nearly double that worldwide. And this is what we get with Sherlock Gnomes – one has the amusing mental picture of the a bunch of grown adults sitting down for a creative brainstorm session in the boardroom trying to figure out how many other classic stories they can twist to make a title pun involving the word 'gnome'.
Sherlock Holmes has made a big comeback on screens in the 2010s. There have been Guy Ritchie's duo of films Sherlock Holmes (2009) and Sherlock Holmes: A Game of Shadows (2011), which even produced a mockbuster from The Asylum with Sherlock Holmes (2009); the considerable popularity of the modernised Sherlock (2010- ) with Benedict Cumberbatch and its American counterpart Elementary (2012- ), plus other efforts like Mr. Holmes (2015).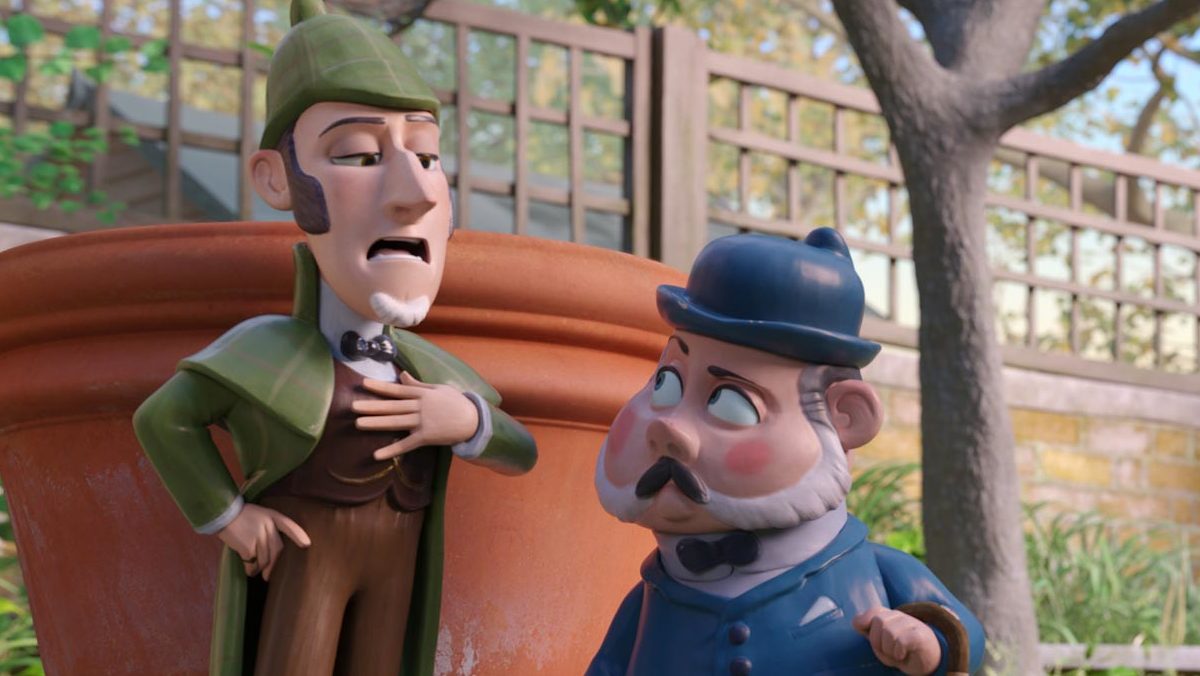 2018 was probably the year that the world heard an audible whirring coming from Minstead churchyard where Arthur Conan Doyle is buried as his corpse rotates. It is a year where Holmes & Watson (2018), the comedic take with Will Ferrell and John C. Reilly as Holmes and Watson, was inflicted on the public, winning the Golden Turkey for Worst Film of the Year, followed nine months earlier in the year by Sherlock Gnomes featuring a garden gnome variant on Holmes. While the idea of a garden gnome version of Holmes had most Holmesians outraged, one should also remember back to when Disney made The Great Mouse Detective (1986), which gave us a talking mouse version of Holmes and the results proved one of their more charming and underrated animated efforts.
While authors like Philip Jose Farmer, Kim Newman and Alan Moore have had a great deal of fun imagining crossovers between fictional characters, one's mind does a series of mental backflips at the sort of story that can have both William Shakespeare's Romeo and Juliet and Conan Doyle's Sherlock Holmes co-exist – moreover in a contemporary London setting. For that matter, quite what demand there would be for a consulting detective in a world of garden gnomes may well be one of the great unanswered mysteries of this universe (moreover in a world where the gardens act as the equivalent of Greek or Italian city states and seem to lack even a regular police force).
Perhaps the most egregious things about the film is listening to A-lister Johnny Depp voicing a fruity Sherlock Holmes – he plays the part entirely in what non-English people believe an English accent to be. That is not quite as egregious as the way the Holmes-Watson friendship is turned on its head – Watson actually becomes a villain of sorts – all to deliver a pat lecture on how we should never take our friends for granted. On the other hand, Jamie Demetriou's manic Moriarty manages to be a scene-stealer whenever he turns up.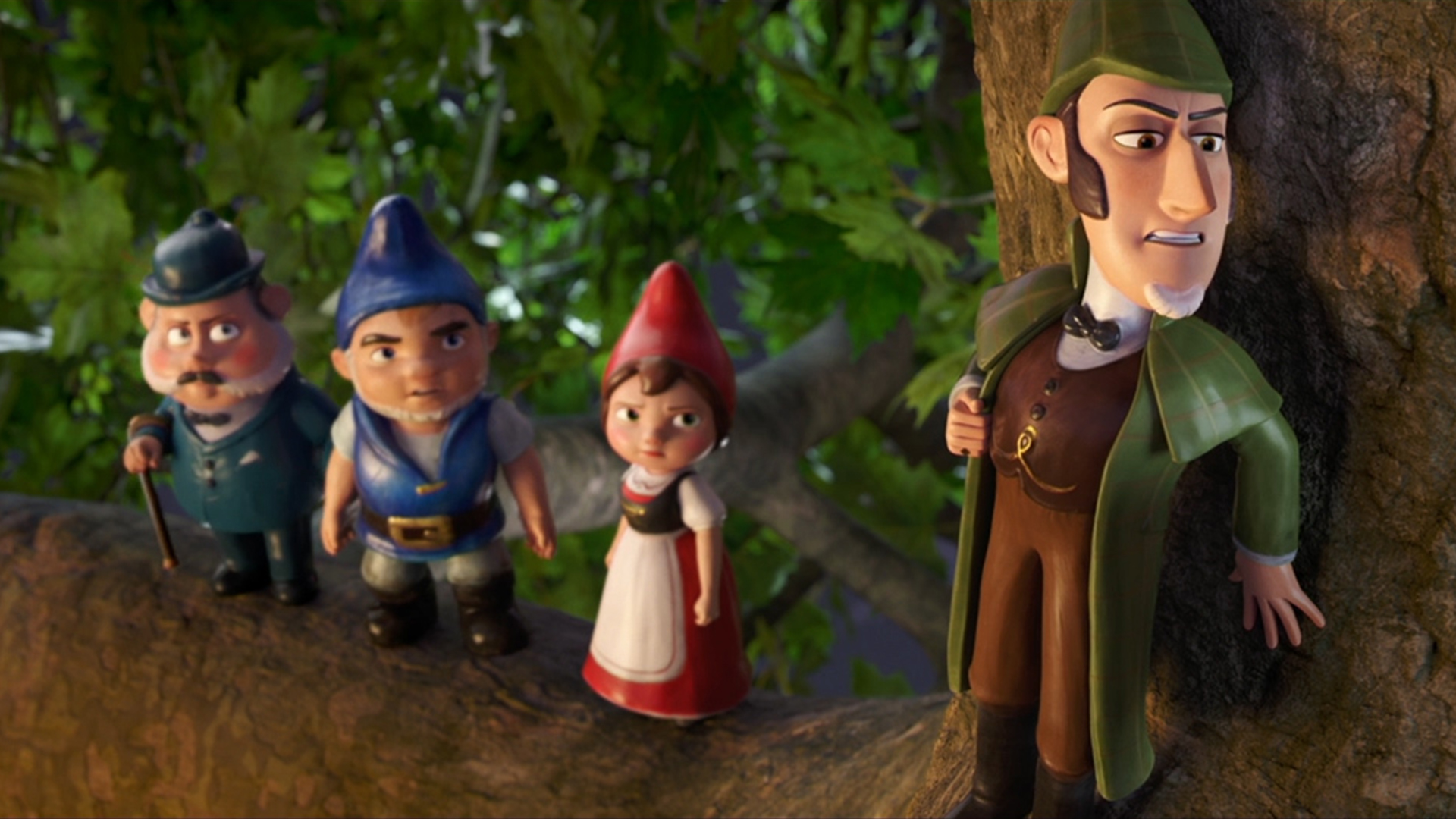 Sherlock Gnomes is an exceedingly formulaic run through. It has largely been construed as a series of animated comic and action set-pieces. These are so slight that a day after in writing the film up I am struggling to remember any of them. In an era when every Hollywood studio seems to be bending over backwards to not offend some group, a scene where the group break into a Chinatown store and encounter a Chinese emperor and serfs represented by maneki-nekos (which are actually Japanese in origin rather than Chinese) strikes a rather dubious note.
We get more of Elton John's songs, although these are not as prominent this time around – we do get Saturday Night's Alright for Fighting (1973) repurposed as the theme tune to an escape from the Chinese shop via Chinese lantern. There is a sequence for no apparent reason that involves Holmes and Juliet escaping on a runaway lawnmower while in disguise in a two-part squirrel costume.
---
---