---
Crew
Director – Brian Fee, Screenplay – Kiel Murray, Bob Peterson & Mike Rich, Story – Brian Fee, Eyal Podell, Ben Queen & Jonathon E. Stewart, Producer – Kevin Reher, Photography (3D) – Jeremy Lasky, Music – Randy Newman, Animation Supervisor – Bobby Podesta, Production Design – William Cone & Jay Shuster. Production Company – Pixar Animation Studios.
Voices
Owen Wilson (Lightning McQueen), Cristela Alonzo (Cruz Ramirez), Chris Cooper (Smokey), Nathan Fillion (Sterling), Larry the Cable Guy (Mater), Arnie Hammer (Jackson Storm), Ray Magliozzi (Dusty), Tony Shalhoub (Luigi), Bonnie Hunt (Sally), Lea deLaria (Miss Fritter), Kerry Washington (Natalie Certain), Margo Martindale (Louise Nash), Bob Peterson (Chick Hicks), John Ratzenberger (Mack), Lewis Hamilton (Hamilton), Lloyd Sher (Fillmore), Humpy Wheeler (Tex), Kyle Petty (Cal Weathers)
---
Plot
On the racetrack, Lightning McQueen finds himself being beaten at every opportunity by newcomer Jackson Storm who has gained an advantage through precision computer tests and simulators. As a result, Lightning is ridiculed as being old and over the hill in the media. His sponsorship contract is bought out by Sterling who promises to place Lightning through a hi-tech workout to get him back in shape. He is placed under the trainer Cruz Ramirez but Lightning has no aptitude for her methods and hi-tech workout regimen. Lightning longs to get away onto a real racetrack and takes Cruz out to race on a beach but she is out of her depth without her simulations. They accidentally end up entering into a stock car derby and Cruz winning. She confesses how she always wanted to be a racing driver but was not taken seriously. Lightning realises that the only way he will be able to get back into shape is for them to set out to find Doc Hudson's mentor Smokey.
---
Cars (2006), directed by Pixar founder John Lasseter, was one of the hits from the period 1995-2009 – the era that stretched between Toy Story (1995) and Up (2009) – where it seemed that Pixar could put no foot wrong. Among these, Cars, while by no means not a failure for Pixar at the box-office, has gained more mixed reviews that any other Pixar film from this period. Despite this, Cars 2 (2011) was the second occasion that Pixar made a sequel after regaining the rights to their own characters back from Disney. Not to mention that the Cars series has also been dragged out by Disney (without Pixar's involvement) as the Planes series of films, consisting of Planes/World of Cars: Planes (2013) and Planes: Fire & Rescue (2014). The 2010s gave birth to the second phase of Pixar where they started manically sequelising their own product with the likes of Toy Story 3 (2010), Monsters University (2013), Finding Dory (2016), Incredibles 2 (2018), Toy Story 4 (2019) and Lightyear (2022), all to generally lesser quality than the originals, and where their original product began to seem more diluted than it once was.
Cars 2 received even more mixed reviews than Cars did. Despite this, Pixar have continued on to make a further sequel here. John Lasseter has stepped back from the director's chair in favour of newcomer Brian Fee, a storyboard artist on the previous Cars films and other Pixar works. Most other modern animated sequels – particular offenders being almost anything from Blue Sky and the Despicable Me films – fail badly because they do nothing more than banally escalate the mundane domestics of the scenario, having the characters find love interests, long lost family members or have children. The Pixar sequels have smartly avoided this by opting for adult character arcs.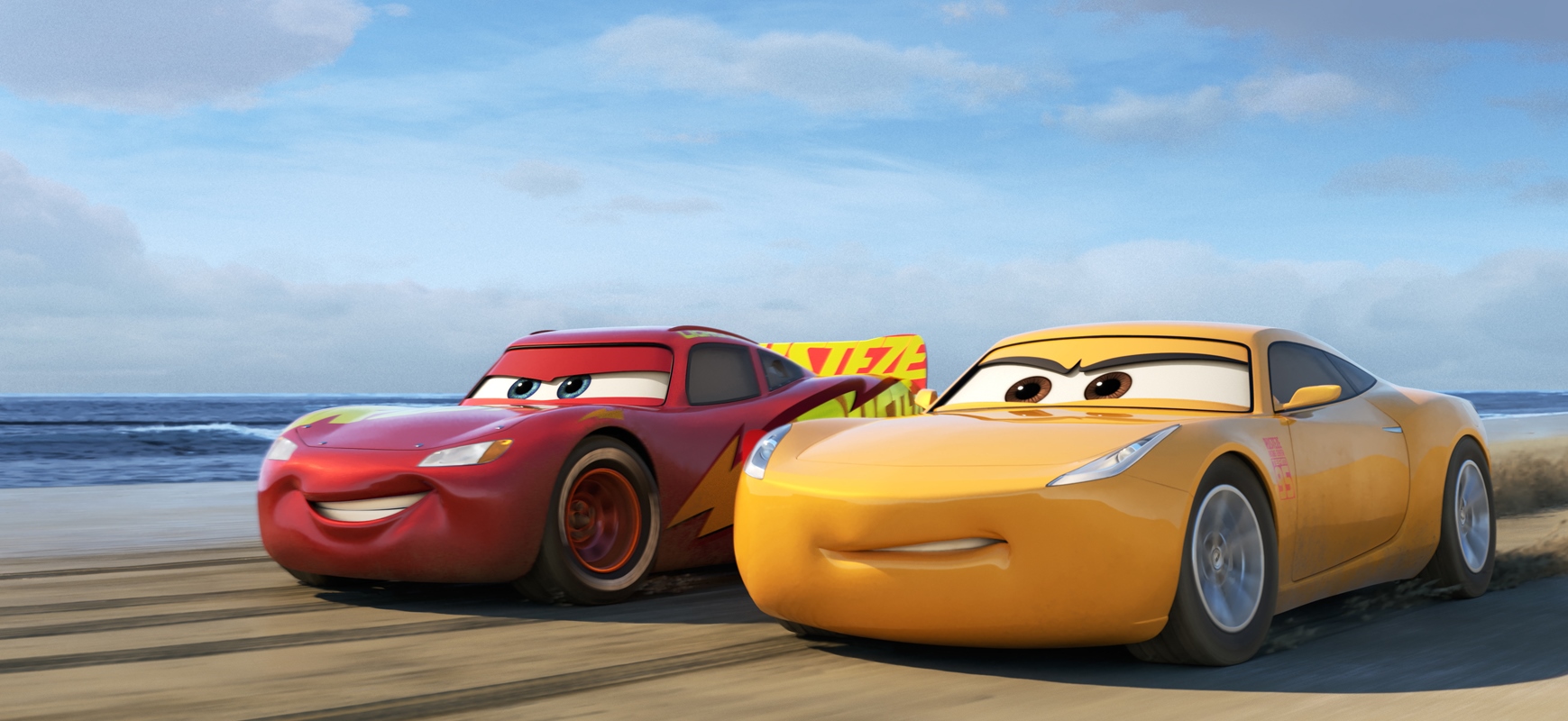 That said, the character arc here quite astonishes you. Cars was a hero-learns-hubris/comeback story, Cars 2 was a light-hearted spy caper. On the other hand, Cars 3 is a film that is all about its hero feeling over the hill and his struggle to get back in the game and beat the young whippersnapper that is outrunning him. For a series that prides itself on being family entertainment, this is a surprisingly downbeat and negative storyline – it is a middle-aged person's character arc. After all the anthropomorphic fun with the vehicle characters in the other films, there is not something very inspiring about watching Lightning going about training routines and failing or frequently giving up on trying.
The middle of the film becomes little more than a series of races in different environments as Lightning and Cruz set out on a road movie quest of sorts. The film feels like it is straining in trying to make these scenes interesting. It does however go off at a surprise left field tangent at the end, which arrives at quite an emotionally satisfying ending. It is also one that brings the Cars series to a firm conclusion – it would be hard to see Pixar making a Cars 4 after this without it being seen as exploitation.
---
---