---
UK. 1967.
Crew
Director/Producer – Richard Lester, Screenplay – Charles Wood, Based on the Novel by Patrick Ryan, Photography (some scenes b&w) – David Watkin, Music – Ken Thorne, Special Effects – Eddie Fowlie, Art Direction – Philip Harrison & John Stoll. Production Company – Petersham Films.
Cast
Michael Crawford (Lieutenant Ernest Goodbody), Lee Montague (Corporal Transom), Roy Kinnear (Clapper), Jack MacGowran (Juniper), John Lennon (Gripweed), Jack Hedley (Melancholy Musketeer), Michael Hordern (Lieutenant-Colonel Grapple), Karl Michael Vogel (Odlebug), Ronald Lacey (Spool)
---
Plot
Held as a prisoner of the Germans at the end World War II, Lieutenant Ernest Goodbody tells the story of "how he won the war". Under his command, a regiment of musketeers were ordered to go behind enemy lines in Egypt and build a cricket-pitch. However, the journey befell a series of disasters, including the men shooting themselves up. As they continued on, they were joined by their own dead.
---
This farcical blackout treatment of the Second World War was made by Richard Lester who had come to fame a couple of years earlier directing and influencing the style of a generation with The Beatles' film A Hard Day's Night (1964). After making a silly and over-the-top Beatles follow-up film with Help! (1965) and the likes of The Knack (1965) and A Funny Thing Happened on the Way to the Forum (1966), Lester began to turn his interest toward absurdist comedy with this and The Bed Sitting Room (1969). These became an opportunity for Richard Lester to disengage restraints on a sense of black humour that he had had to hold in tack elsewhere. That said, neither film was a success, critically or with the public.
How I Won the War shows Richard Lester's absurdism pushed to a limit that is disarming, even threatening. The opening parade-ground scenes, which seem to be tying half-a-dozen simultaneous sketches and lines of banter at once, are shot through with a series of cannily sharp characterizations, pullaways where characters turn to address the camera and alarming mid-scene cuts that succeed in creating a bewildering barrage of farce that is akin to sitting on a train that is switching tracks every 30 seconds while at full speed.
There is much to How I Won the War that is extremely funny – like the military beachhead that has to stop for driving lessons with the charmingly absurd images of half-tracks circling in the sand with 'L' plates; or the scene where Michael Hordern walks across a battlefield, comparing tanks to horses and then pulls his pistol to put them out of their misery. Shots of the vehicles tracking through the desert wastes dragging a pitch roller behind them come scored with flourishes that parody David Lean epics.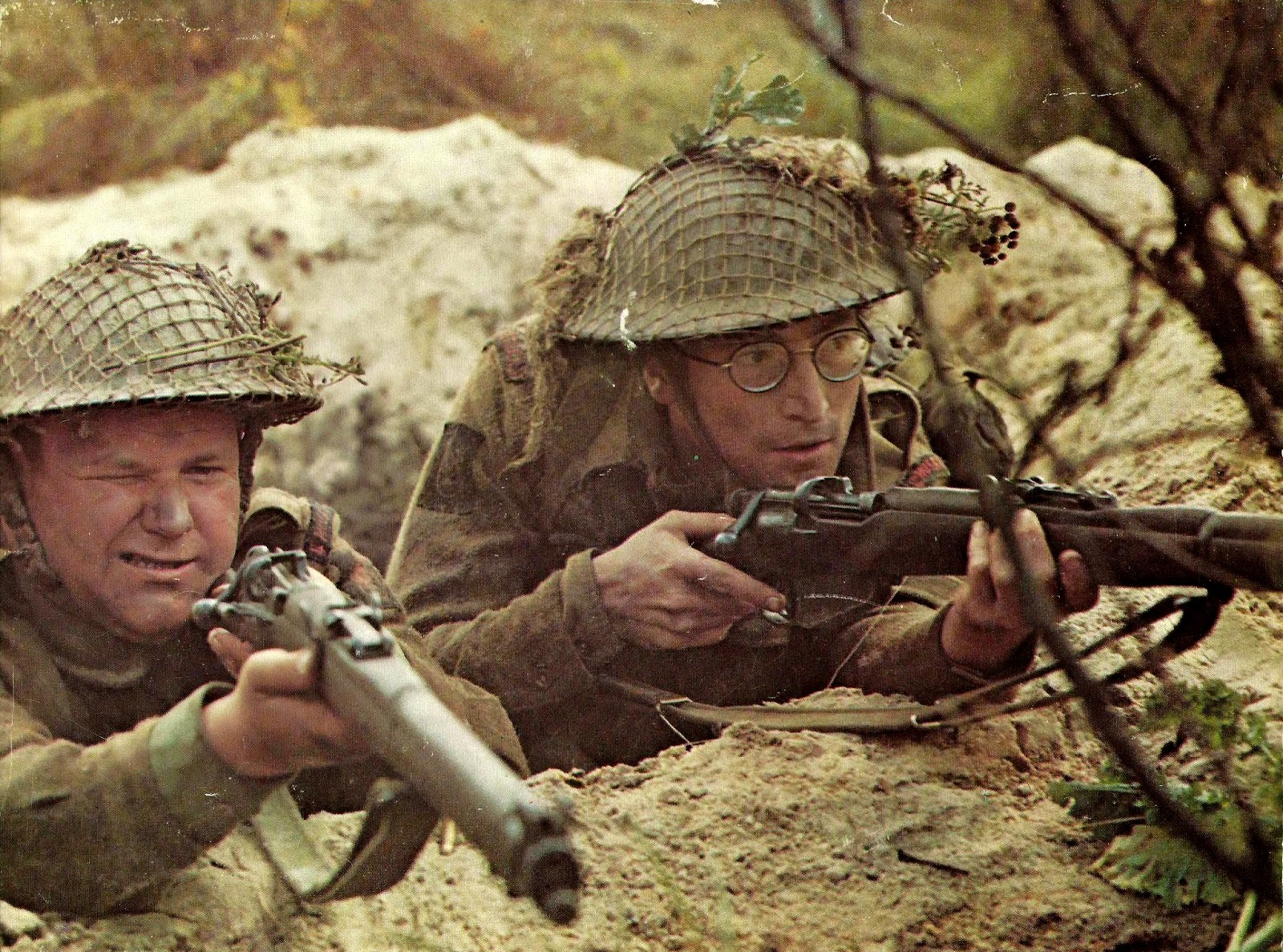 The scene with the men putting spoonfuls of sand in their tea is a perfectly rehearsed routine of hilariously deadpan nonchalance. The scene where Michael Crawford heroically throws himself on a fallen hand grenade that fails to go off carps at a certain set of War movie heroism with a particular mercilessness. With nasally chippy Boy School delivery, Michael Crawford gives a wonderfully witty performance, wandering through the film like a maladroit Candide, delivering hilarious little pep talks that fall upon the cynically indifferent ears of his men.
How I Won the War is a film that is at once both brilliantly funny and numbingly noisy. The scenes with Michael Crawford dragging the roller across a pitch, lecturing on decency while avoiding being hit amid a torrent of aerial fire from a biplane, even while it comes crashing down in flames, is a scene both splendidly choreographed and tediously noisome. Everything in the film is roared at the top of its cast's voice and Richard Lester seems not to know when to quit and keeps it coming without let-up, even when it is not being funny. The extended black-and-white climax running through the English countryside (badly disguised as Germany) is the point the film runs out of energy and drags on interminably.
John Lennon's second-billed performance as a sappy Cockney-accented batman shows why he was better off subsequently returning to singing. (Interesting fact – Lennon was outfitted with his distinctive round glasses by the costume department and so liked that he adopted them, they going on to become an iconic part of his image). Amid the supporting cast, the one of note is Jack MacGowran who gives a thoroughly bizarre performance, even for a film like this, as a psychotically perky would-be clown, conducting stand-up lines and routines in the midst of the desert.
Director Richard Lester returned to genre material on several occasions with Mouse on the Moon (1963) wherein the world's smallest country launches an expedition to The Moon, the Beatles fantasy Help! (1965), the post-holocaust absurdist comedy The Bed Sitting Room (1969), and both Superman II (1980) and Superman III (1983).
---
Trailer here
---