---
UK. 1969.
Crew
Director – Richard Lester, Screenplay – John Antrobus, Adaptation – Charles Woods, Based on the Play by John Antrobus & Spike Milligan, Producers – Richard Lester & Oscar Lewenstein, Photography – David Watkin, Music – Ken Thorne, Special Effects – Phil Stokes, Production Design – Assherton Gordon. Production Company – Oscar Lewenstein Productions.
Cast
Michael Hordern (Dr Bules Martin), Arthur Lowe (Father), Rita Tushingham (Penelope), Richard Warwick (Alan), Ralph Richardson (Lord Fortnum), Mona Washbourne (Mother), Spike Milligan (Mate), Peter Cook (Inspector), Dudley Moore (Sergeant), Harry Secombe (Shelter Man), Roy Kinnear (Plastic Mac Man), Marty Feldman (Nurse Arthur)
---
Plot
It is four years after World War III, which was over in 2 minutes and 28 seconds. The dazed survivors wander the ruins. A new government has been created and a Prime Minister and a monarch established. Order is then threatened as radiation causes people to start mutating into pets and items of furniture.
---
Spike Milligan was one of the essential figures in the late 1950s/early 1960s Goon Show generation. This era also gave birth to comic greats like Peter Cook, Harry Secombe and Peter Sellers. Milligan's most well remembered works will probably be books like Puckoon (1963) and Adolf Hitler: My Part in His Downfall (1971). Milligan wrote the play The Bed Sitting Room (1963) with John Antrobus as a loose and free-wheeling satiric sketch designed for the stage wherein the two put the nuclear holocaust and post-apocalyptic survivalist dramas through the British absurdist tradition.
This film adaptation of the play comes from British director Richard Lester who had made a name for himself with the Beatles' A Hard Day's Night (1964) and popular hits like The Knack (1965) and A Funny Thing Happened on the Way to the Forum (1966). Lester's humour had frequently taken a bent toward dark, absurdism – just prior to this he had made the WWI absurdist comedy How I Won the War (1967), although neither that nor The Bed Sitting Room found much public favour.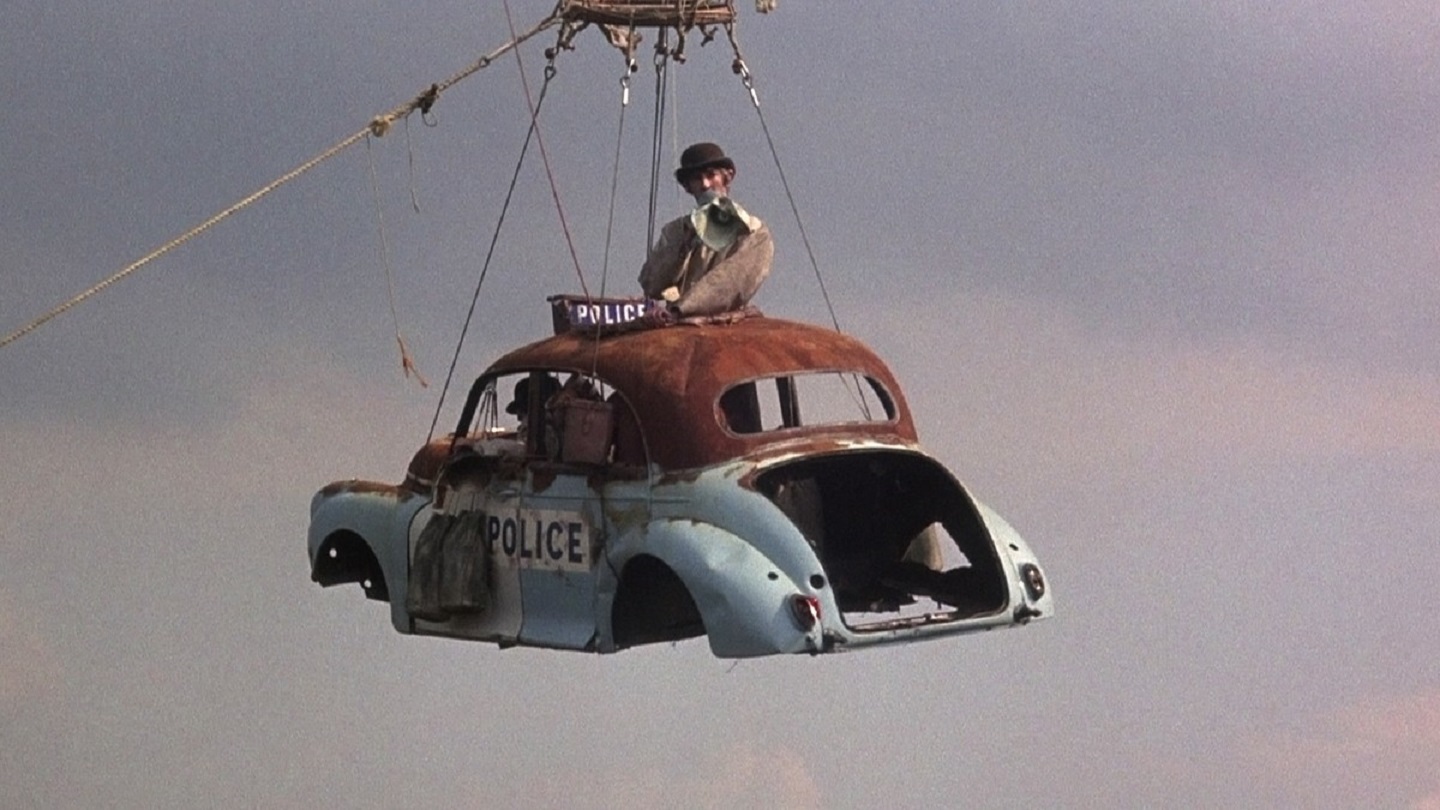 The Bed Sitting Room is a bizarre piece of film-making. The credits list the cast in order of their height, for instance. Exchanges are of the type of non-sequitirs that litter the Goon Show and Monty Python sketches – "Did you have a family?", "No but my brother did." Ralph Richardson complains about turning into the titular bed sitting room and is told to keep out of drafts and consider conversion to a maisonette; Mona Washbourne mutates into a chest of drawers and complains vocably about violation when Michael Hordern is forced to sleep in her confines; Prime Minister Arthur Lowe mutates into a parrot, the survivors hungrily cook the bird – Spike Milligan sits down to the meal grumbling "Guess this'll mean a by-election." Most of the humour comes couched so drolly that it slipped by audiences of the day and, as such, the film was barely released in the US.
Richard Lester shoots the film entirely outdoors in an amazing industrial wasteland filled with mockups of a half-submerged St Paul's Cathedral, escalators leading to nowhere and cars flying on the end of hot-air balloons. If one can take the lack of plot or the film's aimless lack of direction, there is an undeniably appealing bizarreness to its sense of humour.
Director Richard Lester returned to genre material on several occasions with Mouse on the Moon (1963) wherein the world's smallest country launches an expedition to The Moon; the gonzo Beatles fantasy Help! (1965); the surreal WWII black comedy How I Won the War (1967); and Superman II (1980) and Superman III (1983).
---
Trailer here
Full film available online here:-
---