---
Crew
Director/Screenplay – Woody Allen, Producer – Robert Greenhut, Photography – Carlo DiPalma, Music Arranged and Conducted by Dick Hyman, Visual Effects – Balsmeyer & Everett Inc (Supervisor – Randall Balsmeyer), Special Effects Supervisor – Connie Brink, Production Design – Santo Loquasto, Choreography – Graciela Daniele. Production Company – Magnolia Productions/Sweetland Films.
Cast
Woody Allen (Joe Berlin), Drew Barrymore (Skyler), Goldie Hawn (Steffi), Julia Roberts (Von Siedel), Natasha Lyonne (DJ), Alan Alda (Bob), Edward Norton (Holden Spence), Tim Roth (Charles Ferry), Lukas Haas (Scott), Patrick Cranshaw (Grandpa), Trudie Klein (Frieda), Natalie Portman (Laura), Gaby Hoffmann (Lane)
---
Plot
Teenager DJ lives with her extended upper-class Manhattan family. Her stepsister Skyler is proposed to by Holden Spence but by accident she swallows the $8000 ring when he places it on top of a dessert to present to her in a romantic gesture. Skyler then decides to take up with Charles Ferry, an ex-con her mother gets out of jail through her liberal fundraisers. While visiting her father Joe, a writer living in Paris, DJ tries to help him out of a string of bad relationships and to find another woman. She finds the perfect woman in Von Siedel, a patient of the psychologist mother of one of her friends. DJ happened to eavesdrop on Von's therapy sessions and is able to provide her father with all the insider information so that he can become Von's perfect romantic fantasy.
---
Woody Allen emerged as a comic name in the 1960s and found his wings as a director-writer-star during the 1970s. While Woody Allen's work always centres around the same themes of neurosis and anxiety, particularly about women, his work has moved through distinctive phases – from the out-and-out screwball tone of his films in the 1970s to the weightily intellectual introspection of his work in the 1980s.
In the 1990s, Allen's work became almost entirely centered around the Manhattan upper-classes and while he has made many excellent works during this time – Manhattan Murder Mystery (1993), Bullets Over Broadway (1994), Mighty Aphrodite (1995), Small Time Crooks (2000) – the closetedness of the milieu feels increasingly like one where Allen never ventures beyond the confines of a certain wealthy socialite elite. He has certainly also made more dull films during this period than any other.
Everyone Says I Love You was Woody Allen's attempt to create a musical. The musical and the simplicity of its larger-than-life emotions might seem something at odds with Allen's neurotic chamber comedies. On the other hand, Allen is a music lover, plays a regular gig in a jazz quartet and invariably scores his films with old time swing music. In fact, Allen's eccentricities and the nature of the musical merge in some amusing ways. Everyone Says I Love You is a real people musical – one where a number in the street is joined by choruses of homeless, ladies on walking frames and mothers with strollers and where even the mannequins in storefront windows come to life; or where a number in a hospital has doctors singing about the x-rays and is joined by a chorus of people in bandages, crutches and full-body casts.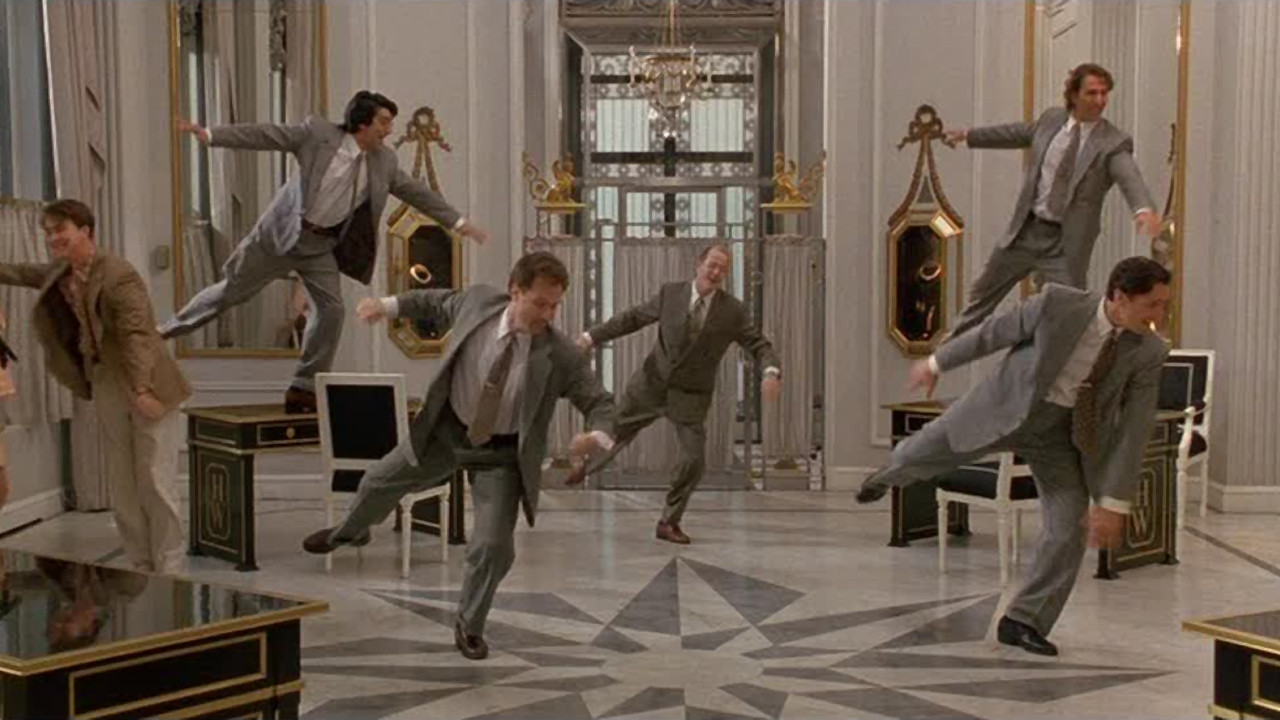 One of the pluses about Woody Allen films these days is that he is one of the directors that actors line up to work with and manages to assemble huge name casts without having to mount colossal budgets. The cast here – Drew Barrymore, Edward Norton, Goldie Hawn, Julia Roberts, Tim Roth, Natalie Portman – would in any other production triple the production costs. Natasha Lyonne as Allen's daughter is a lot of sparkly fun.
Allen's biggest coup is in casting Julia Roberts as his own love interest. Ever since his highly publicised split with Mia Farrow, Allen, in a bizarre case of middle-aged denial, keeps casting young gorgeous actresses two to three decades younger than he as his romantic interests. Certainly the relationship between the dazzling 28 year-old Julia and the neurotic 61-year old Woody is not one that particularly convinces, even though she enlivens the part with her natural glamour.
Everyone Says I Love You is amiably frothy without being particularly riotous. The plot is like another of Woody Allen's Manhattan socialite ensemble comedies – a weaker, fluffier Hannah and Her Sisters (1985) perhaps. Allen tells two stories – the romance between himself and Julia Roberts, and the story between Drew Barrymore and Edward Norton where she is sidetracked away to have an affair with ex-con Tim Roth. Neither are particularly satisfactory as stories and peter out in particular when it comes to their conclusions. Drew's affair with Tim Roth is amusing but the story arc simply ends with her deciding to return to Edward Norton and wraps up on a hurried acceptance on his part. In the other story, the break-up with Julia Roberts is vague and the film ends with the suggestion that Allen might be getting back with ex-wife Goldie Hawn but leaves us in a state of uncertainty about whether such is the case or not.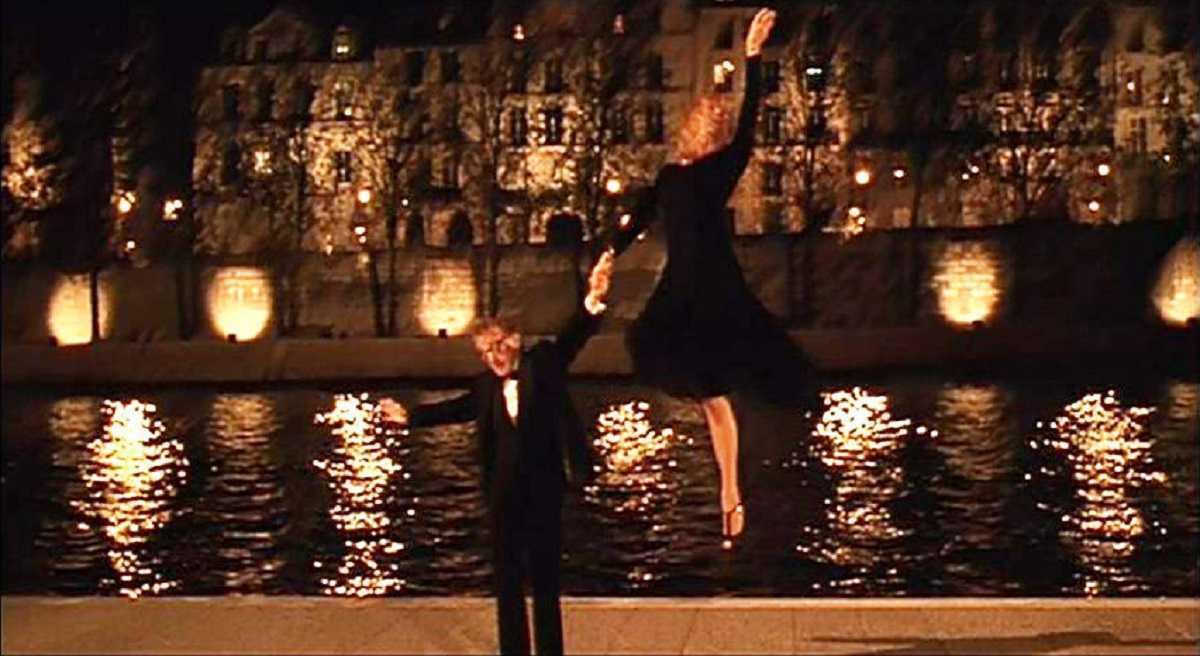 Certainly, there are some amusing gags packed away – there is one scene of particularly Allen-esque mercilessness as Drew Barrymore accidentally swallows an $8000 diamond ring that Edward Norton romantically serves up to her on a parfait in a restaurant. There are some cute character bits – Lukas Haas who turns into an ardent young Republican as a result of an intestinal blockage, or Tim Roth's highly amusing part as a just-paroled criminal who develops intentions toward Drew Barrymore.
The most bizarrely surreal moment is a funeral where the ghost of Grandpa gets up out of the coffin and, joined by a chorus of geriatric ghosts, starts singing about enjoying life. Allen, for around the first time ever, travels outside of New York City to shoot and takes in some gorgeous location shoots in Paris and Venice. There is a momentarily very lovely scene at the end where Allen and Goldie Hawn sing a number on the banks of the Seine and she begins to gracefully fly through the air.
Woody Allen's other genre films are:– Play It Again Sam (1972), Everything You Always Wanted to Know About Sex * But Were Afraid to Ask (1972), Sleeper (1973), Love and Death (1975), A Midsummer Night's Sex Comedy (1982), Zelig (1983), The Purple Rose of Cairo (1985), New York Stories (1989), Alice (1990), Shadows and Fog (1991), Mighty Aphrodite (1995), Deconstructing Harry (1997), Match Point (2005), Scoop (2006), Midnight in Paris (2011), To Rome with Love (2012) and Magic in the Moonlight (2014).
(Nominee for Best Original Screenplay and Best Supporting Actress (Natasha Lyonne) at this site's Best of 1996 Awards).
---
---