(Le Charme Discret de la Bourgeoisie)
---
Crew
Director – Luis Buñuel, Screenplay – Luis Buñuel & Jean-Claude Carriere, Producer – Serge Silberman, Photography – Edmond Richard, Art Direction – Pierre Guffroy. Production Company – Greenwich Films.
Cast
Fernando Rey (Don Raphael Acosta), Stephane Audran (Alice Senechal), Delphine Seyrig (Simone Thevenot), Paul Frankeur (Francois Thevenot), Julien Bertheau (Bishop Dufour), Jean-Pierre Cassel (Henri Senechal), Bulle Ogier (Florence), Claude Pieplu (The Colonel)
---
Plot
A group of friends go to dinner at the country home of Henri and Alice Senechal only to find the Senechals were not expecting them until the following night. They all decide to go to a restaurant instead but find that the restaurant is closed because the owner has died. Their continued attempts to meet for dinner are frustrated each time by such things as soldiers arriving to be billeted, they finding they are on a stage before an audience, their being arrested by the police and the arrival of terrorists. All of this is interwoven with people telling ghost stories and the diners waking from dreams.
---
Luis Buñuel (1900-83) has become celebrated as one of cinema's great directors. The Spanish-born Buñuel began as an early surrealist making films such as Un Chien Andalou (1928) and L'Age d'Or (1930). Unsettled by the Spanish Revolution, Buñuel moved between France, the United States and Mexico over the next thirty years, before returning to Spain in 1960 at the behest of General Franco. This was when his career began to flourish, beginning with Viridinia (1961), which was promptly banned in Spain for obscenity, and continuing with the likes of Diary of a Chambermaid (1964), Belle de Jour (1967), Tristana (1970) and That Obscure Object of Desire (1977). Throughout Buñuel's work runs perpetual themes of iconoclasm, particularly against middle-class hypocrisy, and a never-ceasing vitriol directed against the Catholic Church.
The great irony of Luis Buñuel's popularity was that he was discovered by the very middle-classes who were so often the sacred cows of his outrage. Each of Buñuel's films from Viridinia onwards became increasingly more accepted by the mainstream. Buñuel rejected such acceptance. "If I was ever nominated for an Academy Award, I would refuse it" he declared when Tristana was nominated for Best Foreign Language Film – whereupon The Discreet Charm of the Bourgeoisie, his very next film, won as Best Foreign Language Film. The Discreet Charm of the Bourgeoisie was probably the most critically well received of Buñuel's films – receiving a good number of other critical nominations, including winning Best Picture at that year's BAFTA awards, and appearing on several of the year's critic's Top 10 lists.
To stand in a critical minority, my own critical praise of Luis Buñuel is reserved. For all he has been celebrated as cinema's premiere surrealist, Buñuel was never a stylist – his genius never went beyond the surrealistic juxtapositions of the familiar and out of place. His work at best seemed like muted Monty Python gags. Sometimes his juxtapositions were effective – his best work probably was The Phantom of Liberty (1974) – but at other times were astonishingly crude. Call me a philistine but I do find Buñuel to be overrated.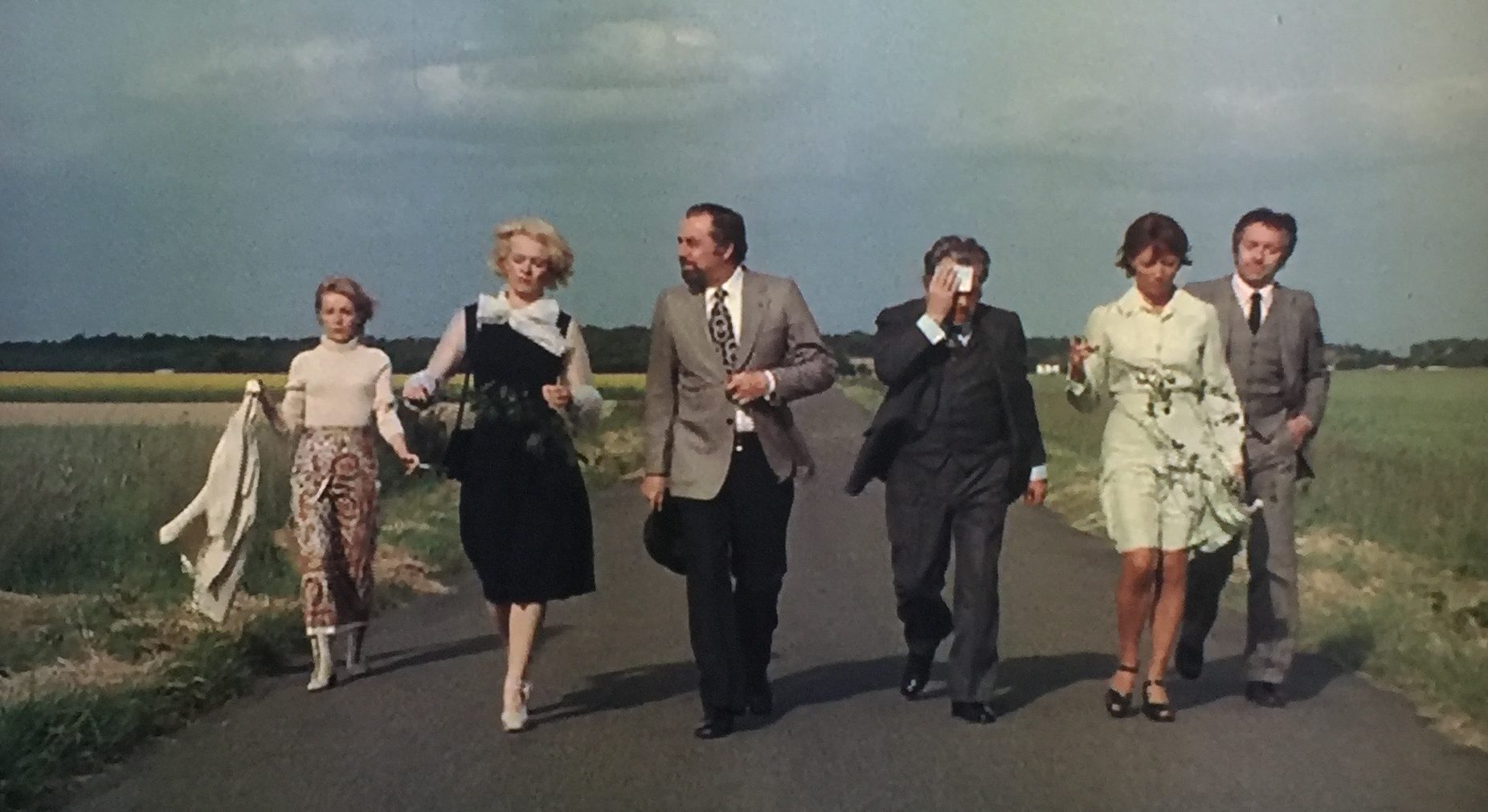 The central idea of The Discreet Charm of the Bourgeoisie – of a group of people going to dinner but who, through various increasingly more surreal and bizarre interruptions, never actually manage to eat anything, is amusing. Buñuel indulges his love of the foibles and hypocrisies of the middle-classes – The Discreet Charm of the Bourgeoisie is a parody of good-eating and manners, while the very title seems to evoke a gentle mockery of the mores of the middle-classes. As always, Buñuel is fascinated with an hypocrisy that lurks beneath polite decency – a group of drug dealers condemn marijuana being smoked at a dinner party; a priest is called to administer the last rites to a dying man but, upon hearing the man's deathbed confession, realises that the man killed his own parents and shoots him. Although, if anything, Buñuel has mellowed in his old age and the surrealism is more gently amusing than satirically biting.
There is no real plot to The Discreet Charm of the Bourgeoisie – it rambles and Buñuel heads off into all manner of random digressions – vignettes involving the Bishop, the girl revolutionary from Miranda and two different stories where soldiers recount encounters with ghosts. The film would have been far more effective if the script had been tightened and concentrated around the spiralling series of dinner invitations gone wrong and the peculiar Chinese box series of dreams that take place inside other people's dreams.
Luis Buñuel's other films of fantastic note are:– his two surrealist short collabortaions with Salvador Dali, Un Chien Andalou (1928) and L'Age d'Or (1930); The Exterminating Angel (1962) about a group of people unable to leave a room; Simon of the Desert (1965) about a virtuous man being tempted by The Devil; and The Phantom of Liberty (1974), which contains a series of surrealistic vignettes. Buñuel also wrote the silent French Edgar Allan Poe adaptation The Fall of the House of Usher (1928) and The Monk (1972), an adaptation of the classic work about The Devil tempting a monk and drawing him down into depravity.
---
---