---
Crew
Director – Lindsay Anderson, Screenplay – David Sherwin, Based on the Script Crusaders by David Sherwin & John Howlett, Producers – Lindsay Anderson & Michael Medwin, Photography (colour + b&w) – Miroslav Ondricek, Music – Marc Wilkinson, Production Design – Jocelyn Herbert. Production Company – Memorial Enterprises.
Cast
Malcolm McDowell (Mick Travis), Robert Swann (Rountree), Hugh Thomas (Denson), Richard Warwick (Wallace), David Wood (Johnny Knightley), Peter Jeffrey (Headmaster), Christine Noonan (The Girl)
---
Plot
Life at an English boys' boarding school. The senior prefects rigidly enforce law and order among the juniors. Two boys, Mick Travis and Wallace, sneak out for the day where they go joyriding on a stolen motorcycle and have sex with a waitress. The prefects call them in for discipline and give Mick a brutal caning when he retorts with surly attitude. Placed on cleanup duty, they find a cache of guns and grenades under the school and plan rebellion. This culminates in an armed massacre on Prize-Giving Day.
---
Lindsay Anderson was one example of a film critic made good. Anderson began in the 1950s and 60s writing for film magazines such as Sequence and Sight and Sound, before making his debut as a director with This Sporting Life (1963). However, it was with the biting social satire of If … that Lindsay Anderson made a name for himself (and also brought Malcolm McDowell to attention as an actor).
Anderson would go onto make two other films in a loose trilogy of social satires on British society – O Lucky Man! (1973), a savage exploration of 1970s politics, and Britannia Hospital (1982), which cut across Thatcherism, labour union disputes and Royalty – all featuring Malcolm McDowell playing the character of Mick Travis. Each film in effect satirises its era – If … the 1960s, O Lucky Man! the 1970s and Britannia Hospital the early 1980s.
Lindsay Anderson directed a handful of other films, mostly for tv. His most notable other works were Wish You Were There (1985), the critically acclaimed The Whales of August (1987) and the tv movie Glory! Glory! (1990) about televangelism that in its earnestness towards its subject matter seemed almost a complete antithesis of the biting satire of Anderson's Mick Travis trilogy.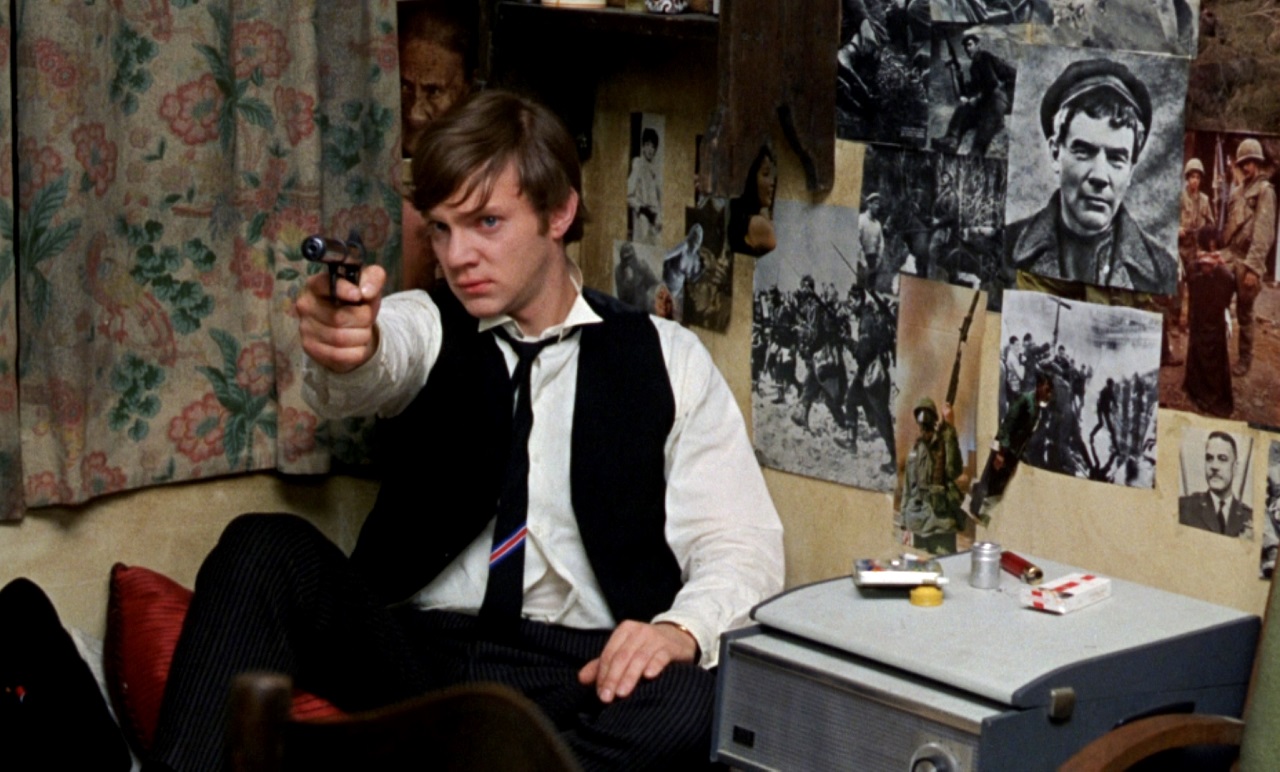 With If…, Lindsay Anderson sets out to paint a picture of the savagery of the British boarding school system – the pointless rule keeping, the sadism, the underlying homo-eroticism and the anti-authoritarian resentment that such an environment engenders. It is a task that Anderson carries out with an unnerving conviction – the scene where Malcolm McDowell is caned is incredibly difficult to sit through without flinching.
Anderson sides entirely with the anti-authoritarian agitators and If… is nothing more profound than a rebellion fantasy, relishing in acts of anarchy often as much for their own sake as anything. (There are striking similarities between If… and the famous French short Zero de Conduit (1933), which must have almost certainly influenced Lindsay Anderson). Although not particularly needed, Anderson underlines the final explosive outcome by unsubtly placing Che Guevara posters in Malcolm McDowell's room and giving him lines like: "There's no such thing as a wrong war. Violence and retribution are the only pure acts." The way that Anderson enervates it, the final uprising and massacre arrives with a gratifying and liberating catharsis.
---
---