---
Crew
Director – George Miller, Screenplay – Warren Coleman, John Collee, George Miller & Judy Morris, Producers – Bill Miller, George Miller & Doug Mitchell, Music – John Powell, Music Supervisor – Christine Woodruff, Animation Supervisor – Daniel Jeanette, Additional Animation – Giant Killer Robots (Supervisor – Peter Oberdorfer) & Rhythm and Hues (Supervisor – Todd Shifflett), Digital Supervisor – Brett Feeney, Production Design – Mark Sexton, Choreographer – Kelley Abbey. Production Company – Warner Brothers/Village Roadshow Pictures/Animal Logic Film/Kennedy Miller.
Voices
Elijah Wood (Mumble), Robin Williams (Lovelace/Ramon), Brittany Murphy (Gloria), Hugh Jackman (Memphis), Nicole Kidman (Norma Jean), Hugo Weaving (Noah the Elder), E.G. Daily (Baby Mumble), Carlos Alazraqui (Nestor), Lombardo Boyar (Raul), Jeff Garcia (Rinaldo), Johnny A. Sanchez (Lombardo), Magda Szubanski (Miss Viola), Miriam Margolyes (Mrs Astrakhan), Roger Rose (Leopard Seal), Fat Joe (Seymour)
---
Plot
On the Antarctic ice shelf, two Emperor penguins Memphis and Norma Jean give birth to a baby penguin that they name Mumble. From the moment he emerges from his egg, Mumble has a peculiar habit of making strange movements with his feet. All penguins have a unique song, their heartsong, which is the thing that most fills their hearts. Only when Mumble tries to sing, all that comes out is a discordant squawk – and when he tries to find what is in his heart, he instead ends up dancing. His inability to find his heartsong has Mumble ostracised among the other penguins. Mumble falls in with a group of young males that think his dance moves are the coolest thing. At the same time, Mumble becomes concerned over the fact that the fish in the ocean are vanishing. He hears stories of aliens that are rumoured to abduct animals off the ice shelf and believes that the aliens may be responsible. Mumble and his friends set out on a quest to find the aliens and demand an answer as to why they are taking all the fish.
---
Happy Feet was one of a whole host of talking animals animated films that came out in 2006. These eventually seemed so prevalent that they started to blur into a sameness. Others included The Ant Bully (2006), Barnyard (2006), Flushed Away (2006), Ice Age 2 (2006), Open Season (2006), Over the Hedge (2006) and The Wild (2006). Indeed, Happy Feet was followed only a few months later but yet another film about talking penguins with Surf's Up (2007). Of these, Happy Feet ended up receiving the most rapturous audience response and stood out head and shoulders above the rest of the crowd – indeed, it went onto win the Academy Award for Best Animated Film that year. Happy Feet was animated in the performance capture method that was popularised with The Polar Express (2004).
The surprise about Happy Feet is the name of the creative talent behind it – none other than Australian director George Miller, the man responsible for the Mad Max trilogy – Mad Max (1979), Mad Max 2 (1981) and Mad Max Beyond Thunderdome (1985). Certainly, George Miller's career has been uneven since the days of the Mad Max films. He was taken to Hollywood to direct one of the episodes (the best) of Twilight Zone – The Movie (1983) then had a reasonable success with The Witches of Eastwick (1987) but quit Hollywood after a falling out with the producers of that film.
Miller's output throughout the 1990s was sporadic at best – he produced Philip Noyce's thriller Dead Calm (1989) and the tv mini-series Bangkok Hilton (1989), both of which introduced Nicole Kidman to the world; had a big success as the producer of the talking animals film Babe (1995), directed its less successful sequel Babe: Pig in the City (1998); and only directed one other film, the true-life medical miracle cure search film Lorenzo's Oil (1992).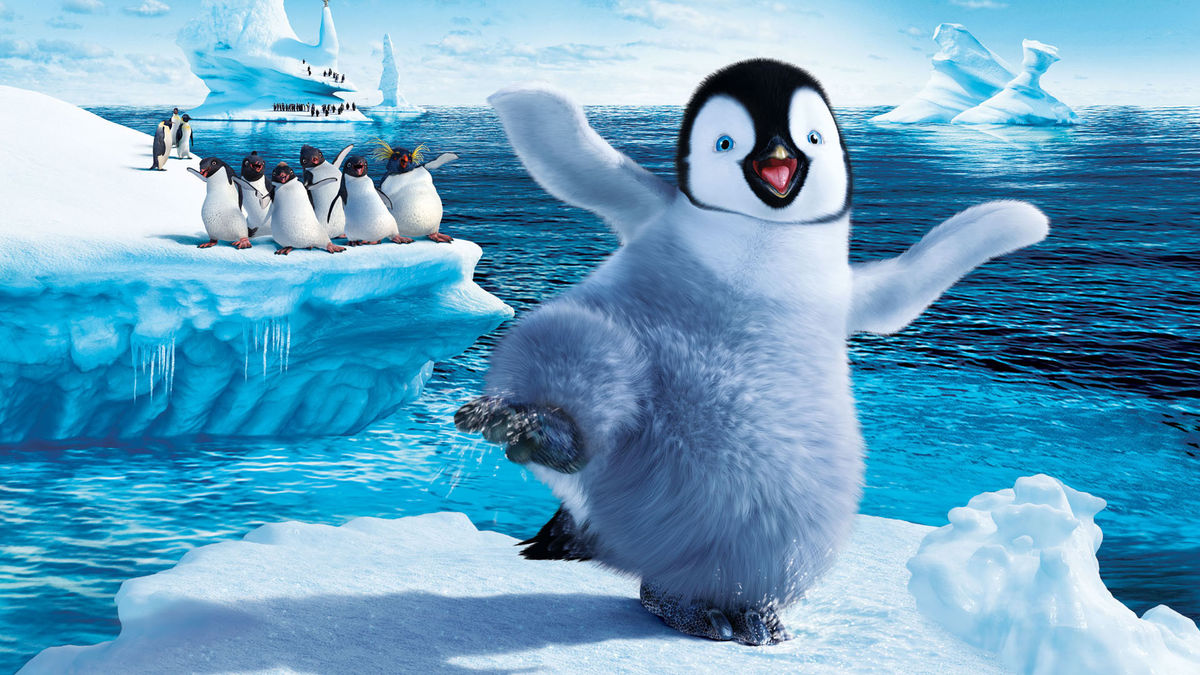 More than anything, it felt that George Miller was better known throughout the 1990s and 2000s for the films he didn't direct than those he did – Contact (1997), which he ended up being fired from, the perpetually announced fourth Mad Max film that eventually emerged as  after thirty years, the planned Justice League: Mortal and an adaptation of The Odyssey. It has not been since The Witches of Eastwick that George Miller has had a film of notice, which is a shame as he has always been a director of great untapped worth in this critic's opinion. Miller did pick up considerably after the acclaim afforded to Happy Feet and went on to works like Mad Max: Fury Road (2015) and Three Thousand Years of Longing (2022).
It is good to see Miller back in the director's chair and having a film that is a hit again. Although, one would find it hard to think of a film more far removed from the violent, revved-up comic-book action world of the Mad Max series than Happy Feet – an animated talking animals film pitched to family audiences.
Happy Feet has one of the most off the wall premises of any film of recent note – a talking animals film about tap-dancing penguins. It is almost as though Happy Feet has been conceived following a double-bill viewing of the hit documentary March of the Penguins (2005) and Billy Elliott (2000) about an outsider in a small community finding acceptance through his ability to dance. The penguins prove absolutely adorable. It is especially saddening watching the poor downtrodden Mumble's rejection from the community, which Miller plays for all the expected heartstrings. Much of the show is stolen by a chorus of manic Latino penguins, led by Robin Williams back in good old Robin Williams motormouth comic mode. There is some wonderfully high energy malarkey where George Miller's animation camera skates around the icecaps with the penguins diving en masse or being pursued by whales and walruses. Miller has an amazing voice cast and manages to squeeze in just about every single actor in the Australian Screen Actor's Guild, excepting perhaps Naomi Watts and Bryan Brown. (Even the late Crocodile Hunter Steve Irwin is there in what was his last screen appearance).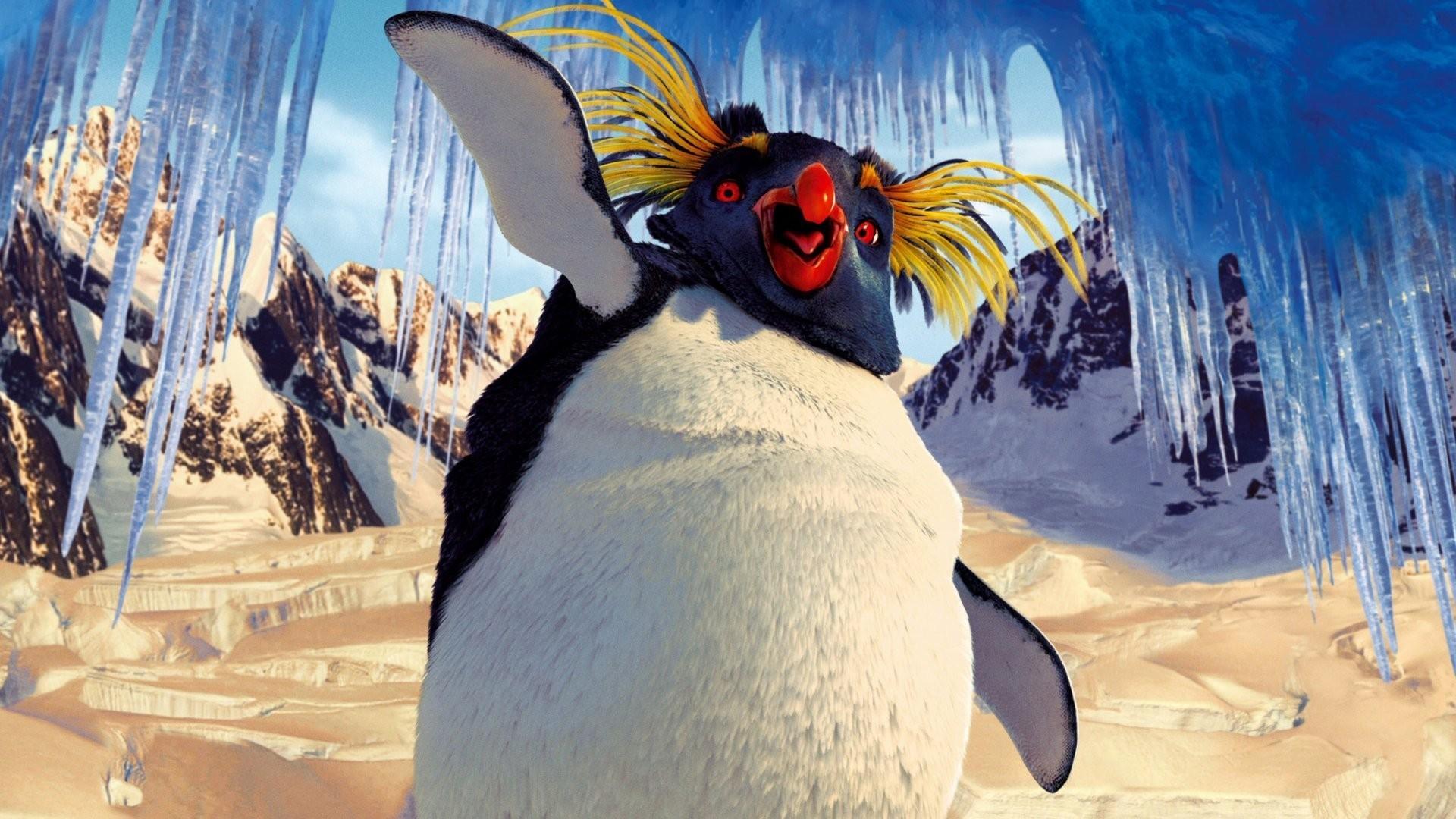 While the first half of Happy Feet is in the mode of a standard talking animals animated film with all the expected characters – the misunderstood outsider forced out from his home because nobody understands his unique talent, the love interest, the loopy guru and so on – and plays on the standard emotional ploys of this type of film, the second half becomes a different film altogether. Here the talking animal fun and silliness is put aside and the film develops a more sombre environmentalist message about endangered ecosystems and in particular warnings over the fragility of the Antarctic biosphere.
The script has the clever idea of interpreting the penguins' encounters with human civilisation as an analogue for alien abduction. It makes for an appealingly intelligent metaphor – a penguin with a tracking tag on its leg is seen as an abductee; the remains of a mining base as alien artifacts; and, in one scene, the image of an icebreaker moving through the fog becomes something akin to the mothership of lights from Close Encounters of the Third Kind (1977). There is a completely lovely scene where Mumble is placed in a zoo and sees himself surrounded by a wall of human faces (which all come with an extraordinary degree of photographic realism).
This is a film where the music supervisor is almost as much a star of the show as the animation and characters. Happy Feet is not unlike the also Australian-made Moulin Rouge (2001), which conducted some amazingly inventive medleys that reworked popular songs. Unlike most other films that quote or have popular songs on the soundtrack, this aspect is cleverly integrated into the plot. Where in most other films the use of pop songs is simply filmmakers lazily reaching for familiar cultural cues, Happy Feet shows how such a thing can be conducted with charm.
George Miller and many of the voice cast subsequently made a sequel Happy Feet Two (2011). Happy Feet was parodied in Meet the Spartans (2008).
---
---