---
Crew
Director – Josh Cooley, Screenplay – Stephany Folsom & Andrew Stanton, Story – Josh Cooley, Stephany Folsom, Martin Hynes, Rashida Jones, Valerie LaPointe, John Lasseter, Will McCormack & Andrew Stanton, Producers – Mark Nielsen & Jonas Rivera, Photography – Jean-Claude Kalache & Patrick Lin, Music – Randy Newman, Production Design – Bob Pauley. Production Company – Pixar Animation Studios.
Voices
Tom Hanks (Woody), Tim Allen (Buzz Lightyear), Annie Potts (Bo Peep), Tony Hale (Forky), Keegan-Michael Kay (Ducky), Jordan Peele (Bunny), Christina Hendricks (Gabby Gabby), Keanu Reeves (Duke Caboom), Joan Cusack (Jessie), Ally Maki (Giggles McDimple), Madeline McGraw (Bonnie), Jay Hernandez (Bonnie's Dad), Lori Alan (Bonnie's Mom), Wallace Shawn (Rex), John Ratzenberg (Hamm), Blake Clark (Slinky Dog), Emily Davis (Billy, Goat & Gruff), June Squibb (Margaret the Store Owner), Lila Sage Bromley (Harmony), Steve Purcell (The Dummies), Carl Weathers (Combat Carls), Maliah Bargas-Good (Lost Girl)
---
Plot
Woody and the other toys have been with Bonnie for several years. Woody feels neglected because Bonnie rarely plays with him and he is left in the closet. Bonnie is sent for her kindergarten orientation and a concerned Woody sneaks along in her backpack. In the classroom, a lonely Bonnie makes a toy out of a spork that she calls Forky. Back home, Forky comes to life. Woody has to talk Forky out of reuniting with the trash and convince him that he is a toy and moreover that he is Bonnie's favourite new plaything. Bonnie's family announce they are going on a road trip. She takes the toys with her. Along the route, Woody is forced to jump out of the RV after realising that Forky has gone in search of trash. On the way back to the camping ground with Forky, Woody passes an antique store and recognises Bo Peep's lamp. Venturing inside, he is captured by the doll Gabby Gabby and her retinue of ventriloquist's dummies. Gabby wants Woody's voicebox to replace her malfunctioning one. Woody escapes but Forky is left behind. Encountering Bo Peep, who has been living as a lost toy in the nearby fairground for the last seven years, Woody attempts to mount a rescue expedition back into the antique store where Gabby Gabby is holding Forky hostage.
---
Toy Story (1995) was the very first film that Pixar ever made and the first ever full-length computer-animated film. It changed the industry – even the way animation was made with most studios abandoning hand-drawn for computer animation within less than ten years. For a decade-and-a-half after, it made Pixar into the No 1 name in animation (and still is arguably). Toy Story 2 (1999) was Pixar's third film in all and the first time they sequelised their own product, and proved every bit as enjoyable as its predecessor.
Pixar went onto an unbroken string of successes with A Bug's Life (1998), Monsters, Inc. (2001), Finding Nemo (2003), The Incredibles (2004), Cars (2006), Ratatouille (2007), Wall-E (2008) and Up (2009). With Toy Story 3 (2010), Pixar started churning out a string of sequels to their own films. This was the point when the studio went into a creative decline where the generation of lesser sequels like Cars 2 (2011), Monsters University (2013), Finding Dory (2016), Cars 3 (2017), Incredibles 2 (2018) and Lightyear (2022) overtook fresh and original product.
Toy Story 4 emerges at a point when the Pixar name was far less than it was a decade earlier when the studio was at their all-time creative high with the successive releases of Wall-E and Up. Toy Story 3, while a lesser film than its two predecessors, was nevertheless enjoyable. It did however feel like it had a finality to its arc with Andy growing and handing the toys on to other children. It was hard to see where a fourth film could go from there without seeming like a forced attempt to create another sequel. (Likewise, the departures of characters at the end of this film has a finality that makes it hard to see where any further Toy Story film could go from here).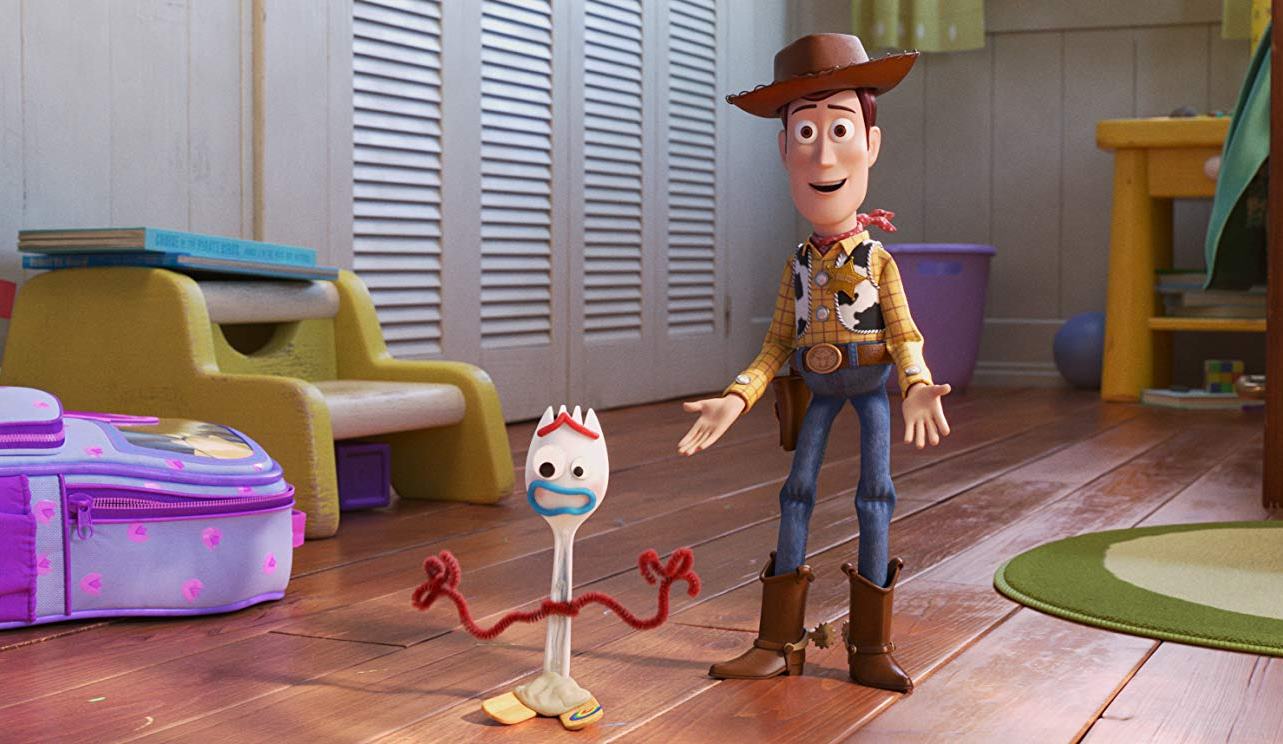 With lowered expectations after the string of Pixar sequels and given the ending of Toy Story 3, I admit to being entirely surprised by Toy Story 4. It takes up where the third film ended where Woody was the sheriff and turns it on its head to show him feeling neglected, left alone in the closet and never played with. The new film gives Woody an incredibly strong new arc – in fact, I would be prepared to argue that it works far better than the third film does – with the introduction of a Frankensteinian creation called Forky (the idea that plastic spoons and your trash might be sentient is an idea that gets just a little creepy when you think about it) and then Woody's attempts to retrieve the errant Forky and persuade him that he is the most important thing in Bonnie's life right now (where Woody's fight for Bonnie has a habit of blurring into his memories of Andy).
By far the greatest fun in the film comes in the new complement of characters. Bo Peep is back (with the most adorable trio of conjoined ceramic sheep) but has now spent nine years in the wilderness as a lost toy – while riding around with other several toys in a vehicle that looks like a skunk. We reach an end with the suggestion of romance between toys (although the idea of what toys would use gender differences for is another thing that it doesn't pay to think too much about – even trash seems to have gender differences according to the post-credits scenes).
Bo Peep is joined by Giggles McDimple, an adorably cute miniature toy cop who lives inside a compact where she even rides around in her own toy car. There's a duo of fluffy toys escaped from a fairground shooting arcade – one of which is voiced by Jordan Peele, the high-profile horror director of Get Out (2017) and Us (2019) – who keep coming up with outrageously absurd schemes. There's a Keanu Reeves-voiced Canadian stunt cyclist (clearly based on Evel Knievel), which leads to a good deal of fun in the eccentric caper to rescue Forky from the antique store cabinet.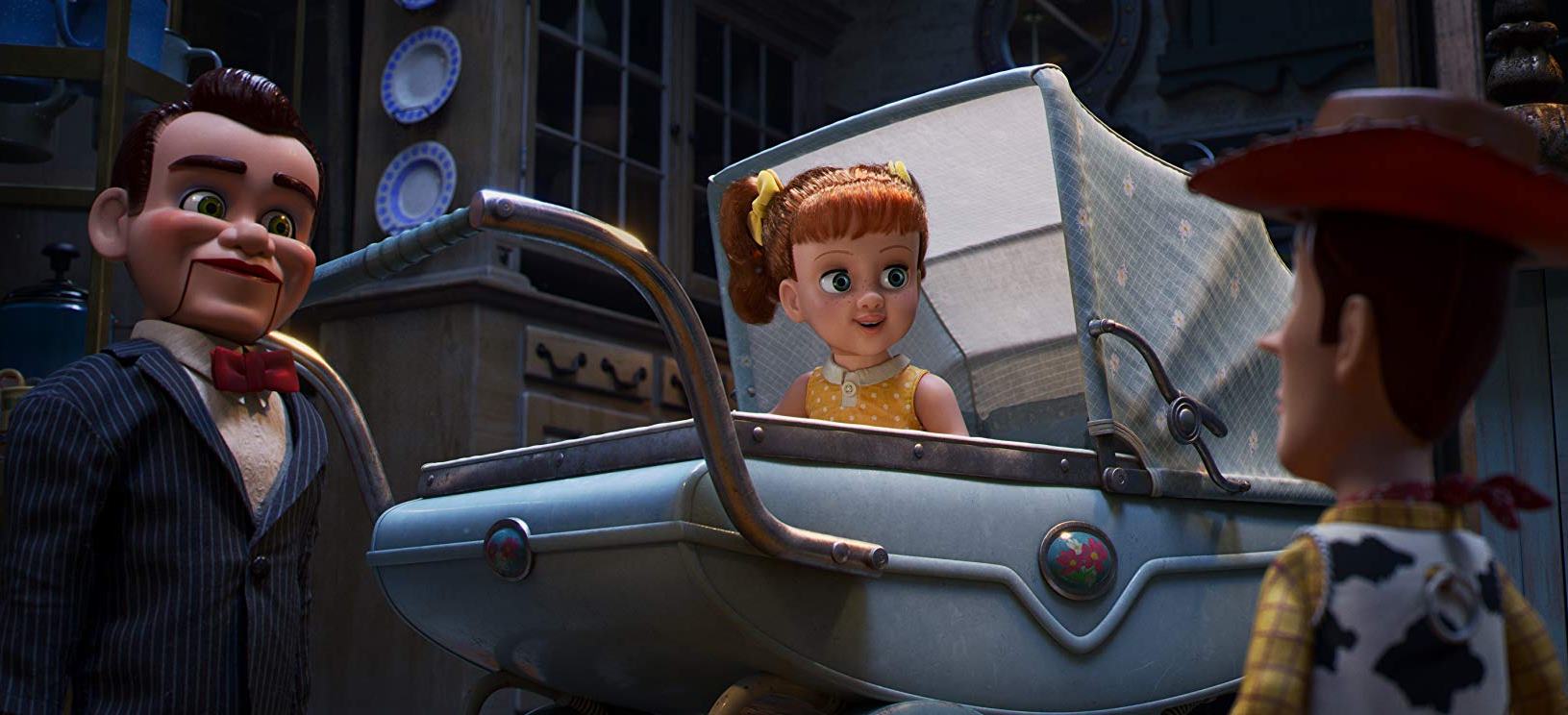 The best of the new characters is Gabby Gabby, the doll who ended up in the antique store because of a defective voicebox. She comes accompanied by a trio of sinister ventriloquist's dummies – who couldn't help but remind of the evil Slappy out of Goosebumps 2 (2018) – and a plan to steal Woody's voicebox. Gabby Gabby becomes the villain of the show but also gets some of the best writing (of what is an extremely good script). There's a lovely emotional scene where she explains to Woody what she would give for just a taste of the affection he had from Andy and a saddening scene where Harmony rejects her. Not to mention an equally saddening scene where she finally bonds with the Lost Girl.
This is a surprisingly good entry in the series – it is Pixar firing on all cylinders like they used to and I would have no hesitation in saying is the best of the Pixar sequels of the 2010s. The new characters give the film a great deal of eccentric colour and finally allow it to find its feet and do the charming, funny things that all the good Pixar films used to do.
The character of Buzz Lightyear was subsequently spun off as the hero of a standalone film with Lightyear (2022).
(Winner in this site's Top 10 Films of 2019 list).

---
---