---
Crew
Director – Gabriel Sabloff, Screenplay – Sean Paul Murphy & Gabriel Sabloff, Producers – Bradley Dorsey, Jeffrey Peterson, Michael Scott, Elizabeth Travis, David A.R. White & Russell Wolfe, Photography – Darren Rydstrom, Music – Will Musser, Visual Effects – The Graphic Film Companty [sic], Special Effects – Roy Cancino & Dan Cangemi, Production Design – Susannah Lowber. Production Company – Pure Flix Entertainment/Latigo Entertainment.
Cast
David A.R. White (Josh McManus), Brian Bosworth (Hawg), Andrea Logan White (Cat), Noell Coet (Beth), Eric Roberts (Sheriff Jensen), Morgan Leslie Bosworth (Gail), Steve "Sting" Borden (Junkyard), Bruce Marchiano (The Stranger), Jen Lilley (Rachel McManus), Leticia Robles (Claudia), Laksh Singh (Dinesh), Roberta Benson (Kathy Jensen), Ryan Alosio (John Dean Carver)
---
Plot
It is after The Rapture has occurred. With the world around him in a state of chaos and confusion, Josh McManus sets out to return home to his wife Rachel. The biker Hawg and his gang come in pursuit. Hawg is determined to obtain revenge against Josh and kills all who get in his way. The journey causes Hawg to remember back to his late wife Gail and how she persuaded him to accept Christ into his life and run a clean operation. However, her subsequent murder caused him to turn against this and reject God. The pursuit and the people he encounters on the way cause Josh to have to delve further into the mysterious fighting skills he has, while also coming to discover the divine purpose that has been planned for him.
---
Christian Cinema – that is to say films made by evangelical Christians – has been gaining huge ground since the 1990s. During this time, we have seen these films becoming more professionally polished and employing name actors to carry the message to wider audiences. A sampling of representative titles might include The Omega Code (1999), Left Behind (2000), Time Changer (2002), The Visitation (2006), Fireproof (2008), Suing the Devil (2011), God's Not Dead (2014), Heaven is For Real (2014), Miracles from Heaven (2016) and The Shack (2017), plus a great many others that usually never get theatrical screenings. There is a surprising number of these that concern themselves with End Times and The Rapture – the belief that Biblically-ordained end of the world is imminent and that all true believers are going to bodily taken up to Heaven, while those that remain are given over to the Anti-Christ.
Revelation Road: The Sea of Glass and Fire is the second in a trilogy of films that take place around the advent of The Rapture. The series started with Revelation Road: The Beginning of the End (2013) and finished with the subsequent The Black Rider: Revelation Road (2014). All three films are produced by and star David A.R. White, a former mainstream actor who now exclusively specialises in Christian cinema, often also writing the scripts. The series director Gabriel Sabloff is also a specialist in this same Christian Cinema niche.
One of the several criticisms I would make of The End of the Beginning is that it felt padded. It didn't work so well as a self-contained story and when you see where the series is going here this becomes even more obvious. One of the main issues in The Sea of Glass and Fire is that The Rapture seems more a backdrop than a central event to the story. You could take The Rapture out of the story and the film would still play fairly well without it. In the day or so that supposedly takes place between the two films, the world around seems to have dissolved into a state of quasi anarchy and chaos. Not quite the complete dissolution of civilisation we get in Mad Max 2 (1981), more the fraying around the edges that we got in the first Mad Max (1979).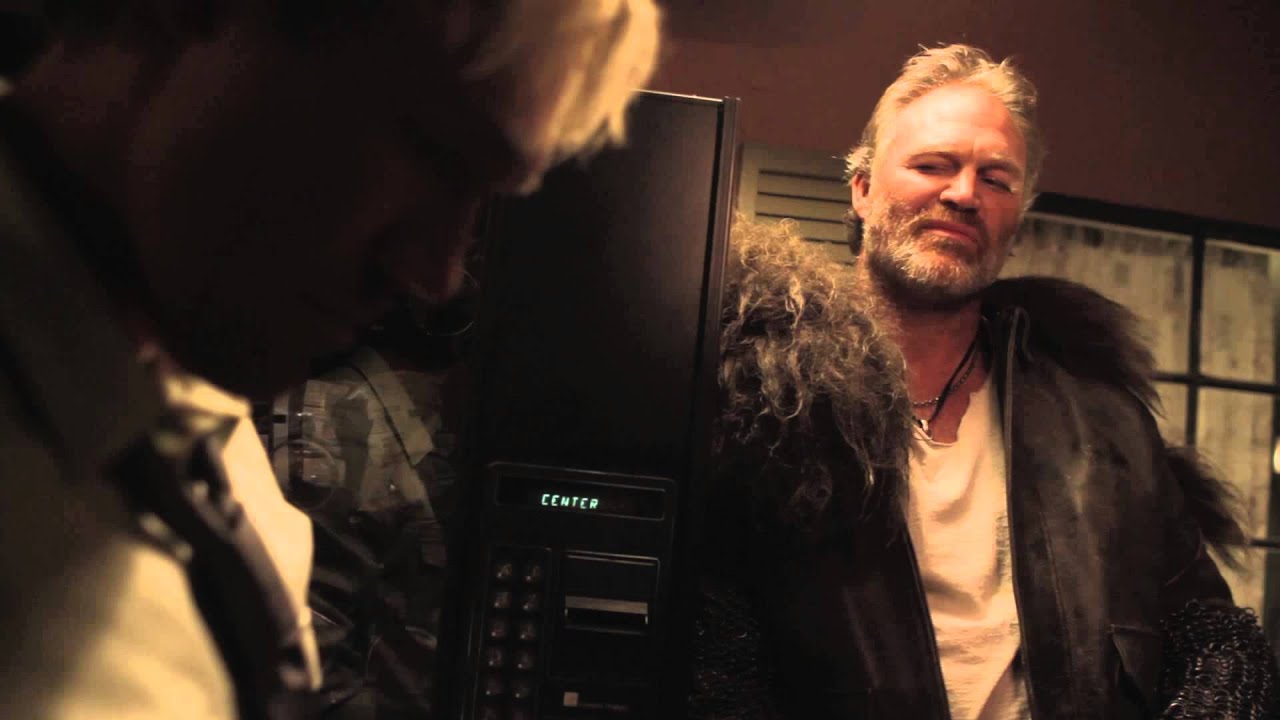 The Mad Max 1 comparison is not inapt for the two films have very similar plots – they are essentially road movies with one decent family man being single-mindedly pursued by a biker gang leader seeking personal vengeance. Maybe Mad Max 1 combined with the Jason Bourne films as David A.R. White begins to discover more of his conditioned super-soldier fighting skills he has seemingly forgotten. (Gabriel Sabloff and David A.R. White would return to Mad Max territory even more in the subsequent film The Black Rider: Revelation Road, which turns White into a loner driving the post-apocalyptic wasteland in a black muscle car in a plot that drew much on Mad Max 2).
One of the strengths of the film is that it gives us the backstory of Brian Bosworth's gang leader Hawg, which takes up just as much time as David A.R. White's journey does. The vengeance trail plot always works well for a film and here this is not too badly told. If you can tune out the fact that the film climaxes on all figures coming together on their knees to ask for forgiveness and for Jesus to enter their lives rather than the knockdown punch-up showdown it seems to be aiming for, the film works reasonably well as a character-driven drama. Pro football player turned actor Brian Bosworth is well suited to the badass thuggery, which makes nice contrast to the flashback scenes of him in a more morally centred state of mind.
---
---