---
Crew
Director – Lindsay Anderson, Screenplay – David Sherwin, Producers – Davina Belling & Clive Parsons, Photography – Mike Fash, Music – Alan Price, Special Effects – Peter Aston & George Gibbs, Makeup – Nick Maley, Production Design – Norris Spencer. Production Company – EMI/General Productions.
Cast
Leonard Rossiter (Vincent Potter), Graham Crowden (Professor Millar), Malcolm McDowell (Mick Travis), Robin Askwith (Ben Keating), Marcus Powell (Sir Anthony Mount), John Bett (Lady Felicity Ramsden), Joan Plowright (Phyllis Grimshaw), Brian Pettifer (Biles), Peter Jeffrey (Sir Geoffrey), Jill Bennett (MacMillan), Fulton MacKay (Chief Superintendant Johns), Dave Atkins (Sharkey), Mark Hamill (Red), Frank Grimes (Sammy/Voice of Genesis)
---
Plot
The staff at Britannia Hospital are preparing for a visit from The Queen to open the Millar Centre for Advanced Surgical Science, however the hospital is plagued by strike action. As hospital administrator Vincent Potter tries to negotiate with the unions in order to allow the visit to go ahead, tv reporter Mick Travis sneaks in past the picket line. There he witnesses the brilliant Professor Millar conducting unorthodox scientific experiments and building a Frankenstein-like patchwork creation.
---
Britannia Hospital was the third in director Lindsay Anderson's trilogy of films set around Malcolm McDowell's character of Mick Travis – the preceding entries being If…/a> (1968) and O Lucky Man! (1973). The overriding theme of all three films was a blackly scathing indictment of British society, in particular the class system.
Unlike the other entries in the trilogy, Lindsay Anderson's satiric bite is looser and less focused with Britannia Hospital. The film (and the microcosm of the hospital) is intended as a satiric cross-section of early 1980s Britain under Mrs Thatcher – the increasingly indifferent privilege oriented upper-echelons of society; a satiric escalation of the strikes that Britain was being plagued with at the time; the archaism of Royalty in modern times; and familiar targets like the blind narcissism of medical science and the gutter morality of the tabloid press. No sector of society it seems is free from Anderson and co-writer David Sherwin's barbs.
For all that, it is never entirely clear what point Anderson and Sherwin are trying to make. The end of the film is case in point – throughout Graham Crowden is set up as a classical mad scientist but is then turned around and made into a moral mouthpiece, decrying the inequalities of society, before unveiling his masterpiece – a human super-brain. The unveiling, which could have been either a climactic moment of triumphant awe or horror in any B science-fiction film of the 1950s, is strangely without effect – one doesn't know whether the creation is intended tongue-in-cheek or not, or whether the climax is intended to have a utopian or a dystopian charge. The strongest images in the film are in fact those of the riots – which Anderson mounts with a large-scale brutality. The most striking and potent image is that of a girl who plaintively offers a riot policeman a flower only to receive a punch in the face.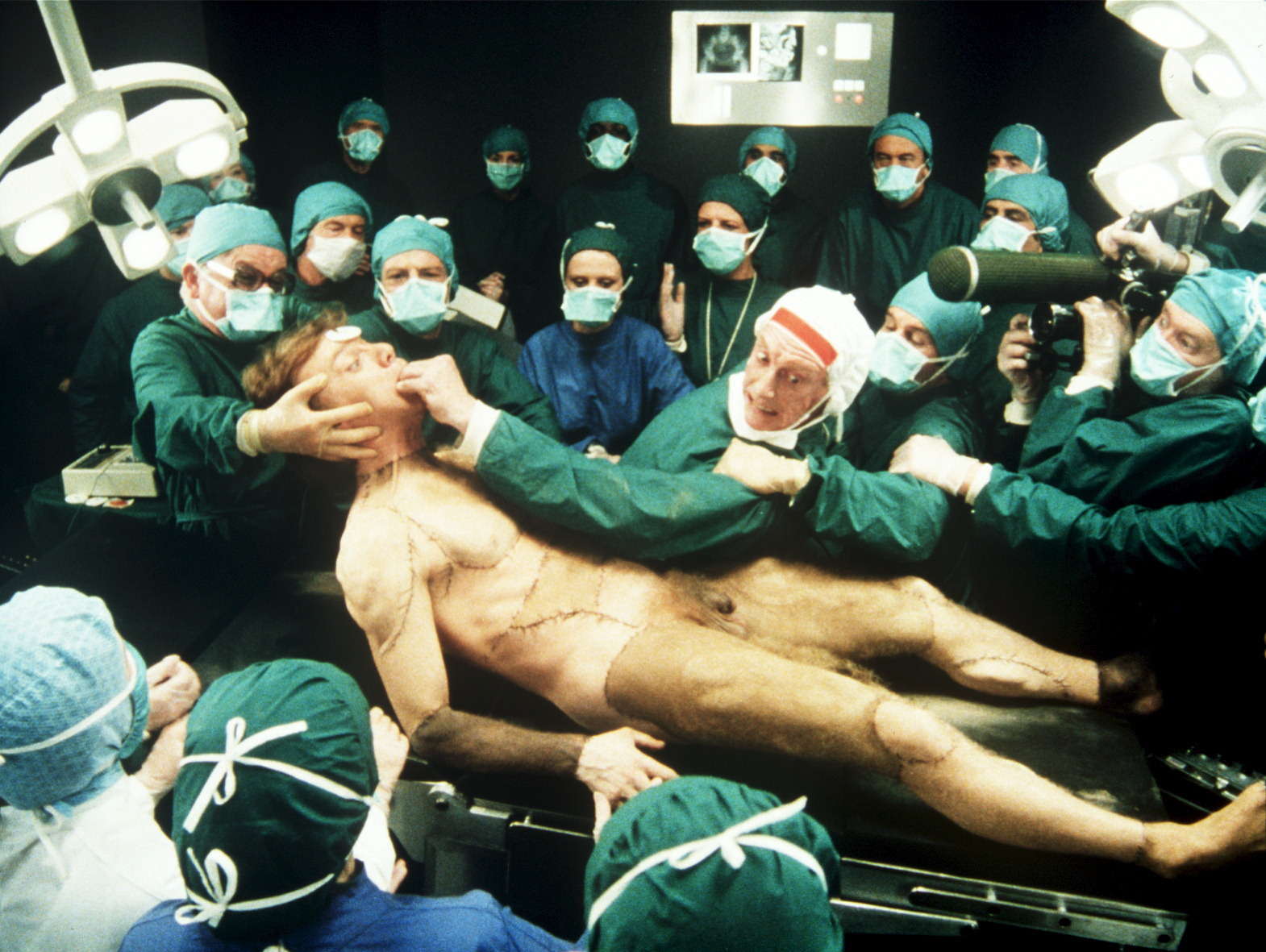 Britannia Hospital is an oddly uneven film, although there are many satiric amusements tucked away in its corners. Graham Crowden gets many of them, joyously mixing human brains in blenders and drinking the contents, breaking in the middle of his great and noble speeches about the future of science so that the camera-crew can change film and then continuing without a beat missed. So too is Leonard Rossiter, tormenting his face in bizarre grimaces while hunched into his collar like a shark, in another of his patented ruthless bastard bureaucrat performances. On the other hand, there are equally as many scenes that seem clumsy and ill-handled – the two Royal protocol officials, a dwarf and a bad cross-dresser, are not funny, while the Frankenstein subplot has no real purpose.
Britannia Hospital is somewhat of a disappointment. Lindsay Anderson's best work seems to have been made at the start of his career – indeed, by the end of decade he had slid all the way down to making a tv movie like Glory! Glory! (1989), which stood up in favour of evangelical Christianity with an alarmingly orthodox regard that Anderson would have relished the opportunity to tear into two decades before.
---
---