---
Crew
Director – Alan Metzger, Teleplay – Richard Romanus & Anthea Sylbert, Photography – Karl Herrmann, Music – Stanley Clarke, Special Effects Supervisor – Frank C. Carere, Production Design – Alicia Keywan. Production Company – Hearst Entertainment/Spring Creek Productions.
Cast
Ally Walker (Susan Stone), Hayden Panettiere (Suzie Stone/Alice Stone), Tom Amandes (Tom Weller), Andrew Tareet (Bob Stone), Meredith McGeachie (Robin), Richard Romanus (Walter), Demore Barnes (Mark), Victoria Snow (Dorinda)
---
Plot
Susan Stone is a book editor in her late thirties living in New York City. She has come to regard life with cynicism to such an extent that her brother tells her not to come around any more after she harshly tells one of his daughters that Santa is not real. At work, Susan's writers are failing to come up with any worthwhile material and she is starting to feel that she has lost it. Susan is then surprised to find a young girl in her apartment. She comes to realise that this is Suzie, her younger seven-year-old self, and that Suzie is invisible to other people. She does everything to try and get rid of Suzie. Suzie tries to draw Susan out of her misanthropy and inspire her to be more giving. When Susan's secretary gives her a manuscript from a friend, Susan is dismissive. Suzie tries to inspire Susan to realise that this is the new talent she has been looking for and that the author, Tom Weller, has romantic interest in her.
---
If You Believe is a Christmas season made-for-tv movie. It has surprising similarities to The Kid (2000), a cinematically released Disney film that came out a year later, which featured the same theme of an adult meeting their childhood self and reminding them of the joy of life again. Although where The Kid played the adult meeting their childhood self for comedic possibilities, If You Believe plays the idea more seriously and places it towards more seasonal feelgood sentiment.
I cannot say that I have much time for these mawkish Yuletide season films at all. Although, as it goes, If You Believe comes with a certain sincerity and by no means ploys its sentiment with undue regard – indeed, it often seems to underplay all the expected emotion. (Although maybe the score that reworks Christmas carols insistently playing away in the background was a bit too much).
If You Believe is quite nicely made in places. There is a very nice montage sequence that comes as the opening credits play where director Alan Metzger takes us through the various Thanksgiving family dinners as Susan grows up, in doing giving us a fine portrait of the patronising and conservative attitudes of her family. Ally Walker, the lovely doe-eyed find from tv's Profiler (1996-9) and a muchly underrated actress, does a more than convincing job of portraying the misanthrope role. As the younger Susan, Hayden Panettiere, later one of tv's Heroes (2006-10), launches into her performance with a wonderfully determined energy.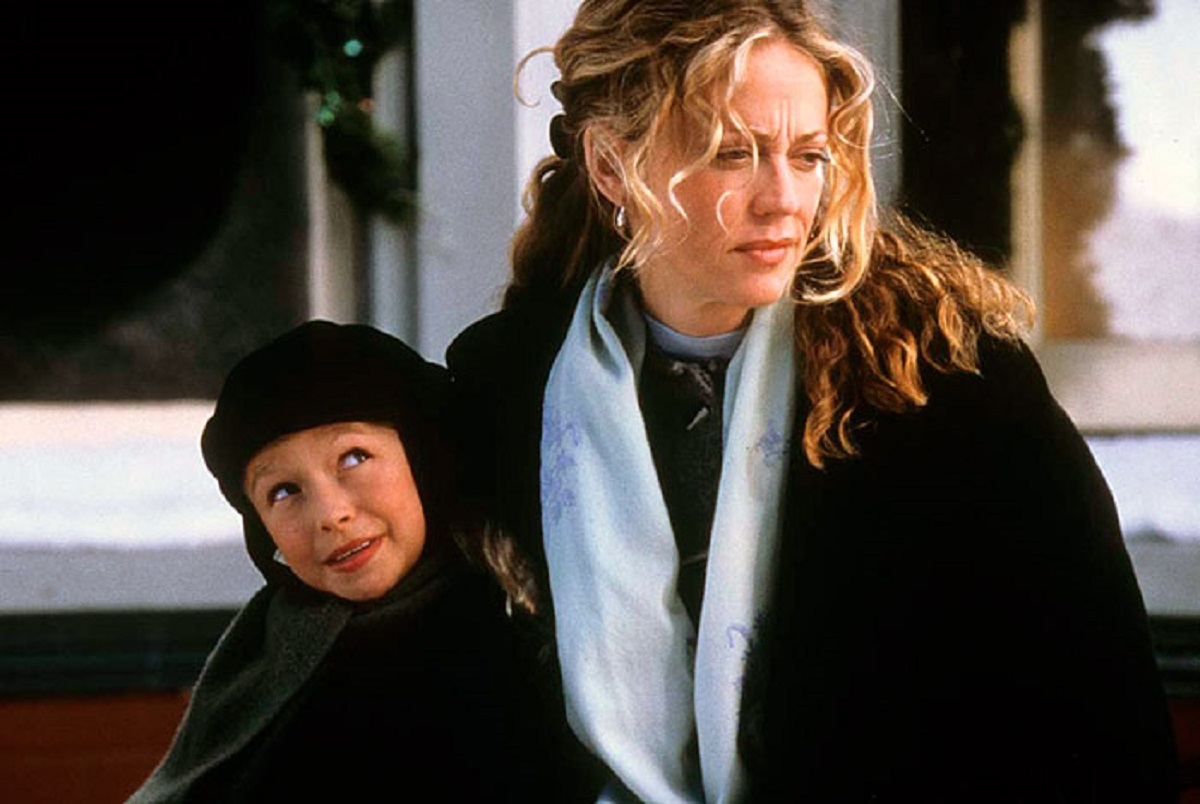 It all works towards another of the traditional messages of American fantasy, which comes with moderate conservatism – of having belief in one's self, of the virtues of good-heartedness, the importance of family and Christmas, and that eventually such things equate to success in business. The way that all of these elements transpire on screen is predictable. The surprise that comes is perhaps that If You Believe pitches its emotions at an adult level rather than the schmaltz expected of this genre. The corollary of such is that the film comes across as reserved emotionally. It never seems caught up in the passions of Ally Walker's romance, or even concerns itself too much with her miserly redemption.
Oddly, the most feeling seems to be retained for Ally's breakthrough and success in the publishing field. Here the film seemingly comes with an insider's view of the publishing market and written as though by someone who has worked there. This does leave the film's redemption fantasy with small horizons. Eventually even the appearance of the kid is not that important to If You Believe as a story – Ally Walker is side-tracked by the romance and by the end Hayden Panettiere has been almost entirely forgotten about to the extent that we don't even get to see her depart.
---
Trailer here
Part 2 here:-
---