---
Finland/Norway/France/Sweden. 2010.
Crew
Director/Screenplay/Production Design – Jalmari Helander, Based on an Idea by the Helander Brothers, Producers – Anna Björk, Agnes B. Frantz, F.X. Frantz, Petri Jokiranta & Knut Skoglund, Photography – Mika Orasmaa, Music – Juri Seppä & Miska Seppä, Visual Effects – Fake Graphics (Supervisor – Ville Vaajakallio), Special Effects – SFX Companiet (Supervisor – Dan Erik Heggelund). Production Company – Cinet/Pomor Film/Love Streams/Agnes B Productions/Davaj Films/Filmcamp AS/Filmpool Nord AB/Kinology/Svein Andersen and Kjetil Jensberg/Per-Erik Svensson/Yle Co-Productions/Erkki Astala
Cast
Onni Tomila (Pietari Kontio), Jorma Tomila (Rauno Kontio), Tommi Korpela (Aimo), Rauno Juvonen (Piiparinen), Per Christian Ellefsen (Riley), Jonathan Hutchings (Brian Greene), Peeter Jakobi (Pietari's Elf), Ilmari Järvenpää (Juuso), Risto Salmi (Sheriff)
---
Plot
An American mining operation sets up at Korvatunturi mountain in Lapland and begins digging in great secrecy. Young Peitari Kontio and his friend Juuso, sons of the reindeer farmers in the area, sneak in through the fence. Peitari is certain that what the Americans are searching for is the burial place of Santa Claus, although he comes to believe that what is there is the real Santa, not the one of popular myth – something monstrous that brutally punishes naughty children, spanking them until their bones break. The farmers then find that the herds of reindeer have all been slaughtered. Next, something starts stalking the township, stealing appliances and abducting all the naughty children.
---
The Christmas film has become a perennial American tradition – see classics like It's a Wonderful Life (1946), Miracle on 34th Street (1947), A Christmas Story (1984) and umpteen million versions of A Christmas Carol (1843), among numerous others. There is a smaller tradition of anti-Christmas films that dig into the darker underside of the rosy sentiments – The Nightmare Before Christmas (1993), Bad Santa (2003) and my personal favourite, the various Futurama (1999-2003) Christmas specials with a killer robot Santa, not to mention a bunch of Santa slasher films with the likes of Black Christmas (1974), To All a Good Night (1980), Christmas Evil/You Better Watch Out (1980), Silent Night, Deadly Night (1984) and sequels, Santa Claws (1996), Psycho Santa (2003), Black Christmas (2006), Deadly Little Christmas (2009), Silent Night (2012), All Through the House (2015) and Good Tidings (2016). There have been other Christmas horror films too with the likes of Jack Frost (1997), Santa's Slay (2006), Santa Claus vs. the Zombies (2010), and recently a number of Krampus films beginning with the high-profile Krampus (2015), even two anthologies of Christmas horror stories with A Christmas Horror Story (2015) and Unholy Night (2019)..
Rare Exports is an effort that joins the latter group of dark Christmas films. Finnish director Jalmari Helander conducts a feature-length expansion of two earlier short films he had made, Rare Exports Inc (2003), which featured hunters tracking Santa, and The Official Rare Exports Inc Safety Instructions (2005), a parody of industrial films giving instructions for dealing with the captured Santas. The film version was given a big budget via funding from a variety of pan-European countries.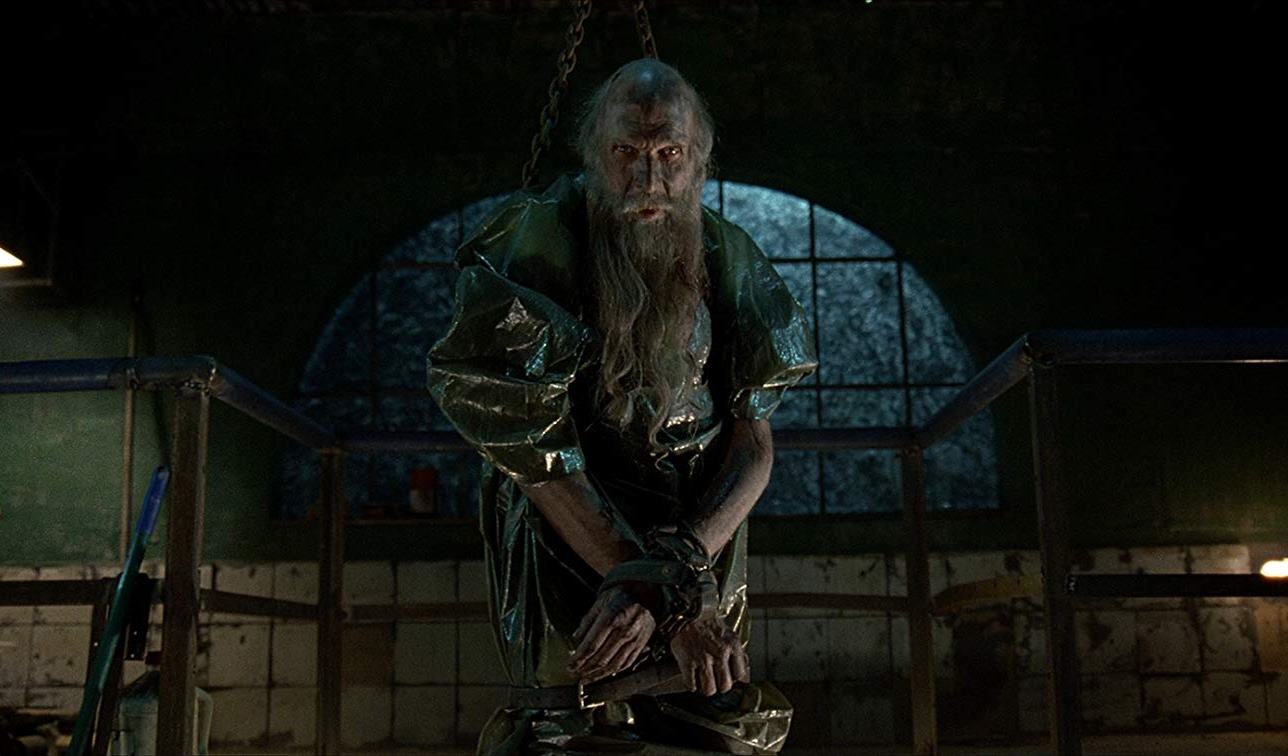 The finished film was a modest success and did the rounds of a number of film festivals. It is certainly feels as though Jalmari Helander has shot it with an eye towards competing with mainstream multiplex cinema – he having employed visual effects houses to create a range of creatures, while the cinematography is shot with an eye for the Finnish locations and is determined to present them with maximum widescreen impact.
Rare Exports soon kicks in as a welcome alternative to the sentimentalised American treatment of Christmas. The early sections of the film are constantly digging away through Onni Tomila's illustrated children's books to suggest something darker beneath the sentiments – what he calls "not the Coca Cola version" – where Santa was originally a monster that punishes naughty children in cruelly sadistic ways. Jalmari Helander shows us less than family-friendly images – a field of slaughtered reindeer, the hero's father being prepared to carve up the body of someone they think they accidentally killed. Moreover, when we are initially introduced to what looks like Santa (although this turns out to be one of the elves), it is something that looks like Gollum's father – gaunt, bedraggled and with a range of sinister expressions, about the furthest thing from a jolly man in a red suit than you could get.
When it comes to the scenes of a giant rampaging Santa threatening to emerge from a hangar at the end and an army of naked elves closing in like a horde of undead in a zombie film, you realise that Rare Exports is really a Christmas film that has been reconceived as a monster movie. It could easily follow the formula for one of the cheap monster movies that are churned out for the Syfy Channel.
However, despite moving in some great and original directions at the outset, Rare Exports also disappoints. The fascinating idea in the early sections of the film about digging underneath Christmas sentiments to reveal something that was originally a nightmare figure disappears and the film becomes a standard monster movie. The rest of the film is just running around trying to stop the marauding elves and the giant Santa from emerging.
It disappointingly becomes a film that fails to push its premise far enough. It never even lets the marauding monster Santa out of the box to punish naughty children, the very thing that the entire film seems premised on doing. Instead, it is a film that plays it safe and toys with a darker undertow and then decides it is not going to go that far, which can only read as a certain conceptual cowardice. A film that took such promise all the way would have been awe-inspiring.
Jalmari Helander next went onto make the English-language action film Big Game (2015).
---
Trailer here
Original short film here:-
---