---
Crew
Director – Todd Strauss-Schulson, Screenplay – Jon Hurwitz & Hayden Schlossberg, Producer – Greg Shapiro, Photography (3D) – Michael Barrett, Music – William Ross, Visual Effects Supervisor – David Goldberg, Visual Effects – Furious FX & Ingenuity Engine (Supervisors – Michael Lebensfeld & Grant Miller), Special Effects Supervisor – Russell Tyrrell, Makeup Effects – KNB EFX Group Inc (Supervisors – Howard Berger & Greg Nicotero), Production Design – Rusty Smith. Production Company – New Line Cinema/Mandate Pictures/Kingsgate Films.
Cast
Kal Penn (Kumar Patel), John Cho (Harold Lee), Tom Lennon (Todd), Amir Blumenfeld (Adrian), Danny Trejo (Carlos Perez), Neil Patrick Harris (Himself), Paula Garces (Maria Perez Lee), Ashley Coss, Chloe Coss & Hannah Coss (Baby Ava), Daneel Harris (Vanessa), Jordan Hinson (Mary Katsov), Elias Koteas (Sergei Kaysov), Yasen Peyankov (Yuri), John Hoogenakker (Gustav), Melissa Ordway (Gracie), Richard Riehle (Santa Claus), Bennett Saltzman (Boris), Bobby Lee (Kenneth Park), RZA (Lamar), Da'Vonne McDonald (Latrell), Patton Oswalt (Mall Santa), David Krumholtz (Goldstein), Eddie Kaye Thomas (Rosenberg)
---
Plot
Harold is now a successful Wall Street banker, where he has settled down and married his girlfriend Maria. As Christmas comes, he receives a visit from his in-laws where his father-in-law Carlos lectures on the importance of having the right Christmas tree in order to celebrate the season properly and brings a tree he has specially grown. Meanwhile, Kumar has been in a slump after his girlfriend Vanessa left him three months ago. She now returns to inform Kumar that she is pregnant. Kumar finds a parcel for Harold left outside the apartment door. He gets a ride to Harold's home with Adrian, his nerdy neighbour who is on the way to a Christmas party to meet Mary, a hot girl he hooked up with over the internet who wants to lose her virginity to him. The parcel proves to contain a giant joint but Harold no longer smokes weed. However, in throwing it away, they accidentally set Carlos's Christmas tree on fire. Harold sets out with his friend Todd to find the last tree in the state, at the same time as Kumar tries to buy it, only for the tree to be incinerated in the midst of the fracas. Their attempt to get a replacement Christmas tree propels the two old friends through a series of accidents and encounters with a murderous Russian mafia boss, a resurrected Neil Patrick Harris and where Harold shoots down Santa. During the course of this, the two renew their friendship.
---
A Very Harold & Kumar 3D Christmas was the third of the Harold and Kumar films. The stoner film has a history that goes back to the popularity of Cheech and Chong in the 1980s to more recent efforts such as Dude, Where's My Car? (2000), How High (2001), Pineapple Express (2008) and High Society: A Pot Boiler (2009). The Harold and Kumar films, Harold and Kumar Go to White Castle (2004) and Harold and Kumar Escape from Guantanamo Bay (2006), have found a popularity that has allowed them to stagger their raucously scatological jokes out with far greater popularity than one might have thought the initial effort would have lent itself too. There have even been rumours of spinning Neil Patrick Harris's character and the duo of Rosenberg and Goldstein out into their own movies.
A Very Harold & Kumar 3D Christmas is a point where the series goes crazy and enters into frequently gonzo genre territory. John Cho accidentally shoots down Santa Claus (Richard Riehle) with a shotgun and they are forced to stitch up his head wound; in one sequence, Neil Patrick Harris ends up in Heaven where his celebrity succeeds in stealing away the hot babes that Jesus Christ was hoping to bang; there is a waffle-making robot that develops an unnatural attachment to Kal Penn; while the film frequently breaks the fourth wall, particularly when it comes to spoofing the 3D process. There is also a rather funny scene where Harold and Kumar are transformed into Claymation characters and pursued through the streets by a giant rampaging evil Christmas tree.
The 3D allows them the opportunity to spoof the current mania for 3D films with joints, thrown eggs, puffs of exhaled marijuana smoke, as well as the usual trappings of the Christmas film such as tree ornaments and Santa and sleigh all popping out of the screen.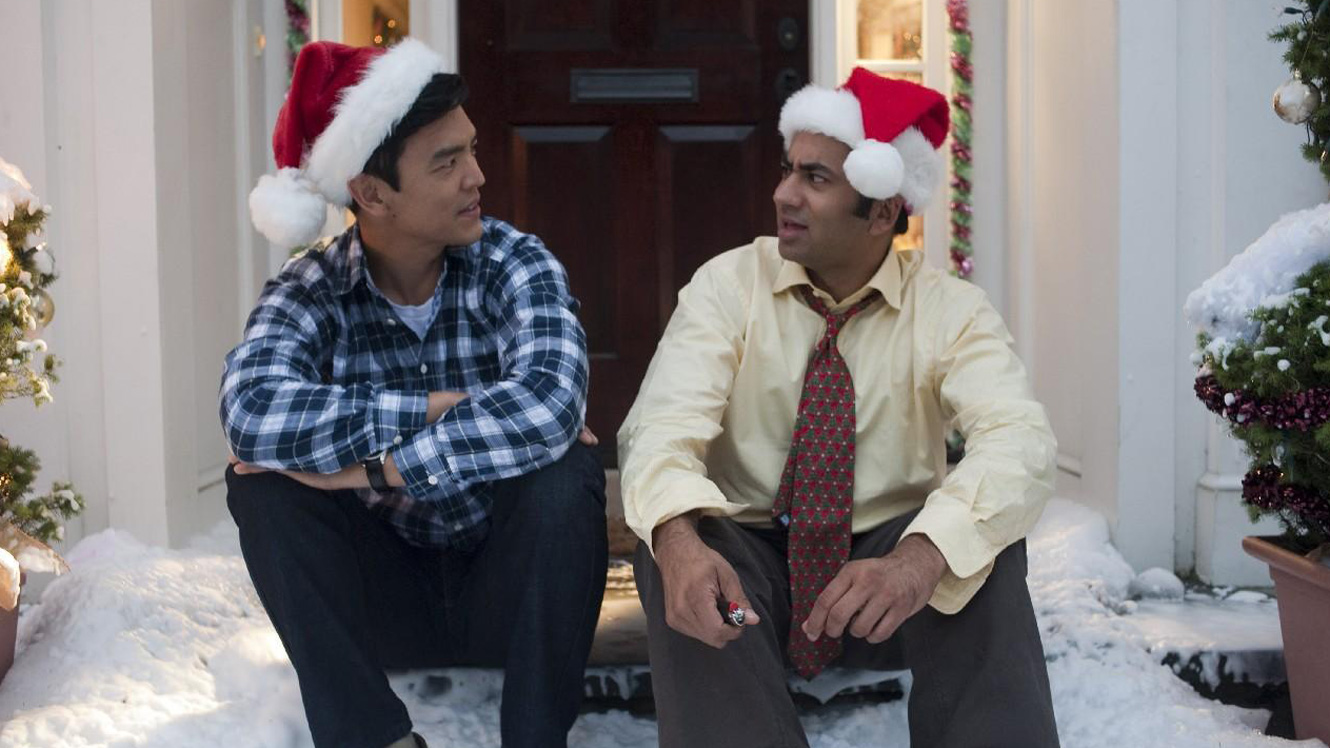 The frequently scatological focus of the series also allows them to sink their teeth into the familiar homilies of the Christmas film with a sarcasm not seen since Bad Santa (2003) – typical of the film is a parody of the famous scene from A Christmas Story (1984) where the kid gets his tongue frozen to a pole, which is replayed here with John Cho getting his dick frozen to a pole.
We also get an appearance from Santa who confesses to masturbating into a sock filled with baby powder and in the last scene of the film is seen flying off on his sleigh smoking from a bong pipe, as well as a mall Santa (Patton Oswalt) who deals dope on the side.
A Very Harold & Kumar 3D Christmas is relentlessly and unahsamedly a vulgar film. Indeed, one suspects the reason that the series is cast with an East Indian and a Korean actor is that doing so allows the film a certain hall pass in getting away with making a large number of racial jokes. In between its various stoner jokes, dick jokes and the like, A Very Harold & Kumar 3D Christmas does have a number of scenes that are funny (something you cannot say for the relentlessly vulgar films of the Wayans Brothers or Tyler Perry).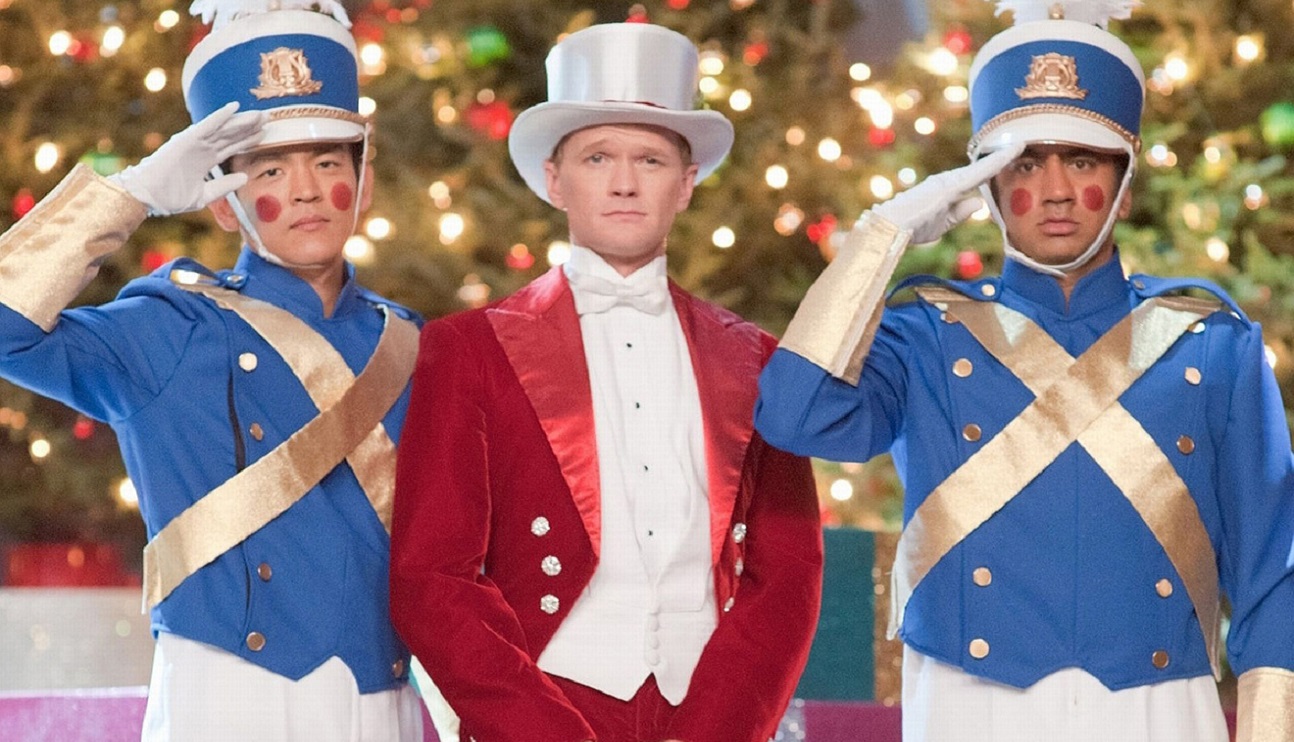 The film gets a good deal of mileage out of scenes with a baby getting stoned on a variety of illicit substances. The scene-stealer of the show proves to be Neil Patrick Harris (a fixture of the two previous films) who has a very funny scene spoofing his own celebrity and high-profile Outness, revealing that he is only being gay for celebrity purpose, as all the while he attempts to have his way with a backup dancer (Melissa Ordway). There are even gags thrown in the direction of Kal Penn's recent stint as a White House intern.
There is also some amusement to be had from Harold and Kumar's showdown over a drinking game with a jumped-up teenager who regards them as over the hill, or with the Wafflebot that develops a fixation with Kal Penn (and a peculiarly unsettling quaver in its digitised voice). Underneath it all, if such matters to a film like this, is a theme about the two characters getting older, settling down and renewing friendships.
Director Todd Strauss-Schulson next went onto make the extremely witty slasher movie parody The Final Girls (2015) and Isn't It Romantic? (2019) where a girl is transported inside a romance movie.
---
---