---
Crew
Director – David Kerr, Adaptation – Russell T. Davies, Based on the Play by William Shakespeare, Producer – Nikki Wilson, Photography – Dale McCready, Music – Murray Gold, Visual Effects – Lola Post Production, Special Effects – Real SFX, Prosthetics & Makeup Design – Neill Gorton, Makeup Design – Claire Pritchard-Jones, Production Design – Michael Pickwoad. Production Company – BBC Wales.
Cast
Matt Lucas (Nick Bottom), Nonzo Anozie (Oberon), Prisca Bakare (Hermia), Matthew Tennyson (Lysander), Kate Kennedy (Helena), Paapa Essiedu (Demetrius), John Hannah (Theseus), Maxine Peake (Titania), Hiran Abeysekera (Puck), Eleanor Matsuura (Hippolyta), Colin MacFarlane (Egeus), Elaine Paige (Mistress Quince), Richard Wilson (Starveling), Bernard Cribbins (Snout)
---
Plot
Egeus approaches Theseus, the dictator of Athens, wanting to invoke an ancient law that says his daughter Hermia must marry the man of his choosing or be put to death if she refuses. Hermia and her lover Lysander decide to flee through the woods to the safety of an aunt's place beyond the reach of the laws of Athens. Helena alerts Demetrius, the man Egeus would have marry Hermia, whom she secretly loves, and they pursue the others into the woods. Meanwhile, Oberon, king of the fairies, is irked with his wife Titania and tells his knave Puck to return with a magical flower. He orders drops from the flower be placed into Titania's eye, causing her to fall in love with the first person she sees. This happens to be the actor Nick Bottom whom Puck has transformed into a donkey. Oberon also orders drops be placed in Demetrius's eye but by mistake Puck places them in the eye of Lysander and he becomes infatuated with Helena, causing much confusion and rivalry between the two couples.
---
A Midsummer Night's Dream (1605) is one of the handful of Shakespeare plays that overtly broaches fantasy, alongside Hamlet (1602), The Tempest (1611) and The Winter's Tale (1623). We have seen numerous versions of the story on film before, ranging from William Dieterle/Max Reinhardt version A Midsummer Night's Dream (1935), the all-star A Midsummer Night's Dream (1999) and Julie Taymor's extraordinary A Midsummer Night's Dream (2014) to list the most notable.
This version was made as a tv special by Russell T. Davies. Davies has gained a name in recent years in particular as a showrunner and producer of the modern Doctor Who (2005– ) and frequent writer of numerous episodes. He has a prolific career in British television going back to the 1980s and has been responsible for other genre shows such as Dark Season (1991), Century Falls (1993), The Second Coming (2003), Wizards vs Aliens (2012-3), Years and Years (2019), and as creator/producer of the Doctor Who spinoffs Torchwood (2006-11) and The Sarah Jane Adventures (2007-11).
Once the action moves to the enchanted forest, this version offers up a fairly standard telling of Shakespeare in the comic shenanigans that go on between fairy mischief and the human mortals caught up in the midst. This version never seems much interested in the fairies – they are accompanied by magical animated glows and Nonzo Anozie's Oberon is outfitted in a very obvious looking appliance that gives him a set of horns from the middle of his forehead. This version spends far more time with Nick Bottom and the Rude Mechanicals than any other version I have seen, where Matt Lucas makes for an engagingly bumbling Bottom.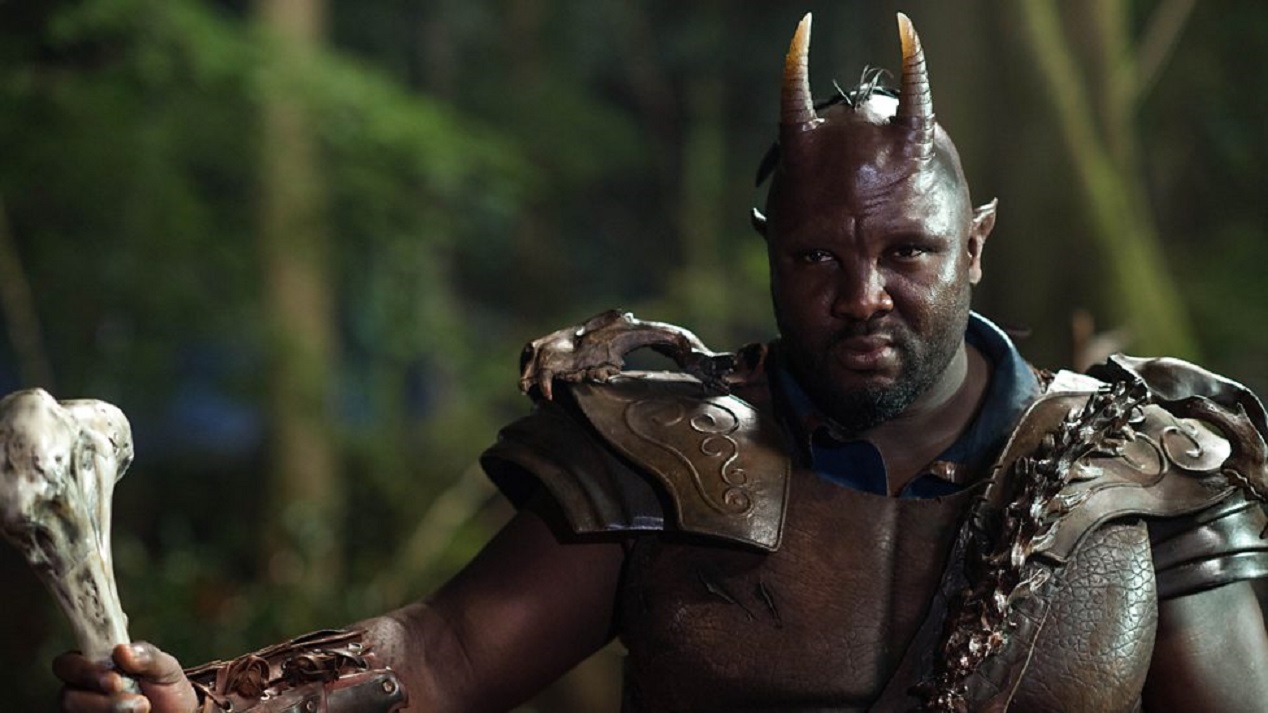 This version has also been modernised where the characters wear contemporary attire and are frequently seen reading and obtaining information from tablets. Perhaps the most WTF aspect of the entire production is when it comes to John Hannah's Theseus where he and his entourage are attired as though a fascist dictatorship, accompanied by a retinue of armed stormtroopers. There is even a flag decked out in the stark red and black we associate with a Nazi flag.
I am not sure if Russell T. Davies was seeking to make some kind of political point here or what. And I am not sure if there is any precedence for this in Shakespeare – most other versions of the story have portrayed Theseus in genial terms. This version also sees fit to add a coda where the fairies invade and take over the wedding dance and we see that Theseus's wife Hippolyta is really a fairy that he has kept imprisoned who is then freed while he staggers away and collapses dead outside the function.
The film was directed by David Kerr, a British tv director who subsequently went on to direct Johnny English Strikes Again (2018).
---