(Da-Reun Na-Ra-E-Suh)
---
South Korea/France. 2012.
Crew
Director/Screenplay – Hong Sang-soo, Producer – Kim Kyoung-Hee, Photography – Hong-yeol Park & Yune-jeong Jee, Music – Yong-jin Jeong. Production Company – Jeonwonsa Film/Les Films de Camelia.
Cast
Isabelle Huppert (Anne), Yu Junsang (Lifeguard), Kwon Hae Hyo (Jong-soo), Jung Yumi (Wong-yu), Moon So-Ri (Geum-hee), Moon Sung Kuen (Moon-Soo), Youn Yuhjung (Park Sook), Ken Yong (Monk)
---
Plot
A girl Wong-yu and her mother are hiding out from financial ruin at a resort. The girl starts writing a story. In the story, a French film director Anne comes to the beachside Korean town of Mohang with fellow director Jong-soo and his pregnant wife Geum-hee. Anne and Jong-soo once shared a kiss and he is eager to do so again. While walking on the beach, Anne meets an over-friendly lifeguard. In another version of the story, Anne is the wife of a businessman who has snuck off to Mohang to conduct an affair with Moon-Soo, a Korean film director, while her husband is away. Moon-Soo becomes jealous after she encounters the lifeguard. In a third version of the story, Anne is the wife of a French businessman who has abandoned her for a Korean woman and has come to Mohang with an academic friend to recover. Trying to cope with her upset emotions, she is tempted by both Jong-soo and the lifeguard.
---
In Another Country is an entry from South Korean director Hong Sang-soo who has gained an international reputation with films such as The Day a Pig Fell Into a Well (1996), Woman on the Beach (2006) and Hahaha (2010), among others. The project came about when star French actress Isabelle Huppert travelled to South Korea and met with Hong, they clicked and she signed on to make a film without a script, just a location and an idea of what it would be about.
I am reviewing In Another Country as a genre film, although that is not the only way to read it. On one level, it reads like a spate of films a few years ago that charted the alternate life pathways of its central characters with the likes of Smoking/No Smoking (1993), Sliding Doors (1998), Run Lola Run (1998), Twice Upon a Yesterday (1998), Me Myself I (1999), Possible Lives (2001) and The Butterfly Effect (2004). (For more detail see Alternate Timelines). Although here, instead of charting the alternate live paths of its central character, the film gives us three completely different characters played by the same actress – Isabelle Huppert who is cast respectively as a coolly sophisticated French director, a wife having an affair and a wife who is left emotionally distraught after her husband abandons her – and so it becomes more a film about three different people replaying the same location and situation, not unakin to Bill Murray in Groundhog Day (1993).
In all the stories, most of the events are almost identical – Isabelle Huppert signs into a motel at the same Korean seaside town; a man (Kwon Hae Hyo) with a pregnant wife (Moon So-Ri) is attracted to and tries to kiss her; she borrows an umbrella from the neighbour (Jung Yumi) and goes for a walk to find a lighthouse where she meets a lifeguard (Yu Jungsang) who lives in a tent on the beach and becomes attracted to her.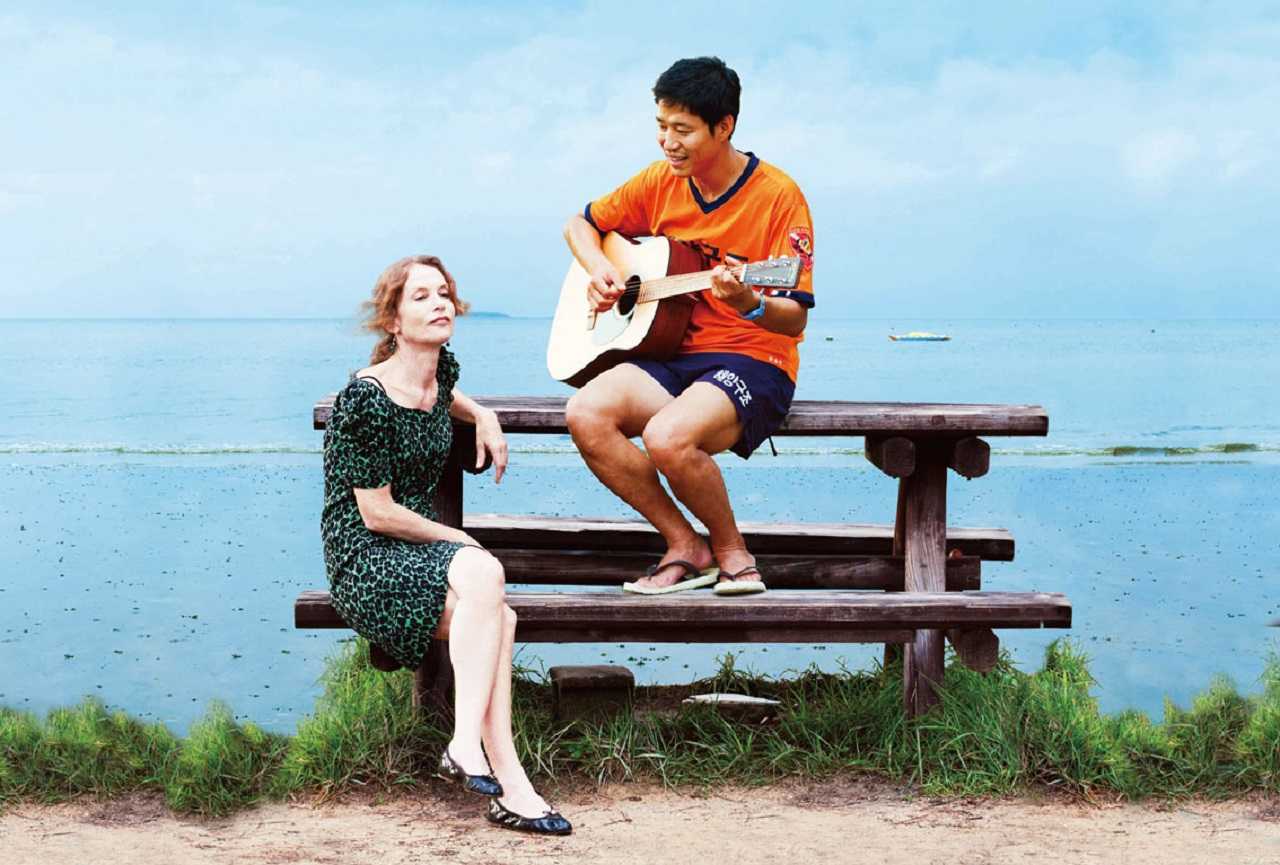 The fun of the film is in watching the same scenario play out with slightly different variations. Hong Sang-soo has a natural talent for directing comedy and some of the offhand reactions that take place – the over-eagerness of lifeguard Yu Junsang offering her his tent, writing songs about her and invading the barbecue, Kwon Hae Hyo's ploys to get a kiss – prove rather delightful. This is also a film that takes place with the dialogue in both Korean and English and some of the funniest asides come in the play between watching the subtitled interpretations of what people are saying, the selective relaying to others of what is being said or the attempts to interpret hand signals.
Hong Sang-hoo has a great deal of fun with the scenarios, interweaving them with an adroit dexterity. The film even extends to a level of meta-fiction with the young author of the stories (Jung Yumi) also writing herself in in the role of the neighbour who gives Isabelle Huppert the umbrella, while her mother (Youn Yunghung) also plays the role of the academic that accompanies Isabelle Huppert in the third story. There is a considerable playfulness between the stories – how Isabelle Huppert hides the umbrella that Jung Yumi gives her by the side of the road, which her other self in the third story picks up; while in the first story she and the others encounter broken beer bottles on the beach and in the third story it becomes her drunken self that throws the bottles into the surf. Isabelle Huppert shines in her role, still managing to come across as sexy at the age of 57.
Hang Song-soo performed similar things in the subsequent Right Now, Wrong Then (2016), telling two different versions of the same romance.
---
---