---
Crew
Director – Joe Dante, Screenplay – Larry Doyle, Producers – Bernie Goldmann & Paula Weinstein, Animation Producer – Allison Abbate, Photography – Dean Cundey, Music – Jerry Goldsmith, Additional Music – John Debney, Animation Director – Eric Goldberg, Visual Effects Supervisor – Chris Watts, Visual Effects – Amalgamated Pixels, Digital Domain (Supervisor – Jonathan Egstad), Hydraulx (Supervisor – Cary Strauss) & Pixel Magic (Supervisor – Raymond McIntyre Jr), Special Effects Supervisors – Peter Chesney & Scott F. Johnston, Creature Effects – Amalgamated Dynamics (Supervisors – Alec Gillis & Tom Woodruff Jr) & K.N.B. EFX Group Inc, Production Design – Bill Brzeski. Production Company – Baltimore/Spring Creek/Goldmann Pictures/Warner Brothers/Lonely Film Productions GmBh.
Cast
Brendan Fraser (D.J. Drake/Himself), Jenna Elfman (Kate Hutton), Steve Martin (Mr Chairman), Timothy Dalton (Damien Drake), Joan Cusack (Mother), Bill Goldberg (Mr Smith), Heather Locklear (Dusty Tails), Don Stanton (Mr Warner), Dan Stanton (Mr Warner's Brother)
Voices
Joe Alaskey (Bugs Bunny/Daffy Duck/Sylvester/Beaky Buzzard/Mama Bear), Jeff Glenn Bennett (Yosemite Sam/Foghorn Leghorn/Nasty Canasta), Eric Goldberg (Marvin the Martian/Tweety Bird/ Speedy Gonzalez), Billy West (Elmer Fudd/Peter Lorre), June Foray (Granny), Bob Bergen (Porky Pig), Bruce Lanoil (Pepe Le Pew), Brendan Fraser (Tasmanian Devil/She-Devil)
---
Plot
At Warner Brothers film studios, Kate Hutton, the president of comedy, fires Daffy Duck from the latest Bugs Bunny movie. At the same time, she also fires D.J. Drake, a stuntman who is working as a security guard on the studio lot, when his attempts to capture an out-of-control Daffy end up causing chaos. Daffy follows D.J. home, just as D.J. receives a message for help from his father, the superstar Damien Drake, who is also a spy. The message asks D.J. to come to Las Vegas and find the all-important Blue Monkey. D.J. sets out, joined by an unwelcome Daffy who insists on coming along for the adventure. Meanwhile, the attempts to find a replacement for Daffy at Warners' are going disastrously and Kate receives orders to bring Daffy back or lose her job. Joined by Bugs, she sets out to follow D.J. to Las Vegas. At the same time, the evil chairman of the Acme Corporation wants the Blue Monkey, a device that can turn people into monkeys and will make them more readily exploitable in Acme's sweatshops (before turning them back into people to buy Acme's products). Pursued by Acme's goons and toons, D.J., Kate, Bugs and Daffy are plunged into the midst of a wild adventure that takes them from Vegas to Area 52, Paris, the wilds of Africa and into orbit.
---
Joe Dante was one of the key genre directors of the 1980s. Dante first appeared with Hollywood Boulevard (1976) for Roger Corman and then made two enterprisingly tongue-in-cheek B monster movie parodies with Piranha (1978) and The Howling (1980). On the basis of these, Dante was invited by Steven Spielberg to direct the third segment of Twilight Zone – The Movie (1983), after which Spielberg personally produced the runaway success of Dante's Gremlins (1984).
Joe Dante's success came in arriving at the forefront of the mid-1980s fad for B science-fiction movie remakes and cod-bad movies. All of Dante's films are run through with a manic fanboy enthusiasm for, in particular, 1950s B science-fiction and monster movies. He regularly includes references and in-jokes to films and cameo appearances from actors of the era – indeed, Corman regular Dick Miller, who plays Brendan Fraser's security guard partner here, has appeared in every single one of Joe Dante's films to date, almost like a good luck charm.
Since the massive success of Gremlins however, Dante's films have proven somewhat uneven. With his constant preoccupation with 1950s science-fiction in-jokes, Dante has started to increasingly seem as though he is painting himself into a corner of a small niche market. He has since made Explorers (1985), one of his best films but a box-office flop; the Fantastic Voyage (1966) spoof Innerspace (1987); various segments of the comedy anthology Amazon Women on the Moon (1987); the suburban paranoia black comedy The 'Burbs (1989); and the completely madcap Gremlins 2: The New Batch (1990), which surprisingly few audiences of the original went to see.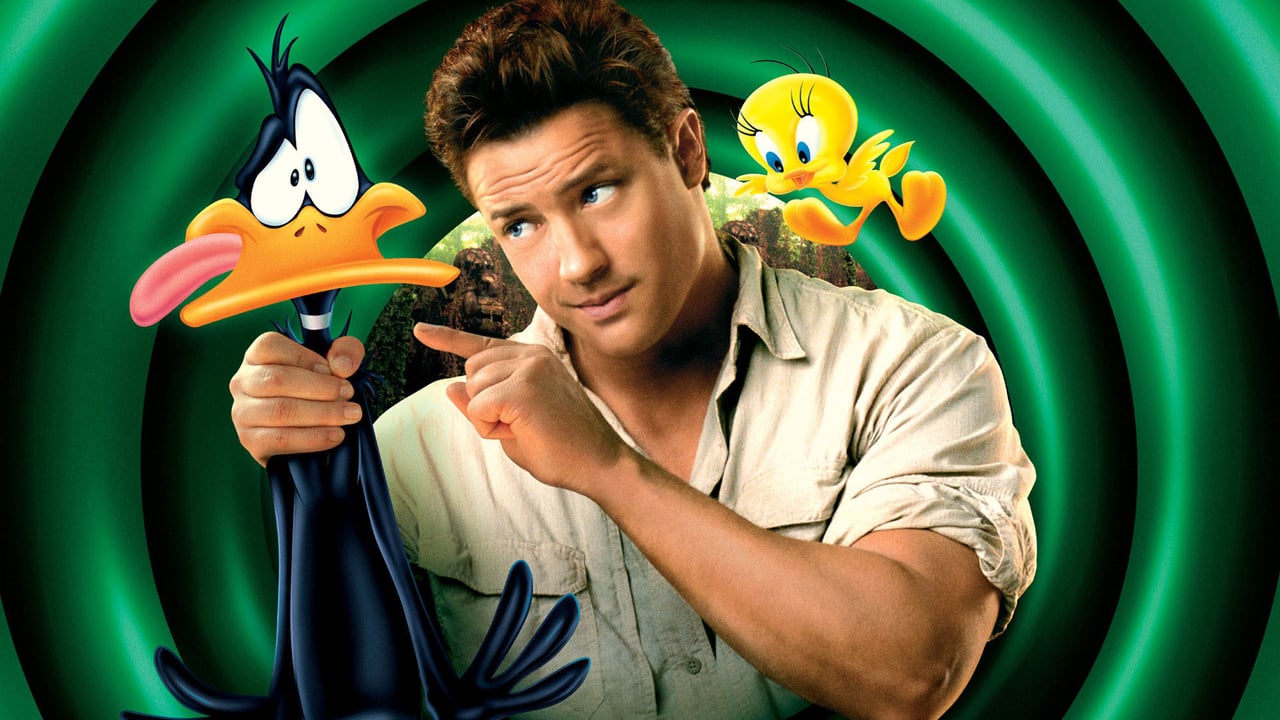 Into the 1990s, Dante almost entirely vanished as a vital genre force. He did make the excellent Matinee (1993), a homage to genre director William Castle and an exploration of the atomic monster movie era, but this was little seen despite fine reviews; The Second Civil War (1997), which went straight to video; and Small Soldiers (1998), which was an obvious commercial attempt to rehash Gremlins. In the 00s and beyond, Dante has vanished altogether, aside from Looney Tunes: Back in Action only making The Hole (2009), which spent some three years dithering around release schedules, and the zombie comedy Burying the Ex (2014), which did little more business either. Outside of that, Dante has only produced the fine tv series Eerie Indiana (1991-2) set in a smalltown where all tabloid headlines are true; the space opera series The Osiris Chronicles (1998), which bit the dust after the pilot episode; and the acclaimed post-apocalyptic series Jeremiah (2002-4), which failed to find a mainstream audience.
Looney Tunes: Back in Action was Joe Dante's return to the director's chair after five years absence. Despite having all the elements to have been a big hit, Looney Tunes inexplicably disappeared at the US box-office in the 2003 pre-Christmas rush and did little to raise Dante's profile in a major way.
Looney Tunes: Back in Action is a venture into the human/animation toon territory popularised by Who Framed Roger Rabbit? (1988). It specifically revives a number of the cartoon characters from the Warner Brothers back catalogue. The Looney Tunes had previously been brought out of mothballs for the toon adventure Space Jam (1996). Indeed, Looney Tunes was originally pitched as a sequel to Space Jam to have been entitled Spy Jam, clearly intended to graft the toons onto the contemporary fad for comedic spy capers following the success of Austin Powers, International Man of Mystery (1997). Space Jam later underwent a sequel with Space Jam: A New Legacy (2021).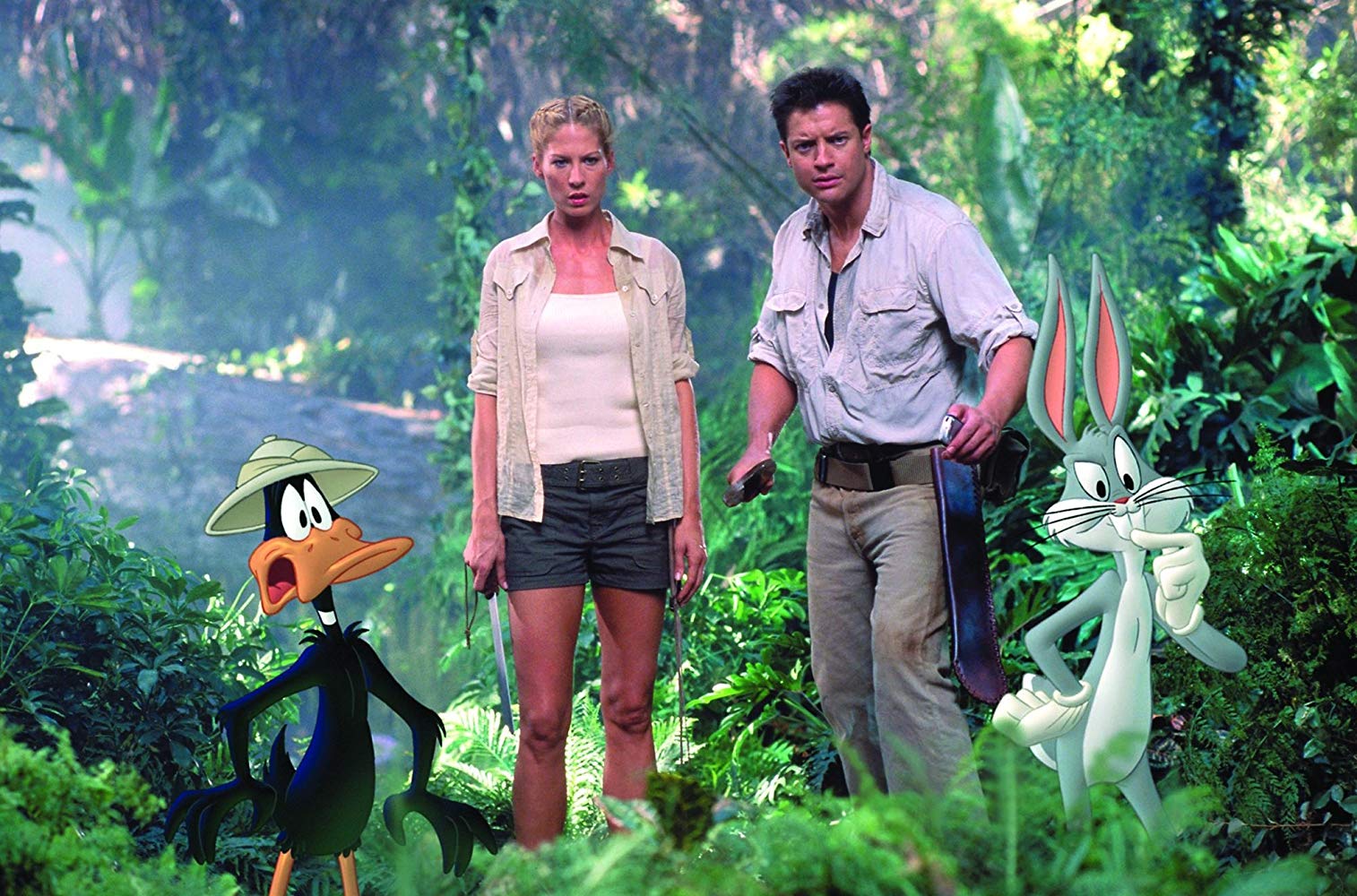 One had always maintained that Roger Rabbit was a film more suited to Joe Dante than Robert Zemeckis. In fact, one can think of no other director whose style is better suited to a film like Looney Tunes: Back in Action than Joe Dante. Much of Dante's work is run through with a love of toons and Warner Brothers animation – cult Warner Brothers animator Chuck Jones makes cameo appearances in Gremlins and Innerspace; Bugs and Daffy make cameos and Porky Pig does the "That's all folks" at the end of Gremlins II; aliens conduct toon impressions in Explorers; while Dante's Twilight Zone segment conducted the intermingling of humans and toons several years before anyone had heard of Roger Rabbit. Looney Tunes is the type of film that Joe Dante was born to make and not unexpectedly it is one of his best. [The animation incidentally comes Eric Goldberg, co-director of Disney's Pocahontas (1995) and two segments of Fantasia 2000 (1999)].
Looney Tunes brings just about every Warner Brothers cartoon character that one can think of out of mothballs – Bugs Bunny, Daffy Duck, Tweety and Sylvester, Yosemite Sam, Foghorn Leghorn, Elmer Fudd, Pepe Le Pew, Porky Pig, Speedy Gonzalez, Road Runner and Wile E. Coyote, The Tasmanian Devil, and Duck Dodgers and Marvin the Martian from Duck Dodgers in the 24½th Century (1953). The plot is obvious at times in terms of the detours taken for the specific purpose of including some of the characters – a sojourn to Paris in order to wind in Pepe Le Pew, to Area 52 in order to revive Marvin the Martian, and into the desert for the explicit intention of encountering the Road Runner and Coyote. That said, the characters are far better integrated that they were in Space Jam, a film that Dante hated (he statedly set out to make Looney Tunes as the "anti-Space Jam").
Looney Tunes is made with a sly and infectious wit. Joe Dante is constantly mocking the medium:– Porky Pig and Speedy Gonzalez sit around the Warner Brothers commissary complaining about how they are unable to get work due of political correctness because they have respectively a speech impediment and are created as a Mexican caricature (reasons that either's cartoons were withdrawn from the US Cartoon Network in recent years); in another corner of the commissary, the animated Shaggy and Scooby-Doo from tv's Scooby-Doo, Where Are You? (1969-72) sit having a discussion with Matthew Lillard who plays Shaggy in the live-action Scooby-Doo (2002); Brendan Fraser engages in a considerable degree of self-parody, playing his own stunt double: "Did you see the Mummy movies? I'm in them more than Brendan Fraser;" and we get to meet the Warner Brothers themselves.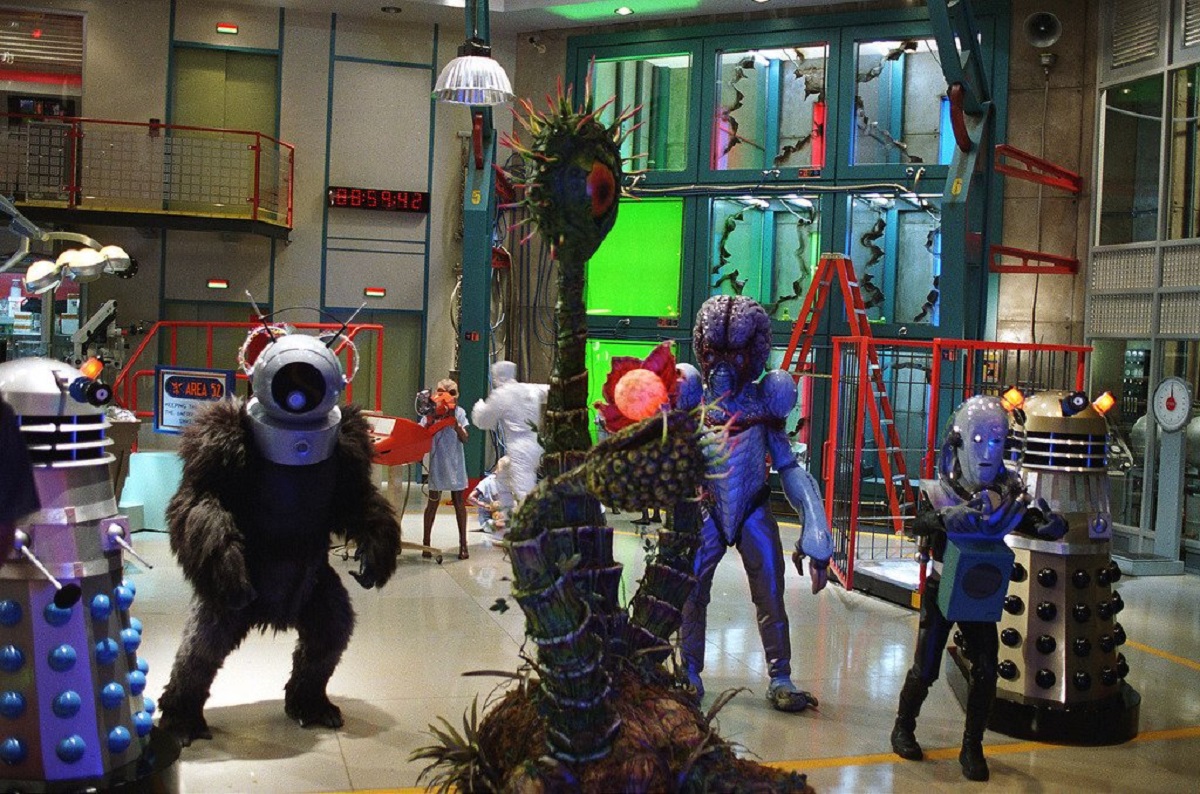 Dante has down perfect the sense of humour of a Chuck Jones short and the film bubbles with constant visual invention – I particularly loved the nonchalant uses that Bugs's carrot is put to throughout the film, from being roasted over a campfire to dunked in the martini shaken not stirred that the spy car provides, to even transforming into a lightsabre (replete with instruction from The Force for Dummies). Dante has the greatest amount of fun – conducting a black-and-white reconstruction of the Psycho (1960) shower scene with Bugs playing the Janet Leigh role; and regularly breaking down the fourth wall – a Walmart appears as a mirage in the desert, which Jenna Elfman shrugs off as product placement: "Audiences expect it – they don't even notice anymore."
There are cameos by everybody from Dante's old mentor Roger Corman, Mission: Impossible (1966-73)'s Peter Graves (as a spymaster), even the Batmobile (Dante was once one of the directors assigned to the Tim Burton Batman [1989]), to B movie actors and Dante regulars such as Dick Miller, Mary Woronov, Robert Picardo and Vernon Wells. The sequence where Joe Dante has the most fun is the Area 52 sequence. It is the ultimate fanboy sequence, where Dante gets the opportunity to offer up living colour recreations of various aliens from 1950s B movies, including the title character from The Man from Planet X (1951) (who in an hysterical sequence has his goldfish bowl space helmet turned into a popcorn machine by Bugs and Daffy), the Ro-Man from Robot Monster (1953), a Metalunan Mutant from This Island Earth (1955), Robby the Robot from Forbidden Planet (1956), the eyestalk monster from The Atomic Submarine (1959), a hopping brain from Fiend Without a Face (1958), a Dalek from tv's Doctor Who (1963-89) and a delightful cameo from Kevin McCarthy from Invasion of the Body Snatchers (1956) still in black-and-white and clutching a pod.
Stylistically, the most inventive sequence is the one where Bugs and Daffy are pursued through various paintings in the Louvre by Elmer Fudd, where they pass through recreations and adopt the styles of Dali's The Persistence of Memory (1931), Edvard's Munch's The Scream (1893), a Toulouse-Lautrec, and Georges Seurat's famous pointillist work A Sunday Afternoon on the Island of La Grande Jatte (1886), sequences that show just what artistic possibilities animation can be capable of when given a chance.
---
---