(Joi Sun Ho)
---
Crew
Director – Wai Ka Fai, Screenplay – Au Kin Yee & Wai Ka Fai, Producers – Charles Heung, Raymond Lei & Wai Ka Fai, Photography – Wong Wing Hang, Music – Xavier Jamaux, Visual Effects Supervisor – Ken Law Wai Ho, CGI Effects – Day and Night Limited & Three Sixty Limited, Production Design – Leung Man Kin. Production Company – China Star Entertainment Group/Creative Formula Limited
Cast
Lau Ching Wan (Tony Tong), Mia Yan (Melody Tong), Kelly Lin (Mandy Ching), Chung Ying Kit (Oscar Tong), Jo Koo (Meng Por), Yeung Shuk Man (Maria), Zeng Yaqi (Little Melody)
---
Plot
In 1998, the Tong family are shattered after a car crash kills the father Tony. The eleven year-old daughter Melody is left blind and the mother Mandy has difficulty coping with her grief. Several years later, Melody decides to write a novel about her father to help the rest of the family get over the loss. In the novel, everyone else was killed and it is Tony who has been left alive but blind. Melody writes Mandy into the story as the maid Maria and the five-year-old son Oscar as a dog that Tony adopts. Within the narrative, Tony also decides to write a novel about his family and how they survived his death. However, tragedy strikes in the real world as Mandy and Oscar are killed by a falling canopy in the marketplace. The grief bleeds into the events in the book. As both Melody and Tony attempt to deal with the grief by writing, this causes them to create ghosts of the dead for the others. Even in the afterlife, Heavenly records are confused over who is dead and who is alive.
---
Wai Ka Fai is an increasingly unique voice in Hong Kong cinema. Wai began directing with the Western Peace Hotel (1995) and then went onto the fascinating alternate timelines gangster film Too Many Ways to Be No. 1 (1997). Most of Wai Ka Fai's work has been made in collaboration with Johnnie To. They have had a number of hits including the romantic comedy Love on a Diet (2001) and the gangster film Fulltime Killer (2001). The two have versatility in a variety of genres and have ventured into fantastic material on a number of occasions together including:- Help!!! (2000), a black comedy set in a hospital that has some fantasy elements; Wu Yen (2001), a comedy about mischievous fairies; My Left Eye Can See Ghosts (2002), a comedy about a woman who starts to see ghosts after an accident; Running on Karma (2003) about a Buddhist monk with the ability to see people's past lives; and the amazing Mad Detective (2007), featuring Lau Ching Wan as a detective who sees people's inner personalities; as well as Wai Ka Fai's solo efforts Fantasia (2004) about a wizard drawn through time to contemporary Hong Kong, and Himalaya Singh (2005), a Magical Realist comedy involving amnesia drugs.
Written By was Wai Ka Fai's unique contribution to the genre of meta-fiction. This is a sub-genre concerned with the blurring of lines between reality and fiction – where characters in fiction take on their own life or break the fourth wall, stepping out of or entering into books, or simply a work that seems to hold a self-awareness about the narrative that is being written. Examples of screen meta-fictional works include the likes of Providence (1977), The Singing Detective (1986), I, Madman (1989), Blackeyes (1989), The Baby of Mâcon (1993), In the Mouth of Madness (1995), Adaptation. (2002), Stranger Than Fiction (2006), Synecdoche, New York (2008), Ruby Sparks (2012) and Goosebumps (2015). This author has coined the term meta-film to apply to works that involve meta-fiction using film rather than the written word. Examples here might include The Purple Rose of Cairo (1985), The Icicle Thief (1989), Last Action Hero (1993), Wes Craven's New Nightmare (1994), Rubber (2010), Camera Shy (2012) and Snowflake (2017). (For more detail see Meta-Fiction Films).
Written By sets in with an ingenuity that proves positively mind-boggling. The film has a peculiar double structure that makes one think of a collision course between Passion of Mind (2000), which featured two Demi Moore's both dreaming of the other's life and unsure which was the real and which the dreamed, and Afraid of the Dark (1991), a double-structured film that also featured blind characters where the story conducted a mid-flip to show that one of these was a reality that existed inside the mind of one of the characters. Here we get one character, the blind Melody (Mia Yan) who is writing a novel where her late father (Lau Ching Wan) is still alive but blind and is then joined by their ghosts. In this reality, he in turn sets out to write a novel in which they are alive.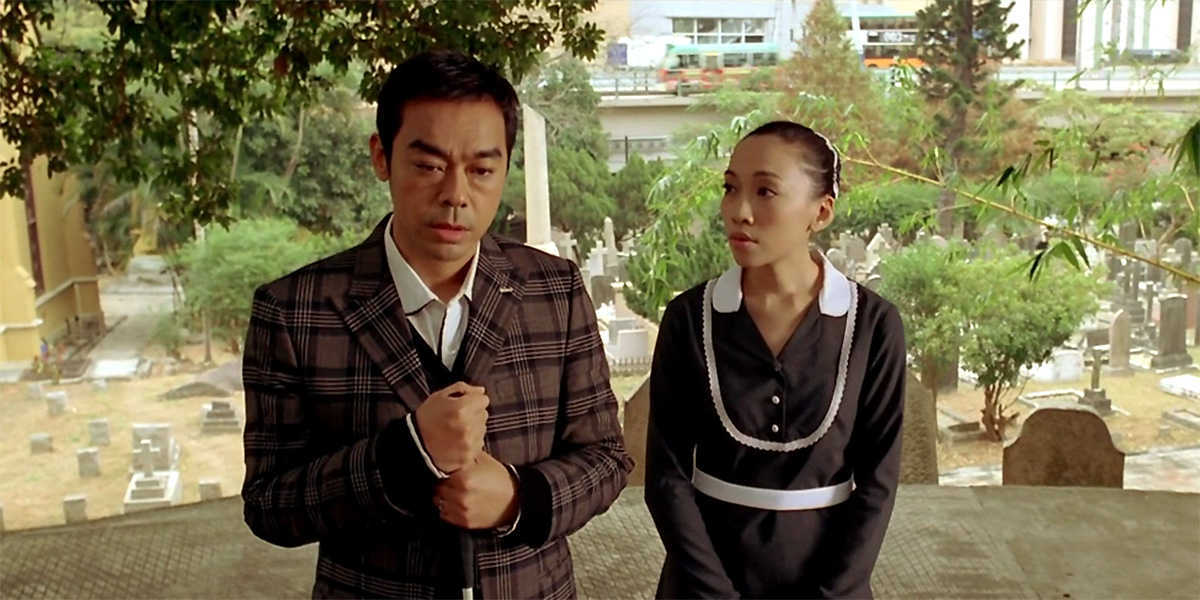 These two stands of story start to weave in and out of themselves in fascinating ways. There is a intriguing scene where the maid (Yeung Shuk Man) is about to quit when she is followed by someone urging her "Sir has fallen and can't get up," and she becomes scared at being able to see the other woman where we realise in a sudden reversal of understanding that this is not someone trying to tell her something but the wife (Kelly Lin) having appeared as a ghost. It is the same tricks that Wai Ka Fai specialised in throughout Mad Detective and elsewhere – the maintenance of perfect normalcy, while at the same time conducting changes of perception without any warning, frequently leaving us to work out what is going on.
There is a genuinely magical scene a little later where the ghost wife realises their presence is causing problems and makes a cellphone call whereupon all the furniture in the apartment, including the couch with the sleeping Lau Ching Wan, flies up into the air, down the hallway, out the doors and across the city to relocate themselves in the graveyard where Lau wakes and goes about life as though nothing is any different, even though foliage and gravestones are now peeking in through where the walls and windows used to be.
The layers of meta-fiction eventually develop such a level of whiplash dexterity that I had difficulty following Written By. With Wai Ka Fai's unobtrusive shifts of perception, we realise partway along that the story about the ghosts in the graveyard has something to do with the story the blind father is writing. By the time we venture into the afterlife and meet two different versions of Meng Por (alias Lady Meng, the character in Buddhist afterlife mythology who gives the newly dead the broth of oblivion before they go onto reincarnate) arguing over which versions of the characters are real and which fictional, or the ending that involves three different versions of the heroine all trying to jump off the roof, it becomes deeply confusing trying to follow which story we are in at any one particular time.
The result becomes something akin to the ingenuity of Charlie Kaufman's Synecdoche, New York, which became mentally exhausting in the multiple layers of meta-fiction it kept winding the story inside. Even for the able witted, Wai Ka Fai's approach leaves one behind. What you cannot disagree however is that Written By is a film that leaves one thinking, even if one ends up asking more questions than the film answers – and that is more than can be said by most films that come out of Hollywood these days.
---
Trailer here