UK. 2012.
Crew
Director/Screenplay – Zam Salim, Producer – Annalise Davis, Photography – Ole Bratt Birkeland, Music – Christian Henson, Makeup Designer – Jessica Cruickshank, Production Design – Mike McLoughlin. Production Company – BBC Scotland/Eyeliner Entertainment/Wilder Films
Cast
Burn Gorman (Martin), Aymen Hamdouchi (Rash), Kate O'Flynn (Liz), Farren Morgan (Chick), Kulvinder Ghir (Ali), Chris Waitt (Counsellor), Iain De Caestecker (Tommy), Darren Lightbody (Raymond), Jo Hartley (Margaret), Warren Brown (Slab Boy Joey)
---
Plot
Martin has been run down by a car. He finds the afterlife to be a depressing place, filled with endless bureaucracy, encounter groups and those who have numbed out and simply stare. He gets a job as a Carer whose role it is to bring the recently dead to the local afterlife administration office to be registered. It is his desire to be deemed worthy to travel Up There but keeps being told that he is not ready. He is finally given an interview for a reassessment on Friday. At the same time, he is paired with the hyperactive Rash. Rash's bumbling insensitivity causes Chick, a recently dead youth, to flee terrified. The two of them are given orders to bring Chick back to be registered and so travel to his hometown of Newport. There they set about trying to find him in time for Martin to get back for his interview. The course of searching the town is cause for Martin to meet and strike up an attraction to Liz, among many other unexpected adventures.
---
Up There is a debut film for British filmmaker Zam Salim. Salim had previously made what became Up There as the ten-minute short film Laid Off (2006), which can be found online (see bottom of page) and was given money to expand it to feature length. The film has been co-produced by BBC Scotland and as a result the production travels to Scotland as location for the Newport scenes and casts a number of local actors.
While most depictions of the afterlife see it in terms of cliches of angels on clouds or filled with the white light and loved ones come to greet you, there are a certain number of alternate interpretations that treat it with less than rosy sentiment. These might include the appealing sweet Japanese After Life (1998), which saw it in terms of a support team trying to recreate the perfect memory of the deceased, and more humorous takes such as Beetlejuice (1988), the bleakly funny Norwegian The Bothersome Man (2006) and Wristcutters: A Love Story (2006) that saw it as simply an extension of the same old dreary world and problems people still face in this life. Up There is a wryly funny comedy that sits in the same territory as these last two. Although none of these are as hilarious as the mind-boggling contortions engaged in by the subsequent tv series The Good Place (2016-20).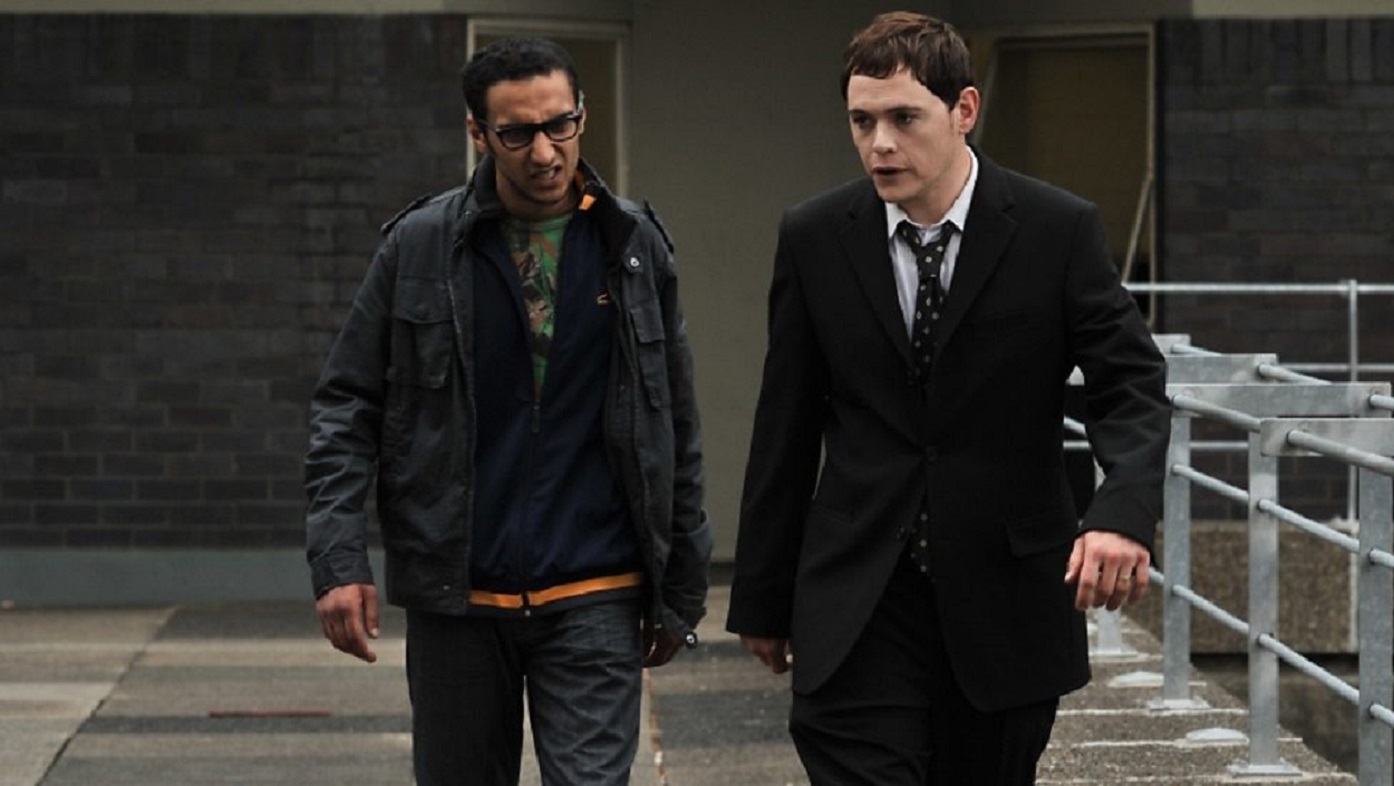 There is a sarcastic amusement to the film as it opens and we see recently deceased Burn Gorman being taken to the afterlife registrar, which is run just like a dreary bureaucratic terrestrial social services agency with forms to be filled out regarding one's death experiences, endless levels of red tape and people being shuffled into mind-numbing encounter groups where they are encouraged to find positive thoughts.
The film finds something undeniably amusing. It also gets an enormous degree of mileage out of treating the afterlife as simply the characters being in real world locations but where they are invisible and crucially unable to walk through walls. Thus they are caught underneath tables or in the backseats of an open-top car after the hood is put up because they are unable to get out, or else are constantly waiting for people to open doors so they can pass through. One of the film's more amusing running gags is Burn Gorman and Aymen Hamdouchi being locked inside a dreary convenience store for the night by the local registrars because of Aymen's constant peeping in on girls.
Burn Gorman, who came to notice in tv's Torchwood (2006-11), is an unusual actor. Outfitted in a suit that seems about three sizes too big for him, most of his performance here seems made up of a series of awkward facial grimaces and a method of walking askew while flailing his arms about. It is a performance that, despite his character's stated detachment, ends up eventually becoming endearing. The show is in large part stolen by Aymen Hamdouchi who gives an obnoxious, insensitive motormouth performance that never stops for a moment and proves utterly hilarious. This too is a character who eventually ends up endearing and the film becomes one about friendships in a bleak world of perpetual monotony.
---
Trailer here
Original Laid Off short film here:-
---