---
USA. 1998.
Crew
Director/Screenplay – Gary Ross, Producers – Gary Ross, Robert J. Degus, Jon Kilik & Steven Soderbergh, Photography (colour + b&w) – John Lindley, Music – Randy Newman, Music Supervisor – Bonnie Greenberg, Visual Effects Supervisor – Chris Watts, Colour Visual Effects Supervisor – Michael Southard, Visual Effects – Cinesite (Supervisor – Tom Smith) & Pleasantville Visual Effects Company, Special Effects Supervisor – Eric Rylander, Production Design – Jeannine Oppewall. Production Company – Larger Than Life Productions/New Line Cinema.
Cast
Tobey Maguire (David), Reese Witherspoon (Jennifer), Joan Allen (Betty Parker), Jeff Daniels (Bill Johnson), William H. Macy (George Parker), J.T. Walsh (Big Bob), Don Knotts (TV Repairman), Paul Walker (Skip Martin), Marley Shelton (Margaret Henderson)
---
Plot
Left home together for the weekend, teenage brother and sister David and Jennifer argue over which tv show to watch, he wanting to watch a marathon of his favourite series, the old 1950s show 'Pleasantville', while she wants to watch MTV with a date. During the argument, the tv remote ends up being broken. A strange tv repairman then appears and gives them a new remote. However, when the argument resumes the new remote mysteriously transports them into the black-and-white world of 'Pleasantville'. There David and Jennifer find that they are Bud and Mary Sue Parker, two teenagers in a perfect nuclear family and that the town is a place where nothing ever changes and nothing exists beyond. While out on a date at Lover's Lane, Jennifer introduces sex into Pleasantville and disrupts the town's delicate balance. Suddenly people start defying tradition, having sex, reading books that have been previously blank and in doing so explode into colour. The town's conservative faction dislikes the disruption to their established order and drum up a lynch mob to crack down on these 'Coloreds'.
---
1998 shall perhaps be noted as a year when an extraordinary number of genre films converged on similar themes – be it asteroid collision films, afterlife films, giant monster movie remakes or vampire hunter films. Amid this, there were two tv-become-reality films with the twin successes of The Truman Show (1998) and Pleasantville.
Of course, both films are very divergent in the way they approach the same theme. Where The Truman Show took a more science-fictional approach with its story of an ordinary person trapped within a reality tv show that was constructed around them and the hero's journey involved punching through the envelope of constructed reality, Pleasantville takes an outrightly fantastic approach – not unakin to Last Action Hero (1993) – by transporting two characters from this reality into a two-dimensional fictionalised world and allowing them to warp the 'reality' of the fictional milieu.
This becomes a springboard whereby Pleasantville satirises 1950s Families Values shows such as The Adventures of Ozzie and Harriet (1952-66) and The Honeymooners (1955-6). Director/writer Gary Ross crafts the world in such a way as to draw attention to the artifice of the fictional world that 1950s television existed in – the books in the library are blank, geography lessons can construe of nothing beyond the town limits, the mother has never heard of sex. The film has considerable fun with this – when a tree bursts into flame, Tobey Maguire runs into the fire station shouting "fire" to a fire crew who react with total bafflement and it is not until he cries "cat" that he is able to induce them into action.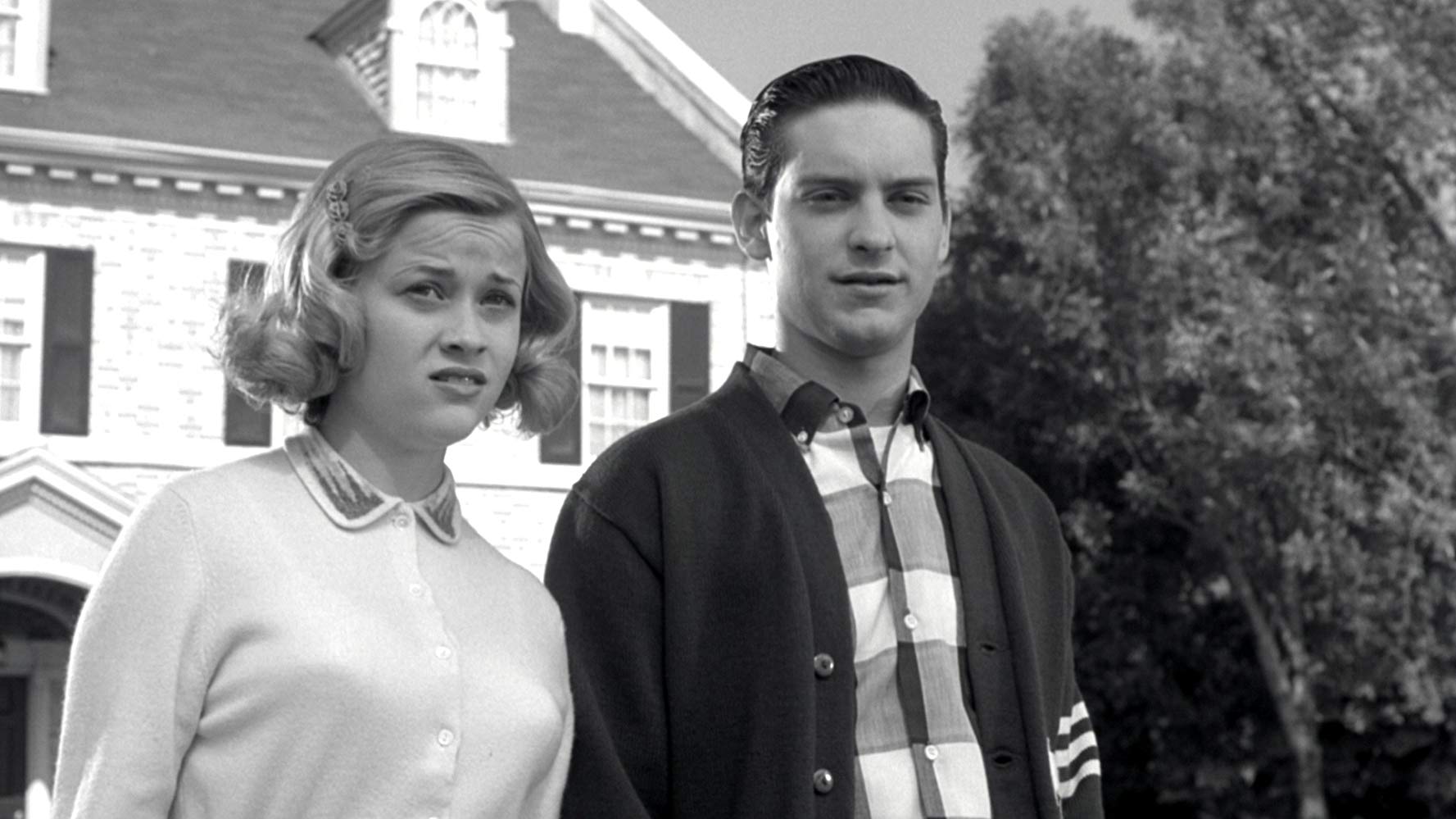 Pleasantville has much more of a political axe to grind than The Truman Show. It has a soap box and uses this to make a strident and clear stand. The Family Values that are represented by the tv shows the film is satirising are seen as conservative with scenes of the husbands leading a lynch mobs against The Coloreds and trying to ban progressive values. Unfortunately, Gary Ross's desire to make a messagey point often becomes too broad and heavy-handed as he tries to stretch the film's allegory to cover everything from the Civil Rights movement and feminism to an attack on conservatism.
One point of annoyance is the character of Reese Witherspoon who is created as a cynical Generation X catalyst who introduces sex and the first of the changes into Pleasantville. Unfortunately, once Reese Witherspoon's function as a deus ex machina is over in the plot she is virtually dropped from the show, making a none-too-believable change into a bespectacled bookworm.
The film's advance publicity tended to suggest that Pleasantville was about an exchange of values – one where the cynical Gen Xers get the town of cloying Family Values to loosen up at the same time as the conservative values also teach the Gen Xers something about tradition. Happily, this is about the only point that Pleasantville heads in this direction and instead it abandons the woolly-headed cliche of either values learning from the other and sets up the latter half of the film as a conflict between the traditional conservatives and the film's championing of a joie de vivre.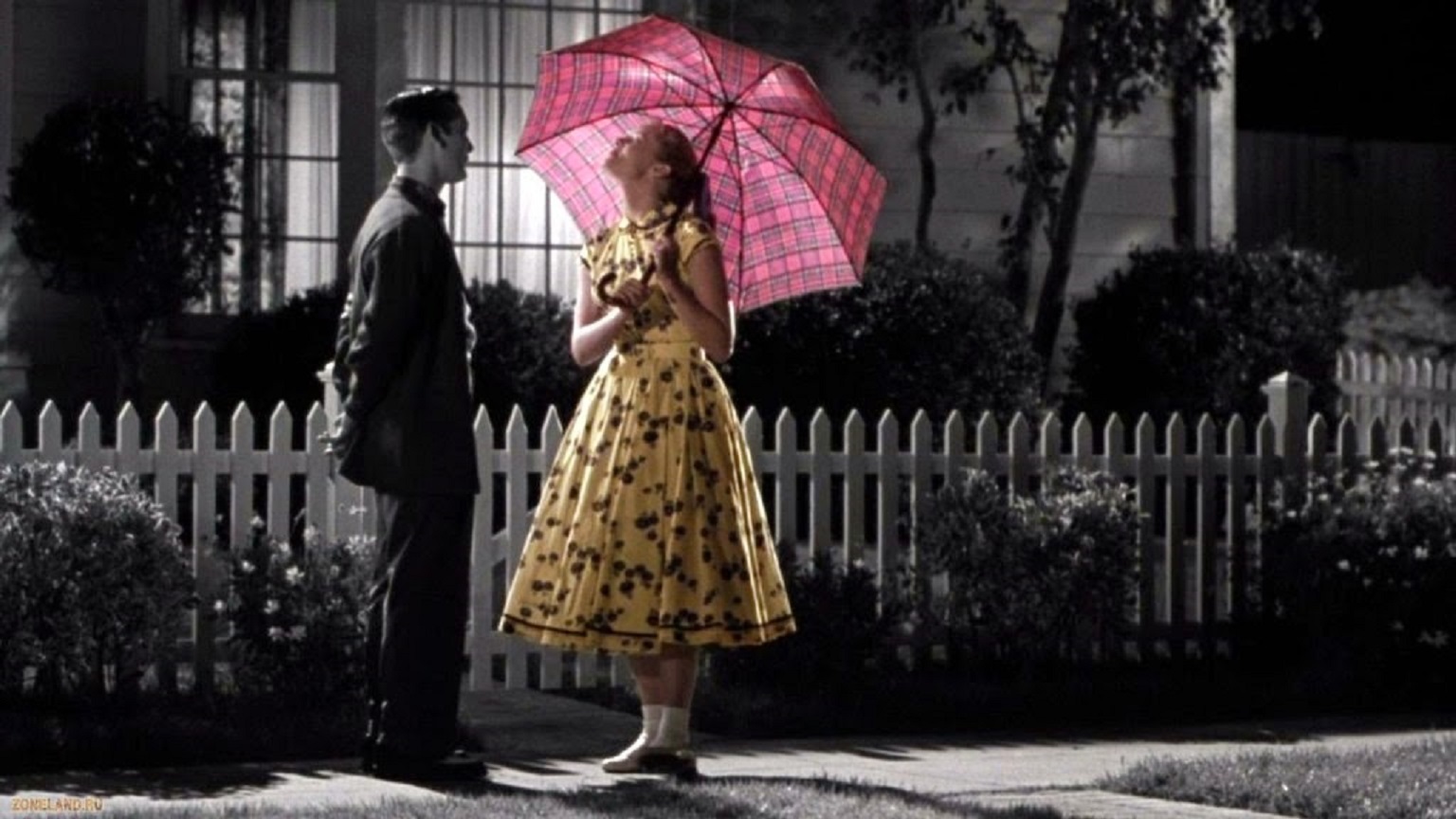 Less so than its message, Pleasantville is more effective for its visual colour palette. Gary Ross employs some beautiful effects that blend colour and black-and-white film – the initial appearance of a single red rose or some of the images of trees bursting into coloured flame, queues of people in the street where some are coloured, some not. There is a lovely scene driving through a rain of coloured blossoms. Never has colour managed to seem quite so beautiful.
Gary Ross had previously been a screenwriter for films like Big (1988), Mr Baseball (1992), Dave (1993) and Lassie (1994). Pleasantville was his directorial debut and he subsequently went onto make Seabiscuit (2003), the first of the popular Young Adult science-fiction films The Hunger Games (2012), Free State of Jones (2016) and Ocean's Eight (2018), as well as wrote/produced The Tale of Despereaux (2008).
(Nominee for Best Supporting Actress (Joan Allen) and Best Cinematography at this site's Best of 1998 Awards).
---
Trailer here
---