---
Crew
Directors/Screenplay – Edward McHenry & Rory McHenry, Producers – Karl Richards & Patrick Scoffin, Photography – Michael Connor, Music – Guy Michelmore, Visual Effects Supervisors – Clare Cheetham & Jonathan Cheetham, Visual Effects – MFX London & Post Office, Brussels, Special Effects – Artem (Supervisor – Paul Gorrie), Production Design – David McHenry. Production Company – E-Motion Entertainment Motion Pictures/McHenry Bros Pictures/Zeus Films/Pegaso Pictures/Matador Pictures/Cinema Four/Regent Capital/Did Corp and Motion Investment Group.
Voices
Ewan McGregor (Chris), Timothy Spall (Winston Churchill), Rosamund Pike (Daisy), Dominic West (Billy Fiske), Richard E. Grant (The Vicar), Sanjeev Bhaskar (Major Rupee/The King), Alan Cumming (Adolf Hitler/Braveheart), Stephen Merchant (Tom), Tom Wilkinson (Albert/Goebbels), Richard Griffiths (Goering), Richard O'Brien (Himmler), Hugh Fraser (Gaston), Pam Ferris (Matron Rutty), Tobias Menzies (Captain English/Monty), Martyn Ellis (Zeppelin Captain)
---
Plot
1940, after England has been defeated by Germany at Dunkirk. The Nazis then hatch a plan where they invade England by drilling up from underground and emerging into London with tanks. With only his loyal platoon of Punjabi fighters to defend him, Prime Minister Winston Churchill broadcasts imminent defeat. Hearing the news in Kent, orphan farmboy Chris inspires several locals to stand up and defend England. He rides a steam tractor to London where they are able to rescue Churchill and beat a retreat to Scot Land. As the Nazis march against them, Churchill endeavours to rally the remnants of a fighting force, while Chris makes an appeal to the legendary Braveheart to bring the wild Scots to join the fight.
---
Jackboots on Whitehall is a puppet film from brothers Edward and Rory McHenry, it being their first full-length film, they previously having made several short films. The entire film is conducted by a mixture of puppets on miniature sets and CGI animation. The unique idea is that it is also an Alternate History film of sorts – one that postulates a fictional Nazi invasion of England following the British defeat at Dunkirk. These Nazi Rule scenarios are legion in print and occasionally on films in the likes of It Happened Here (1965), Fatherland (1994), Philadelphia Experiment II (1994), the Enterprise episode Storm Front (2004), The 25th Reich (2012) and the tv series The Man in the High Castle (2015-9) and SS-GB (2017). Unlike most other Nazi Rule alternate histories, Jackboots on Whitehall is not concerned with portraying the aftermath of the Nazi conquest of England but in depicting a last ditch siege.
In conception, Jackboots on Whitehall falls somewhere between a Gerry Anderson show – see the likes of Fireball XL5 (1962-3), Stingray (1962-4), Thunderbirds (1965-6), Captain Scarlet and the Mysterons (1967) and Joe 90 (1968) – but with more realistic puppet faces – something along the lines of the satiric caricatures of real-life people to be found in the tv series Spitting Image (1984-96). Maybe the soundbite might be to imagine Gerry Anderson having reworked the farcical WWII British comedy series Dad's Army (1968-77) or the resistance comedy 'Allo 'Allo (1982-92). Of course, the work Jackboots on Whitehall reminds a great deal of is Team America: World Police (2004), which appropriated the Gerry Anderson puppet show in a work that satirised American attitudes and big-budget action films – it is not hard to imagine the McHenry brothers having applied the same idea to the World War II drama here.
The McHenry brothers do a fine job of getting down the characterisations, colloquialisms and argot of the World War II era – the opening credits are a near perfect recreation of the war comics that used to be a part of my youth. There is a richness to the design of the sets and models, even if the puppets themselves are lacking in much expression. The action scenes are well staged within the limitations of the miniature sets – most notably the attack on Downing Street and the rescue of Winston Churchill with the team fighting off tanks.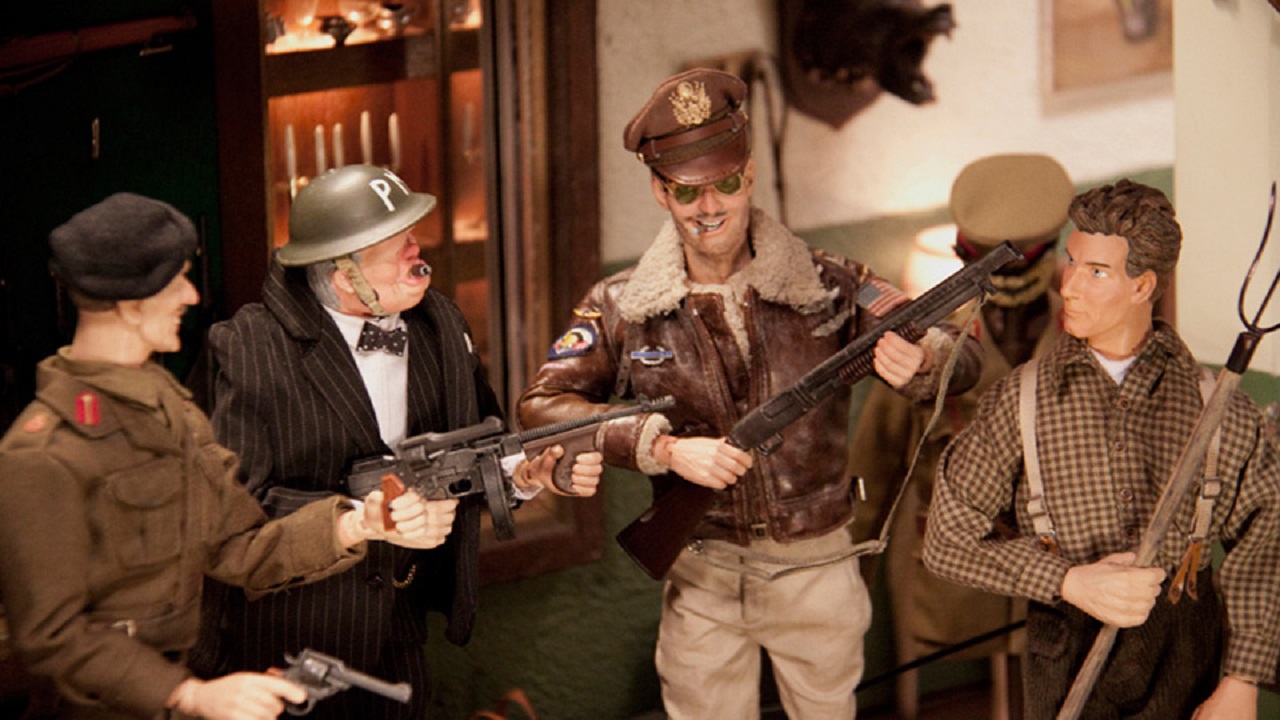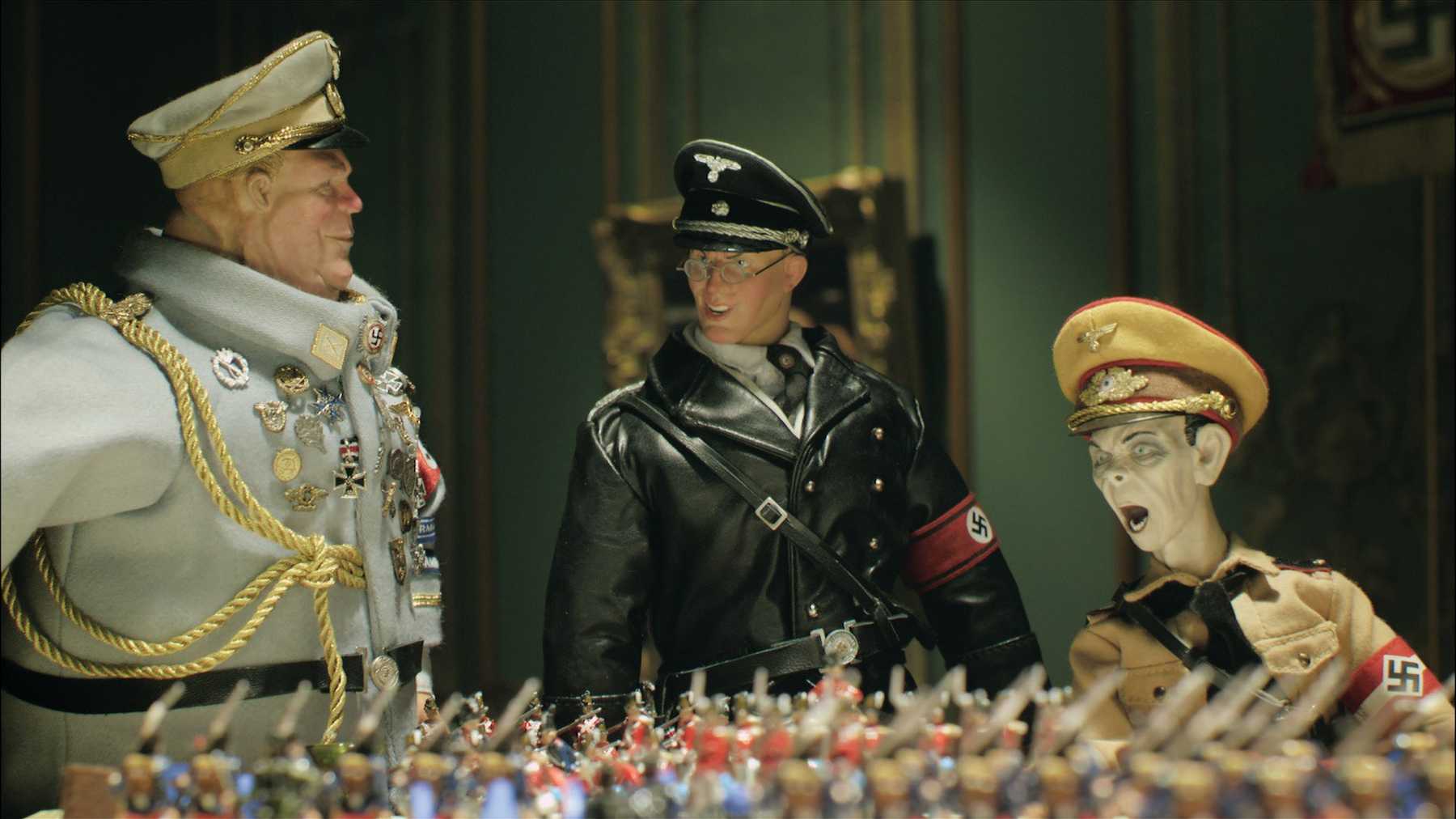 The film manages an amazing voice-cast line-up, including internationally known names such as Ewan McGregor, Alan Cumming, Rosamund Pike, Richard E. Grant, Timothy Spall, Tom Wilkinson, and names more familiar to British tv screens like Stephen Merchant, Richard Griffiths, Sanjeev Bhaskar and Pam Ferris, even Richard O'Brien, the force behind The Rocky Horror Picture Show (1975).
However, the tone of the film seems uncertain – you are not sure if it is intended as a dark comedy or a satire of the era or not. Or even if it has been made as a children's film or for adults – certainly, there is some decidedly adult language and even puppet sex scenes. Yet for all that, it never hits the satiric targets with the same riotous farce of a Team America – the film is at its worst during a clumsy slapstick sequence that has Adolf Hitler turn up to a Christmas party in one of the Queen's ballgowns.
The most effective and clearly satiric parts come towards the end where we enter a fantasy Scotland that seems to have been modelled on Braveheart (1995), including a line where Chris confronts Braveheart who tells him "Everyone loved Braveheart even though there were rumours he was actually an Australian." There is an interestingly subversive charge to the end where the McHenry brothers allow Braveheart and his highlanders to gleefully overthrow Buckingham Palace.
On the other hand, the film is also one that trades in stock racial caricatures – of Indians in singsong voices, apoplectic Germans with clipped Teutonic accents and coarsely vulgar Americans to the extent that you are wondering if the film really is a satire and not a promulgation of jolly, patronising Wartime caricatures that often held appalling racial attitudes. Some of the surprisingly serious moments, such as where everybody sings a hymn on the eve of war, give the impression that the filmmakers are taking all of this patriotic nonsense and stiff upper lip mentality a little too seriously.
---
---