---
Crew
Director – Danny Boyle, Screenplay – Richard Curtis, Story – Jack Barth & Richard Curtis, Producers – Bernard Bellew, Tim Bevan, Danny Boyle, Richard Curtis, Eric Fellner & Matthew James Wilkinson, Photography – Christopher Ross, Music – Daniel Pemberton, Visual Effects Supervisor – Adam Gascoyne, Visual Effects – Union, Special Effects Supervisor – Neal Champion, Prosthetics Designer – Mark Coulier, Production Design – Patrick Rolfe. Production Company – Perfect World Pictures/Working Title.
Cast
Himesh Patel (Jack Malik), Lily James (Ellie Appleton), Joel Fry (Rocky), Ed Sheeran (Himself), Kate McKinnon (Debra Hammer), Sanjeev Bhaskar (Jed Malik), Meera Syal (Sheila Malik), Harry Michell (Nick), Alexander Arnold (Gavin), Sarah Lancashire (Liz), Lamore Morris (Head of Marketing)
---
Plot
In Suffolk, Jack Malike has spent ten years trying to make it as a singer/songwriter without any success with the exception of support of his childhood best friend and manager Ellie Appleton. Cycling home one night, there is a strange worldwide power cut during which Jack is hit by a bus. He comes around in hospital, having lost two teeth. He resumes life as normal but then when playing a new guitar that Ellie has brought him, he is startled when he plays the song Yesterday and nobody else knows who The Beatles were and think it a song he has written. Research reveals that nobody in the world has heard of The Beatles and that there are other tiny changes. Jack then starts recording The Beatles songs and placing them online where they gain a good deal of attention. He is approached by singer Ed Sheeran who is impressed with the songs and wants Jack to become the support act on his world tour. The renewed attention and management that Ed provides suddenly propels Jack to worldwide attention where he is called a genius songwriter. As fame and record deals are at his door, Jack begins to discover that he and Ellie have had feelings for each other for years but that his newfound fame is tearing them in different directions.
---
Danny Boyle has become one of the smartest and most consistently praised of British directors since his emergence out of British television in the early 90s first with the thriller Shallow Grave (1994) and then the breakout hit of Trainspotting (1996). Boyle dithered around for a few years, making the flop crime drama/angel fantasy A Life Less Ordinary (1997) and the not terribly satisfying Leonardo Di Caprio film The Beach (2000), before having another hit with 28 Days Later (2002), which essentially launched the modern zombie revival fad that has overtaken the latter half of the 2000s/10s. Boyle gained a great deal of acclaim and won an Academy Award for Slumdog Millionaire (2008) and went onto other works like Trance (2013), Steve Jobs (2015) and T2 Trainspotting (2017). (See below for Danny Boyle's other genre films).
Here Boyle films a script by Richard Curtis, Curtis started out as a skit writer on the classic comedy series Not the Nine O'Clock News (1979-1982) and gained a cult following with his show Blackadder (1982-9). He has written for a number of other successful British comedy shows such as Mr Bean (1990-5) and The Vicar of Dibley (1994-2007) and emerged on cinema screens with his script for the big hit of Four Weddings and a Funeral (1994). This has had him pegged as a romantic comedy writer and he has delivered other popular works in this vein such as Notting Hill (1999), Bridget Jones' Diary (2001) and Bridget Jones: The Edge of Reason (2004), as well as the scripts for the Mr Bean films and Steven Spielberg's War Horse (2011). As director, Curtis has made a further romcom Love Actually (2003), The Boat That Rocked/Pirate Radio (2009) and one previous venture into genre material with About Time (2013) in which Domhnall Gleeson uses an ability to travel back in time to aid his love life.
The alternate history – a speculative story that depicts the very different way the world would have turned out if some crucial detail in history were changed – has a long history on the printed page, which has produced some enormously creative efforts that one wishes people would get around to filming some day. Popular scenarios include what ifs about what would happen if Germany won World War II or the South won the American Civil War, among others, while the entre Steampunk genre can be considered alternate history. The genre has appeared sporadically on screens with films such as It Happened Here (1965), Quest for Love (1971), Fatherland (1994), White Man's Burden (1995), C.S.A.: The Confederate States of America (2004), Sliders (tv series, 1995-2000), The Man in the High Castle (tv series, 2015-9), SS-GB (2017), For All Mankind (tv series, 2019- ), The Plot Against America (2020) and Noughts + Crosses (tv series, 2020- ).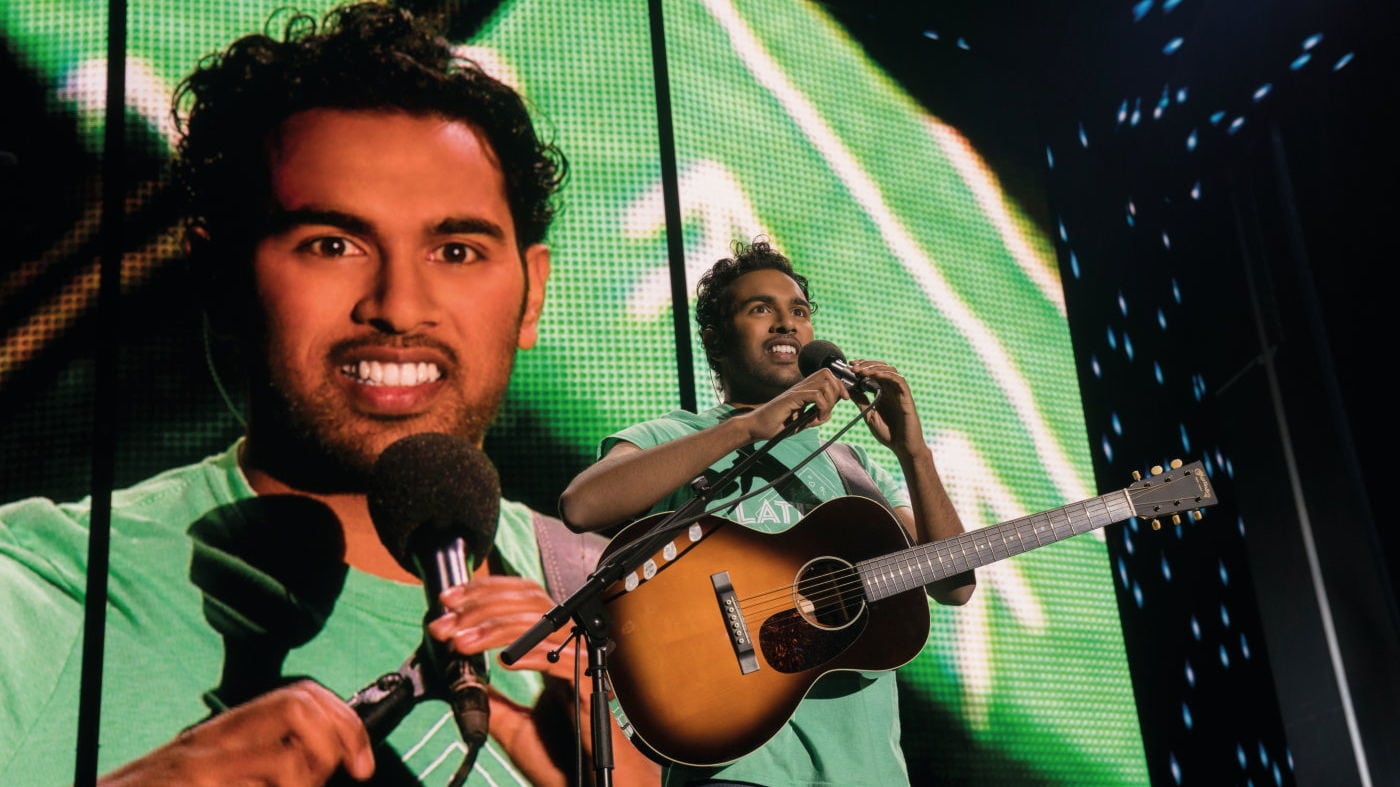 Richard Curtis's script does a passable job of depicting an alternate world. Unlike tv's Sliders, he sees an alternate world as more than just this same world but with one major change and that the change would cause ripples such as no Oasis (a clever touch in that they were initially hailed as the new Beatles), no Coke, no cigarettes and no Harry Potter. Although the most divergent touch is having no Soviet Union – or at least people not recognising the references when Himesh Patel sings Back in the USSR (1968). We also get to meet a John Lennon who is now an old man and lived out his life without fame (although the film's portrait of Lennon is without his distinctive Liverpudlian accent and has Lennon much shorter than Himesh Patel when in fact both would have been the same height). There is no particular explanation offered for the historic divergence point as you almost always get in written alternate history.
On the other hand, I started to have some issues with the film's depiction of its alternate history scenario. If there were as major a world event as there being no Soviet Union, the world have almost certainly changed more than it is. No Soviet Union means no Space Race, no McCarthyist witch hunts, no East and West Germany, no Vietnam War, no fears of nuclear escalation and would probably lessen Ronald Reagan's importance in history. These are all major world events and to think of how differently a world would have emerged without any of them leads to some very interesting speculations – it would probably be one less technologically advanced than what we currently have as many modern devices were built on changes that occurred as a result of these events.
On the other hand, you ask yourself if the world were that drastically changed, would there be so much that is still the same? Would people still drive around in the same cars, use the same phones, have the same clothing styles they do today? Would Hinesh Patel and Lily James', plus all his friends', parents have all met, had sex at exactly the same time they did in the prime timeline so as to produce the same children in this world too? Would all the same formative events that led to the psychological makeup of them as individuals or the circumstances under which they became friends still have occurred in exactly the same way? What if someone who was meant to die in Vietnam or who would otherwise have spent their life in East Germany or the Soviet Union with no contact with the West had come along and wooed their parent instead of the one they ended up marrying? What about all the people who would have died of lung cancer who are now suddenly lead longer lives in this cigarette-less world? All it takes is one tiny change like that or even the fact that the child was born at a later time and every other detail is altered.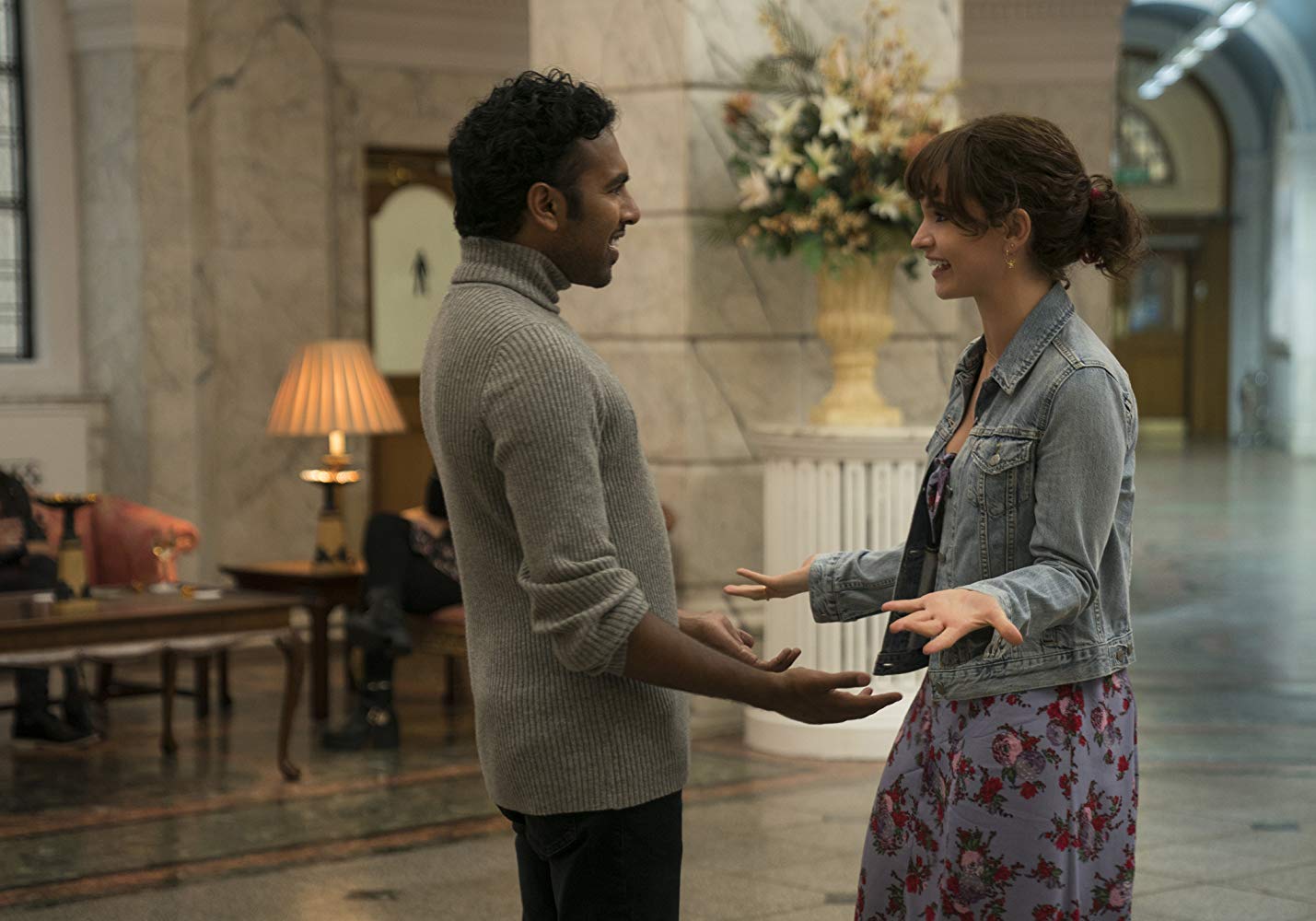 Without allowing the alternate history logic to worry me too much, I was able to go along and enjoy Yesterday. (You can even easily set aside the fact that the film's basic premise seems ot be one quite accepting of copyright piracy). It is the first occasion on which Danny Boyle has directed a romcom, which he does passably well. Himesh Patel and Lily James are likeable if never exactly characters that make the screen weep with yearning and passion for one another. Boyle makes the show move along with a bubbly likeability and comic energy, which is all that one really asked of it, although the ending comes with maybe just tooo much of a happy wrap-up to feel plausible.
Some of the best parts of the film are when Himesh Patel tries to introduce Beatles songs to a world that knows nothing of them – the comic scene where he tries to play Let It Be (1970) before his parents but ends up being constantly interrupted before angrily erupting in frustration at how ignorant they are of the moment of being the first people in the world to hear the song. Or the rather funny scene where a modern marketing department rejects all the titles of the classic Beatles albums for various reasons. And the eventual rewriting of Hey Jude (1968) to appear as Hey Dude.
Danny Boyle's other genre films include:- A Life Less Ordinary (1997), a mix of abduction comedy and a fantasy film; the big success of the zombie holocaust film 28 Days Later (2002); the hard science sf film Sunshine (2007); and the theatrically live broadcast stage adaptation of Frankenstein (2011).
---
---