aka The Mystery of Rampo
---
Crew
Director – Kazuyoshi Okuyama, Screenplay – Yuhei Enoki & Kazuyoshi Okuyama, Story – Edogawa Rampo, Producer – Yoshihisa Nakagawa, Photography – Yasushi Sasakibara, Music – Akira Senju, Visual Effects Design – Michihisa Miyashige & Atsuki Sato, Animation – Studio 4oC, Animation Director – Yasuhiro Nakura, Art Direction – Kyoko Heya. Production Company – Team Okuyama.
Cast
Naoto Takenaka (Edogawa Rampo), Masahiro Motoki (Kogoro Akechi), Michiko Hada (Shizuko), Mikijiro Hira (Duke Ogawara), Teruyuki Kagawa (Masahi Yokomizo)
---
Plot
Japan in the 1930s. The mystery and horror writer Edogawa Rampo is censored by the government after he tries to publish a story about a wife who kept her husband's dead body preserved in a nagamochi, a traditional cabinet in which people store memories of their life. Afterwards, Rampo is told of Shizuko, a widow who was found to have done exactly the same as his character, even though she could not have read his story. Rampo becomes obsessed with and follows the elusive Shizuko. When she leaves to go stay with the wealthy Duke Ogawara, Rampo's fictional detective hero Kogoro Akechi contrives to parachute in and is welcomed by The Duke, a man of perverse interests. However, the Duke jumps off the cliff on his horse. Shizuko claims responsibility for this and next persuades Akechi to step inside the nagamochi.
---
Edogawa Rampo (1894-1965) was a Japanese writer of detective thrillers and horror stories who was popular during the 1930s and up until the 1950s. Born (as the film here acknowledges) Taro Hirai, he adopted the pseudonym Edogawa Rampo based on the Japanese pronunciation of his idol Edgar Allan Poe. Many of Rampo's novels featured the detective Kogoro Akechi who faced larger than life menaces. Rampo's stories have appeared on film in Japan before – most notably Shinya Tsukamoto's Gemini (1999), the horror anthology Rampo Noir (2004) and Caterpillar (2010). There have been 40 other screen adaptations and at least one Kogoro Akechi tv series, although most of these are not widely known outside of Japan.
Rampo, usually referred to as The Mystery of Rampo in the West, was the directorial debut of Kazuyoshi Okuyama who had previously and since worked as a producer on a great many Japanese arthouse films. Though credited as such, Rampo/The Mystery of Rampo is not based on any Edogawa Rampo work per se but is more a fantasia that works Edogawa Rampo's life into a Meta-Fiction. This is not unakin to other works like Agatha (1979), Time After Time (1979), Hammett (1983), Kafka (1991), The Strange Case of Sherlock Holmes and Arthur Conan Doyle (2005) and the tv series' The Secret Adventures of Jules Verne (2000-1) and Murder Rooms (2000-1), that transport authors into a world or series of adventures analogous to their own fiction. (See Real-Life People in Fiction).
Rampo/The Mystery of Rampo creates an exceedingly strange atmosphere that is hard to get a handle on in terms of where the film is going. The setting is beautifully conveyed through a series of clips of pre-War Japan, which perfectly sets the scene, before a beautifully elegant camera cruise through a library showcasing the works of Edgar Allan Poe and Arthur Conan Doyle, Rampo's two prime sources of inspiration. This is then thrown on its head by the sudden jump into animation to portray the story of the husband trapped in the nagamochi – a scene where all the dialogue is peculiarly relayed in Japanese subtitles that appear on the equivalent of printed screens that cover the centre of the screen. The film then takes us into the life of Rampo.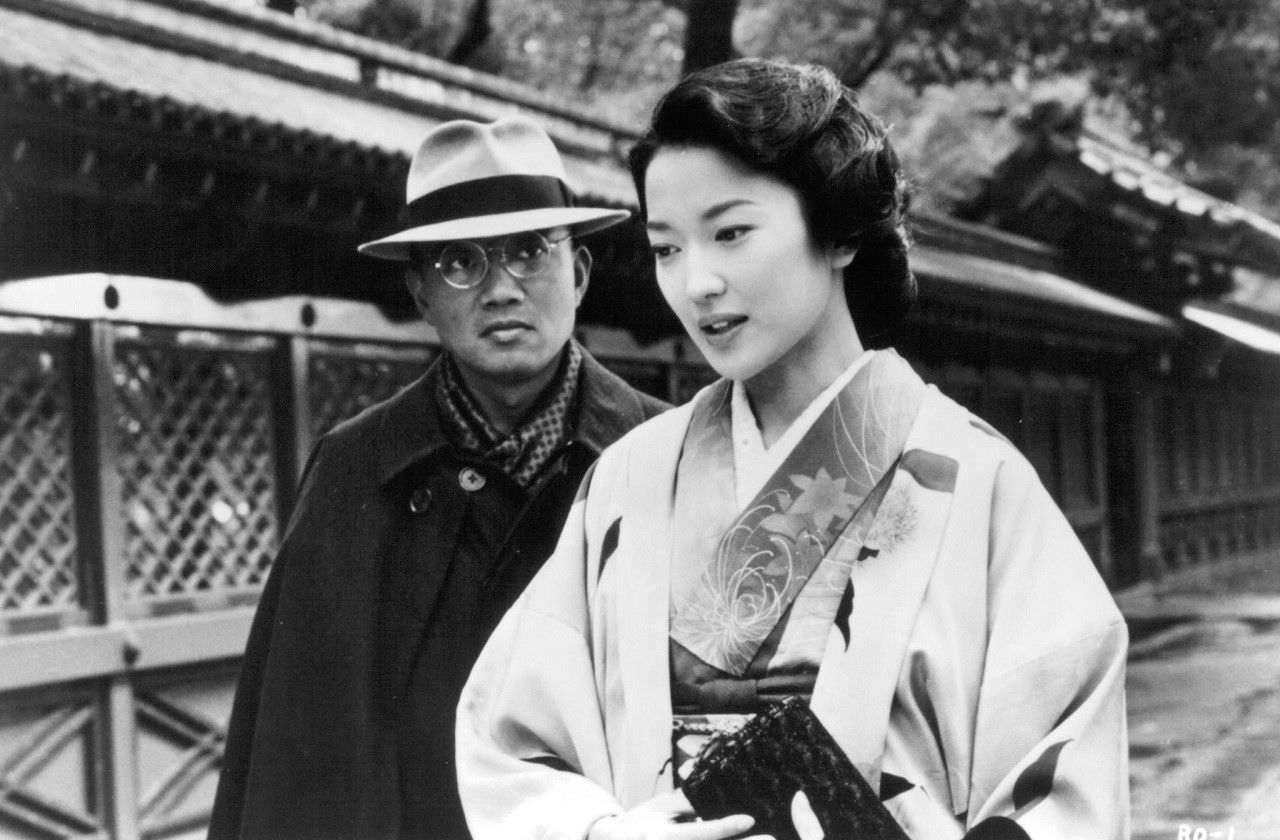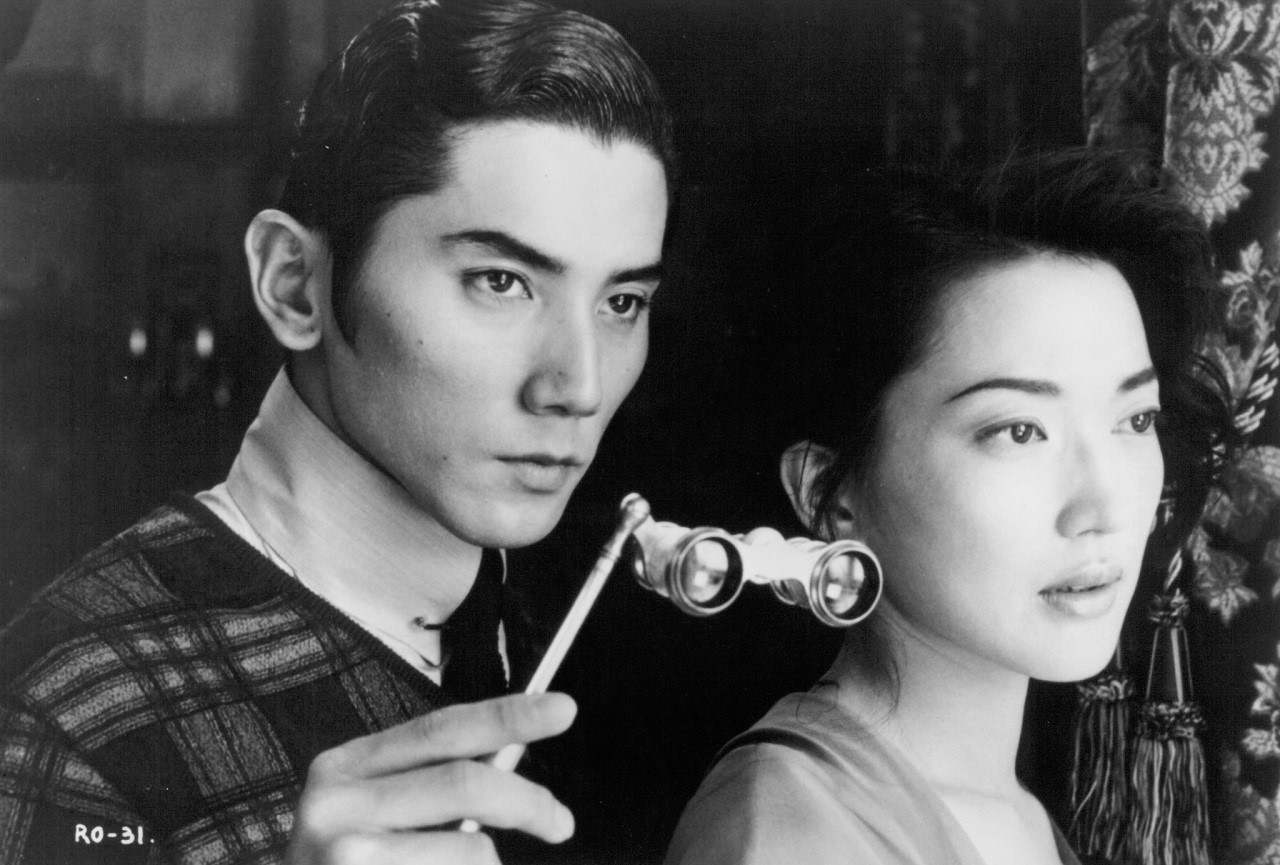 Kazuyoshi Okuyama creates a strange double structure where his stand-in for Edogawa Rampo (Naoto Takenaka) becomes obsessed with a woman who appears to be the heroine of his nagamochi story come to life. It is during these scenes that Rampo/The Mystery of Rampo starts to feel like a Dennis Potter story, one where Potter was constantly winding authors and their fiction around on each other – one is most reminded of Potter's Karaoke (1996) where a screenwriter finds that the script he is writing is being mirrored by people in real-life. On the other hand, the film's writers seem to lack the ability to push this mystery for anything, either in terms of plumbing Rampo's obsessiveness or creating a fascination with solving the nature of the mystery. The woman just sits there right throughout the film as an elusive Femme Fatale of mysterious nature that is never explained.
About halfway through, the film does a flip into something else altogether where Rampo's impossible handsome detective hero Kogoro Akechi abruptly steps in and follows the mystery woman to the estate of The Duke. In these scenes, the film's slowness picks up considerably. The character of The Duke is fascinatingly perverse – one who insists on having the game that he eats for dinner gutted and dressed in front of the dinner table; smokes a deadly aphrodisiac that could have poison effects if ingested orally. At another point, he turns up dressed in drag, while there is a scene where Kogoro Akechi peeps in and sees a sex scene with the mystery woman that involves a pornographic film being projected on her body, all before The Duke rides his horse off the cliff in a suicide, something that the mystery woman then claims she was responsible for (although never deigns to explain this comment). The woman is about to persuade Akechi to step into the nagamochi before Rampo rushes there and saves him.
Rampo/The Mystery of Rampo is a film that is highly successful in terms of mood but incredibly frustrating as story. Kazuyoshi Okuyama's direction is slow and exquisitely mannered. The film reminds of one of Douglas Sirk's Technicolor fantasies, a Wong Kar Wai film or the lushness of Merchant Ivory's films. We never get a handle on who the mystery woman is, Rampo's obsession with her and the coincidence between her and the story, while the meta-fiction aspect amounts to exceedingly little.
The other frustrating thing is that there is little to the eventual film that feels like it belongs to a Rampo story. There is even little biographical detail – mention about his being banned (although the banned work was a different story) and about his being filmed (although here we get scenes from a Rampo adaptation that was made in the 1950s, while the setting of the film going by the cars and biplanes is clearly in the 1930s).

---
Trailer here
---