(Di Renjie zhi Sidatianwang)
---
Crew
Director – Tsui Hark, Screenplay – Chia-lu Chang, Producers – Chang Chia Lu, Tao Kun, T.K. Yang & Zhang Dajun, Photography (3D) – Choi Sung Fai, Music – Kenji Kawai, Visual Effects Supervisors – Ji Myung Goo, Maegawa Hideaki & Park Young Soo, Visual Effects – Digital Frontier, Interocular Visual Effect (Supervisor – Jo Myong Jae), Jiaxing Pictures, Macro Graph (Supervisor – Jongpill Kim & Taegyun Kang) & Mofac Creative Works (Supervisor – Son Ohhyung), Special Effects Supervisor – Yao Jifu, Makeup Effects – Funhouse Special Effects Group, Production Design – Yoshihito Akatsuka, Action Director – Lin Feng. Production Company – H. Brothers/Fiilm Workshop Co Ltd/Huayi Brothers Pictures Ltd.
Cast
Mark Chao (Detective Dee), Feng Shaofeng (Yuchi Zhenjin), Lin Gengxin (Shatuo Zhong), Ma Sichun (Water Moon), Ethan Juan (Yuan Ce), Carina Lau (Empress Wu), Sheng Chien (The Emperor), Bao Rifu (Night Ghost), Sun Jiaolong (Spectral Blades), Wang Xichao (Smoe Volant), Shi Shenggang (Bo Qianzhang), Xu Minghu (Yi An), Mu Kakai (Zhou Jin), Yang Yiwai (Ding Xun), Zhang Aoyue (Huan Tian)
---
Plot
Detective Dee now maintains the Detective Bureau for the Empress. Because of his trusted position, The Emperor proclaims Detective Dee a defender of China and bequeaths him the all-powerful Dragon Taming Mace for protection. This infuriates Empress Wu. She employs the Mystic Clan, a group of assassins who use magic tricks, to retrieve the mace. They conduct an elaborate set-up to distract Detective Dee with a fabricated case and then take the opportunity to sneak in to his home to find where he has hidden the mace. They also have secret plans to overthrow the empire and Dee is soon pitted against them.
---
Tsui Hark is a legend in Hong Kong cinema, having essentially created the Wu Xia film with Zu: Warriors from the Magic Mountain (1983). (See bottom of the page for Tsui Hark's other genre films). Tsui had a considerable success in the 2010s with Detective Dee and the Mystery of the Phantom Flame (2010), based on the historical figure of De Renjie. Detective/Judge Dee, as he is commonly known, lived in the 7th Century and was reputedly a judge esteemed for the scrupulous fairness and logic of his judgements who eventually rose to become chancellor to the Dowager Empress Wu Zeitan. There have been various fictional works based on Dee's exploits and Mystery of the Phantom Flame was a major reimagining. In the first film, the role of Dee was played by Andy Lau but Tsui then made a prequel Young Detective Dee: Rise of the Sea Dragon (2013), recasting the role with Mark Chao who continues in the part in this third film.
Tsui Hark stated that The Four Heavenly Kings was made up of all the leftover ideas he and his creative team had for the other films. As such it has a scrappy messiness that is all over the place. If anything it reminds of the Tsui Hark produced Swordsman III: The East is Red (1992) that took the stylish moves of the previous films and went madly over-the-top with them. While the other Detective Dee films were Wu Xia within the realm of semi-realism ie. always had a rational basis, this abandons realism and comes with the inclusion of magic power maces, giant flying goldfish, Buddhas and a giant albino ape that looks like it strayed in from Rampage (2018).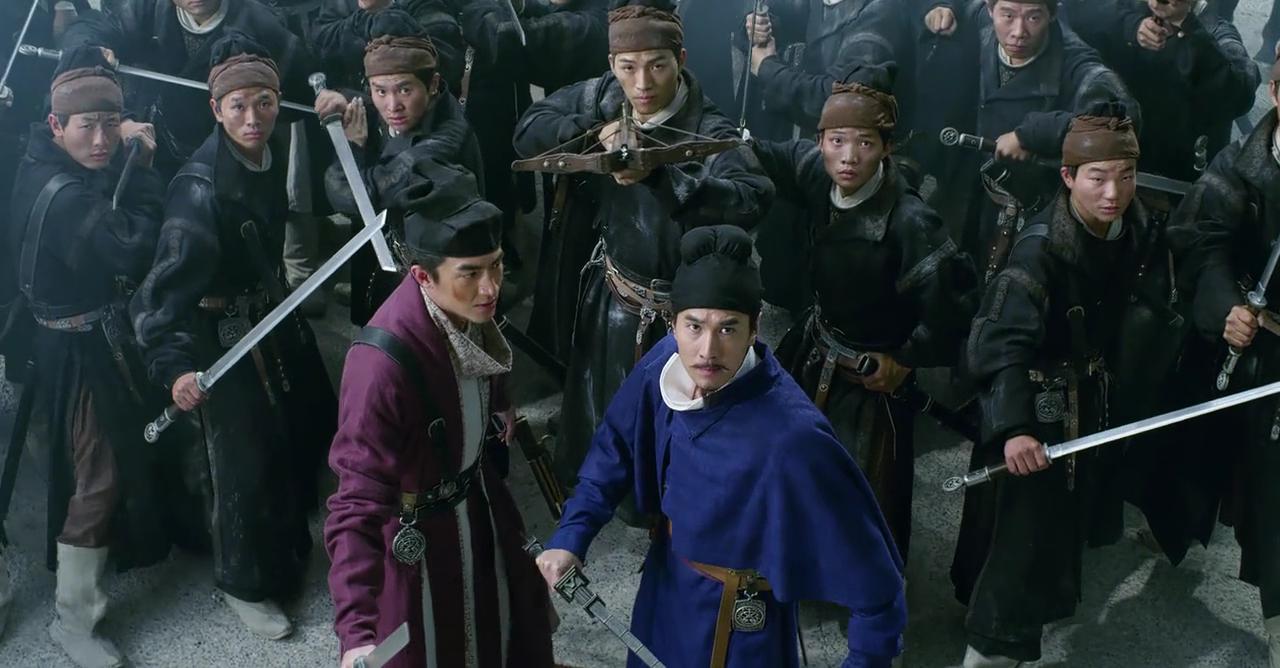 Tsui Hark's directorial moves are way over the top. The principal nemeses of the show are a troupe of assassins who perform magic tricks as part of their act (and come with motivations that seem so convoluted that I couldn't entirely follow them). One of the amazing set-pieces that Tsui creates is a chase across the rooftops being pursued by three assassins that combine into a single figure in a black hooded costume with eight elongated arms that end in claws who spins through the air like a scythe.
The other Detective Dee films were not so concerned with plot but the script here is conducted with a series of entertainingly over-the-top contortions. Especially amusing is when Detective Dee starts following the clues of the case and realises part way through that someone has set up the case as a trap for him, while at the same time the assassins break into his place in search of the mace and try to find it by outwitting Dee's traps by thinking of the obvious place he would put it and looking in the opposite place.
Tsui Hark's other genre films as director are:- The Butterfly Murders (1979), We're Going to Eat You (1980), Zu: Warriors from the Magic Mountain (1983), Aces Go Places III: Our Man from Bond Street/Mad Mission III: Our Man from Bond Street (1984), Green Snake (1993), Butterfly Lovers (1994), Zu Warriors/The Legend of Zu (2001), Black Mask 2: City of Masks (2002), Missing (2008), Flying Swords of Dragon Gate (2011) and Journey to the West: Demon Chapter (2017). Tsui Hark has also produced A Chinese Ghost Story (1987), The Laser Man (1988), Roboforce/I Love Maria (1988), A Chinese Ghost Story II (1990), Swordsman (1990), A Terracotta Warrior (1990), A Chinese Ghost Story III (1991), The King of Chess (1991), New Dragon Gate Inn/Dragon Inn (1992), Swordsman II (1992), Iron Monkey (1993), The Magic Crane (1993), Swordsman III: The East is Red (1993), Wicked City (1993), Burning Hell in Paradise (1994), Black Mask (1996), A Chinese Ghost Story: A Tsui Hark Animation (1997), Master Q (2001), Vampire Hunters/The Era of Vampires (2002), Sword Master (2016) and The Thousand Faces of Dunjia (2017).
---
---