---
Argentina/USA/Netherlands/France/Mexico. 2014.
Crew
Director – Lisandro Alonso, Screenplay – Lisandro Alonso & Fabian Casas, Producers – Ilse Hughan, Andy Kleinman, Viggo Mortensen, Sylvie Pialat, Jaime Romandia & Helle Ulsteen, Photography – Timo Salminen, Music – Buckethead & Viggo Mortensen. Production Company – 4L/Perceval Pictures/Fortuna Films/Les Films du Worso/Mantarraya/Massive/Kamoli Films/Match Factory/Wanka/INCAA
Cast
Viggo Mortensen (Gunnar Dinesen), Villbjork Malling Agger (Ingeborg Dinesen), Adrian Fondari (Lieutenant Pittaluga), Ghita Norby (Old Woman)
---
Plot
Argentina during the 19th Century. The Danish engineer Gunnar Dinesen has arrived to help chart the inland regions in preparation for colonisation. He is forced into the company of a group of soldiers, although is offended after Lieutenant Pittaluga asks to take Dinesen's fourteen-year-old daughter Ingeborg to the officer's ball, offering a horse in return. There are also reports that Zuluaga, one of the commanding officers, has gone rogue. Ingeborg is secretly conducting an affair with the handsome young soldier Corto and the two of them steal a horse and elope. Dinesen now sets out on his own into the uncharted territories to bring her back.
---
Jauja is the fifth film for Argentinean director Lisandro Alonso. It is Alonso's first venture into what could be considered fantastic material. All of Lisandro Alonso's previous films are non-commercial in the sense that they are films of silences and landscapes or concern the ways in which isolated characters interact with a modern world that is alien to them. Alonso's other films include La Libertad (2001) concerned the solitary life of a woodcutter in the forest; Los Muertos (2004) about a man released from jail after many years who travels through the city and jungle in search of his daughter; Fantasma (2006) about alienated characters drifting through a movie theatre; and Liverpool (2008) about a sailor arriving on land after spending most of his life at sea.
By now, Lisandro Alonso has been gaining sufficient international attention that Jauja was able to premiere at the Un Certain Regard section of the Cannes Film Festival where it won a prize. The film comes backed by a consortium of international companies and was even sufficiently enamoured by the well-known name of Viggo Mortensen that he not only came on board as an actor but has made the effort to deliver all of his dialogue in Dutch and Spanish, while he also co-produces and composes the film's score.
Jauja starts well. Everything takes place in the style that is familiar to Alonso's films – shots that go on for minutes at a time; or are focused on wide open, bare landscapes – sometimes long enough for an actor to walk or ride from in front of the camera all the way over the horizon line. The opening scene takes place in several long shots between Adrian Fondari who lies in a pool masturbating and Viggo Mortensen who sits a short distance away putting on his boots, which turns into Fondari offering Viggo a horse to take his daughter to the ball, something that Viggo politely refuses. Later we learn the daughter (Villbjork Malling Agger) is only fourteen and then see, after Viggo gives her a warning to stay away from Fondari, her joining another younger soldier on the beach and him putting his arm around her. In the next scenes, we see Viggo and several of the soldiers learning about Captain Zuluaga who has gone rogue into inland territory among the natives.
All of this seems a promising set-up for what could be any of a number of different types of adventure films. Indeed, at the point of starting watching it, I was not expecting to have to review Jauja as a genre film. There are several different ways the plot could have gone from these opening scenes. One of these is in the direction of Werner Herzog's Aguirre, The Wrath of God (1977) with the idea of decent moral explorer Viggo Mortensen heading on an expedition in the company of the crude, racist Adrian Fondari where you would expect as the party becomes lost, encounters perils and so on, the differences between the two to come to the fore and tear the expedition apart, probably with murderous results in a fight over Viggo's daughter.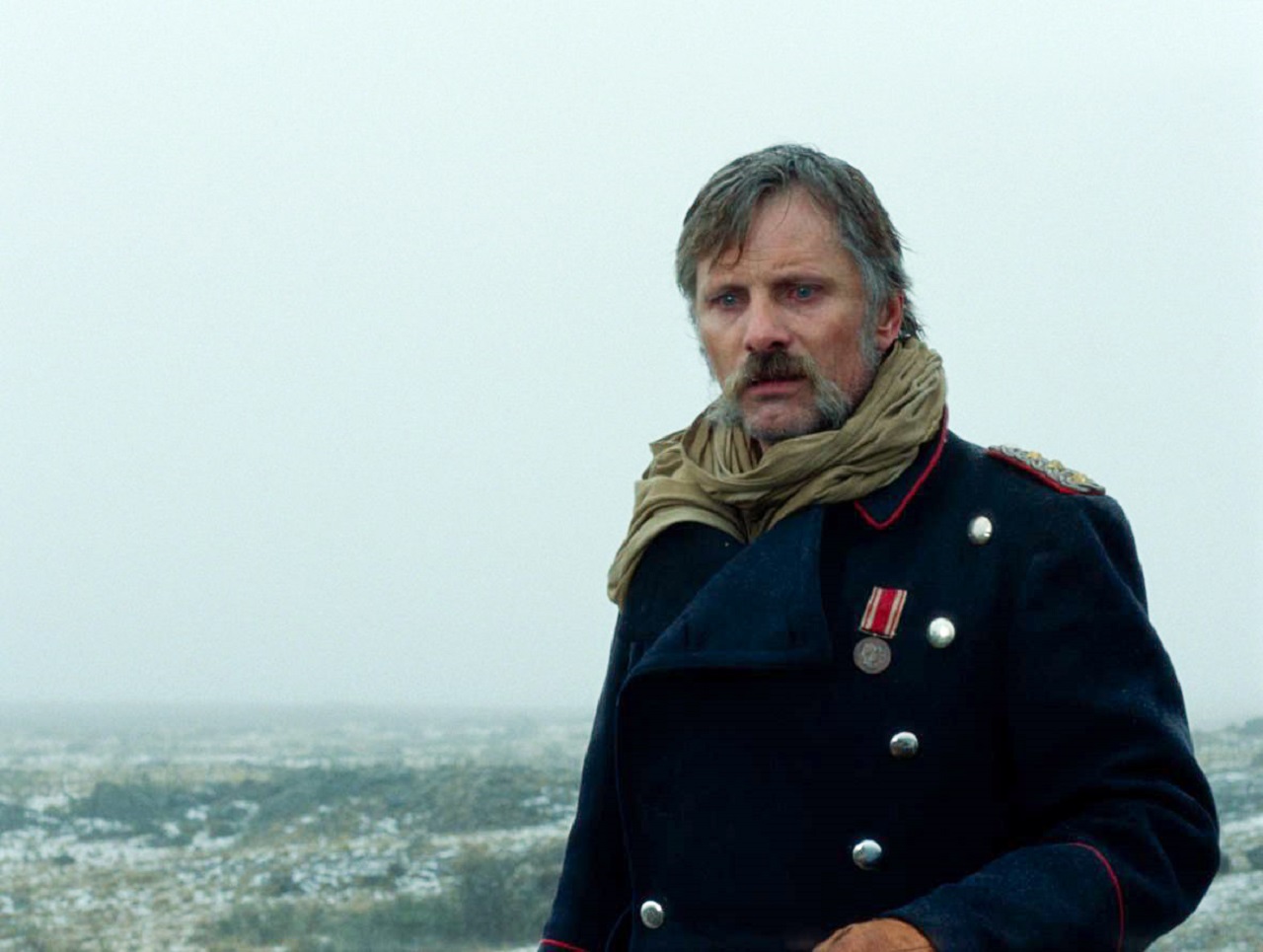 With the introduction of the rogue captain, the other plot possibility is that of Apocalypse Now (1979) where the protagonist must make a venture through hostile and alien territory to bring back and confront the soldier who has created his own empire among the natives. Another possibility with the introduction of the daughter's disappearance is the storyline taken up by The Searchers (1956), The Emerald Forest (1985) and Vincent Ward's River Queen (2005) of the protagonist who goes in search of their child who has become lost in the jungle and been adopted among the natives there.
The puzzle about Jauja is that none of these story paths come about. As the film progresses, we get various encounters with people on Viggo Mortensen's journey. However, the possibilities of dramatic confrontation that any of these early scenes suggest are puzzlingly dropped or forgotten – Adrian Fondari's possibly paedophile lieutenant is left behind as Viggo sets out; the younger soldier that the daughter eloped with is killed off; while we never even get to meet the rogue Captain Zuluaga. In fact, the film seems to be distinctly avoiding any opportunities to develop a story. Mostly it seems to consists of long shots of Viggo Mortensen and occasionally others travelling across a very empty and bare landscape broken up by the odd episode where Viggo encounters others.
Towards the end though, things start to get strange. [PLOT SPOILERS]. Viggo encounters an old woman who lives in a cave with a dog and seems confused about who he is, leaving you wondering if maybe this is an older version of his daughter. In its final section, the film abandons Viggo's quest altogether and jumps ahead to a colonial house in perfectly ordered grounds. You wonder for a time if this is maybe a cut back to the explorers' homebase. However, we then see Villbjork Malling Agger getting up out of bed and it takes you a moment to realise that she is wearing a modern tank top and panties, not attired in the more modest bedwear you would expect of a girl in the 19th Century. She goes outside to talk to one of the servants and then takes a dog for a walk where she picks up the toy soldier that her earlier self had found amid the landscape, before we cut to end credits.
This is an ending that is both fascinating and baffling as the endings of David Lynch films like Lost Highway (1997) and Mulholland Dr. (2001). No explanation is ever offered for how she ended up in what would appear the modern world. There is some suggestion in the film's title 'jauja' – an existing word in Spanish that means a mythical land of plenty (akin to the more popular El Dorado), which is introduced via the brief explanatory opening title card and then never mentioned again. The sense we seem to get is akin to Vincent Ward's The Navigator: A Mediaeval Odyssey (1988) of people from an earlier era being able to simply walk through time to end up in the present-day. Even then, how is a mystery, or even the fact that she now seems to be in a position of privilege and the daughter of the house.
---
Trailer here
---