---
Crew
Director – Anne Black, Screenplay – Anne Black, Jason Faller & Kynan Griffin, Created by/Producers – Jason Faller & Kynan Griffin, Photography – A. Todd Smith, Music – Nathaniel Drew, Creature Effects – Bluefire Studios (Visual Effects Supervisor – Matt Hoffman), Special Effects Supervisor – Clark Edmunds, Production Design – Lauren Spaulding. Production Company – Arrowstorm Entertainment.
Cast
Melanie Stone (Marek), Adam Johnson (Thane), Nicola Poesner (Teela), Jake Stormoen (Dagen), Christopher Robin Miller (Hammerhead), Kevin Sorbo (Gojun Pye), Sebastian Barr (Egan), Robert Jayne (Peregus Malister), Kee Chan (Mekru Nom), Natalie Devine Riskas (Caeryn), Michael Flynn (Vagamal)
---
Plot
Teela, a maiden of the temple of Aniset, is forced to flee as it is raided by the dark sorcerer Mekru Nom and his orcs. Elsewhere, Marek is a slave girl with one crippled leg who secretly practices in an effort to develop her powers as a magic user. She goes on an errand but is late coming home and misses the first watch, only to be captured as a runaway. She rebels against the master's beating and flees, going to the Hammerhead Inn where she tries to find an adventuring party to join. At the same time, Teela arrives at the inn, offering a bounty to whoever will rescue her sister but is laughed at by the patrons when she can only offer 200 silver. Marek begs to join her sortie and helps gather others, including the warrior Thane and the thief Dagen. Together, the group set out on a quest to rescue Teela's sister from where she is held prisoner.
---
Mythica: A Quest for Heroes was the first in a series of films from Arrowstorm Entertainment who have gone on to build Mythica out into a franchise of films. This was followed by Mythica: The Darkspore (2015), Mythica: The Necromancer (2015), Mythica: The Iron Crown (2016) and Mythica: The Godslayer/Mythica: The Dragonslayer (2016). Arrowstorm is a Utah-based company that specialise in films made on low budgets that have usually been raised via Kickstarter. They have also made Dawn of the Dragonslayer (2011), The Crown and the Dragon (2012), Orc Wars (2012), Osombie (2012), The Shadow Cabal (2012), Dragonfyre (2013), Zombie Hunter (2013), Survivor (2014), Christmas Dragon (2015), Cyborg X (2016), Magellan (2017), 626 Evolution (2017), The Appearance (2018) and the tv series The Outpost (2018-21).
Mythica: A Quest for Heroes is directed by Anne Black who began as a production designer and made her directing debut with Dawn of the Dragonslayer, followed by The Crown and the Dragon. She has also written two other non-Arrowstorm fantasy films with Age of the Dragons (2011) and Orcs (2011).
Ever since The Lords of the Rings trilogy conquered movie screens, there have been a great many imitators seeking to offer up similar epic fantasy/sword and sorcery copycats. Few of them have been any good, mostly we have seen dross such as Earthsea (2004), Eragon (2006), Seventh Son (2014) and much cheap dvd-released fodder. I settled into Mythica: A Quest for Heroes with low expectations left by these copycats in the field. I must say that I was gently surprised by what this manages to do – and moreover for something that emerges from the even further lowered expectations arena of the Kickstarter-funded fan effort.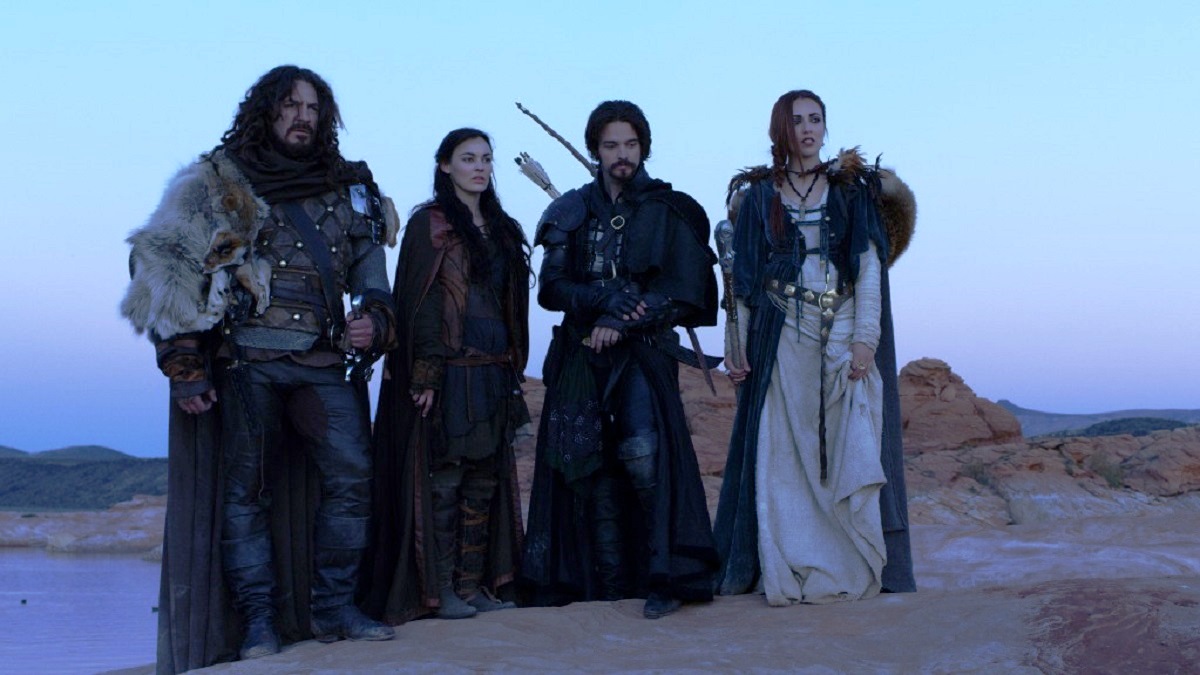 The film feels like someone has set out to bring their love of playing Dungeons and Dragons (1974) to life. It is a film steeped in reference to the set-up and worldview of D&D. It does rather well with the elements – I particularly liked the way that the standard inn opening and gathering of the party scene, where just about every D&D game begins, appealingly subverts all of your expectations. One of the other things that works very well is Anne Black's efforts to make the standard fantasy world seem believable, textured and lived-in – from the opening tours of the kitchen to the magic user's home and the inn – no doubt an inheritance from her previous job as an art director.
The downside of A Quest for Heroes is that it comes with a great, well characterised and vigorous set-up but falls into routine wilderness and monster encounters in the second half once the adventuring actually begins. Here we get encounters with orcs at a lakeside, and a cave with an ogre and some briefly glimpsed giant spiders. The effects and makeup on the creatures in these scenes are good for a low-budget film. On the other hand, these adventures are nothing outstanding. The show wraps up fairly perfunctorily, leaving many aspects – most notably the villain Mekru Nom who is built up but then forgotten about without a confrontation – no doubt open for future sequels.
The only recognisable name present is Kevin Sorbo, the lead from Hercules: The Legendary Journeys (1994-9), as the magic user in a single scene appearance near the start. Aside from Sorbo, the only other recognisable name present – Adam Johnson who played in the awful Vamp U (2013) and gave an incredibly silly performance in another Kickstarter-funded sword-and-sorcery effort Dudes and Dragons (2015) – is persuaded to give a serious performance and does so well. The rest of the cast are all unknowns but manage to play well, especially Melanie Stone in the lead role. The only amateurish touch seems to be the addition of a score that conducts epic flourishes for what are fairly routine shots of the party crossing fields.
---
---