---
USA. 1996.
Crew
Director/Story – Paul M. Glaser, Screenplay – Christian Ford & Roger Soffer, Producers – Paul M. Glaser, Bob Engelman & Scott Kroopf, Photography – Charles Minsky, Music – Christopher Tyng, Music Supervisor – Bonnie Greenberg, Visual Effects Supervisor – Charles Gibson, Visual Effects/Animation – Rhythm & Hues Studios, Special Effects – Class A Special Effects (Supervisor – Ron Trost), Production Design – Donald Burt. Production Company – Interscope Communications.
Cast
Francis Capra (Max Connor), Shaquille O'Neal (Kazaam), James Acheson (Nick Matteo), Ally Walker (Alice Connor), Marshall Manesh (Malik), John Costelloe (Travis O'Neill), Fawn Reed (Asia Moon)
---
Plot
Hiding from bullies in a derelict building, young Max Connor finds a battered old ghetto blaster. When activated, this unleashes a large genii called Kazaam. Max at first takes Kazaam for a lunatic but soon finds his offers of three wishes to be real. However, Kazaam becomes as much hindrance as help as Max locates his estranged father and becomes entangled in his illicit activities.
---
Kazaam
is widely considered a bad movie. It feature on the IMDb's Worst Films list, although surprisingly did not feature in the Golden Raspberry Awards when it came out. The film was an attempt to make a star out of star NBA basketballer Shaquille O'Neal. O'Neal is not an actor and comes across with an, at most, dim-wittedly inoffensive amiability. Apart from the equally ridiculed
Steel
(1997), O'Neal's acting career sputtered after this point and has mostly consisted of cameos as himself.
Kazaam was directed by Paul Michael Glaser, once the Starsky half of tv's Starsky and Hutch (1975-9) who later became director with Band of the Hand (1986), The Air Up There (1994) and most notably The Running Man (1987). Although the widely ridiculed disaster of Kazaam seems to have put said to any subsequent directorial career on Glaser's part and he has subsequently only worked as a director in television.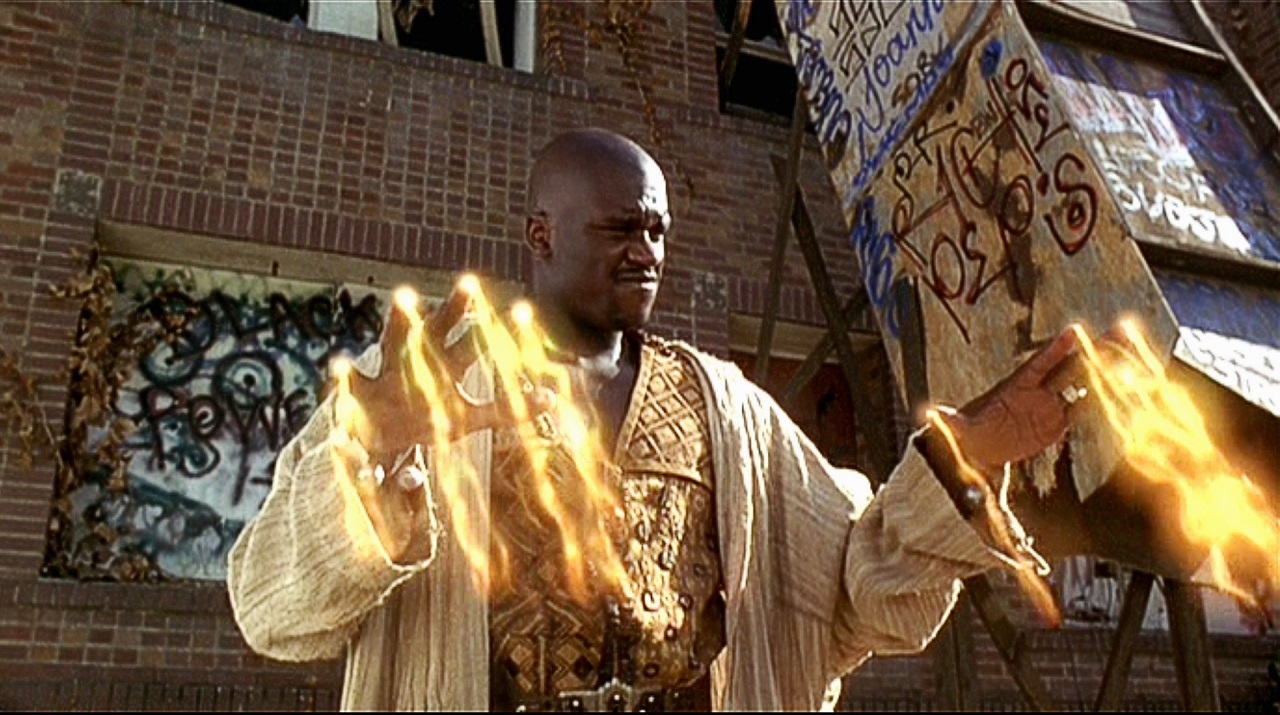 The idea of a hip-hop update of the old genie fantasy is potentially amusing but it receives no more in-depth a working out than having the genie emerge from a ghetto blaster (and that in turn only really becomes a hook to sell an accompanying soundtrack). The fantastical elements are bland – flying bicycles, magical rains of junk food, flying pieces of French toast – and have been conducted with the seeming expectation that the special effects will conjure the magic the film fails to do directorially.
There is an immensely irritating end where the film, having established a viable set of rules about only allowing the genii to materialise physical objects and not be able to affect destinies, flagrantly breaks these rules because a wish is made "with an honest heart". As with many of these fantasy films, there is the underlying theme of the character coming to stand in for and ultimately reconcile the child with an absent parent.
---
Trailer here
---