---
Crew
Directors – Toby Shelton, Tad Stones & Alan Zaslove, Screenplay – Kevin Campbell, Mirith Js Colao, Bill Motz, Steve Roberts, Dev Ross, Bob Roth, Jam Strnad & Brian Swenton, Story – Tad Stones, Duane Capizzi, Douglas Langdale, Mark McCorkle & Robert Schooley, Producers – Tad Stones & Alan Zaslove, Music/Adaptations – Mark Watters, Based on Music by Alan Menken, Animation Directors – Dale Case, Warwick Gilbert, Ian Harrowell, Saburo Hashimoto, Takamitsu Kawamura, John Kimball, Marsh Lamore, Rick Leon, Kazuo Terada & Steve Trenbrith. Production Company – Walt Disney Television Animation.
Voices
Scott Weinger (Aladdin), Dan Castellaneta (Genie), Linda Larkin (Princess Jasmine), Gilbert Gottfried (Iago), Jonathan Freeman (Jafar), Val Bettin (Sultan), Jason Alexander (Abis Mal), Jim Cummings (Razul)
---
Plot
The thief Abys Mal finds the lamp containing the former vizier Jafar in the desert. Jafar now has the powers of a genie and promises Abys Mal three wishes if he will release him. Freed, Jafar sets about planning revenge against Aladdin and sends the parrot Iago to trick him. Iago succeeds in fooling Aladdin into believing that he has reformed. However, when Jasmine and her father the Sultan find that Aladdin has brought Iago back to the palace, they are outraged and want to cancel Aladdin and Jasmine's pending wedding.
---
The practice has become a major part of Disney commercial practice a decade later, but in 1994 The Return of Jafar was the start of what has become a worrisome trend in Disney animation – their relentless sequelizing of their animation classics and modern hits. It is a practice that is far more cynical than most sequels as it is not only offering up a product that is designed solely to commercially exploit the public's enjoyment of the original, but one that is specifically targeted at children. The material spun out by Disney as sequels is inferior product – as here, the film has been made on the cheap by Disney's Australian-based television production arm – and is very weak as story.
To follow in its footsteps would be the likes of Beauty and the Beast: The Enchanted Christmas (1997), Pocahontas II: Journey to the New World (1998), The Lion King II: Simba's Pride (1998), The Little Mermaid II: Return to the Sea (2000), Lady and the Tramp II: Scamp's Adventure (2001), Cinderella II: Dreams Come True (2002), The Hunchback of Notre Dame II (2002), Atlantis: Milo's Return (2003), 101 Dalmatians II: Patch's London Adventure (2003), Stitch! The Movie (2003), Mulan II (2004), The Emperor's New Groove 2: Kronk's New Groove (2005), Lilo & Stitch II: Stitch Has a Glitch (2005), Tarzan 2 (2005), Brother Bear II (2006), The Fox & the Hound 2 (2006), Leroy & Stitch (2006), Cinderella III: A Twist in Time (2007), The Little Mermaid: Ariel's Beginning (2008) and TinkerBell (2008). This practice became so prevalent it has even extended to theatrical sequels with the likes of Fantasia 2000 (1999), Return to Neverland (2002), The Jungle Book 2 (2003) and Bambi II (2006).
Personally, I found Disney's Aladdin (1992) overrated. The story was constantly being subverted by a barrage of modern colloquialisms and ended up being overtaken by Robin Williams's manic genie. The Return of Jafar is even slighter. There is no story to it – it is just a continuation and reuniting of the characters. Aladdin and Jasmine's pending nuptials are extruded to form the backdrop, Jafar is predictably brought back seeking revenge (and this time now becomes an evil genie), while Iago the parrot is redeemed and joins Aladdin's side, where the bulk of the plot seems to improbably centre around whether his change of character is genuine and can be trusted.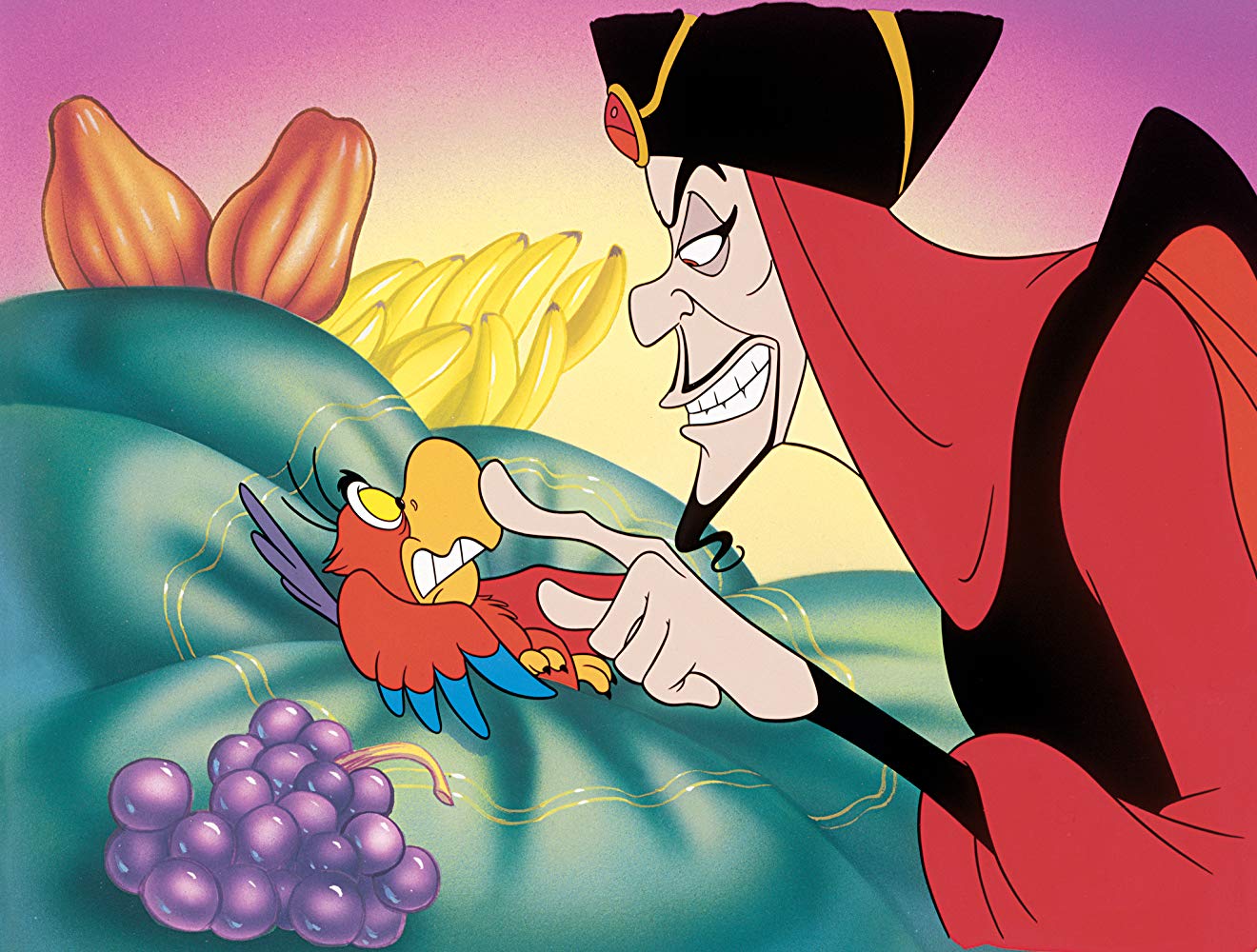 Most annoyingly, the genie is brought back and placed centre stage. The genie is fairly much like Robin Williams is in real life – a character who conducts a manic series of impersonations and keeps getting in your face with a desire for attention that eventually comes to dominate everything else. Traditionally a genie is meant to offer three wishes and then disappear, something even the first film acknowledged; The Return of Jafar implausibly has the character just continue to hang around and help Aladdin out. This time the genie is voiced by Dan Castellanata, the voice of Homer Simpson on tv's The Simpsons (1989– ).
As with the first film, the genie undergoes a blinding series of impersonations and transformations – everything from The Pyramids to rockets, parachutes, the Moon, a mummy, faucets, yachts and a variety of racial caricatures – a Hong Kong pedicab driver, an Italian taxi driver, a Greek Olympian, mariachi and an Inuit. In fact, the character seems to have no purpose in the film other than to go through a range of transformations. The film offers no acknowledgement of historical authenticity and throws in anachronistic jokes with the genie wielding a clapperboard and a video camera and lines like "I would like to thank the Academy for this honour … I've got the T-shirts."
A further, slightly better, sequel Aladdin and the King of Thieves (1996) followed, along with a tv series Aladdin (1993-6). A few years later there would be the live-action remake Aladdin (2019).
---
---