USA. 1997.
Crew
Director – Michael Ritchie, Screenplay – Jeff Rothberg, Producers – Bill, Jon & Sid Sheinberg, Photography – Ralf Bode, Music – Bruce Broughton, Visual Effects – Blue Sky Studios (Supervisor – Carlos Soldhana), Matte World Digital (Supervisor – Craig Barron) & Pacific Data Images (Supervisor – Richard Chuang), Special Effects Supervisor – Martin Malivoire, Animatronics – Cannom Creations (Supervisor – Greg Cannom), Production Design – Stephen Hendrickson. Production Company – The Bubble Factory/Paramount.
Cast
Martin Short (Murray), Mara Wilson (Annabel Greening), Kathleen Turner (Claudia), Amanda Plummer (Boots), Francis Capra (Charlie Greening), Robert Pastorelli (Oliver Greening), Ruby Dee (Hortense), Teri Garr (Rena), Alan Campbell (Tony Sable), Jonathan Hadary (Lord Richard)
---
Plot
Young Annabel Greening receives a visit from her male fairy godmother Murray. She decides to use the wish offered by Murray to help her father further his career and get a big part in a Broadway musical. One condition of the wish is that it has to be made within 100 feet of the recipient's person. Unknown to Annabel, Murray did not do well on his fairy godmother exams and accidentally turns her father into a bronze statue in Central Park. Meanwhile at the Fairy Godmother Convention, Claudia, a fairy godmother who has gone bad, hexes the other fairy godmothers and takes all the wands so that she might do evil. However, she is missing the 100th and most powerful wand, which is in Murray's possession. Murray and Annabel have until midnight to stop Claudia and regain the other wands, otherwise her father's condition will become permanent.
---
Most children's films operate on a simplistically reduced level. Sometimes the genre manages to amaze. On the other hand, when it comes to films pitched at the pre-school ages it is as though all good reason goes out the window. Most movies for the young seem either made under the assumption that children like Broadway songs (which there seems little evidence for) or are, like A Simple Wish, giant mud pie fights being conducted by adults. The worst offender here was Drop Dead Fred (1991), a film that has many similarities to and more than likely acted as some influence on A Simple Wish.
A Simple Wish was made by Michael Ritchie, the director of the likes of Prime Cut (1972), The Candidate (1972), The Bad News Bears (1976) and the Fletch films. While most of these have been well received, Michael Ritchie's outings into fantasy have been misguided disasters – the potentially interesting but leaden Peter Benchley adaptation The Island (1980) about a lost society of pirates surviving in the Bermuda Triangle, the flop Eddie Murphy Asian fantasy The Golden Child (1986) and the film version of the musical The Fantasticks (2000).
In Ritchie's hands, A Simple Wish is mostly conducted as loud, noisy chaos. It starts in from the opening scenes with Martin Short causing disaster during a Fairy Godmother entrance exam by cheating, shredding his paper, losing his pencil and the like, and only progresses downwards from there.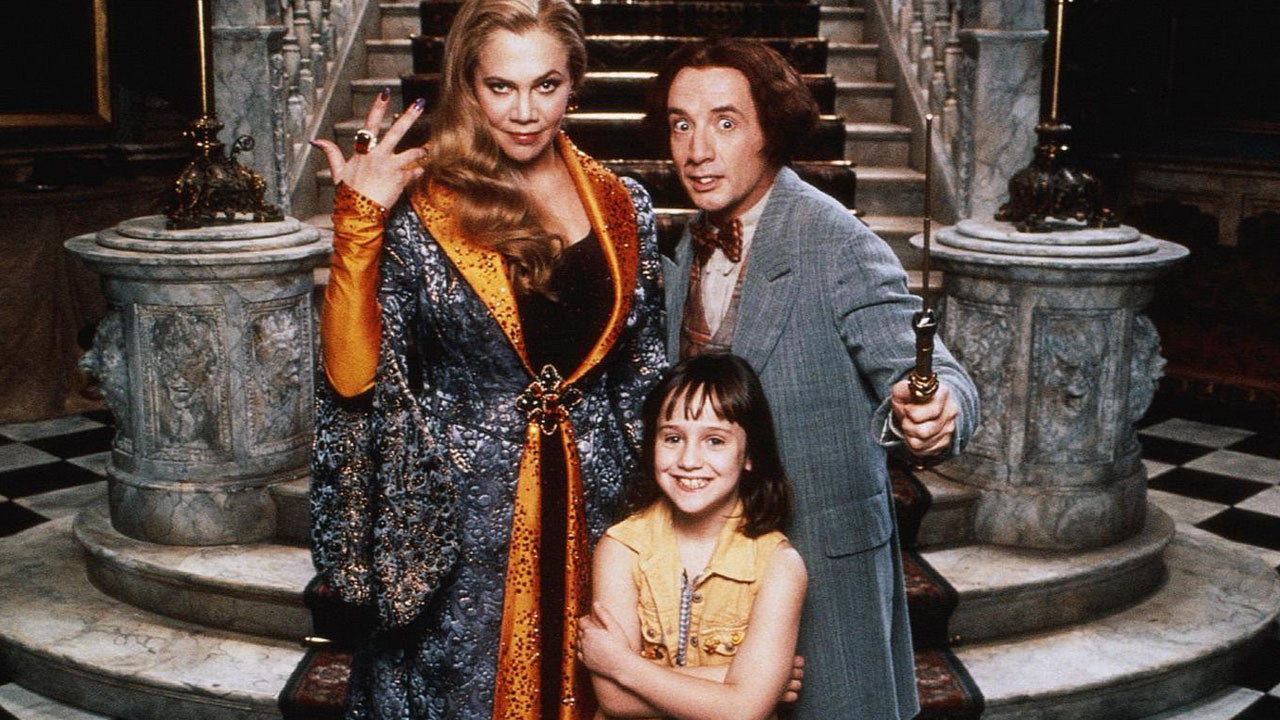 Martin Short gives an amazingly over-the-top performance, constantly pratfalling and falling over. The only direction Short appears to have been given is that there is no ceiling on how far over the top he is allowed to go. Kathleen Turner plays OTT too but at least she is a seasoned pro at this type of performance and proves entertaining when on screen, even if the single-dimensionality of the role eventually tires. Teri Garr, on the other hand, an arch performer who could have played the Kathleen Turner part equally well, looks washed-up and embarrassed.
What is almost as irritating about the film as the persistent inanity of the slapstick is its phoniness as drama. The plot only draws attention by the arbitrariness of the devices it swings in order to generate fake tension – the need that a wish be made at 500 paces from the object of the wish; the need for Kathleen Turner to have to collect a hundred wands, the last of which just happens to have been left with Mara Wilson; that Kathleen Turner has to be stopped before midnight or else the father's accidental transformation into a statue becomes permanent. What is even more infuriating about the forcedness of this is that having set up these preconditions the story comes to an ending where the midnight deadline is not met but the film, in grand children's film tradition of refusing to allow tragedy to ever happen, cheats and says it doesn't matter and allows the day to be won out by heart magic.
(Winner in this site's Worst Films of 1997 list).
---
---