---
Crew
Director – Kenny Ortega, Screenplay – Neil Cuthbert & Mick Garris, Story – Mick Garris & David Kirschner, Producers – David Kirschner & Steven Haft, Photography – Hiro Narita, Music – John Debney, Visual Effects – Buena Vista Visual Effects (Supervisor – Peter Montgomery), Animation Supervisor – Chris Bailey, Computer Animation – Rhythm and Hues (Supervisor – Bert Terreri), Special Effects Supervisor – Terry Frazee, Makeup Effects – Alterian Studios (Supervisor – Tony Gardner), Production Design – William Sandell. Production Company – Disney.
Cast
Omri Katz (Max Dennison), Bette Midler (Winifred Sanderson), Kathy Najimy (Mary Sanderson), Sarah Jessica Parker (Sarah Sanderson), Thora Birch (Dani Dennison), Vinessa Shaw (Allison), Jason Marsden (Voice of Thackeray), Doug Jones (Billy Butcherson), Larry Bagby III (Jay), Tobias Jaliniak (Ice/Ernie), Sean Murray (Thackeray Binx), Charles Rocket (Mr Dennison)
---
Plot
In 1693 in Salem, Massachusetts, the three Sanderson sisters, Winifred, Mary and Sarah, are burned at the stake as witches. Three hundred years later on Halloween night, sceptical teenager Max Dennison, disbelieving the legends of the three sisters, lights a black candle in the museum erected on the site of their house and is shocked when the sisters are revived. Max races to stop the sisters before they devour the lifeforce of children that they need to obtain before dawn in order to fully return to life.
---
Hocus Pocus was not the first time that Disney had made a film about witches – they having made everything from Snow White and the Seven Dwarfs (1937) and Sleeping Beauty (1959) to The Sword in the Stone (1963) and Bedknobs and Broomsticks (1971). Of all of these, Hocus Pocus seems the most trivial.
Hocus Pocus has some flashy effects – witches flying on broomsticks, a CGI lip-synched talking cat, a book with a living eye, some light effects, Bette Midler morphing into a stone gargoyle at the climax – but there is no awe to the effects, nothing that supports them, they are empty and generated solely for their own sake. Beneath this, there is little in the way of story – it consists mostly of people running around connected only by a series of thin plot devices. The Disney name layers a patina of niceness over everything so that it never gets too scary for children – the witches are played so buffoonishly and moronically there is no chance they can appear threatening, the zombie turns out to be a nice guy, and everything is wrapped up happily at the ending.
The film also bends itself in irritatingly anachronistic ways for the purpose of gags – so that Bette Midler might get a chance to sing, the film conveniently provides her with a stage and microphone and allows the other two sisters to become a backing chorus; they developing instant familiarity with 20th Century entertainment technology and musical styles despite having been revived out of the 17th Century for less than a day; and later as Omri Katz flees Bette Midler in a car while she pursues on a broomstick, she makes jarringly anachronistic references to his lack of driver's licence and to arresting him for speeding.
The film gives the impression of having been staged as a star vehicle for Bette Midler. Bette Midler obtained fame back in the late 1970s with her raunchy camp-queen image and then critical acclaim as an actress in the Janis Joplin-based The Rose (1979). With each film in which she subsequently branched out as an actress, Midler became increasingly more mainstream in her appeal until, with films like Beaches (1988), Stella (1990), For the Boys (1991), The First Wives Club (1996) and Isn't She Great? (2000), she could be a pin-up figure for conservative women in their mid-40s.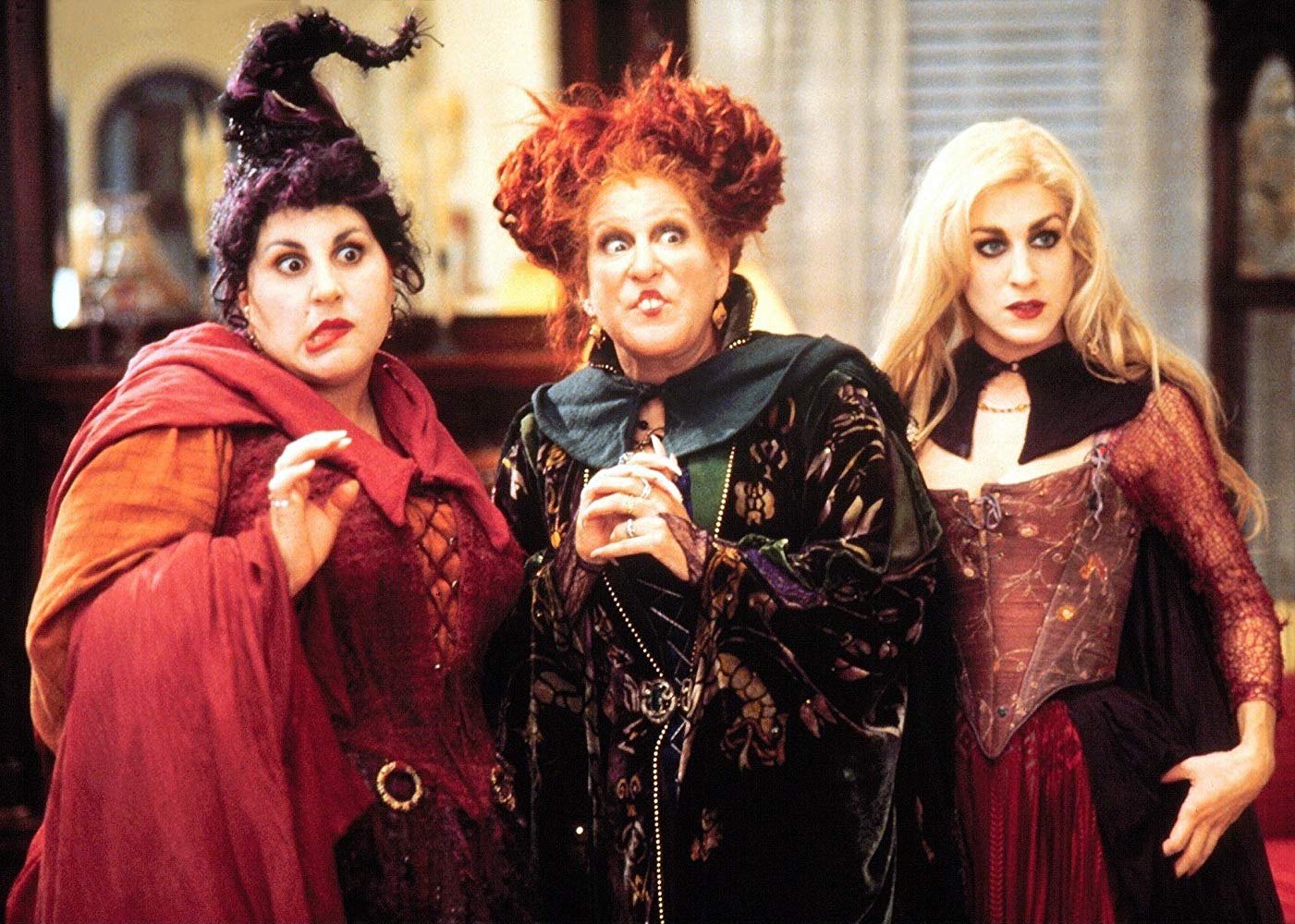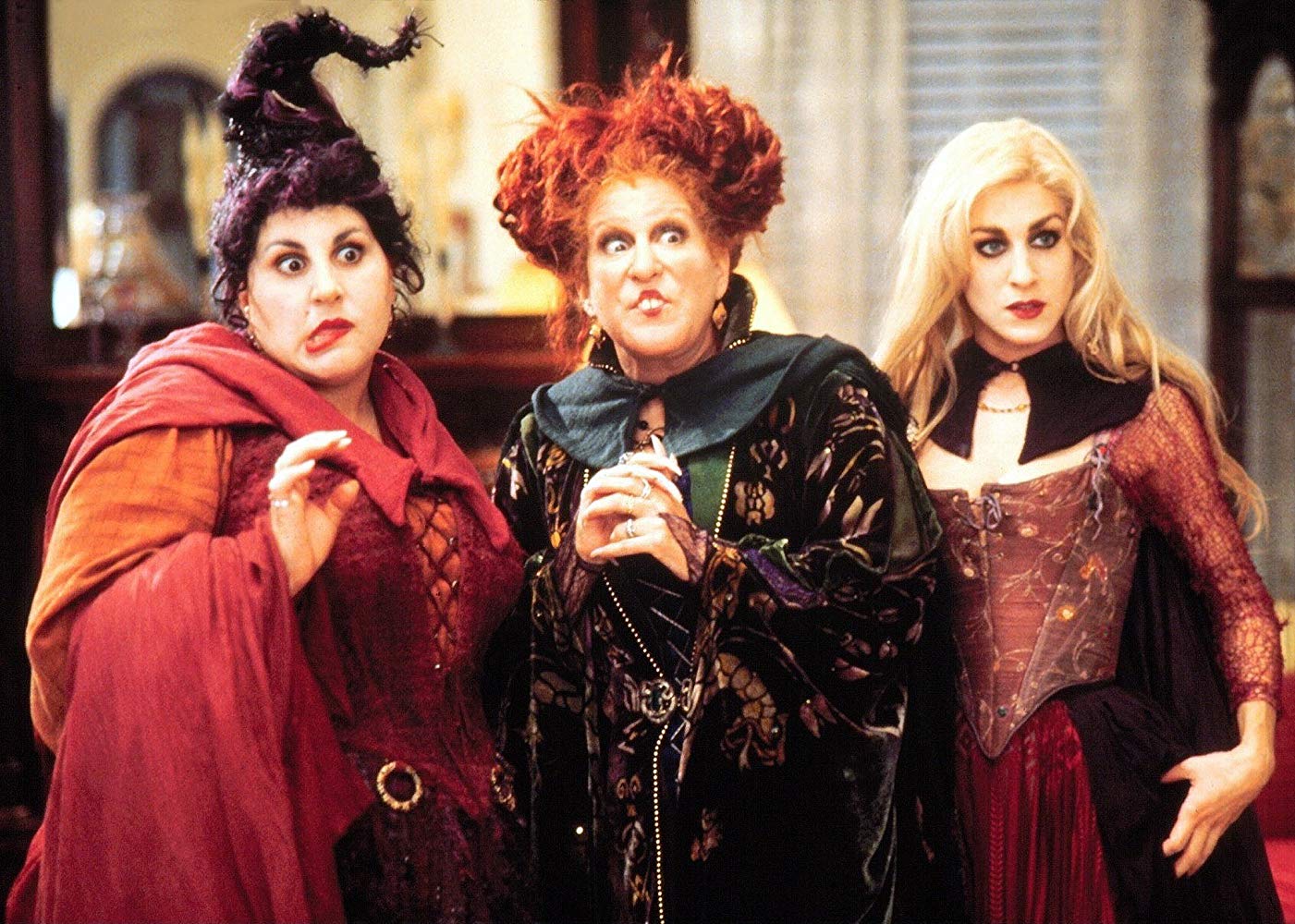 In buck-toothed fruity lisp, eyes permanently wide open and Queen Anne hairstyle, Midler lets go completely OTT here, shamelessly out-dominating and upstaging Sarah Jessica Parker and Kathy Najimy, the results of which become watchable in a bizarre way after awhile. (Although, for all Bette Midler's appeal as a songstress, the best song in the piece comes from Sarah Jessica Parker, a melodic sequence sung from on her broom to draw the town's children along Pied Piper-like).
The best acting comes the less ostentatious players – from Omri Katz who makes an appealing and convincing teen hero and a young Thora Birch who plays off him well as his younger sister. Vinessa Shaw starts out well but once the action starts, the film forgets about her entirely and allows her to become no more than part of the scenery.
Hocus Pocus 2 (2022) was a sequel reuniting Bette Midler, Sarah Jessica Parker and Kathy Najimy.
Hocus Pocus was the second film as director for former dance choreographer Kenny Ortega. Ortega has since mostly worked in tv but has had other successes with the huge hit of the Disney Channel tv movie High School Musical (2006) and sequels, as well as the Michael Jackson documentary This Is It (2009). He later returned to genre material and Disney witches with the excruciating Descendants (2015), Descendants 2 (2017) and Descendants 3 (2019) featuring the children of various Disney animated villains and the remake of The Rocky Horror Picture Show: Let's Do the Time Warp Again (2016).
---
---