USA. 1997.
Crew
Director/Screenplay – Kenneth Johnson, Based on the Comic Book Created by Jon Bogdanove & Louise Simonson, Producers – Quincy Jones, David Salzman & Joel Simon, Photography – Mark Irwin, Music – Mervyn Warren, Visual Effects – Rainmaker Digital Pictures (Supervisor – Mark Franco), Special Effects Supervisor – Bruce Minkus, Steel's Suit – Greg Cannom, Production Design – Gary Wissner. Production Company – Quincy Jones-David Salzman Entertainment.
Cast
Shaquille O'Neal (John Henry Irons), Annabeth Gish (Suzie 'Sparky' Sparks), Richard Roundtree (Uncle Joe), Judd Nelson (Nathaniel Burke), Ray J. (Martin), Irma P. Hall (Grandma Odessa), Charles Napier (Colonel David), Hill Harper (Slats), Steve Mattila (Big Willy Daniels)
---
Plot
John Henry Irons is a weapons designer with the US military. When opportunistic co-worker Nathaniel Burke uses a new sonic weapon on an untested setting, it backfires and causes a building to collapse, leaving Irons's assistant 'Sparky' Sparks paralysed from the waist down. Burke is court-martialled. Disillusioned, Irons quits the military and returns home to L.A. where he gets a job in a steel mill. There he encounters street gangs using the hi-tech weapons he designed, which have been sold by Burke on the black market. With Sparky's help, Irons designs a masked costume of steel armour, custom-built weapons and a motorcycle and sets out to stop Burke and the thugs.
---
Steel is based on a DC Comics comic-book. Steel first appeared in The Death of Superman saga in 1994 as one of the impostors trying to fill Superman's shoes. This is the time when DC were trying to broaden their ethnic appeal and Steel became a regular title. However, the Steel comic-book only met with mixed success and the comic-book was retired in 1998. Steel continues to make appearances in the DC universe (where his powers have wildly changed from merely a suit of armour to a hit-tech suit and even steel that was fused to his body). He joined the Justice League and later had the suit of armour was inherited by his niece Natasha. He has appeared on screen in episodes of Superman (1996-2000) and Justice League/Justice League Unlimited (2001-5) and cameos in the animated films Justice League: Gods and Monsters (2015) and Justice League: Throne of Atlantis (2015), while his part in The Death of Superman saga wa adapted in Reign of the Supermen (2019).
This film adaptation of Steel began as an accompanying spinoff of a planned film version of The Death of Superman, which never went ahead. The film was then mounted as a standlone project featuring NBA basketball superstar Shaquille O'Neal. Unfortunately at about the time Steel was being made, Shaq's first starring role, the genii fantasy Kazaam (1996), came out and turned out to be a critical and audience flop that was pilloried to high heaven and back. Perhaps owing to Kazaam's flop, Steel was shelved for some time before being given only a minimal release and attracting the same sort of bad reviews from the few who saw it as Kazaam had done.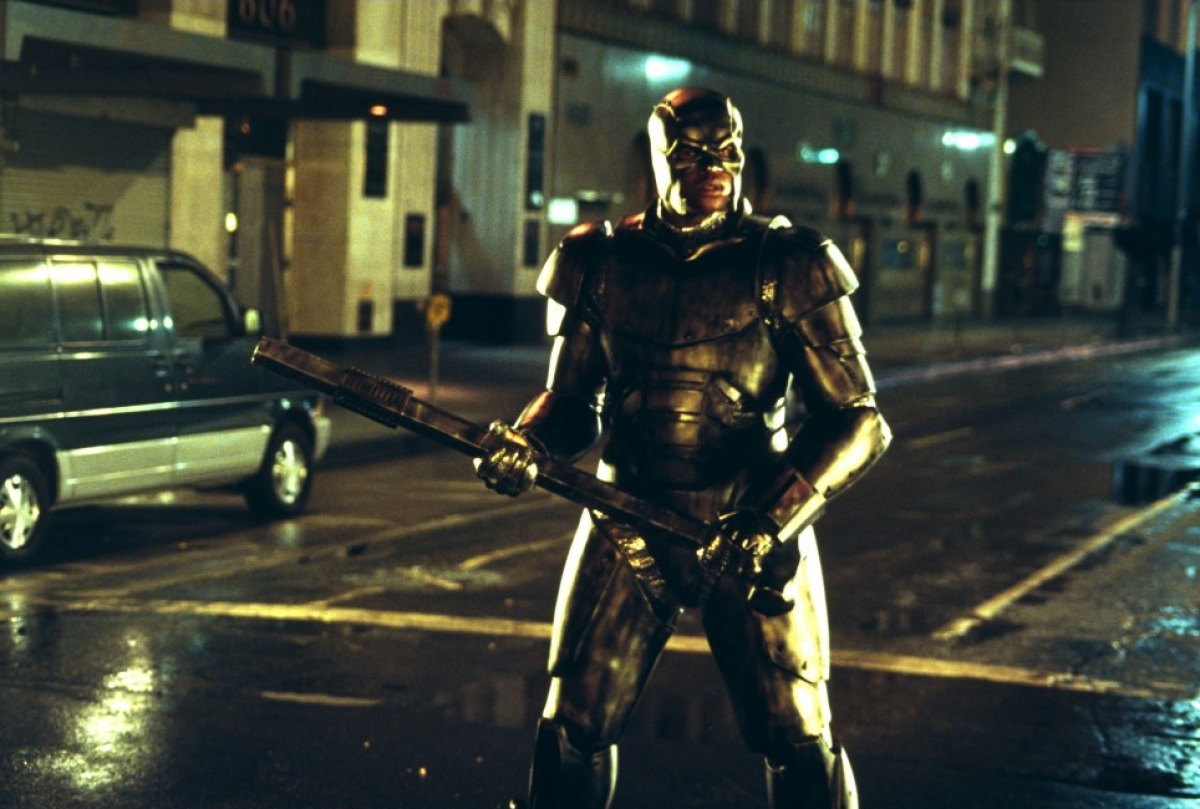 Steel is directed and written by Kenneth Johnson, best known as a tv producer with superheroic shows such as The Six Million Dollar Man (1973-8) and The Bionic Woman (1976-9), and other genre series such as V (1983-5) and Alien Nation (1989-90). Johnson had previously ventured into comic-book superheroes as producer of The Incredible Hulk (1977-81) and directed-wrote the cinematically-released pilot The Incredible Hulk (1977). Johnson's prior cinematic outing as director was Short Circuit 2 (1988), a film that in its nauseating cuteness is actually far worse than anything Kazaam ever was.
In the film, Kenneth Johnson follows the comic-book character's origin story quite closely – about all that is missing is where Superman inspires Irons to stand up and fight crime. However, as superhero films of the era went, Steel lacks the darkness and moral complexity of Batman (1989) and the modern generation of gloomy, internalised superheroes that followed. Instead, Kenneth Johnson crafts Steel with a larger-than-life simplicity and moral purity and makes the world around him a black-and-white one in contrast. This works well enough. To his credit, Shaquille O'Neal affects an amiably simple-minded presence in the film. He never exactly convinces one that what is filling his massive frame is brain cells but he certainly helps portray the character's moral purity and heroism reasonably well.
Up until Shaquille O'Neal emerges in his suit of armour, Steel is a relatively decent film. It is just that when Steel finally emerges in costume – looking like Batman in a suit of armour, or a variant on Marvel Comics' Iron Man (which probably inspired the character of Steel) – the effect is ludicrous, especially when Shaq starts wielding his big cartoony hammer-come-all-purpose James Bond ray device. (Annabeth Gish gets an even sillier wheelchair mounted with rayguns that turns into a flying transformer walking frame at the end). And when Shaq starts waggling his finger and delivering portentous one-liners like a superheroic crossing guard "You should buckle up" and "I'll be watching you," Steel slips down to about Saturday morning cartoon superherodom level.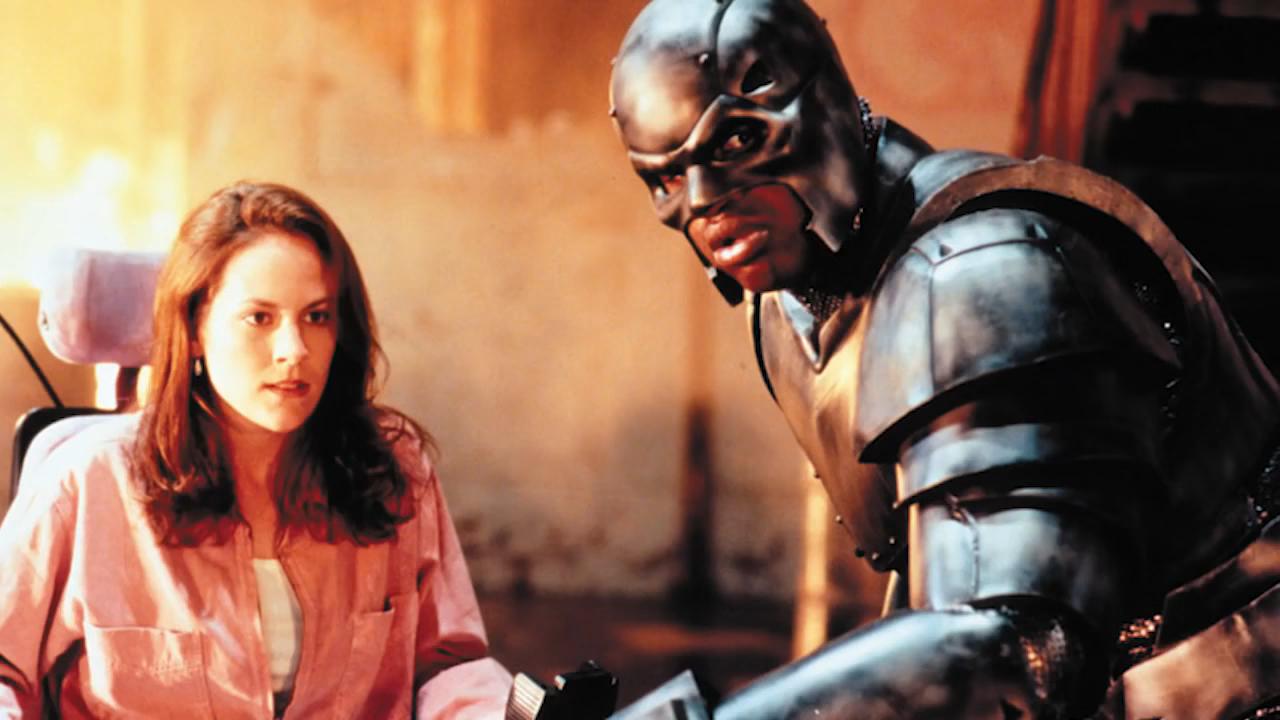 The film is also undercut by a self-consciously jokey sense of humour. One of the running jokes throughout the film is that Shaquille O'Neal is unable to shoot a basketball hoop – at one point, he makes an aside to the camera: "Never could make those free throws." Even sillier is the scene where Steel's armour is first produced and Richard Roundtree states: "I did the metalwork. I especially like the shaft," whereupon everybody looks at each other and breaks into giggles. (Roundtree, of course, played the seminal character of Shaft in the 1970s movies). During a chase sequence, two cops puzzle over where Steel went: "Where did that son of a buck go?" "The Batcave?" The self-conscious referentiality of it all badly disrupts the necessary suspension of disbelief.
Steel taps somewhat into the spirit of other Black superhero films like The Meteor Man (1993), Blankman (1994) and Pootie Tang in "Sine Your Pitty on the Runy Kine" (2001). Unlike these, Steel is directly based on a comic-book and has a far greater sense of the milieu of the comic book superhero. Also unlike these it is a Black superhero film being written and directed by a White Man, although there is clearly some Black interest that has gone into making this – Quincey Jones has signed on as producer, for instance. It does tap into the theme that runs through all the aforementioned films where a Black superhero is seen as a symbol of empowerment in the ghetto communities, standing up against crime and gangs – although, perhaps due to its mixed ethnic source, the theme is much more muted here than in these other films.
---
---