---
USA. 2005.
Crew
Director – Lawrence Guterman, Screenplay – Lance Khazei, Producers – Erica Huggins & Scott Kroopf, Photography – Greg Gardiner, Music – Randy Edelman, Visual Effects Supervisor – James E. Price, Visual Effects/Animation – Industrial Light and Magic (Supervisor – Edward Hirsh, Animation Supervisor – Tom Bertino) & Tippett Studio (Supervisor – Tom Schelesny), Visual Effects – Giant Killer Robots (Supervisor – Michael Schmitt), Additional Visual Effects – Digital Domain (Supervisor – Benoit 'Ben' Girard) & Pacific Title and Arts Studio (Supervisor – David Sosalla), Sperm CGI Sequence – Kleiser-Walczac (Sequence Director – Diana Walczac, Supervisor – Jeff Kleiser), Animation – Gang of Seven Animation & Sunwoo Entertainment (Supervisors – Rich Arons & Tom Sito), Special Effects Supervisor – Rodney Burke, Makeup Effects – Keith Vanderlaan, Character Effects – Captive Audience (Supervisor – Brian Sipe), Production Design – Leslie Dilley. Production Company – New Line Cinema/Radar Pictures/Dark Horse Entertainment.
Cast
Jamie Kennedy (Tim Avery), Alan Cumming (Loki), Liam & Ryan Falconer (Alvey Avery), Traylor Howard (Tonya Avery), Steven Wright (Daniel Moss), Bob Hoskins (Odin), Kal Penn (Jorge), Magda Szubanski (Betty), Ben Stein (Dr Neuman), Ryan Johnson (Chad)
---
Plot
The Norse god Loki is ordered by his father to find the green mask, which has become lost somewhere on Earth. The mask is found and brought home by Tim Avery's dog Otis. Tim wants very much to be an animator with Daniel Moss and his Animagine company but the nearest he has gotten is a job dressing up in a cartoon animal costume on the studio tour. Tim's wife Tonya also wants to have a baby. Tim finds the mask and decides to wear it at the office Halloween party, whereupon he is transformed into a zany green-faced character capable of bizarre transformations and manifestations. He goes home after the party and has sex with Tonya where he unwittingly impregnates her with mask sperm. She soon gives birth but Tim is startled when the baby starts conducting all manner of elasticated transformations. Tonya goes away on a business trip, leaving Tim in charge of the baby. There Tim must not only deal with the baby's increasingly wilder transformations but Otis who has put the mask on and is determined to kill the baby, as well as Loki who is tracing all babies born on the particular date in order to get the mask back.
---
The Mask (1994), adapted from the Dark Horse comic-book, was a modest hit for Jim Carrey and director Charles Russell. For most of the 1990s, Carrey, Russell and New Line Cinema talked off and on about making a sequel. By the time of Son of the Mask, it appears that both Carrey and Russell's interest has evaporated. New Line Cinema went ahead and made a sequel without them anyway.
Alas, they chose to sling Son of the Mask together in an indifferent way that gives the impression that nobody cared. In Jim Carrey's place, for example, was Jamie Kennedy, a name that is hardly likely to set box-office registers alight. The director chosen was Lawrence Guterman, whose previous film was the live-action talking animals effort Cats & Dogs (2001). The relative disinterest on the production side was born out at the box-office where nobody went to see the film and it was dispatched to video within a matter of weeks of opening. It also accrued eight of that year's Golden Raspberry nominations and torpedoed the career of Lawrence Guterman who has not made a film since. It has since regularly turned up various internet listicles for the Worst Sequels Ever Made.
I cannot say I ever liked The Mask, for reasons that fall between a combination of Jim Carrey's usual OTT presence and a premise that seemed to know no bounds about how silly it could be. All of that could be doubly the case with Son of the Mask. Jamie Kennedy is at least more subdued than Jim Carrey, although he makes a poor attempt to mimic Carrey's extroversion and aggressiveness in a silly scene where he turns up at a party and does various parodies of rappers, country-and-western artists and Tom Jones. The surprise about the film is that The Mask character we saw from the first film appears only twice throughout – instead, most of the Mask antics are now conducted by Jamie Kennedy's baby son and dog. As a result, Son of the Mask, now seems more like a version of Baby Geniuses (1999) as remade by Dr Seuss.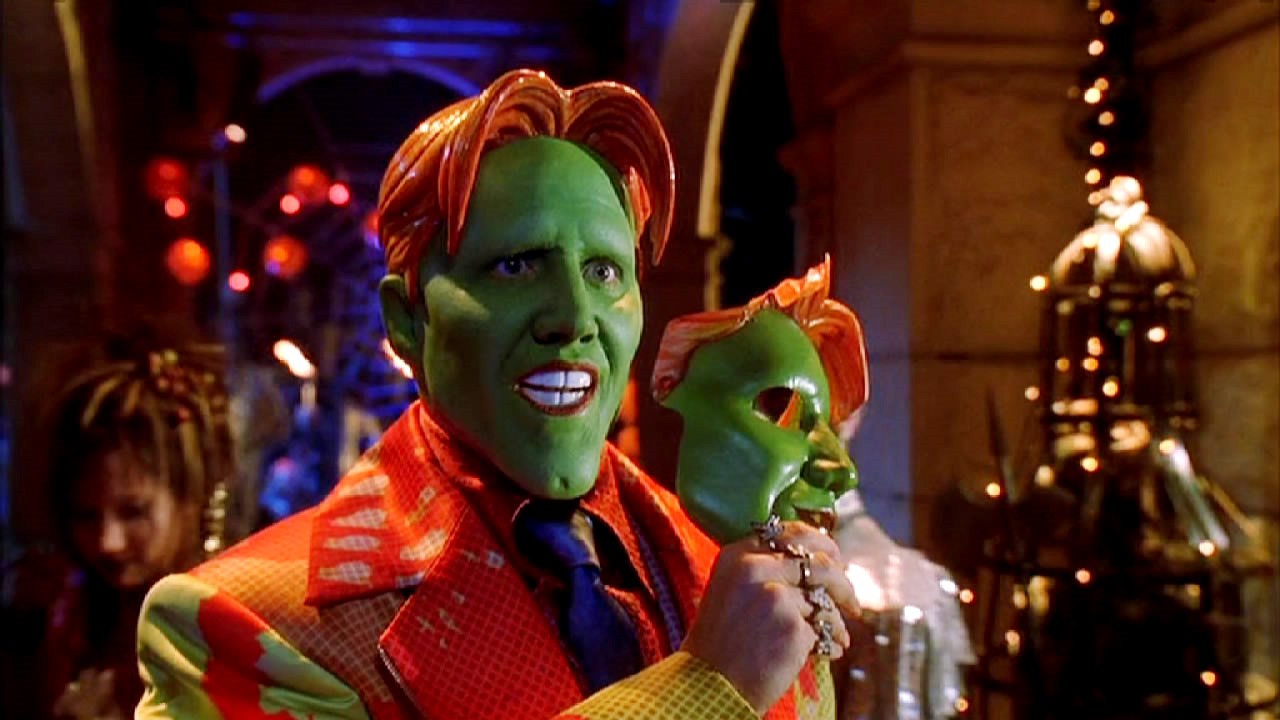 There is a constant silliness to the film – even more than the first. On an ultrasound scan, the baby is seen dancing and playing the maracas in the womb; it puts its thumb in its mouth and blows its own head up like a balloon; there are parodies of The Exorcist (1973) with it puking green projectile vomit; peeing in multiple directions and then hosing Jamie Kennedy down as he tries to change its diaper; animated Mask sperm; the baby and Alan Cumming doing spaghetti Western poses and playing Twister.
The first film had an annoying silliness but Son of the Mask keeps on at you with a one-dimensional simplicity and inanity that actively avoids any intellectual content whatsoever – the visual gags are the one and only thing it has in its arsenal. Moreover, the film has exactly the same problem that the first one did – when you have characters battling it out and materialising vast walls and giant-sized hammers, pencils and guns, there is no longer any sense of reality to it. Anything can happen and resultingly it doesn't seem to matter what does.
Son of the Mask has been construed as the live-action equivalent of a cartoon – you could hardly fail to notice such – the central character is named Avery after famous Warner Brothers animator Tex Avery and there are numerous Looney Tunes toys littered around the house. In fact, Lawrence Guterman turns the middle of the film into a cartoon in live-action.
The film is at its demented best during these scenes with the dog and the baby running around the house trapping one another in a series of Road Runner/Coyote battles and madcap traps. Unfortunately, while this has the mania and delirium of a Warner Brothers cartoon, the forced inanity of it all becomes wearisome at 90 minutes. The film ends on a nauseously twee theme of parenting uber-alles.
---
Trailer here
---