---
Crew
Director – Guy Ritchie, Screenplay – John August & Guy Ritchie, Based on the Film Written by Ted Elliott, Ron Clements, John Musker & Terry Rossio, Producers – Jonathan Eirich & Dan Lin, Photography (3D) – Alan Stewart, Music/Songs – Alan Menken, Additional Music – Christopher Benstead, Lyrics – Howard Ashman & Tim Rice, New Lyrics – Benj Pasek & Justin Paul, Visual Effects Supervisor – Chas Jarrett, Visual Effects – Industrial Light and Magic (Supervisors – Mike Mulholland & Dave Seager, Animation Supervisors – Stephan Aplin & Tim Harrington), Special Effects Supervisor – Mark Holt, Production Design – Gemma Jackson, Choreography – Jamal Sims. Production Company – Disney/Rideback Productions.
Cast
Mena Massoud (Aladdin), Will Smith (Genie/Mariner), Naomi Scott (Princess Jasmine), Marwan Kenzari (Jafar), Navid Negahban (Sultan), Nasim Pedrad (Dalia), Billy Magnusson (Prince Anders)
---
Plot
The thief Aladdin meets the sultan's daughter Princess Jasmine in the marketplace of Agrabah, where she tells him that she is a handmaiden at the palace. The two connect as they flee pursuit together. Aladdin later sneaks into the palace to return a bracelet he stole from her. He is discovered by Jafar, the evil vizier who wields influence over the sultan's mind. Jafar recruits Aladdin to go on a mission to the Cave of Wonders to obtain a magic lamp. There however Jafar seeks to betray Aladdin and abandons him in the cave. Aladdin retains the lamp and rubs it, which brings to life the genie inside who offers him three wishes. Aladdin uses these to get free and make himself appear as a prince so that he can win Jasmine's hand. However, this brings him up against Jafar who is determined to obtain the lamp for himself.
---
Ever since the 1990s, Disney has been relentlessly remaking their classic animated and live-action films – first as tv movies and then theatrically a series of live-action remakes or belated sequels. These include the likes of The Jungle Book (1994), 101 Dalmatians (1996), That Darn Cat (1997), Flubber (1997), The Parent Trap (1998), Freaky Friday (2003), Herbie: Fully Loaded (2005), The Shaggy Dog (2006), Race to Witch Mountain (2009) and Tron Legacy (2010).
Every goose-stepping entertainment source claims that the resurgence of live-action remakes of Disney animated films we have in the 2010s was due to Tim Burton's Alice in Wonderland (2010). This is erroneous – though the Burton film was produced by Disney, there is no clear proof that it is a direct remake of the Disney Alice in Wonderland (1951) and not another of the innumerable adaptations of the Lewis Carroll story. Nevertheless, an industry of Disney live-action remakes/sequels has followed on from this with the likes of Maleficent (2014), Cinderella (2015), The Jungle Book (2016), Pete's Dragon (2016), Beauty and the Beast (2017), Mary Poppins Returns (2018), Dumbo (2019), Lady and the Tramp (2019), The Lion King (2019), Mulan (2020), Cruella (2021), Pinocchio (2022), The Little Mermaid (2023) and Peter Pan and Wendy (2023).
I will admit my bias upfront – I hated the original Disney animated Aladdin (1992). It was one of the most popular films of the 1990s Disney renaissance. Everything I hated about it can be put down to directors Ron Clements and John Musker whose films, which include Hercules (1997), Treasure Planet (2002) and Moana (2016), betray an unserious attitude towards their source material – the exceptions are The Little Mermaid (1989), which is carried by its sheer good cheer, and The Princess and the Frog (2009). They are films driven by a do-anything-for-a-gag mentality, including throwing in frequently anachronistic references and fourth-wall breaking gags. Aladdin was essentially written around the madly ad-libbing persona of Robin Williams. It was nevertheless the No 1 box-office hit of 1992 and spawned several spinoffs with The Return of Jafar (1994) and Aladdin and the King of Thieves (1996), as well as an animated tv series, Aladdin (1993-6).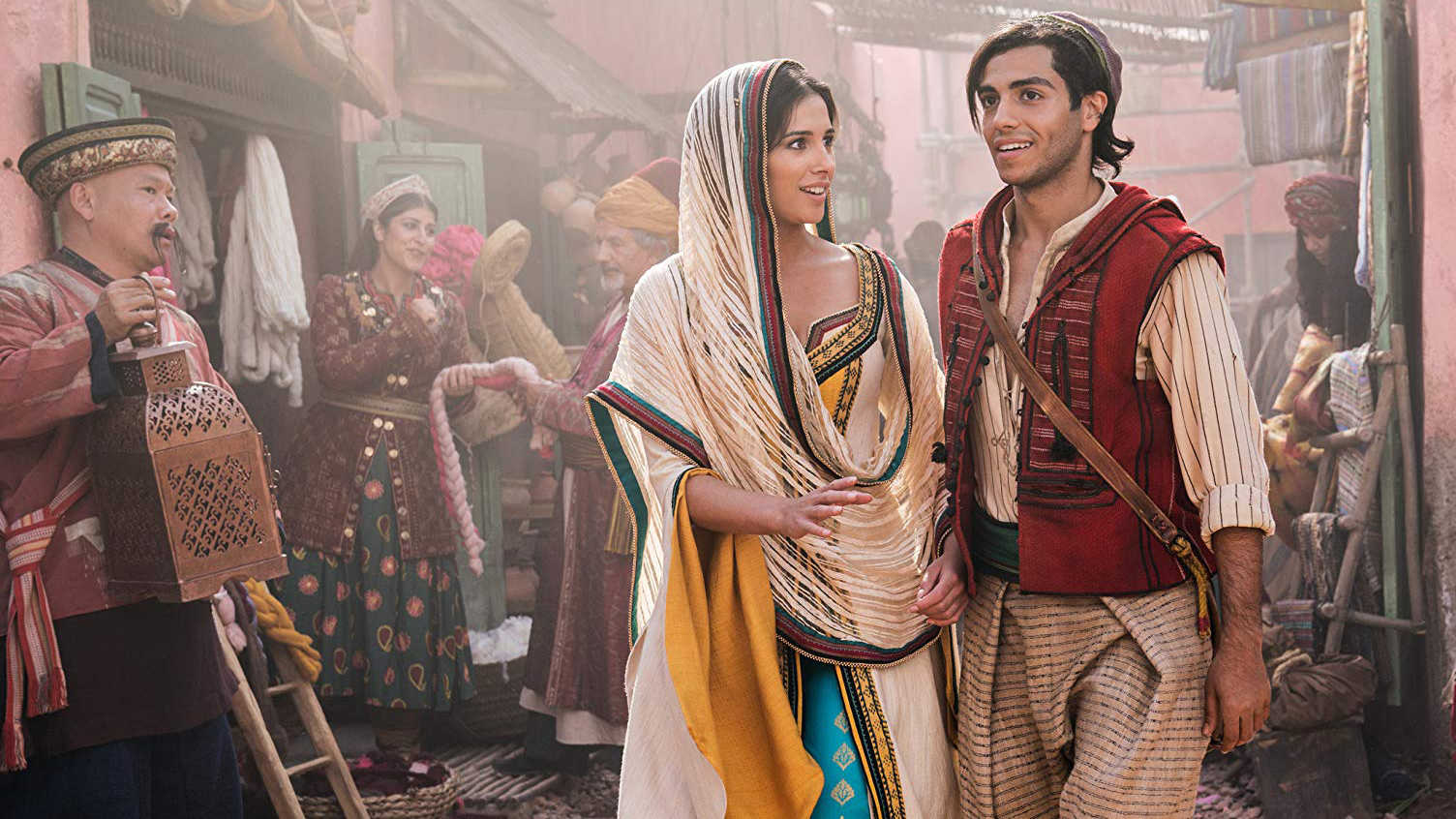 This live-action remake of Aladdin comes from British director Guy Ritchie. Ritchie is a director best known for his tough guy films based around a love of East End London gangster culture as in the likes of Lock, Stock and Two Smoking Barrels (1998), Snatch. (2000), Revolver (2005) and RocknRolla (2008). Ritchie has expanded beyond that with the likes of Swept Away (2002), Sherlock Holmes (2009) and its sequel Sherlock Holmes: A Game of Shadows (2011), The Man from U.N.C.L.E. (2015), King Arthur: Legend of the Sword (2017) and Operation Fortune: Ruse de Guerre (2023). However, the Guy Ritchie of the 2010s but has never felt much at home with other genres outside the gangster film – Swept Away, the romantic film he made with his then wife Madonna, was laughed off screens; Holmes purists hated his take on Sherlock Holmes; The Man from U.N.C.L.E. felt more like a parody than a remake of the classic tv series; while King Arthur, Ritchie's sole other venture into fantasy material, was a massive flop that missed the essence of the Arthurian cycle.
With a director who specialises in tough R-rated men's films, has never made a family film, let alone a musical, and whose only other venture into fantasy was badly miscalculated, you might well be right in regarding Aladdin with raised eyebrows. Ritchie co-writes with John August, the screenwriter of Charlie's Angels (2000), Titan A.E. (2000) and a regular writer for Tim Burton with Big Fish (2003), Charlie and the Chocolate Factory (2005), Corpse Bride (2005), Dark Shadows (2012) and Frankenweenie (2012). August also made a highly underrated directorial debut with the amazing The Nines (2007).
Aladdin is an oddity on screen. Guy Ritchie and John August keep fairly closely to the original in terms of all its plot beats – they even keep the songs intact (albeit with some of the lyrics rewritten). The problem I have with Aladdin is that it is a mediocre adaptation of a film that was highly overrated in the first place. If you've been around the internet long enough you will have seen various novelty short films that recreate things like the opening of The Simpsons (1989- ) in live-action or artists who offer depictions of what cartoon characters would look like in real life. You get exactly the same feeling with Aladdin – an elaborate three-dimensional recreation of a two-dimensional film. You keep expecting it to hit the same beats as the original scenes but they often feel slightly off or flat when rendered in three dimensions with live actors.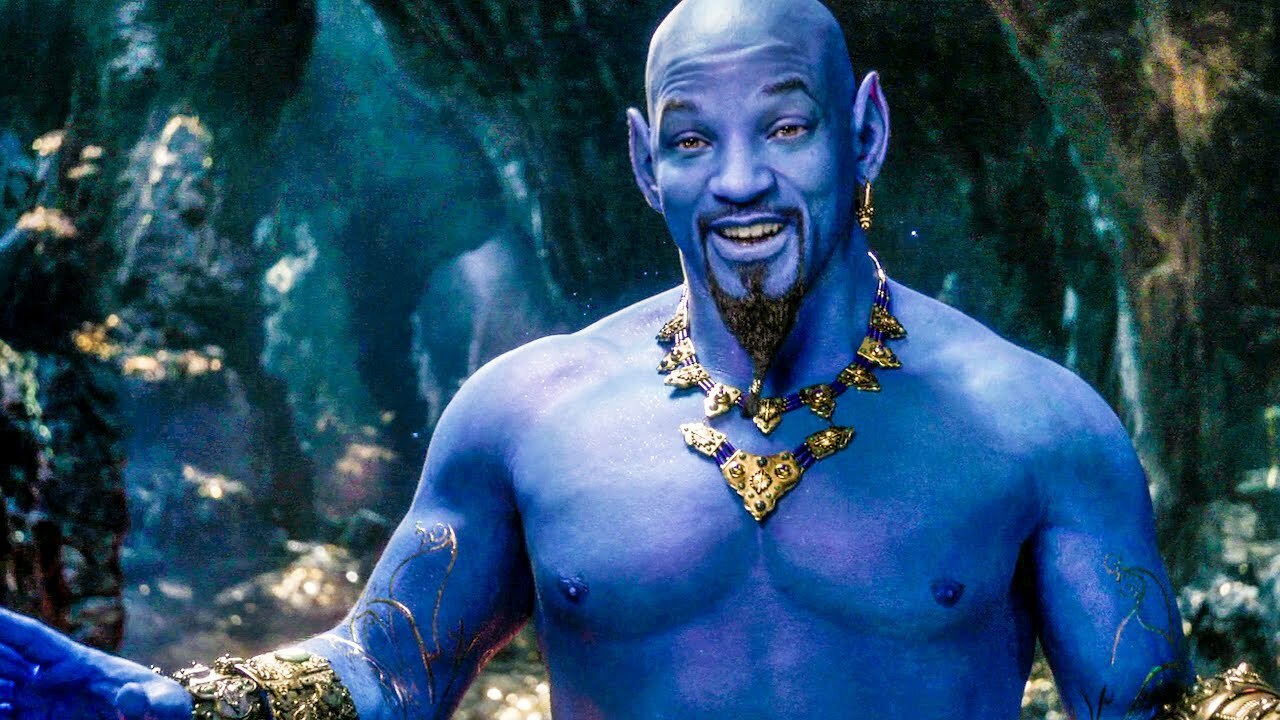 Perhaps the biggest bone of contention here is Will Smith's genie. Now I have nothing against Will Smith and have always found him to be a likeable and charismatic screen presence. It is just that here Smith is being asked to step into the shoes of Robin Williams, one of the great comedic talents of the latter half of the 20th Century – watch any interview with Williams manically firing off-the-cuff one-liners like he is on speed and say that is not the case. Smith, likeable and all as he is, has never much had any luck with a one-liner that was not scripted let alone delivered off the top of his head.
In the scenes where he is the genie, Smith is an animated and engaging presence – just so long as one doesn't compare him to Robin Williams. What is distinctly lacking this time around is any of Williams' one-liners. The genie's presence is more noted by the bewildering series of changes and array of manifestations that Ritchie puts on for us. One interesting thing Ritchie does retain are the fourth-wall breaking gags, including a scene where Smith rewatches a previous scene on a movie screen and elsewhere the manifestation of applause from a never-seen audience. Certainly, these scenes get the film the most animated Ritchie ever does but the rest of the show is a walk through a world that looks exactly like colourful CGI eye candy being put on without ever feeling like it takes place in reality.
Disney have made a huge selling point out of the fact that this was the first Arabian Nights adventure cast with Arabic faces. (You could probably quibble with this in that Will Smith is African-American and Naomi Scott is British born of Ugandan and Indian mix but I don't consider it a debate worth getting into). You have to understand the history of the Arabian Nights genre – from the first film with the Douglas Fairbanks The Thief of Bagdad (1924) to its remake The Thief of Bagdad (1940) to Ray Harryhausen's trilogy The 7th Voyage of Sinbad (1958), The Golden Voyage of Sinbad (1973) and Sinbad and the Eye of the Tiger (1977) and more recent fare such as Arabian Nights (2000) and Prince of Persia: The Sands of Time (2010) and a host of others – in which all of the Arabian characters are invariably cast with Caucasian actors made up with olive skin. The casting of Arabic/Middle Eastern roles with Caucasians was still a major thing with films as recent as Exodus: Gods and Kings (2014) and Gods of Egypt (2016) both of which were slammed for doing so.
However, I do have to quibble somewhat with Aladdin's claim to being the first to cast an Arabian Nights film with Arabic faces – Pier Paolo Pasolini's Arabian Nights (1974) had employed Arabic actors and the Danish-made The Magic Carpet (1985) was shot in Turkey, although neither of these had a predominantly Arab ethnic cast. In addition, the title role of the 1940 The Thief of Bagdad was played by the East Indian actor Sabu.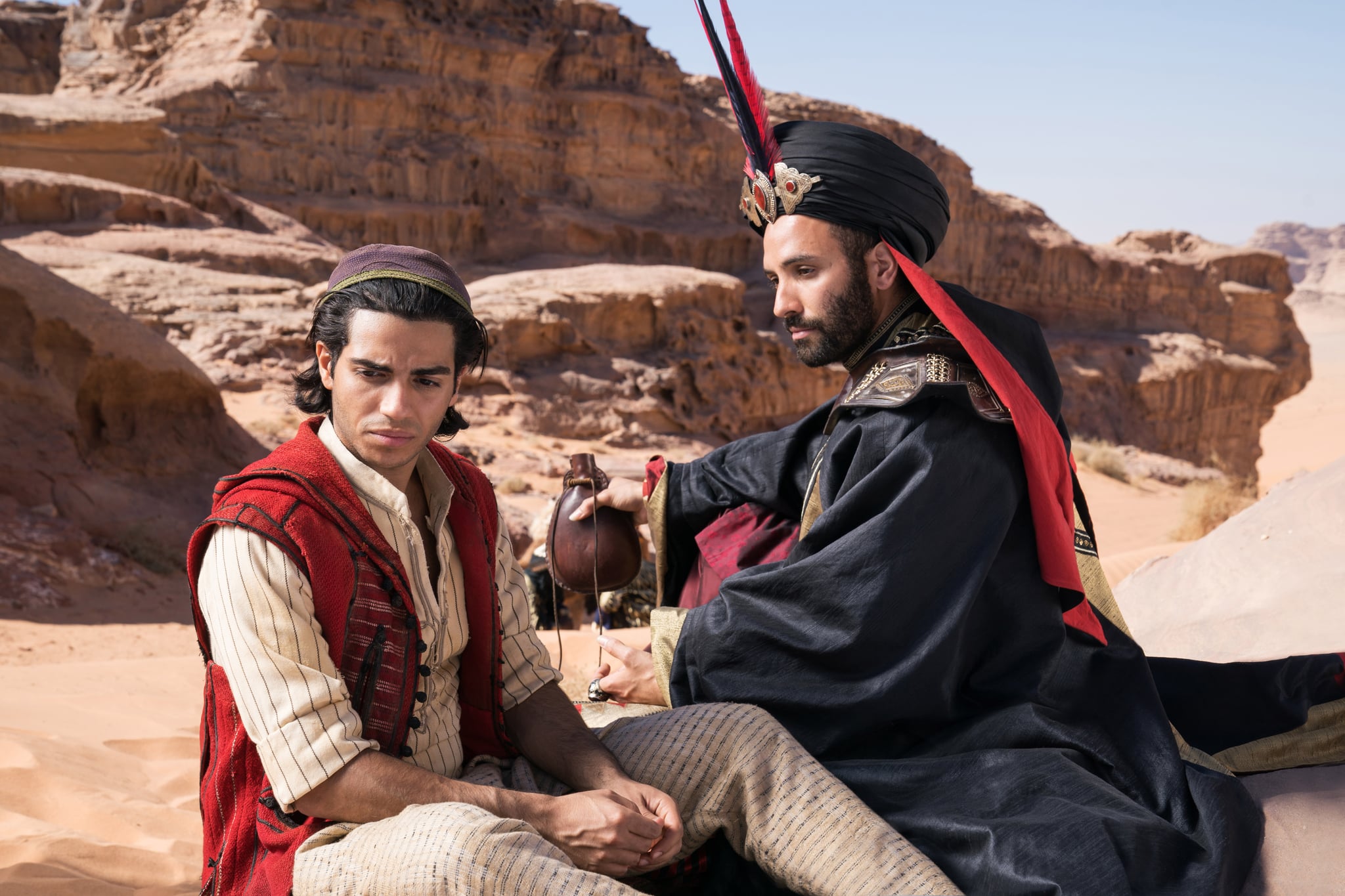 This falls into the big move that Disney had made from 2018 onwards to focus on diversity casting – something that is most evident in the controversy over the casting of an African-American Ariel in their remake of The Little Mermaid. I cautiously applaud this. The huge success of films such as Get Out (2017) and Black Panther (2018) would seem to demonstrate that there is a vastly untapped crossover audience for films that play to this diversity. As a result, every studio seems to be making a big play for diversity now so it may well be time for white middle-class audiences that have been the predominant movie-watching audience to date to hand the baton over and share the limelight with a mix of faces.
The major problem I have with Aladdin and its pitch for diversity audiences is that while it makes a pitch for greater ethnic representation, it does exactly the opposite in terms of depicting the cultural background of the film. The Disney Wiki tells me that the fictional city of Agrabah is supposed to be located in Iraq during the Islamic Golden Age (between the 8th-14th Centuries A.D.) – on the other hand, when it comes to depiction of this Islamic period of history, everything but the costuming and architecture of the era has been dropped. Notedly, the film has erased any mention of Islam. In other words, what we have is a film that makes a big issue of playing to diversity audiences and a desire for inclusion but then pushes aside those of Islamic faith as being not worthy of inclusion.
What is particularly grating here is where the character of Jasmine is wrenched out of what she was in the original and has speeches about wanting to rule the kingdom herself. If this were an historically accurate film set in an Islamic culture, her doing so would probably have resulted in a violent overthrow – there are only 2-3 examples of women ever ruling during this historic period and it was always by marrying some other figure who was in effect a puppet ruler – or else her being married off by her father as quickly as possible and the reins of power handed over to the nearest male relative eligible for succession. (It is hard in these scenes not to regard Jasmine as a petulant teenager "Nobody's going to tell me I can't be ruler" without any concept of the realpolitik of having the support of families of power, the populace and military behind one taking power, let alone any actual experience ruling). In other words, what we have is a film that claims representation but to do so has promoted racial inclusion and women's assertiveness as worthy of depiction (all things we here at Moria support I should add) at the same time as deeming the cultural and religious background in which the film takes place as only worthy of being whitewashed to carry a modern message of inclusiveness.
---
---