---
Crew
Director – Timur Bekmambetov, Screenplay – Michael Brandt, Derek Haas & Chris Morgan, Story – Michael Brandt & Derek Haas, Based on the Comic Book Created by J.G. Jones & Mark Millar, Producers – Jim Lemley, Jason Netter, Marc E. Platt & Iain Smith, Photography – Mitchell Amundsen, Music – Danny Elfman, Visual Effects Supervisors – Stefan Fangmeier & Jon Farhart, Visual Effects – Bazelevs, Framestore-CFC (Supervisor – Craig Lyn) & Hammerhead Productions (Supervisor – Jamie Dixon), Special Effects Supervisor – Dominic Tuohy, Prosthetic Supervisor – Petr Gorshenin, Production Design – John Myhre. Production Company – Universal/Spyglass Entertainment/Relativity Media/Marc Platt/Kickstart/Top Cow/Ringerike Zweite Filmproduktion GmbH & Co. KG.
Cast
James McAvoy (Wesley Gibson), Angelina Jolie (Fox), Morgan Freeman (Sloan), Marc Warren (The Repairman), Common (Earl 'The Gunsmith' Spellman), Thomas Kretschmann (Cross), Terence Stamp (Pekwarsky), Konstantin Khabensky (The Exterminator), Dato Bakhtadze (The Butcher), Kristen Hager (Cathy), Chris Pratt (Barry), Lorna Scott (Janice), David O'Hara (Mr X)
---
Plot
Wesley Gibson is downtrodden in his job as a Chicago accounts manager and feels that his life is meaningless. One day in a pharmacy, a mystery woman saves him from being shot by an assassin. He is dragged along by her on a shootout and car chase during which she performs a series of impossible feats. The woman Fox introduces him to Sloan who heads a group known as The Fraternity who all have special abilities as assassins. Wesley is told that the father he never knew was The Fraternity's top assassin but was killed by a rogue ex-member of the group known as Cross. Wesley runs away but then finds that his account now has $3 million in it. He gleefully quits his job and returns to The Fraternity. He is placed through a tough training program where he learns the art of being able to direct a bullet to fly in a curved motion and never miss its target. Sloan also introduces Wesley to the Loom of Fate, which weaves threads that can be interpreted as a binary code that tells the members who they must assassinate in order to keep a balance of peace in the world. However, Cross then comes hunting Wesley and so Wesley elects to go out on his own to pursue him. As a result of this, The Loom assigns Fox the task of assassinating Wesley.
---
Russian director Timur Bekmambetov exploded onto the world scene with Night Watch (2004), a thematically complex film concerning an epic war between various supernatural creatures. It was a film that seemed to be bursting over at the seams with an excess of ideas and flashy visuals. It became a substantial word-of-mouth hit in the West. Prior to Night Watch, Timur Bekmambetov had been a successful commercials director, had made Peshawar Waltz (1994) about the Russian war in Afghanistan, which received some international festival acclaim, and two English language films, the gladiator film The Arena (2001) for Roger Corman, and Escape from Afghanistan (2002). With Night Watch, Bekmambetov set out to emulate the visual flash of a Hollywood epic. Bekmambetov followed Night Watch up with Day Watch (2006) and has announced a third film Dusk Watch/Twilight Watch, although put this on hold to make Wanted.
Wanted was Timur Bekmambetov's entry into the US mainstream. The film is based on Wanted (2003-4), a comic-book series by Mark Millar, a writer known for his work on various Marvel and DC titles, who has become the highest paid comic-book writer in the world since his appearance in the 1990s. Millar also wrote the comic-books that became the basis of Kick-Ass (2010) and Kingsman: The Secret Service (2015) and various sequels to these, plus two animated Marvel films Ultimate Avengers (2006) and Ultimate Avengers II (2006), an animated adaptation of Superman: Red Son (2020) and the live-action tv series adaptation of Jupiter's Legacy (2021)..
What should be said is that the Wanted comic-book is quite different to what we see in the film. Perhaps most noticeably, the comic-book is a superhero title, while all reference to such has been eliminated from the film. The two Wanted's start in similar ways with hero Wesley Gibson being drawn out of his dreary office job and indoctrinated into a secret organisation where he learns of his skills as a super-assassin who can never miss. However, in the comic-book, rather than Wesley discovering that this is all an elaborate set-up, we learn that the Fraternity is an organisation headed by the world's super-villains who have ganged together to eliminate the superheroes. The amusing point about the comic-book was working out which well-known comic-book figures that Mark Millar was referencing – The Fraternity was headed by Mr Rictus who was clearly based on The Joker; Angelina Jolie's Fox was intended as an analogue of Cat Woman; while most of the other Batman and Superman villains turned up in slightly disguised form. (Wesley himself appears to be based on Marvel's Bullseye).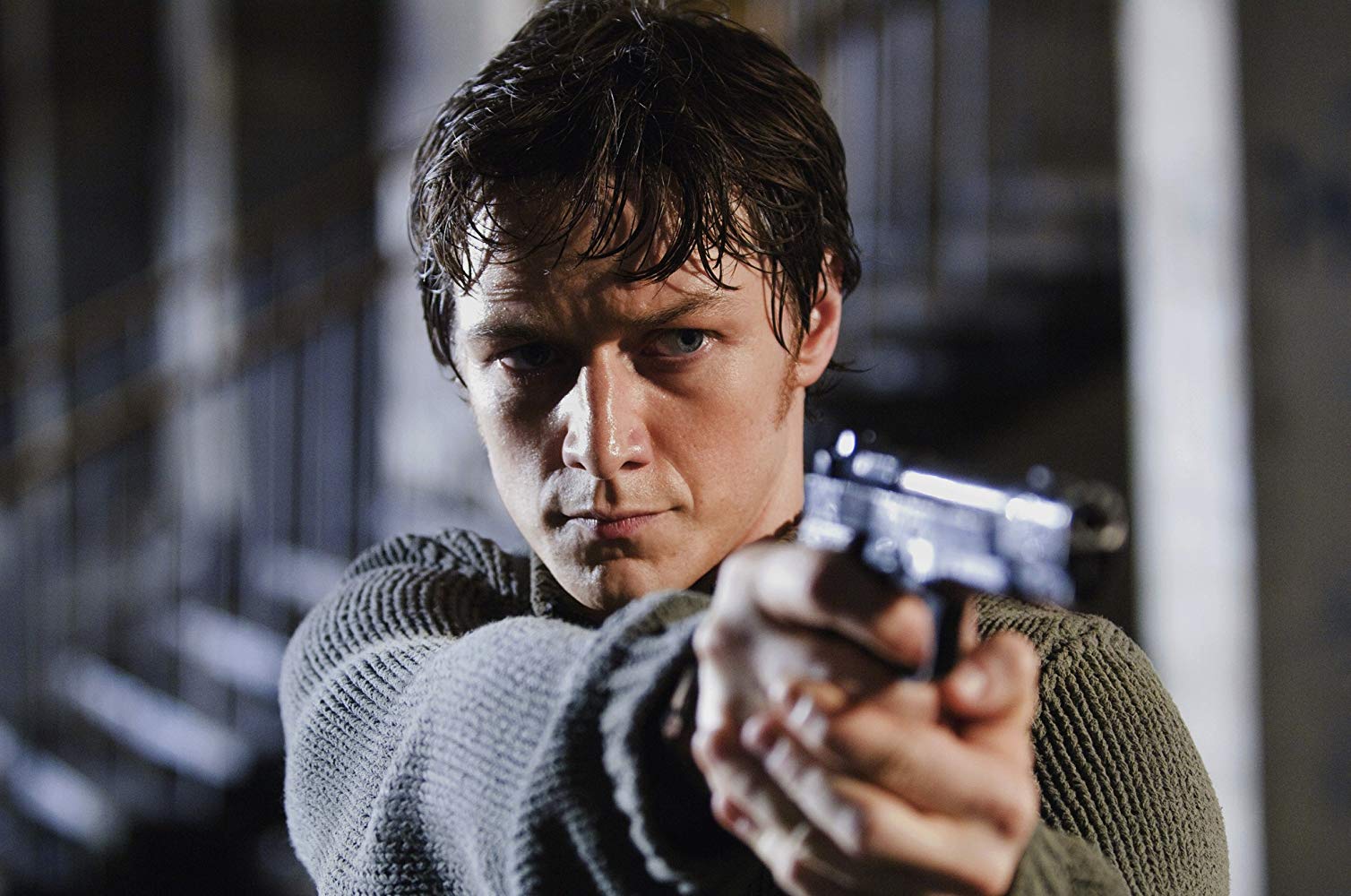 The film version of Wanted emerges more as the film that Hitman (2007) should have been. Or maybe if you wanted a closer analogy, you could call it a version of Remo Williams: The First Adventure/Remo: Unarmed and Dangerous (1985) as directed by Kurt Wimmer of Equilibrium (2002) and Ultraviolet (2006) fame in a full flight of his wilfully improbable gun kata moves. The early scenes also remind strongly of Fight Club (1999) – you could substitute Edward Norton's nameless narrator in Fight Club for James McAvoy's frustrated accounts clerk here and the two films follow almost identical paths about the hero being drawn into a shadowy underground organisation that posits violence as a means for disaffected middle-class males to feel alive again.
What fires Wanted up is Timur Bekmambetov's out of this world visuals. The film kicks in with an incredible opening scene where David O'Hara leaps through a multi-storey window and flies across an impossible distance between two buildings surrounded by a halo of glass while shooting at his opponent, only to be hit as he lands and for the bullet to then reverse and fly all the way across town back into the assassin's gun.
Bekmambetov creates scenes that are so outrageously improbable that as much as you decry their absurdity, you cheer at his directorial showoffishness. Images like Angelina Jolie racing up in a sports car and skidding so as to knock James McAvoy into the open passenger's seat without stopping; she driving at a 90 degree angle along the side of a bus and then up across its roof; using her car as a ramp to spin James McAvoy's vehicle upside down so that he can fire down through the sun roof of an oncoming car and hit his target; bullets taking impossible journeys, colliding in mid-air or one shot where a bullet is fired in a circle and eliminates a ring of protagonists; even a scene where McAvoy bashes his betrayer best friend in the head with his keyboard and the keys come lose and are seen to spell 'Fuck You' as they fly through the air. It is only a sequence with a train hanging off a bridge that does not work so well, due to weak digital effects.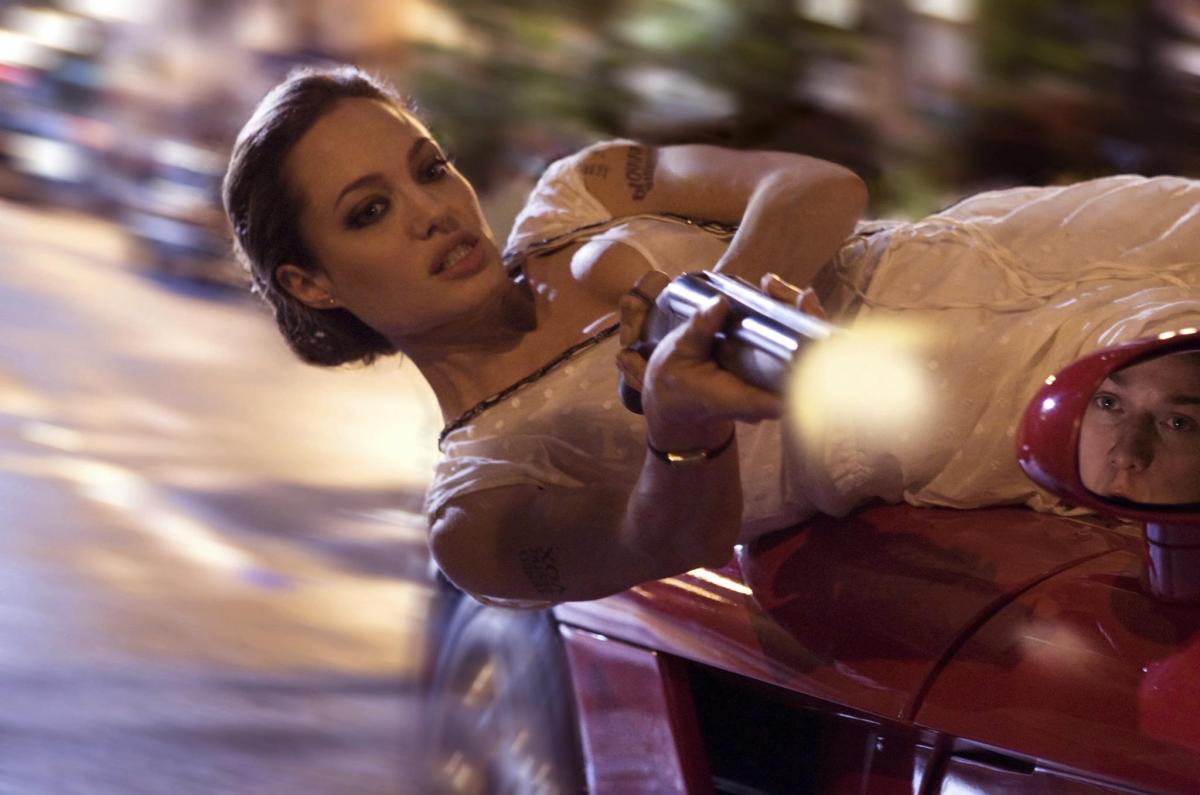 Where Wanted tends to fall down is in its second half. [PLOT SPOILERS]. The big twist mid-film that The Fraternity is a rogue organisation fails to seem convincing. If it were the case, why would they recruit Wesley and train him, knowing that everything he is being taught could be used against them (which would almost certainly be the case, considering the ease with which he finds the truth)? It also becomes increasingly improbable that James McAvoy can become a top-class hitman in next-to-no-time at all, enough to be able to take on and defeat an organisation of people who have been training all their lives.
The problem here is also the idea of James McAvoy as an action superstar. Before this, I admired McAvoy's work in British dramas like Bright Young Things (2003), State of Play (2003), The Last King of Scotland (2006) and Atonement (2007), even the genre mini-series Children of Dune (2003), although more than any of these it was his role as Mr Tumnus in The Chronicles of Narnia: The Lion, The Witch and the Wardrobe (2005) that put McAvoy on the map as a name. Alas, with boyish looks and slight build, James McAvoy just does not seem the action hero, try as he might. And that leaves the scenes with him taking on the Fraternity singlehandedly as all too faintly absurd.
A Wanted 2 has been in talks fairly much ever since the original was released. Wanted was parodied in Disaster Movie (2008).
Timur Bekmambetov subsequently went onto direct Abraham Lincoln, Vampire Hunter (2012) and the remake of Ben Hur (2016). Bekmambetov has also produced a number of other projects including the animated 9 (2009), the NASA Moon landing/alien possession mockumentary Apollo 18 (2011), the alien invasion film The Darkest Hour (2011), the fairytale adaptation The Snow Queen (2012), the internet horror film Unfriended/Cybernatural (2014), Hardcore Henry (2015) and Unfriended: Dark Web (2018).
(Nominee for Best Director (Timur Bekmambetov) at this site's Best of 2008 Awards).
---