---
Crew
Director – Alan Taylor, Screenplay – Christopher Markus, Stephen McFeeley & Christopher L. Yost, Story – Don Payne & Robert Rodat, Based on the Comic-Book Created by Jack Kirby & Stan Lee, Producers – Kevin Feige, Photography (3D) – Kramer Morgenthau, Music – Brian Tyler, Visual Effects Supervisor – Jake Morrison, Visual Effects – Blur (Supervisor – Kevin Margo), Double Negative (Peter Bebb & Alex Wutke), Luma Pictures (Supervisor – Vincent Cirelli), Method Studio (Supervisors – Matt Dessero & Chad Wiebe), Perception, Third Floor & Whistytree, Special Effects Supervisor – Paul Corbould, Makeup Effects Designer – David White, Production Design – Charles Wood. Production Company – Marvel Studios.
Cast
Chris Hemsworth (Thor), Natalie Portman (Dr Jane Foster), Tom Hiddleston (Loki), Anthony Hopkins (Odin), Christopher Eccleston (Malekith), Kat Dennings (Darcy Lewis), Stellan Skarsgård (Dr Erik Selvig), Jaime Alexander (Sif), Idris Elba (Heimdall), Jonathan Howard (Ian Boothby), Rene Russo (Frigga), Adewale Akinnuoye-Agbaje (Algrim), Chris O'Dowd (Richard), Zachary Levi (Fandral), Ray Stevenson (Volstagg), Alice Krige (Eir), Tadanobu Asano (Hogun)
---
Plot
Thor returns to Asgard with his brother Loki a prisoner. Their father Odin sentences Loki to imprisonment. Back on Earth, Jane Foster is in England and missing Thor. Darcy comes to her with anomalous gravimetric readings and they trace these to an abandoned warehouse where the runaway kids that live there show them spots where objects can disappear and rematerialise. Examining these, Jane falls through an inter-dimensional pocket into another realm where she inadvertently absorbs a liquid energy. Returning, she discovers that this blasts anyone who touches or threatens her. Thor appears and whisks her off to Asgard where it is discovered that she is possessed by The Aether, a powerful and devastating force unleashed aeons ago by Malekith, leader of the Dark Elves. The nine realms are coming into a rare Convergence, which is causing them to merge and creating the anomalies. Malekith has woken from his slumber and now invades Asgard in elf ships in search of Jane. Thor realises that the only hope is to defy his father and use Jane as bait to draw the elves away from the now vulnerable Asgard. In deciding to conduct treason, this means that the only ally he can ask for help is his treacherous brother Loki.
---
Marvel Comics have become a massive part of the cinema industry in the 2000s with the likes of Blade (1998), X-Men (2000), Spider-Man (2002), Daredevil (2003), Hulk (2003), The Punisher (2004), Elektra (2005), Fantastic Four (2005), Man-Thing (2005), Ghost Rider (2007), Iron Man (2008), Captain America: The First Avenger (2011), The Avengers (2012), Guardians of the Galaxy (2014), Ant-Man (2015), Deadpool (2016), Doctor Strange (2016), Black Panther (2018), Venom (2018), Captain Marvel (2019), Black Widow (2021), Eternals (2021), Shang-Chi and the Legend of the Ten Rings (2021) and various sequels to most of these, as well as the tv series' Agents of S.H.I.E.L.D. (2013-20), Daredevil (2015-8), Agent Carter (2015-6), Jessica Jones (2015-9), Luke Cage (2016-8), The Defenders (2017), Inhumans (2017), Iron Fist (2017-8), The Punisher (2017-9), Runaways (2017-9), The Falcon and the Winter Soldier (2021- ), Hawkeye (2021- ), Loki (2021- ), WandaVision (2021- ), Moon Knight (2022- ), Ms Marvel (2022- ) and She-Hulk: Attorney at Law (2022- ).
Thor has been a regular fixture of Marvel Comics canon since his first appearance in 1962, gaining his own comic-book The Mighty Thor in 1966. Thor was brought to the big screen with the Kenneth Branagh directed Thor (2011) starring Chris Hemsworth, which proved a success like all the other Marvel Films of the 00s. As part of the massive multi-film connect-up between their superheroes, Thor was wound in and appeared in The Avengers with Chris Hemsworth repeating his role and Tom Hiddleston's Loki cast as the main villain. The events of Thor: The Dark World follow directly on from and make reference to The Avengers.
With Thor: The Dark World, all of the principal cast are back. The new director is Alan Taylor, who has handled a great many popular tv series over the last decade and has made two films, The Emperor's New Clothes (2001) with Ian Holm as a Napoleon impostor, and Kill the Poor (2003), which hardly anybody saw. Taylor's handling of genre material and/or big-budget effects spectacle is minimal prior to this – what almost certainly had him selected here was his work on a number of episodes of Game of Thrones (2011-9), although he did subsequently go on to make Terminator Genisys (2015).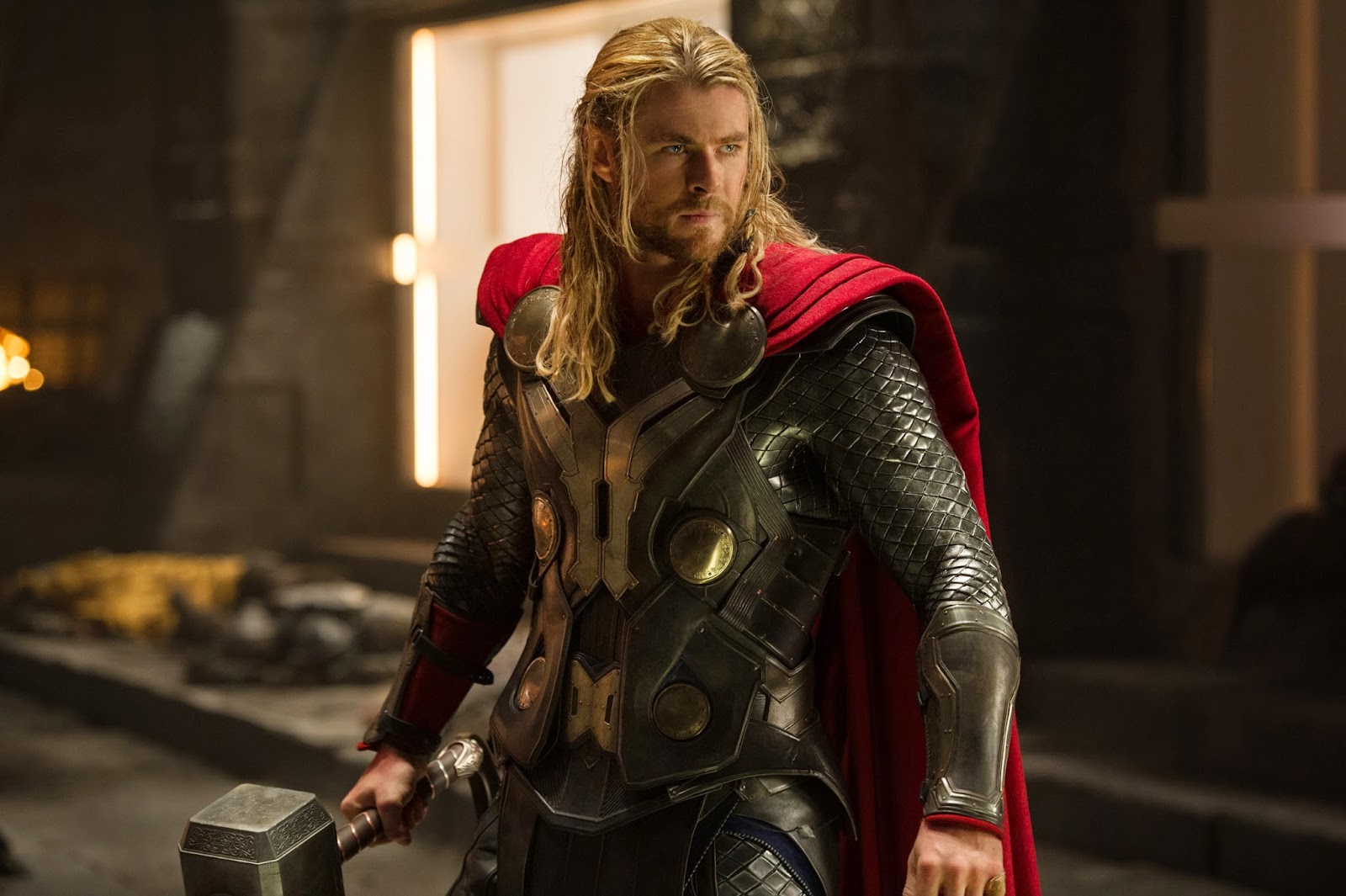 The script comes from Christopher Yost, a story editor/writer on the various X-Men, Iron Man, Fantastic Four and The Avengers animated series of the 00s; the writing team of Christopher Markus & Stephen McFeeley who wrote the Chronicles of Narnia sequels, the Captain America films and Pain and Gain (2013), plus created Agent Carter; the late Don Payne, a producer on The Simpsons (1989– ) and who wrote My Super Ex-Girlfriend (2006), Fantastic Four: Rise of the Silver Surfer (2007) and Thor; and Robert Rodat, who wrote Saving Private Ryan (1998) and The Patriot (2000).
Though the film enjoyed good critical reception, I was never that big a fan of Thor. It was okay for what it did but Kenneth Branagh never quite felt at ease with the superheroics and big-budget spectacle. The good news is that Thor: The Dark World feels like it has assembled the same elements into a better film. Most of the actors (with some exceptions) feel much more at home in their roles. In the first film, Chris Hemsworth gave the feel of a novice actor that had suddenly been thrust into the midst of a big spectacle arranged around him and was blinking in the confusion of the spotlight. By the time of The Avengers he had it nailed and now seems entirely at home in the part. Thor: The Dark World also sees fit to outfit Hemsworth with gratuitous closeups where he takes his shirt off clearly to appeal to the audience that has celebrated him as a new heartthrob. Anthony Hopkins is effortlessly at home with Odin once again and he and Hemsworth have some fine father and son scenes. Idris Elba and Rene Russo both delineate their characters with fine effect.
Some of the other returnees are more mixed. Tom Hiddleston is clearly having a ball as Loki, although by now the character's over-the-top villainy is starting to slide into camp. Stellan Skarsgård gives a whacked-out playing where he seems to be trying to channel John Noble in tv's Fringe (2008-13). The worst performance in the film is that of Natalie Portman. Portman was purportedly not happy with the replacement of Patty Jenkins, the director of Monster (2003) and who later jumped ship to DC superheroes with the triumphal Wonder Woman (2017), who was originally signed on here, and tried to exit the film after Jenkins was replaced but found she could not get out of her contract (she was written out in the subsequent film).
Portman gives a dull and indifferent performance as though she was gritting her teeth through every moment of being there. In fact, between the two Thor films, she makes surely one of the most boring girlfriends in superherodom – you sit wondering what it is about her that inspires Thor to want to give up an entire multi-dimensional kingdom to be with her. Kat Dennings, cast in a largely throwaway role as Portman's sidekick, ran rings around her in the first film and effortlessly does the same again here such that you wonder why they didn't cast her as Jane rather than the detached Portman.
As a director, Alan Taylor seems much more assured with the superheroics than Kenneth Branagh was, eventually mounting to a fine knockdown battle between various parties at the climax. There is also several big Star Wars (1977)-styled shootouts as the Dark Elves invade Asgard and where Thor and Loki conduct their breakout and escape. In these respects, Thor: The Dark World exceeds Thor much more satisfyingly. The other oddity about the film is that it plays the science-fictional interpretation of Norse mythology up far more than the first film did. This results in some decided eccentricities such as elves flying in spaceships to conduct a Star Wars-styled invasion of Asgard or the scientists trying to deal with the nine worlds of the Yggdrasil tree from Norse mythology in terms of inter-dimensional physics. There is a sequence near the start of the film where Natalie Portman and Kat Dennings investigate the inter-dimensional anomalies in an abandoned warehouse that feels almost like a live-action version of the Beyond segment of The Animatrix (2003).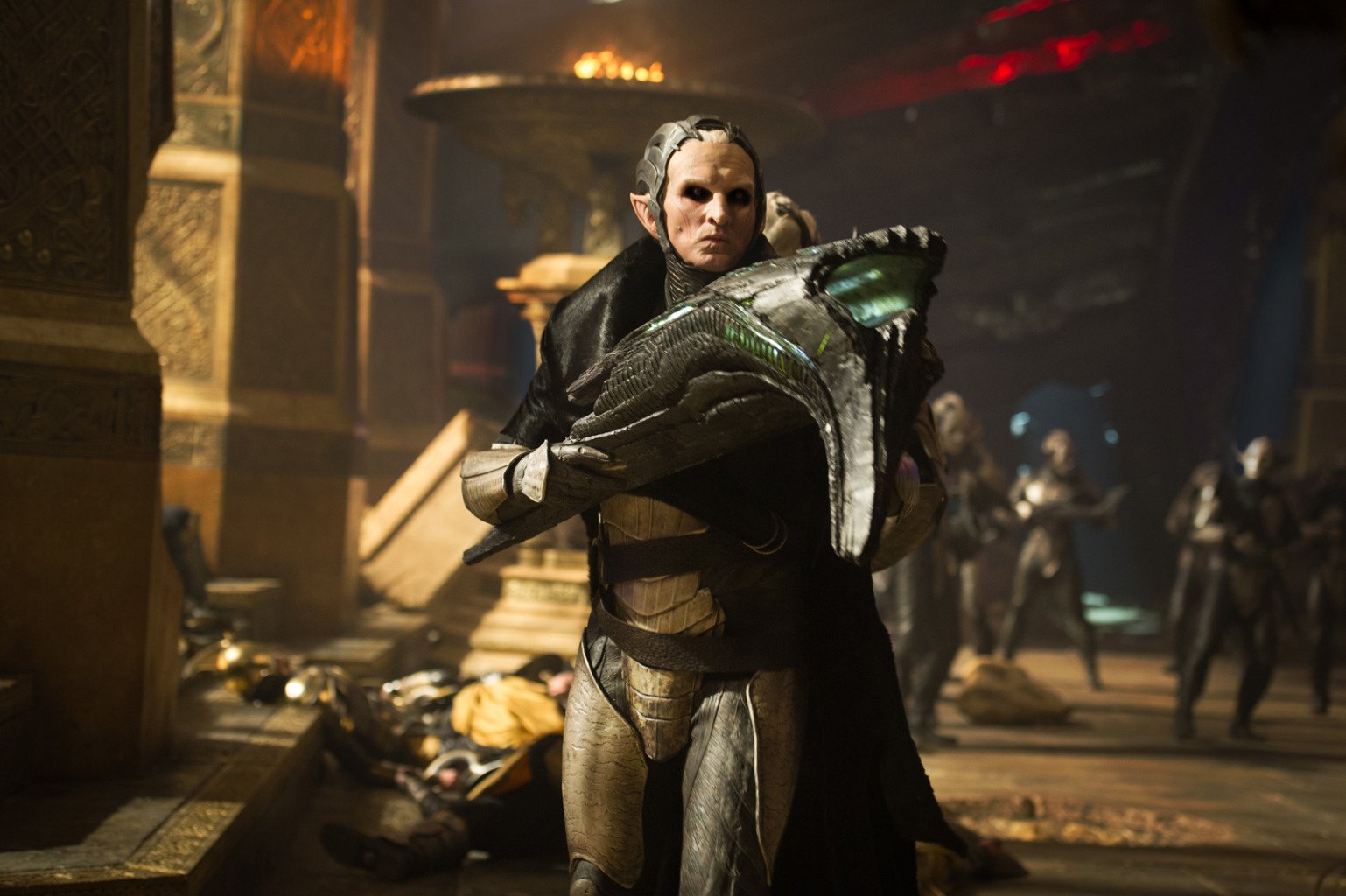 Thor: The Dark World works enjoyably well in terms of what you expect of a Thor film. On the other hand, the film never truly astounds. It feels more as though the writing team have shuffled around a series of what have started to become plot cliches from the Marvel Comics adaptations – an artifact with the capacity to destroy the universe and/or bring about the end of the world; massive superheroic battles breaking out; ordinary humans possessed by alien intelligence; aeons-old entities seeking vengeance and/or total destruction. The Dark Elves seem uninteresting as villains. Though the Dark Elves have been a part of Marvel Comics canon since 1984 (loosely based on the elves of Norse mythology), the film seems to be straining to make elves seem menacing while avoided any association with Lord of the Rings or Santa Claus. Unfortunately, all they come out seeming like is generic science-fiction bad guys, not to mention look like cast-off copies of General Zod from Man of Steel (2013). Moreover, it leaves a fine actor like Christopher Eccleston unrecognisably buried beneath makeup.
Thor: The Dark World is positioning itself for Phase 2 of the massive continuity alignment that various Marvel films are gearing up towards. [PLOT SPOILERS] We get various Easter Eggs thrown away, including a brief appearance from Chris Evans's Captain America as one of the illusions that Loki adopts. There are two post-credits scenes, one with Jaime Alexander and Ray Stevenson going to visit The Collector (an uncredited Benicio Del Toro) with The Aether that ties up in terms of continuity to Guardians of the Galaxy (2014). There was also a sequel of sorts to the film in the Marvel Agents of S.H.I.E.L.D. episode The Well (2013), which showed the S.H.I.E.L.D. cleaning up in the aftermath.
Chris Hemsworth returned in Thor: Ragnarok (2017) and Thor: Love and Thunder (2022). Hemsworth also appears as Thor in The Avengers (2012), Avengers: Age of Ultron (2015), Avengers: Infinity War (2018) and Avengers: Endgame (2019). The latter also includes The Avengers travelling back in time and several scenes set in the margins of this film.
---
---