---
Crew
Director/Teleplay – Philip DeGuere, Based on the Comic Book Created by Steve Ditko & Stan Lee, Producer – Alex Beaton, Photography – Enzo A. Martinelli, Music – Paul Chihara, Special Photographic Effects – Van der Veer Photo Effects, Art Direction – William H. Tuntke. Production Company – Universal.
Cast
Peter Hooten (Dr Stephen Strange), John Mills (Thomas Lindmer), Jessica Walter (Morgan Le Fay), Eddie Benton (Clea Lake), Clyde Kusatsu (Wong), Philip Sterling (Dr Frank Taylor), June Barrett (Sarah), Diana Webster (Head Nurse)
---
Plot
From other dimensions, demons despatch the sorceress Morgan Le Fay to Earth to eliminate the aging supreme sorcerer Thomas Lindmer and his intended successor. In New York City, Morgan possesses the body of psychology student Clea Lake. She makes Clea push Lindmer off a bridge, although he survives the fall. A frightened and confused Clea is taken to the hospital where she is assessed by psychologist Dr Stephen Strange. Dr Strange is Lindmer's intended successor, although is not aware of this. Lindmer then visits Dr Strange and introduces him to the world of sorcerous arts. As Strange and Clea become attracted, Morgan Le Fay uses Clea as a pawn. Under Lindmer's tutelage, Dr Strange must discover his own magical potential and venture into the other dimensions to fight Morgan. Meanwhile, Morgan, tired of her immortal existence and desirous of mortal love, is determined to seduce Dr Strange.
---
Dr Strange is a Marvel Comics superhero, although is different to most of the Marvel's caped and masked crusaders in that he is a magician. Dr Strange first appeared in Strange Tales #110 in July 1963 and proved popular enough that this was retitled Doctor Strange in 1968. Dr Strange has remained a regular part of the Marvel line-up since, where his backstory as an arrogant surgeon who loses the use of his hands, undergoes mystical training in Tibet to become the Sorcerer Supreme and his ongoing battles with occult forces have been elaborated out, while he regularly interacts with other characters in the Marvel universe. Although there had been magician heroes in comics before – Dr Fate, Zatara and, most famously, Mandrake the Magician – what was distinctive about Doctor Strange was its move away from a stage magician as hero concept to an esoteric superhero. As a result, Doctor Strange became a comic-book filled with arcane states of mind, astral planes and elemental forces. In particular, what made Doctor Strange into a cult item in the 1970s was Steve Ditko's wildly colourful and frequently psychedelic artwork.
Dr Strange has often been suggested as a film property. Wes Craven expressed interest in a film adaptation throughout the 1990s. During the massive boom in live-action Marvel Comics properties during the 00s following hits like X-Men (2000), Spider-Man (2002) et al, Dr Strange has been mentioned as a possible film, most persistently to have been directed by Guillermo Del Toro, before it was officially made as part of the Marvel Cinematic Universe as Doctor Strange (2016) and Doctor Strange in the Multiverse of Madness (2022) starring Benedict Cumberbatch. The only actual Dr Strange film during this period however has been the animated Doctor Strange (2007), while there was also Full Moon's Doctor Mordrid (1992) was also an uncredited version of Dr Strange that did a fine, low-budgeted capturing of the essence of the comic-book.
This Dr. Strange pilot was one of a package of Marvel Comics properties that were developed for television during the late 1970s. This package also saw other works such as the tv series The Amazing Spiderman (1977-9), which had three theatrical films made up out of its episodes with Spider-Man (1977), Spider-Man Strikes Back (1979) and Spiderman and the Dragon's Challenge (1981) that were released to international territories; the Bill Bixby The Incredible Hulk (1977-81), which also had its pilot released internationally as a film with The Incredible Hulk (1977); and two Captain America pilots that never went to series with Captain America (1979) and Captain America II (1979). Both The Human Torch and Sub-Mariner were touted as televised properties during this period but ended up being nixed. Dr. Strange was floated as the pilot for a potential tv series but failed to obtain the necessary ratings to be picked up.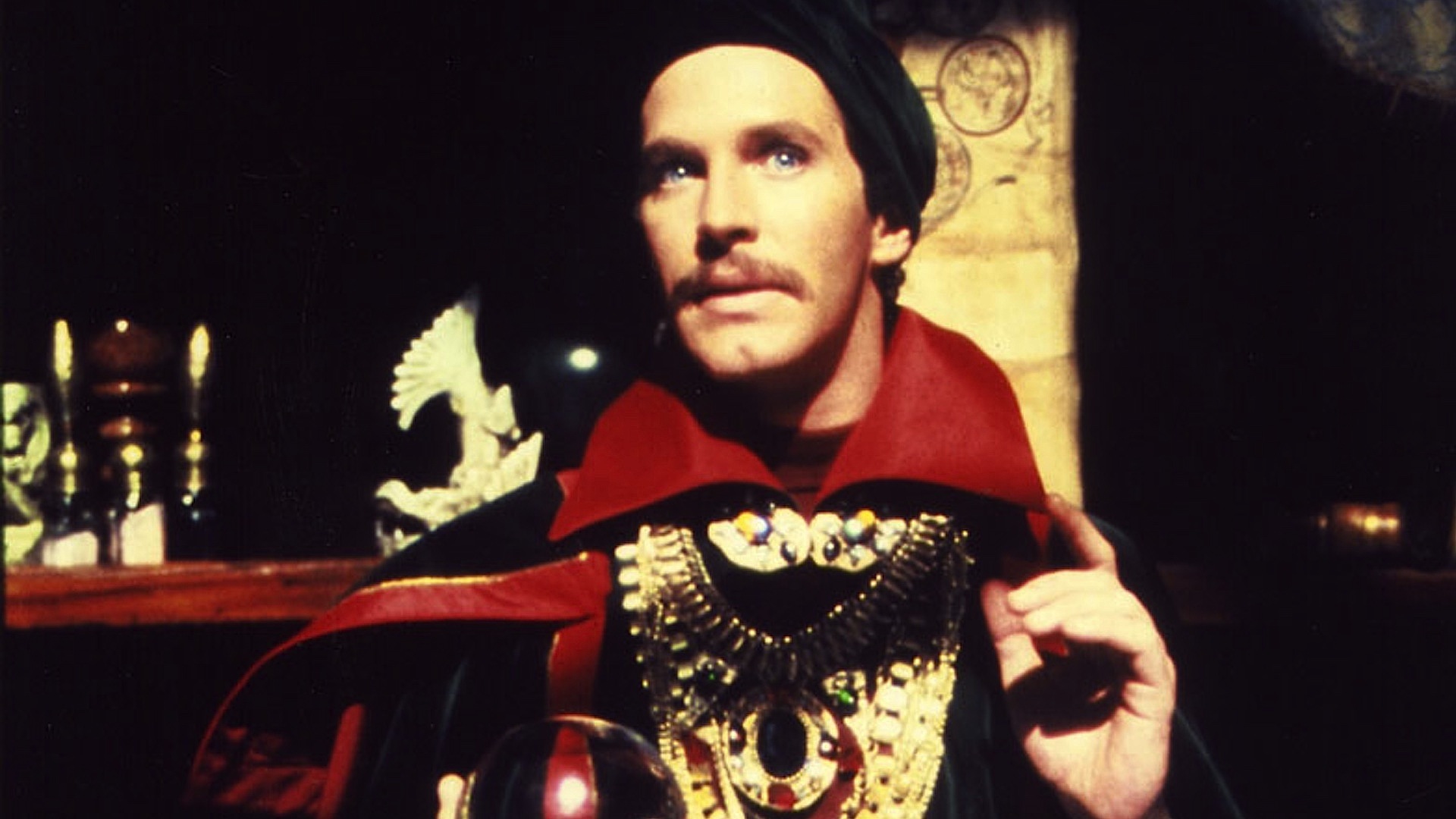 Dr. Strange was made by producer/writer Philip DeGuere. DeGuere was then known as a producer on the WWII tv series Baa Baa Black Sheep (1976-8) and had worked as a story editor/consultant on occasional episodes of The Six Million Dollar Man (1973-8) and The Bionic Woman (1976-8). DeGuere subsequently went onto produce such shows as Whiz Kids (1983-4) about teen computer geeks, produced the revived The Twilight Zone (1985-7), created and produced the hit Simon and Simon (1981-9), and produced JAG (1995-2005) and NCIS: Naval Criminal Investigative Service (2003– ) up until his death in 2005. One of the more intriguing projects that Philip DeGuere was associated with in the early 1980s was a tv mini-series adaptation of Arthur C. Clarke's Childhood's End (1953) about the arrival of an enigmatic alien race that resemble the Devil, which looked an extremely ambitious work but was never produced.
Out of the abovementioned Marvel Comics film adaptations of the 1970s, Dr. Strange emerges the best. The others fared miserably – either badly misunderstanding the characters or putting them through mundane adventures without any decent superheroic nemeses or action. Dr. Strange is the only of these that does not look impoverished and tatty today. Some does still have to be subtracted for typical 1970s tv production. Much of Dr Strange's backstory has also been excised with Strange now made a psychologist as opposed to the surgeon he was in the Marvel comic-book, for instance.
That said, Dr. Strange is a work that is pitched at a far more adult level than either The Amazing Spiderman and Captain America and without the simplistic morality tales of The Incredible Hulk. Necessarily, the film is much more prosaic than the comic-book but Philip DeGuere directs with a tone that was ambitiously abstract and experimental for the era. You have to remember that the scenes of people running in slow-motion, dream sequences and trips through the psychedelic space of alternate dimensions were very different from the average 1970s tv episode, which usually tended to the visually prosaic, as opposed to today when tv series have borrowed such devices from movie screens. There is even an impressive sequence where Peter Hooten travels into the other dimensions and the film offers up an imaginative psychedelic light trip sequence borrowed from 2001: A Space Odyssey (1968), which does an excellent job of conjuring the abstract and trippy visuals that that Marvel comic-book was renowned for.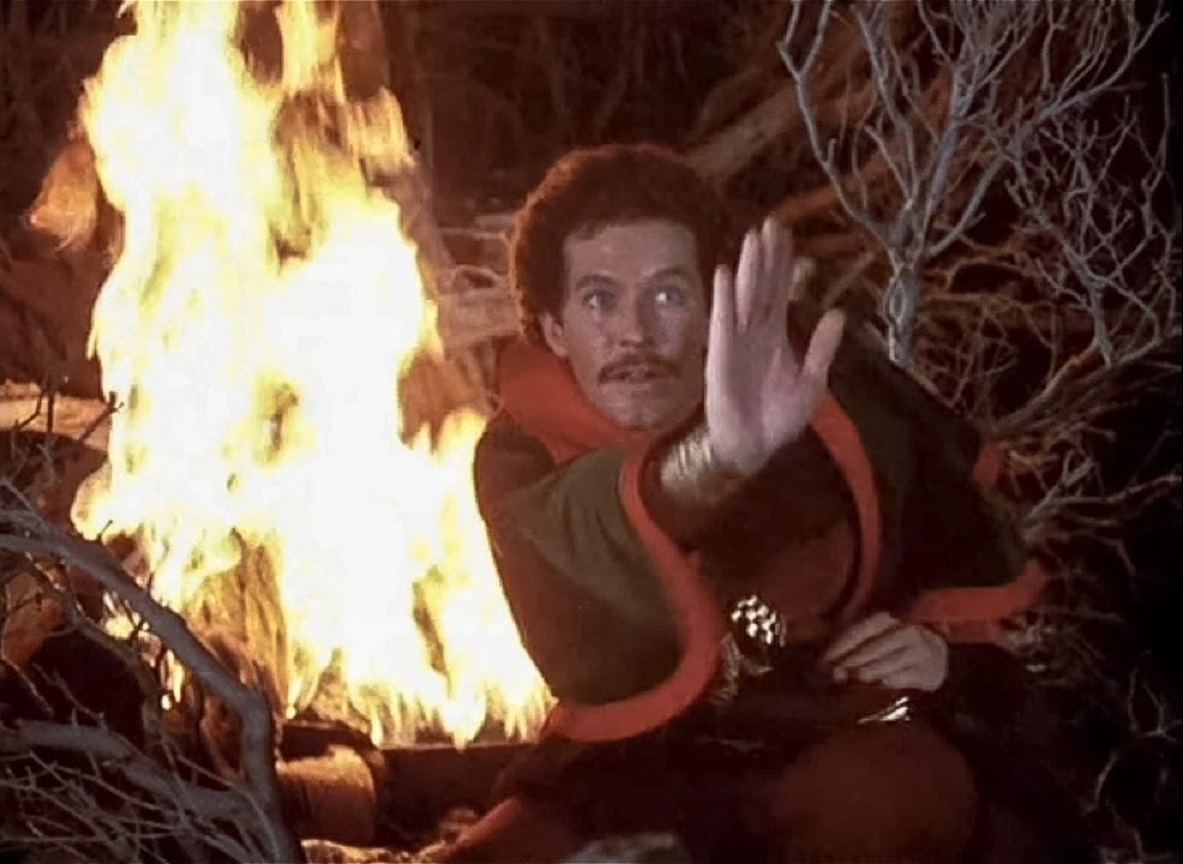 Peter Hooten – not to be confused with Peter Horton from Children of the Corn (1984) and tv shows like Thirtysomething (1987-91) and Brimstone (1998-9) – is a great casting choice. Dr. Strange becomes much more of a 70s ladies' man and Hooten has a handsome and confidently assured presence in the part – he is exactly what you would imagine a screen incarnation of Dr Strange to be. Peter Hooten has made a number of other film appearances and even still occasionally turns up in the odd item but never became the major name that Dr. Strange indicates he easily could have.
British acting legend John Mills adds quiet dignity as what would probably have been the recurring role of Dr. Strange's mentor – even if the role has been conceived far too much by way of Obi-wan Kenobi from Star Wars (1977) with Mills directly copying Alec Guinness's hand-waving Jedi mind control tactics. Jessica Walter – best known as the psycho femme fatale from Clint Eastwood's Play Misty for Me (1971) – adds a sultry presence as the villainness of the show Morgan Le Fay, although the character is largely one-dimensional and she is given the far-too-easy fatal flaw of wanting to seduce Dr Strange in order to know love again.
---
---