---
Crew
Director – Charles Russell, Screenplay – Mike Werb, Story – Michael Fallon & Mark Verheiden, Based on the Comic Book Created by Mike Richardson, Producer – Bob Engelman, Photography – John R. Leonetti, Music – Randy Edelman, Visual Effects – Industrial Light and Magic (Supervisors – John Farhat & Scott Squires), Additional Visual Effects – Dream Quest Images, Animation Director – Steve 'Spaz' Williams, CGI Supervisors – Sandra Ford Karpman, Jim Mitchell & Ellen Poon, Special Effects Supervisor – Thomas L. Bellissimo, Makeup Effects Supervisor – Greg Cannom, Production Design – Craig Stearns. Production Company – New Line Cinema/Dark Horse Entertainment.
Cast
Jim Carrey (Stanley Ipkiss), Cameron Diaz (Tina Carlyle), Peter Greene (Dorian Tyrel), Peter Riegert (Lieutenant Mitch Kellaway), Richard Jeni (Charlie Schumaker), Amy Yasbeck (Peggy Brandt)
---
Plot
Edge City bank teller Stanley Ipkiss is a total zero as a personality. He then finds a strange, green mask. When placed on, the mask transforms him into a maniacally extroverted character that can move at super-speed, elasticate his body along the rules of cartoon physics and produce impossibly big objects out of his voluminous pockets. Hungering after sexy nightclub singer Tina Carlyle, Stanley robs a bank in order to get into a nightclub to see her perform. However, this brings him to the attention of both the police, who want to find the mysterious Mask as his alter ego becomes known, and the mobster club owner who wants the mask for himself.
---
The Mask, adapted from the Dark Horse comic-book that was originally created in 1987, was a big holiday season hit. The film was designed fairly much as a vehicle for the excesses of the ballistically OTT Jim Carrey who became a big name after earlier-in-the-same-year's inane crowd-pleasing hit Ace Ventura, Pet Detective (1994).
On screen, Jim Carrey whoops it up, playing to the audience while contorting his face in a series of hyper-kinetic acrobats. All of this comes supported by an impressive barrage of CGI effects. The film is designed to operate on cartoon physics in live-action – when Jim Carrey does a wolf-whistle, his face literally becomes that of a wolf; when Cameron Diaz does her show-stopping routine, his jaw literally drops, his tongue rolls out and his heart pops out of his chest; and he seems to have dimensionally transcendental pockets, producing giant hammers, colossal handfuls of artillery and the like. Director Charles Russell unsubtly underlines the influences by littering the background with Warner Brothers cartoons, cartoon character toys and Looney Tunes comic books.
The film delivers a good deal of crowd-pleasing entertainment – fairly much everything is attuned towards this one goal. The film's plays are simplistic – the cute dog, the over-emphasised theme of the wimp inside the mask being accepted for himself. (Although The Mask is unusual in terms of superheroes in that it plays on the subtext of the wimp developing an empowered alter ego that lies beneath most superhero concepts more directly than most superheroes do. The Mask is also an incredibly ambiguous figure, a force of anarchy who is as much mischievous villain as a superhero). However, the film only has Jim Carrey and a barrage of cartoon sight gags up its sleeve and not much beyond that.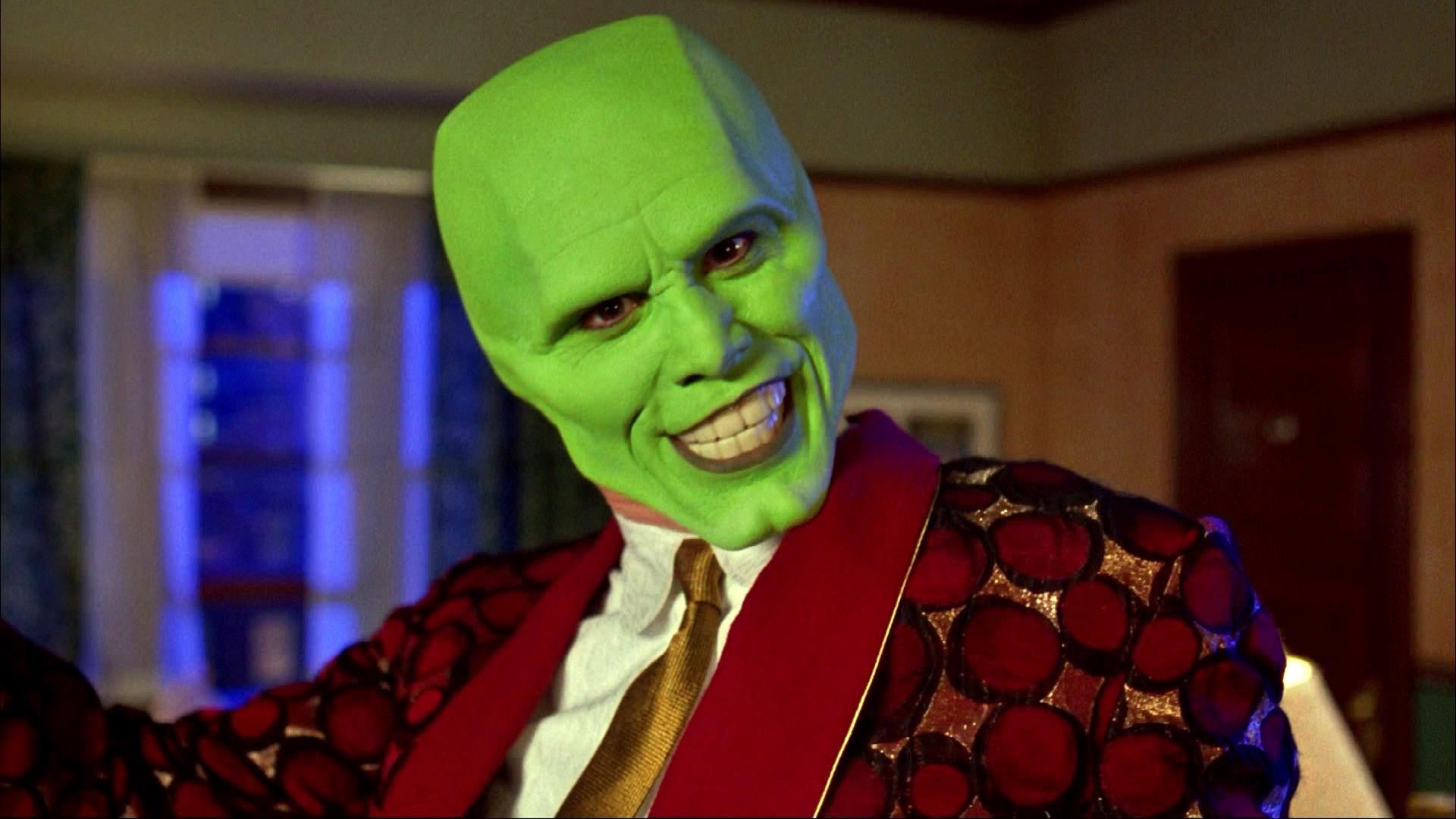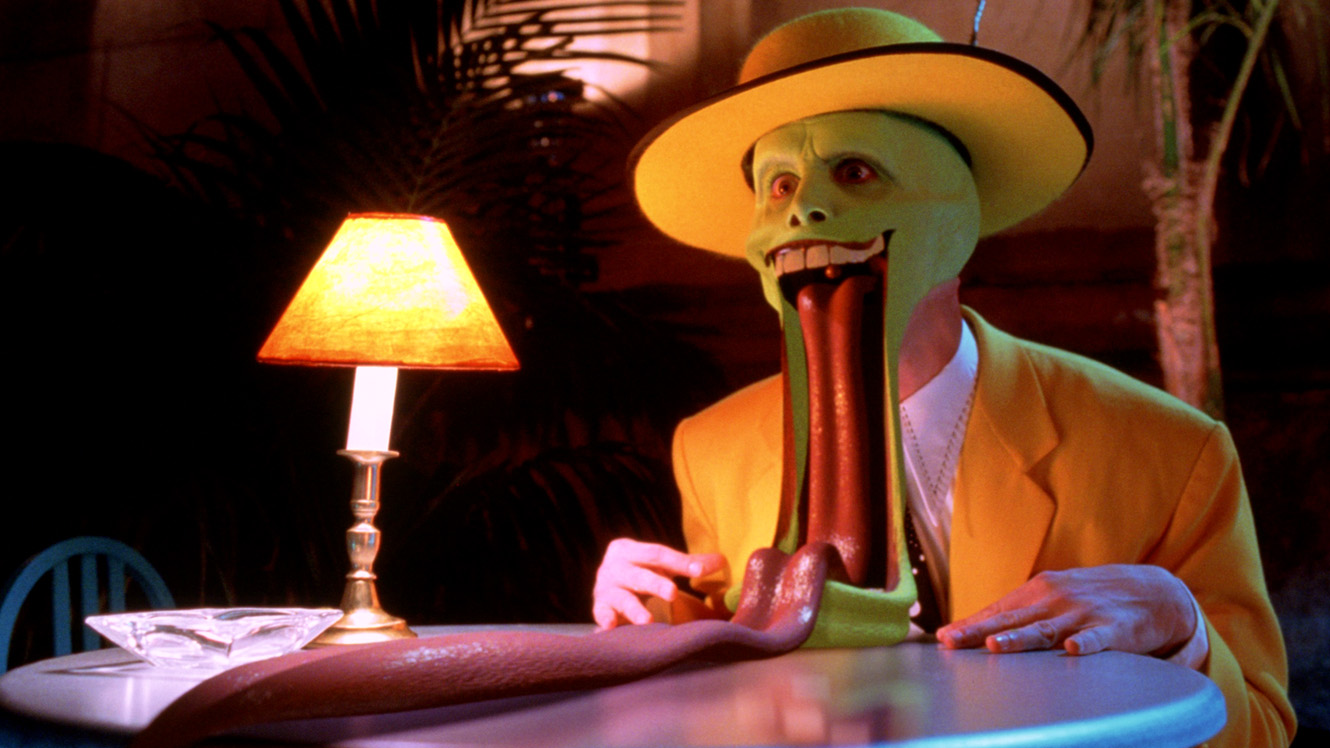 For a start, it lacks any sense of reality. For the sake of a laugh, Charles Russell frequently ruptures the film's tenuous suspension of disbelief – having Jim Carrey turn to address the audience direct or a pullback from a melodramatically OTT dying scene to show him on a cinema screen being watched by the silhouettes of an audience and being handed an Academy Award for his performance. A sense of consistency means nothing to the film – if the character can produce anything from limousines, armouries of guns, pictures signed by the police lieutenant's wife to cinema audiences watching him receive Academy Awards, then it is surely absurd to have to him have to rob a bank in order to get money. And when a superhero like The Mask can do anything – the character appears to lack any types of limitations – it fails to matter what he does.
Charles Russell and Jim Carrey promised a sequel in subsequent years. This finally emerged as the thoroughly disappointing Son of the Mask (2005) starring Jamie Kennedy. Neither Carrey or Russell were involved. There was also an animated tv spinoff series The Mask (1995-7). The Mask later made a cameo in Space Jam: A New Legacy (2021).
Director Charles Russell previously made A Nightmare on Elm Street III: The Dream Warriors (1987) and The Blob (1988), although took the name Chuck Russell on the credits. Russell subsequently made the Arnold Schwarzenegger action film Eraser (1996), the occult drama Bless the Child (2000), the sword and sorcery film The Scorpion King (2002) and I Am Wrath (2016). The Mask is also notable for bringing actress Cameron Diaz to world attention.
(Nominee for Best Special Effects at this site's Best of 1994 Awards).
---
---