---
Crew
Director – Danny Boyle, Screenplay – John Hodge, Producer – Andrew MacDonald, Photography – Brian Tufano, Music – David Arnold, Music Supervisor – Randall Poster, Visual Effects – Framestore-CFC (Supervisor – Tim Webber), Production Design – Kave Quinn. Production Company – Channel Four Films/Polygram Filmed Entertainment.
Cast
Ewan McGregor (Robert Lewis), Cameron Diaz (Celine Naville), Holly Hunter (O'Reilly), Delroy Lindo (Jackson), Ian Holm (Mr Naville), Stanley Tucci (Elliot), Maury Chaykin (Tod Johnson), Ian McNeice (Mayhew), Dan Hedaya (Gabriel)
---
Plot
Up in Heaven, the angels O'Reilly and Jackson are told that something needs to be done about the rising rate at which couples are splitting up. They are sent down to Earth and told not to return until they ensure that one couple gets together. Heiress Celine Naville is called to her father's office to be informed that her expense account has been cancelled. At the same time, Robert Lewis, a janitor in her father's corporation, bursts into the office, angry to learn that he is to be dismissed and replaced with a robot. A struggle ensues as Naville orders security to throw Robert out, during which Celine kicks one of her sharpshooting guns to him and he takes her hostage. Against expectation, she relishes the prospect of being taken hostage. They take refuge at a mountainside cabin where he plans to demand a ransom from her father. She is scornful of his fumbling methods and shows him how to do the job properly. Meanwhile, O'Reilly and Jackson, forced to survive on their own on Earth, accept the contract from Naville to rescue Celine but he also wants them to eliminate Robert. During the madcap chaos that ensues, Robert and Celine find themselves falling for one another.
---
A Life Less Ordinary was the third film from director Danny Boyle, as well as the team of screenwriter John Hodge, producer Andrew MacDonald and star Ewan McGregor. The foursome had made the thriller Shallow Grave (1994), an arthouse release that gained some very good notices, and then had a huge breakout hit with the cult hit of Trainspotting (1996). The group then went onto A Life Less Ordinary, which most saw as a disappointment that frittered away the promise they had built up over the last two films.
Danny Boyle has subsequently remained a director at the forefront of the British film industry, although his solo output has always swung between wild extremes – the disastrous studio-backed flop of The Beach (2000), followed by the runaway next-to-no-budget success of 28 Days Later (2002) and then the flop of the big-budget sf film Sunshine (2007), which was in turn followed by the Oscar-winning smash of Slumdog Millionaire (2008). Elsewhere he has made the likes of the acclaimed true-life 127 Hours (2010), the mind-bending hypnotism thriller Trance (2013), the biopic Steve Jobs (2015) and the alternate history Yesterday (2019). He has also returned to genre material with a theatrically live broadcast stage adaptation of Frankenstein (2011).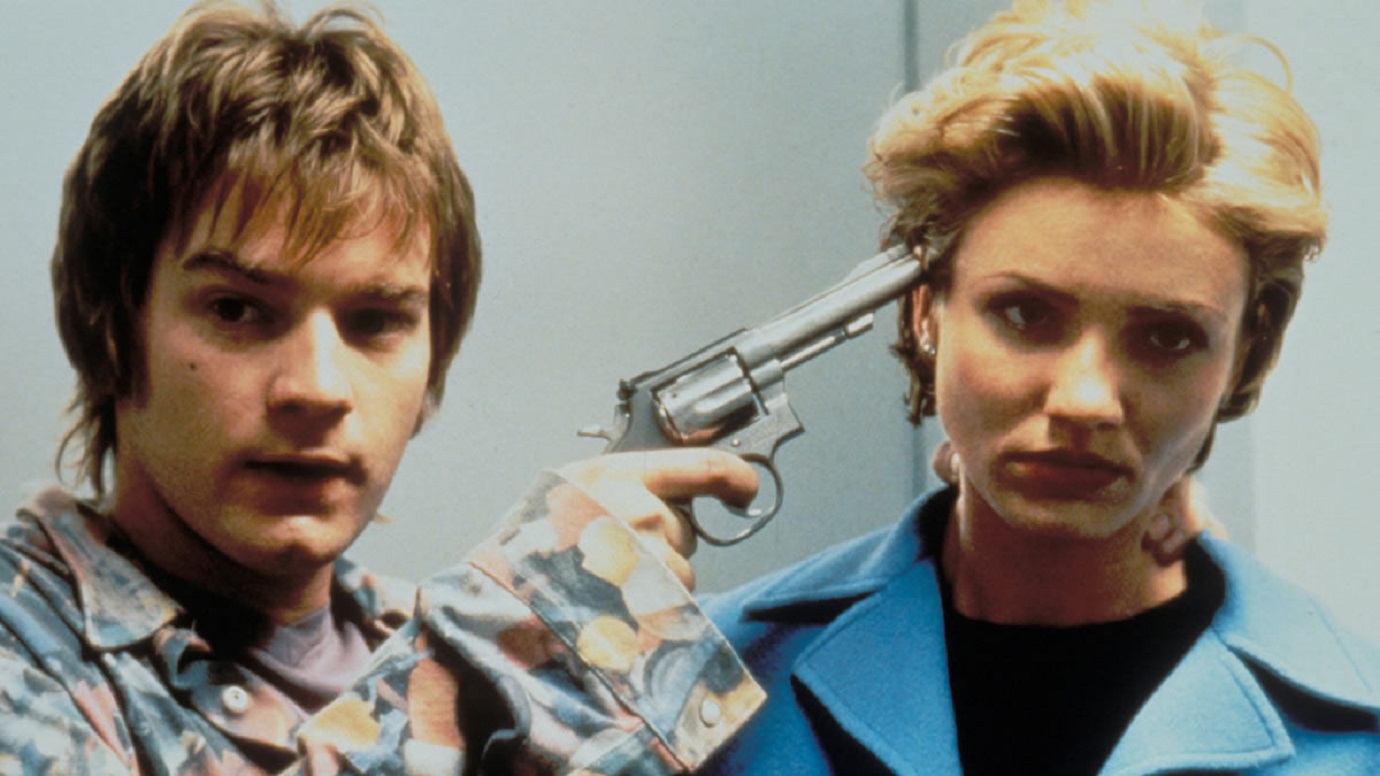 A Life Less Ordinary is a genuine oddity. If nothing else, it makes sit and wonder what on Earth Boyle et al saw in the material to choose it as a follow-up to edgy indie hits like Shallow Grave and Trainspotting. Imagine if you will the same year's Alicia Silverstone heiress-staging-her-own-kidnapping comedy Excess Baggage (1996) – or maybe everybody was thinking of making another Fargo (1996), which had been a huge hit the year before – but with a supporting cast of angels added to the mix.
Although these are angels that are cast less out of Touched By an Angel (1994-2003) or even Wings of Desire (1987) than they are out of a Quentin Tarantino-styled gangster film – toting guns and trading sarcastic one-liners. It is a concept for a film that leaves you puzzled – and on screen it seems to fall with an uncertainty that leaves you unsure whether to appreciate it as a funky anything-goes screwball comedy or as being corny.
Certainly, A Life Less Ordinary is a good deal of fun when it is conducting a parody of a kidnap drama. The scenes with Cameron Diaz trying to educate Ewan McGregor how to make a threatening phone call are hilarious – he screwing it up and getting a wrong number and the woman then trying to set him up with her daughter; he writing an anonymous ransom demand until Cameron Diaz points out that her father already knows his name; or her outrage at being considered only worth half-a-million dollars.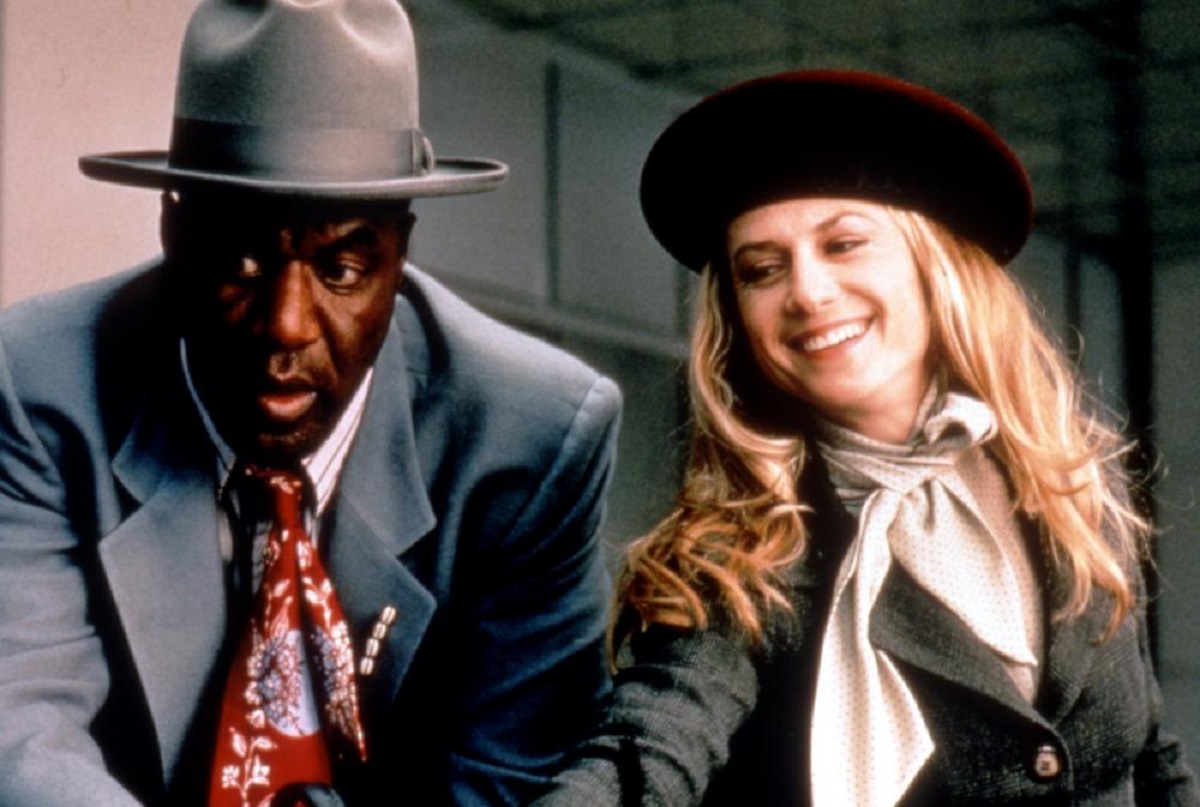 Danny Boyle has a fine cast at his disposal with Ewan McGregor, Ian Holm, Stanley Tucci and a completely manic Holly Hunter all giving enjoyable comic performances. Cameron Diaz radiates a star class – she and Ewan McGregor make a marvellous duo during a scene singing karaoke.
The problem largely lies with John Hodge who has written a number of other films for Boyle. Hodge's scripts have a tendency to let their plots run away with them, which is certainly something shared by A Life Less Ordinary. The problem here would seem to be Hodge attempting to conduct a kidnap comedy crosshatched with an angelic intervention fantasy. The latter side of the story is not well integrated and the plot spins out of control to arrive at an extremely silly ending.
(Nominee for Best Actress (Cameron Diaz) at this site's Best of 1997 Awards).
---
---