---
Crew
Director – Chris Wedge, Screenplay – Lowell Ganz, David Lindsay-Adaire & Babaloo Mandel, Story – Lindsay-Adaire, Jim McClain & Ron Mita, Producers – John C. Donkin, Jerry Davis & William Joyce, Music – John Powell, Music Supervisor – Becky Mancuco-Winding, Animation Supervisors – James Bresnahan & Michael Thurmeier, Production Design – Joyce. Production Company – Blue Sky Studios.
Voices
Ewan McGregor (Rodney Copperbottom), Robin Williams (Fender), Halle Berry (Cappy), Mel Brooks (Bigweld), Greg Kinnear (Phineas T. Ratchet), Jim Broadbent (Madame Gasket), Stanley Tucci (Herb Copperbottom), Jennifer Coolidge (Aunt Fanny), Amanda Bynes (Piper), Drew Carey (Crank), Harland Williams (Lug), Dianne Wiest (Mrs Copperbottom), Paul Giamatti (Tim), Dan Hedaya (Mr Gunk), Natasha Lyonne (Loretta Geargrinder)
---
Plot
In Rivet Town, Herb Copperbottom and his wife receive a kitset and put together a new son whom they call Rodney. After seeing the most important robot in the world, the robot manufacturer Bigweld, on tv, Rodney grows up believing in Bigweld's offer for inventors everywhere to come to him with their innovations. Dreaming of making it as an inventor, Rodney constructs Wonderbot, a small flying machine to help his father, a lowly dishwasher who is wearing out. However, when the nervous Wonderbot drops dishes, his father's boss throws him out. Rodney decides to set out to Robot City to make it as an inventor. Upon arriving, he finds that Bigweld's corporation has been taken over by the ruthless executive Ratchet who has closed its doors to inventors, while Bigweld has become a recluse and sees nobody anymore. Ratchet announces his plan to phase out spare parts and force all robots to upgrade or be scrapped. Rodney falls in with a group of rundown robots. His repair skills come in handy when the other robots prove desperate to be fixed after finding there are no longer any spare parts. As Ratchet and his mother Madame Gasket, a scrap-metal dealer, intensify all efforts to stop them, Rodney sets out to find the reclusive Bigweld and get him to take back control of the company.
---
Fads seem to come and go in animation. A couple of years before this, it was talking fish – Help! I'm a Fish (2000), Pixar's Finding Nemo (2003) and DreamWorks' Shark Tale (2004). Before that it was talking prehistoric animals – Disney's Dinosaur (2000), Ice Age (2002) and a host of Land Before Time sequels – and before that it was talking bugs – DreamWorks' Antz (1998) and Pixar's A Bug's Life (1998). Around 2000, there was even a peculiar fad for Aztec animation with The Emperor's New Groove (2000) and The Road to El Dorado (2000). In the mid-to-late 2000s, it appeared to be cute talking machines – with this and Pixar's Cars (2006) and Wall-E (2008). We have had talking machines before – in animation there was the delightful The Brave Little Toaster (1987) and sequels, as well as live-action equivalents of the cute robot story such as Heartbeeps (1981) and Short Circuit (1986).
Robots was the second CGI-animated film from Blue Sky Studios and director Chris Wedge. A few years ago, Chris Wedge and Blue Sky appeared with the enjoyable and successful Ice Age (2002). Robots received an indifferent response upon its US premiere but it is a much more enjoyable film than that. There is an enormous degree of visual invention to the film – from the marvellous production design that creates the robots and city in appealingly vibrant and rust-hued detail to the bizarre robot characterisations packed around the edges of the film.
Chris Wedge has a great love of slapstick scenes and nutty Rube Goldberg contraptions and keeps setting them up throughout the film – the madcap ride through the city's transit system designed like a giant pinball game; Rodney and Fender dancing on spilled ball-bearings; Rodney being magnetised with iron filings and drawing every metal thing towards him as he struggles through the street; Bigweld's giant-sized domino chain; and the climactic scenes in the foundry with the ramshackle rebuilt robots going into battle.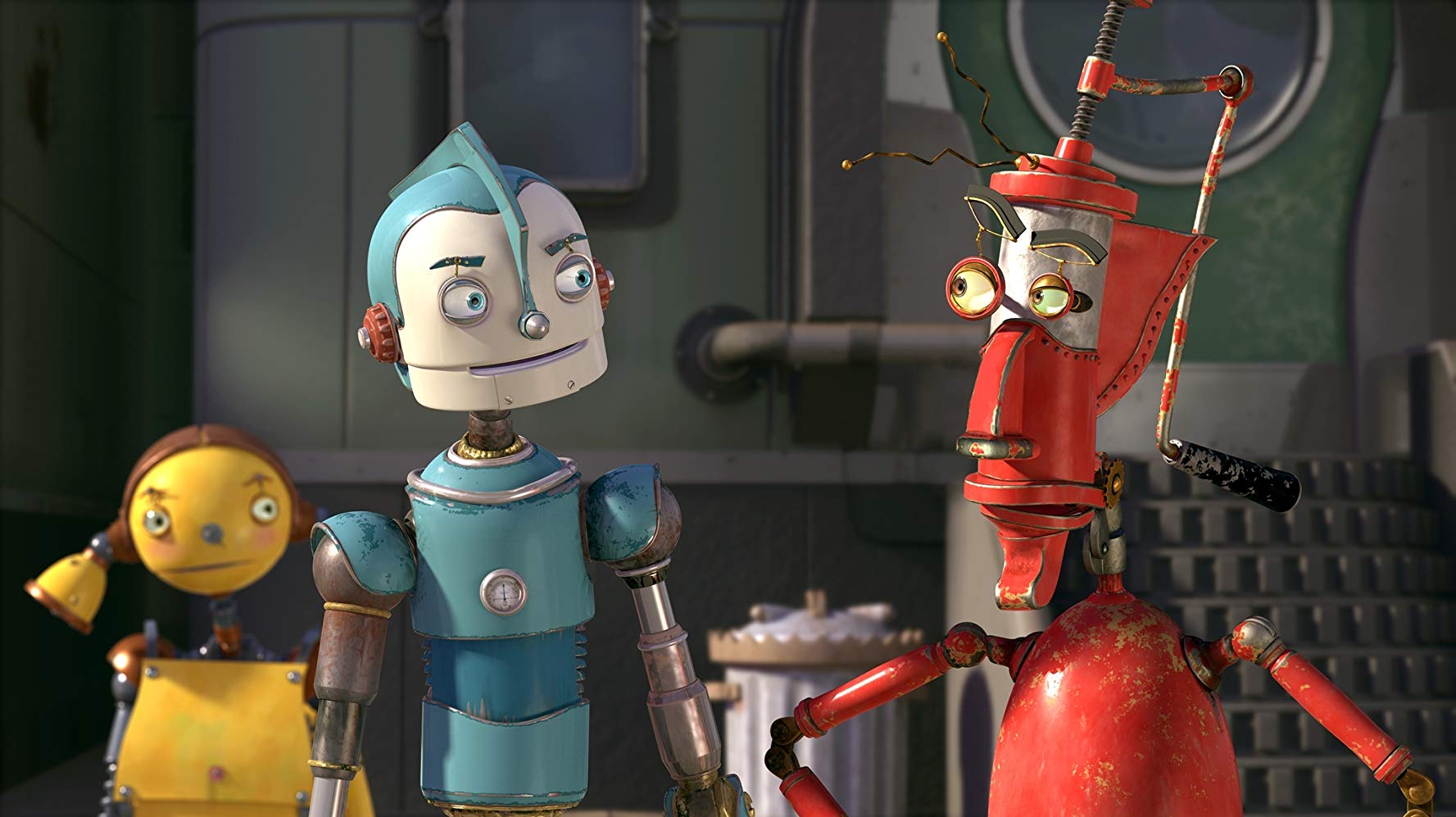 Chris Wedge welcomely resists the tendencies that beset some of DreamWorks more recent animated efforts – Shrek 2 (2004) and Shark Tale being notable examples – of littering the film with contemporary in-jokes and pop culture references. There is the odd moment – a cute cameo from the Tin Man from The Wizard of Oz (1939); Robin Williams breaking into Britney Spears numbers and an elaborate Fred Astaire pastiche named Singin' in the Oil; the robot that gets a new voicebox and immediately speaks in the voice of Darth Vader (a dubbed James Earl Jones) – but these are not nearly as intrusive as they were in say one of Robin Williams's other animated outings, Disney's Aladdin (1992).
Chris Wedge also manages to pull off another incredibly annoying trend of modern fantasy – poop, fart and bodily waste jokes – with a considerable sense of humour. The funniest gag in the film is the underarm farts gag and the totally whacko throwaway gag with the lamppost. In fact, there is a sophisticated level of humour that runs through Robots with a number of gags that are likely to go completely over the children's heads – like the scene where Rodney announces "Okay, who wants to be fixed?" and the robot dog nervously crosses its hands over its crotch.
The science-fictional pedant in one kept wanting to make sense of the world that these characters lived in. I kept asking – who built the robots? Why would robots do such human-anthropomorphic functions as develop sentimental familiarities towards parents, romantic feelings for one another or feel sad about getting old? For that matter, it is impossible to conceive why someone would construct an urban transit system that resembles a giant pinball machine.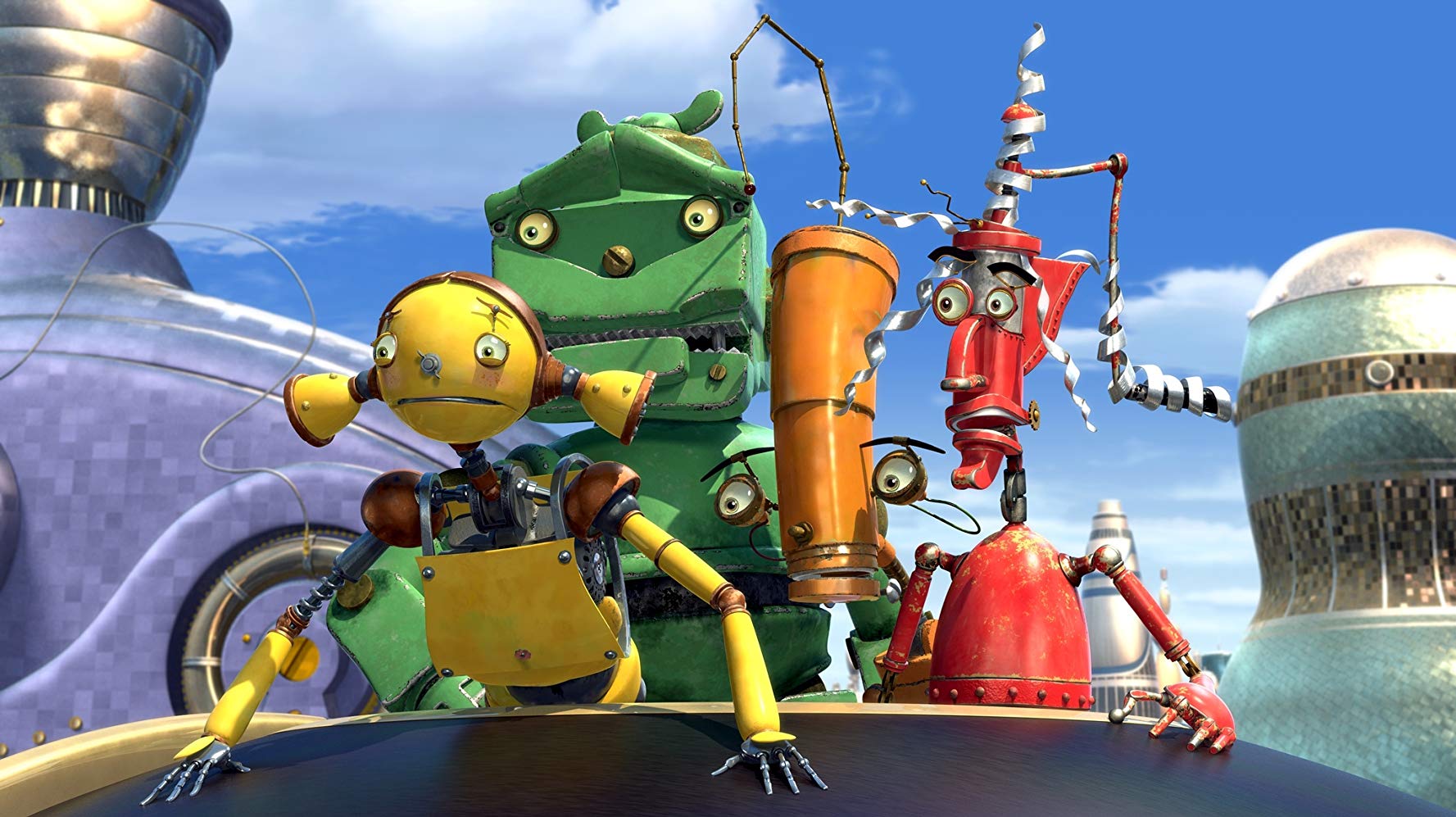 Rather, Robots is a film where one has to tune out any notion of it being a science-fiction film by virtue of it featuring robots and view it more as a talking animals fantasy that happens to feature robots. You have to regard it in much the same way that watching a film like Finding Nemo or Antz requires one to suspend disbelief when it comes to wondering how fish or insects can talk let alone exhibit human behaviour. Or perhaps see it more like tv's The Flintstones (1960-6), which was only a cute concept based on translating contemporary middle-class behaviour into prehistoric times, substituting rocks and dinosaurs for stereos, dishwashers and cars etc, where Robots plays a similar game substituting robots for people.
The filmmakers have managed to find a robot for every conceivable purpose – robot pigeons pecking in the street, robot lampposts, post boxes and street signals, even robot toilets. This does lead to some highly amusing interpolations – the opening scenes where the father and mother rhapsodise in joy at the coming delivery of the new baby, which then turns out to be a DIY construction kit, or how the father turns out to literally work as a dishwasher. Robots is an appealing film. It is made with an enormous degree of visual inventivity, good-natured and intelligent humour and succeeds in winning on just about every single count.
Blue Sky Studios subsequently went onto make a series of sequels with Ice Age 2 (2006), Ice Age 3: Dawn of the Dinosaurs (2009), Ice Age: Continental Drift (2012), and Ice Age: Collision Course (2016), as well as the Dr Seuss adaptation Horton Hears a Who! (2008), Rio (2011), Epic (2013), The Peanuts Movie (2015), Ferdinand (2017) and Spies in Disguise (2019).
---
---