---
USA. 1987.
Crew
Director/Screenplay – Tom McLoughlin, Producer – Martha Schumacher, Photography – Alex Thomson, Music – Randy Kerber, Visual Effects – Boss Film Co (Supervisor – Richard Edlund), Production Design – Craig Stearns. Production Company – Dino De Laurentiis Film Group.
Cast
Michael E. Knight (Jim Sanders), Emmanuelle Beart (Angel), Phoebe Cates (Patty Winston), David Dukes (Ed Winston), Phil Brock (George), Albert Macklin (Don), Pete Kowanko (Rex), Vinny Agiro (Ben Sanders), Bibi Besch (Grace Sanders)
---
Plot
A beautiful angel is knocked out of orbit by a passing satellite and falls into Jim Sanders' swimming pool. She is frightened but he comforts her, bandages her broken wing and then starts trying to find a way to send her home. His fiancee Patty Winston, daughter of a pharmaceuticals millionaire, storms out when she finds the angel there, thinking that Jim is seeing another girl. As Jim tries to prevent both his friends and Patty's father from exploiting the angel, he finds himself falling in love with her.
---
From director Tom McLoughlin whose previous film was Jason Lives: Friday the 13th Part VI (1986), this capricious, playful fantasy comes with occasional moments of charm. It does have the very lovely French actress Emmanuelle Beart, who had then attracted international attention with the arthouse hit Manon des Sources (1986). Beart has an appropriately otherworldly beauty and comes accompanied by an ethereal array of whimpers, bird-like coos, flutters and operatic trills. There are maybe a few too many soft-focus visuals but some images like the scene in a forest glade where the birds and fawns gather and foliage sprouts with a painterly verdance are really quite sweet.
There are charming absurdities. Date with an Angel is a film not afraid to be silly. In fact, it is quite dependent on it – like the scenes trying to foist the angel off on the Catholic Church, with a disbelieving priest shrugging and suggesting "Take her to the Baptists?" Or where Emmanuelle Beart discovers the joys of eating French Fries – the three idiots naturally manage to lure her away by encouraging her with fries, an idea that only the Americans could pull off with such infatuation.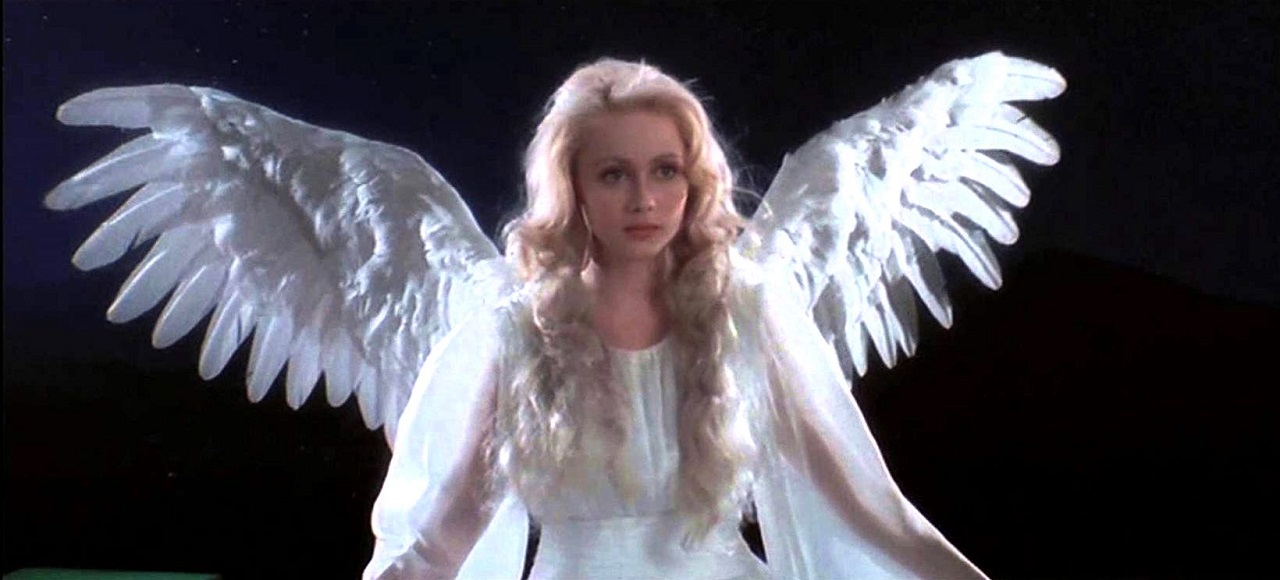 Ultimately, Date with an Angel is all a little too slight, with not quite enough of these charms to pull it off. There is too much of the silliness that requires all characters but the two principals to be played for over-the-top buffoonery. The climactic congregation of all parties in the glade is an extremely silly scene – with Phil Brock, Albert Macklin and Pete Kowanko played as some kind of doped-up Three Musketeers; an el tougho face-off between hero Michael E. Knight and father-in-law David Dukes that dissolves into a trade-off of one-liners – "You had garlic for lunch!" Things must have been the most embarrassing of all for Phoebe Cates – it must take some dedication to the paycheque to agree to spend quarter of the film wearing your underwear on the outside and a climactic scene where she gets to play drunk and deliver lines like "So where's this angel bitch?"
Director Tom McLoughlin first appeared with the ghost story Rest in Peace/One Dark Night (1982) and has made several other genre entries including Jason Lives: Friday the 13th Part VI (1986), the Stephen King adaptation Sometimes They Come Back (1991), The Haunting of Helen Walker (1996) – an tv movie adaptation of Henry James's oft-filmed The Turn of the Screw (1898), and the psycho-thriller The Unsaid (2001), as well as wrote the screenplay for FairyTale: A True Story (1997) concerning the true life Cottingley Fairies Hoax.
---
Trailer here
---