---
Crew
Director/Screenplay – Trey Parker, Producers – Fran Rubel Kuzui, Jason McHugh & Matt Stone, Photography – Kenny Gioseffi, Music – Paul Robb, Music Supervisor – Christopher Violette, Special Effects Supervisor – Gregory Landerer, Prosthetic Mask – Kevin Brennan, Production Design – Tristan Paris Bourne. Production Company – Rogue Pictures/Kuzui Enterprises/MDP Worldwide/Avenging Conscience Productions.
Cast
Trey Parker (Joe Young), Dian Bachar (Ben Chapelski/Choda Boy), Michael Dean Jacobs (Maxxx Orbison), Robyn Lynne (Lisa), Ron Jeremy (Clark/Jizzmaster Zero), Andrew W. Kemler (Rodgers), Matt Stone (Dave), David Dunn (A-Cup), Masao 'Maki' San (G-Fresh)
---
Plot
Joe Young is a Mormon missionary who has just arrived in Los Angeles from Salt Lake City. While witnessing door to door, Joe turns up at the house of porn filmmaker Maxxx Orbison. Orbison is so impressed with Joe's martial arts abilities that he offers Joe a great deal of money to play the lead role in his pornographic superhero film 'Orgazmo'. Joe agrees, needing the money so that he and his fiancée can get married, but on the condition that he is replaced by a double for the penetration shots. Unexpectedly, 'Orgazmo' becomes a hit and Orbison persuades Joe to make a sequel. Meanwhile, Ben Chapelski, who plays Orgazmo's sidekick and is in reality a physicist, has invented a working version of Orgazmo's Orgasmarator ray. When a sushi bar owner is threatened by hoodlums, Joe and Ben go into action in costume to aid him. However, Joe's fiancée then decides to pay him a surprise visit.
---
Orgazmo was a film made by Trey Parker. Parker had previously made Alferd Packer: The Musical/Cannibal! The Musical (1996) while in college but was best known as co-creator of tv's cultish animated series South Park (1997– ). (South Park co-creator and frequent Parker collaborator Matt Stone also appears here as a cameraman who prefaces everything with "I don't want to sound like a faggot but …"). Parker and Stone clearly have an adolescent sense of humour – South Park's cult centred less around being a great tv series and the frequent political satire it engages in, than it did the outrage of kids being foul-mouthed.
Orgazmo is a wacky outrageous premise more than it is a film. The film's sole appeal comes in the one-sentence description – "it's about a Mormon porn star superhero" – more so than it is ever a funny film. The humour is adolescent and shrill, and afterwards there is not a single scene that stands out with uproarious hilarity. The film even borrows the "Give me a sign," followed by an earthquake, "any sign at all" gag from the Steve Martin vehicle The Man with Two Brains (1983).
For all its desire to outrage, Orgazmo is rather coy and innocent. Considering the subject matter, it never ventures into any of the areas of extreme bad taste the same way that Troma Films do with regularity. Indeed, despite substantially being set around the shooting of hardcore porn films, none of the numerous girls present is even seen topless. On the plus side, as the title character, Trey Parker himself comes across with just the right degree of deadpan earnestness and naive innocence, a performance that is all the more welcome for coming untempered with any parodistic winks and asides to the audience.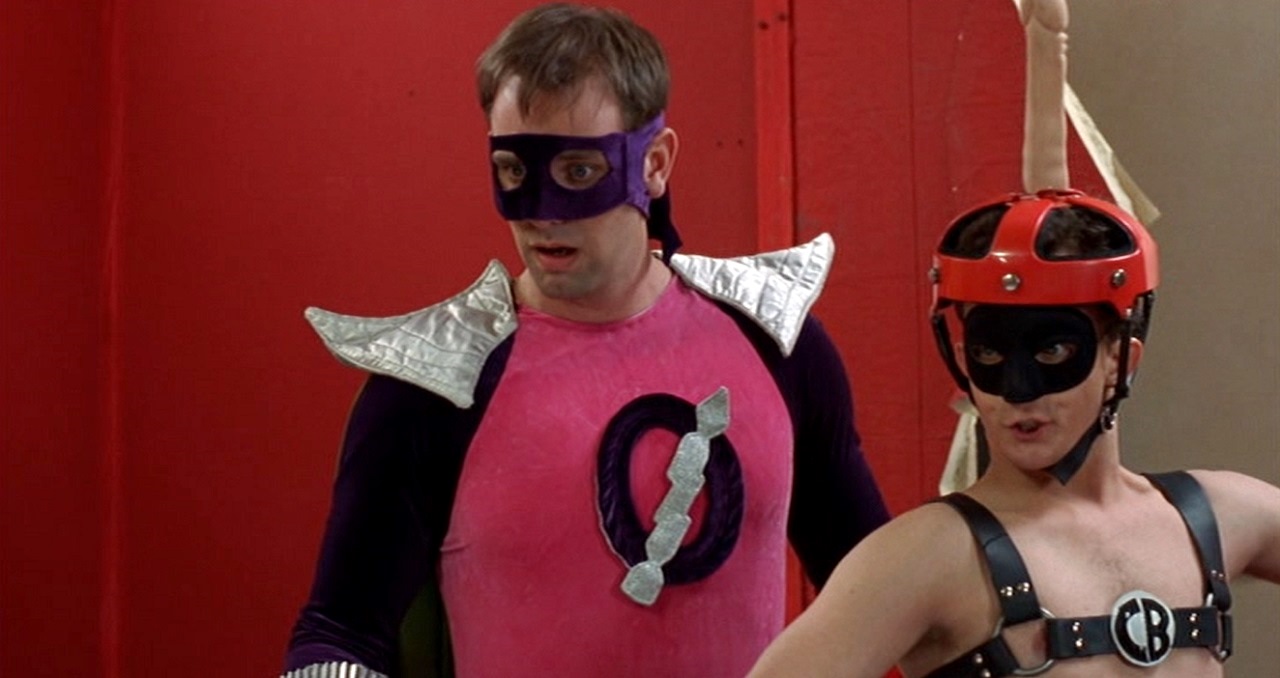 Orgazmo makes for interesting comparison to M. Night Shyamalan's Unbreakable (2000). Both are superhero films – but postmodern superhero films where the superhero is an ordinary guy who is forced by circumstances to become a superhero and then starts to model his actions on comic-book superheroic models. The end wherein the principal antagonist then chooses to become the super-villain is remarkably similar in both films. A few years later the superhero with no powers idea was conducted far more cleverly in the likes of Special (2006), Defendor (2009), Kick-Ass (2010) and Super (2010).
In the same absurdist/irreverent vein, Trey Parker later went on to direct the animated South Park: Bigger, Longer & Uncut (1999) and the obscene puppet political/action movie satire Team America: World Police (2004).
Orgazmo should not be confused with the earlier Italian giallo psycho-thriller Orgasmo (1969).
---
---