---
[All Uncredited]
Crew
Director/Screenplay/Photography – Steven Soderbergh, Producer – John Hardy, Music – Cliff Martinez, Jeff Rona & Steven Soderbergh. Production Company – .406 Productions.
Cast
Steven Soderbergh (Fletcher Munson/Dr Jeffrey Korchek), Betsy Brantley (Mrs Munson/Attractive Woman #2), David Jensen (Elmo Oxygen), Eddie Jemison (Nameless Numberhead Man), Mike Malone (T. Azimuth Schwitters), Scott Allen (Right Hand Man), Trip Hamilton (Greg Korchek), L. Christian Mixon (Bad Guy), Katharine LaNasa (Attractive Woman #1)
---
Plot
In Baton Rouge, Fletcher Munson is an employee at the company of T. Azimuth Schwitters, author of the self-help book Eventualism. Fletcher learns that his boss Lester Richards has died and that he is now required to write an all-important speech. As Schwitters comes under attack in the media, there is the belief that there is a mole among the staff. Fletcher has been receiving anonymous calls asking him to divulge information. At home, Fletcher and his wife have been reduced to generic greetings. Fletcher follows her and discovers that she has been having an affair with dentist Jeffrey Korchek. Korchek pushes her to leave Fletcher for him but then finds himself falling for another attractive patient.
---
Steven Soderbergh has become one of the most intelligent and interesting filmmakers in the US today. Soderbergh first appeared with Sex, Lies and Videotape (1989), which won the Palme d'Or at Cannes and had Soderbergh nominated for an Oscar with his first film. For several years after, Soderbergh failed to repeat that, making the likes of Kafka (1991), King of the Hill (1993), The Underneath (1995), Gray's Anatomy (1996) and Schizopolis, none of which seemed to set critics or arthouse audiences alight. Soderbergh then had a commercial success with Out of Sight (1998) and went on to make the acclaimed likes of The Limey (1999), Erin Brockovich (2000), Traffic (2000), Ocean's Eleven (2001) and sequels, Solaris (2002), The Good German (2006), Contagion (2011), Haywire (2012) and Magic Mike (2012), among others. He has also been prolific producing films for other people. (See below for Steven Soderbergh's other genre films).
Schizopolis is one of the least accessible or easy to find of Steven Soderbergh's early films. Soderbergh had a budget of only $250,000 (normally that of a B movie) and shot the film around where he was living in Baton Rouge. Soderbergh casts himself in the two lead roles on the grounds that he was the most available actor on his filming schedule (where you cannot help but think he resembles Woody Harrelson's nerdier younger brother). Soderbergh also casts his real-life ex-wife Betsy Brantley as his character's wife, while their child is played naturally enough by their own daughter.
Almost every commentator on Schizopolis gives it a "huh?" and greets it with a scratch of the head. Your mind boggles at how Soderbergh would have gone about pitching the film to investors, even how he would have described it to people. More likely, he just had people throwing money at him on the basis of Sex, Lies and Videotape without anybody asking too many questions.
The film opens with Soderbergh standing up on a stage in an empty theatre to announce: "When I say that this is the most important motion picture you will ever attend, my motivation is not financial gain but a firm belief that the delicate fabric that holds all of us together will be ripped apart unless every man, woman, and child in this country sees this film and pays full ticket price. Not some bargain matinee cut rate deal. In the event that you find certain sequences or ideas confusing, please bear in mind that this is your fault not ours. You will need to see the picture again and again until you understand everything. And now, filmed in its entirety and proven to heal minor cuts and abrasions, we proudly present, Schizopolis."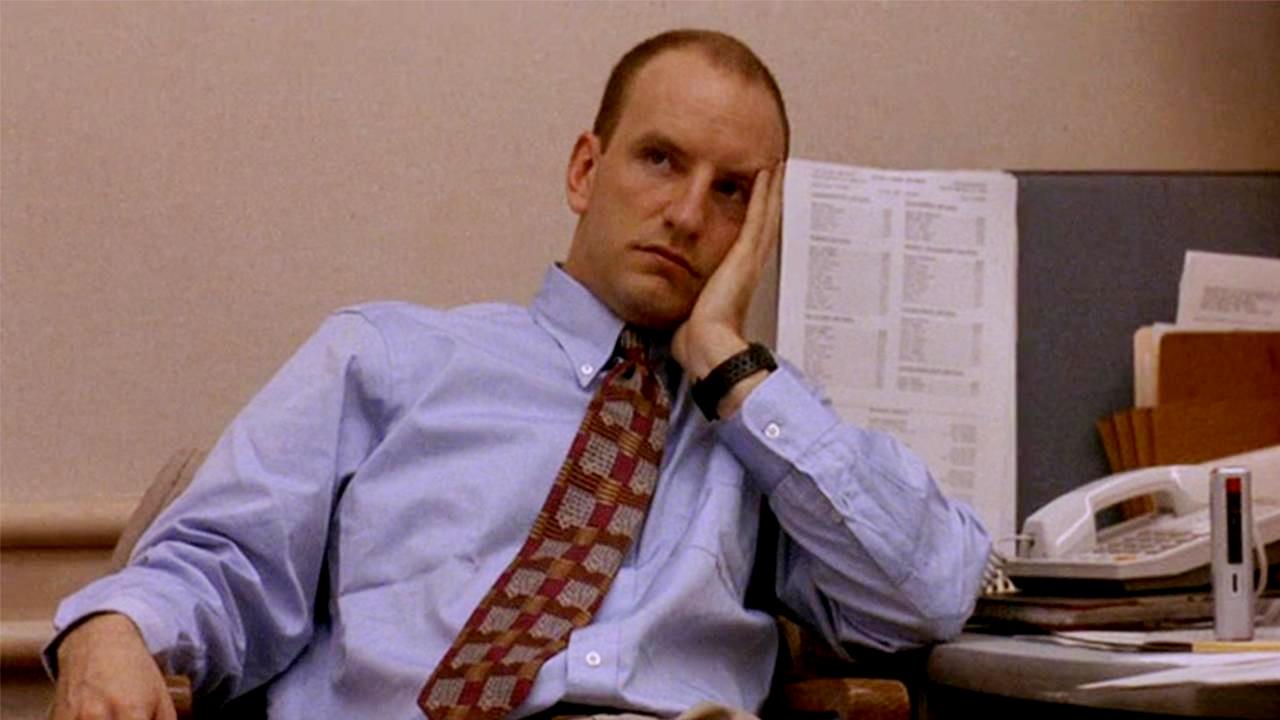 In the scenes where we watch Soderbergh in the role of Fletcher Munson navigating the corporate world of a shonky, possibly scam author of self-help works, you get the impression that Soderbergh was aiming to create a workplace satire – perhaps something along the lines of what Sorry to Bother You (2018) was more successful at achieving.
Soderbergh plays two roles, that of corporate peon Fletcher Munson and the dentist who woos his wife away. This had led some people to interpret Schizopolis as a Doppelganger film. That said, there is nothing supernatural or surreal about this other than one actor playing two different roles.
Schizopolis is at its more surrealistic when we get to the scenes of Soderbergh and Betsy Brantley together where their conversation consists of terms like "generic greeting", "imminent sustenance". "false reaction", "semi-innocent query" and the like. He exchanges casual greetings with his neighbour like: "Is your wife coming over tonight? Because her big ass always leaves me satisfied." There is also the character of the exterminator Elmo Oxygen (David Jensen) who visits various households and apparently seduces the housewives during which the dialogue they exchange seems to consist of random meaningless phrases. Later dentist Soderbergh start to speak variously in Italian, French and Japanese. There is sort of a plot connecting it all together but quite what it is all about is a scratch of the head (or maybe the need to go and pay full ticket price).
Steven Soderbergh's other films of genre interest are the fictionalised biopic Kafka (1991), the remake of Solaris (2002), the plague outbreak drama Contagion (2011) and the asylum horror film Unsane (2018). Soderbergh has also produced a number of films, including the genre likes of the English language remake of Nightwatch (1998), Pleasantville (1998), Christopher Nolan's remake of Insomnia (2002), the time travel film The Jacket (2005), Richard Linklater's Philip K. Dick adaptation A Scanner Darkly (2006), the ghost story Wind Chill (2007), the evil child film We Need to Talk About Kevin (2011) and Bill & Ted Face the Music (2020).
---
Trailer here
---