---
Crew
Director/Screenplay – Kellen Moore, Producers – Glenn Frotiner, Jeremy Garelick, Mickey Liddell, Will Phelps, Austin Sepulveda & Pete Shilaimon, Photography – Damian Horan, Music – Dean Hurley, Visual Effects – Digital Artist Coalition, Entoptic (Supervisor – Andrew Lim), Flying Turtle Post (Supervisor – Shaina Holmes) & Neon Digital Finishing, Production Design – Jennifer Klide. Production Company – American High.
Cast
Brandon Flynn (Max Richards), Julia Goldani Telles (Alex), Annie Mumolo (Jan Richards), Peter Solar (Paul Richards), Ki Hong Lee (Dan), Priscilla Lopez (Esther), Susan Berger (Rosemary), Monique Kim (Yu Shen), Sea McHale (Craig), Tiffany Milian (Erica), Tom Proctor (Therapist Vin), Lucia Giannetti (Debbie)
---
Plot
Ever since birth, Max Richards has had the ability to cause anybody who looks at him to drop dead, beginning with his delivery room doctors. His parents moved to the nowhere town of Blegh, Massachusetts and Max has been home-schooled. Now a teenager, Max keeps his face hidden behind bandages and sunglasses. His only friend is Dan who encourages him to find a girlfriend using a dating app. After his first date proves a washout, Max decides he wants to end it all. He is about to jump from a bridge when he meets Alex whom he had previously spoken to in a hospital waiting room. She invites him along with her to visit an old people's home. Max becomes enchanted with Alex and contrives to meet her again. They strike up an attraction, even though Max cannot allow her to see his face.
---
There is going to be a certain percentage of you that are just going to stop reading the moment I mention that Looks That Kill is a Romantic Comedy. If you are going to let your prejudices against an entire genre rule then please stop reading now, otherwise I'd implore you to give this one a chance. I'm the first to agree that most romcoms are drivel – I recently wrote an essay on the topic here at Romantic Comedies and was stretching to find any worth recommending. On the other hand, there are always exceptions in any genre.
Looks That Kill is my kind of romcom. Any film that offers up a Meet Cute where the guy is in the process of jumping from a bridge and the girl walks by and strikes up a cheerful conversation about how they need to find a better bridge because that one is not tall enough for him to kill himself from hits the level of mordant humour that strikes a note with me. Did I mention that my humour runs to the very black and my all-time favourite romcom is Harold and Maude (1971)?
If there was any precedent to compare Looks That Kill to it might be the weirdly funny Nice Girls Don't Explode (1987) about a girl whose dates have a habit of bursting into flames. This is a film that you can't help but think could with a 180 degree twist have easily been turned into a superhero film – Max is not dissimilar to Rogue's deadly kiss in X-Men (2000) and you could easily imagine Max being taken in by Xavier's School for Gifted Youngsters.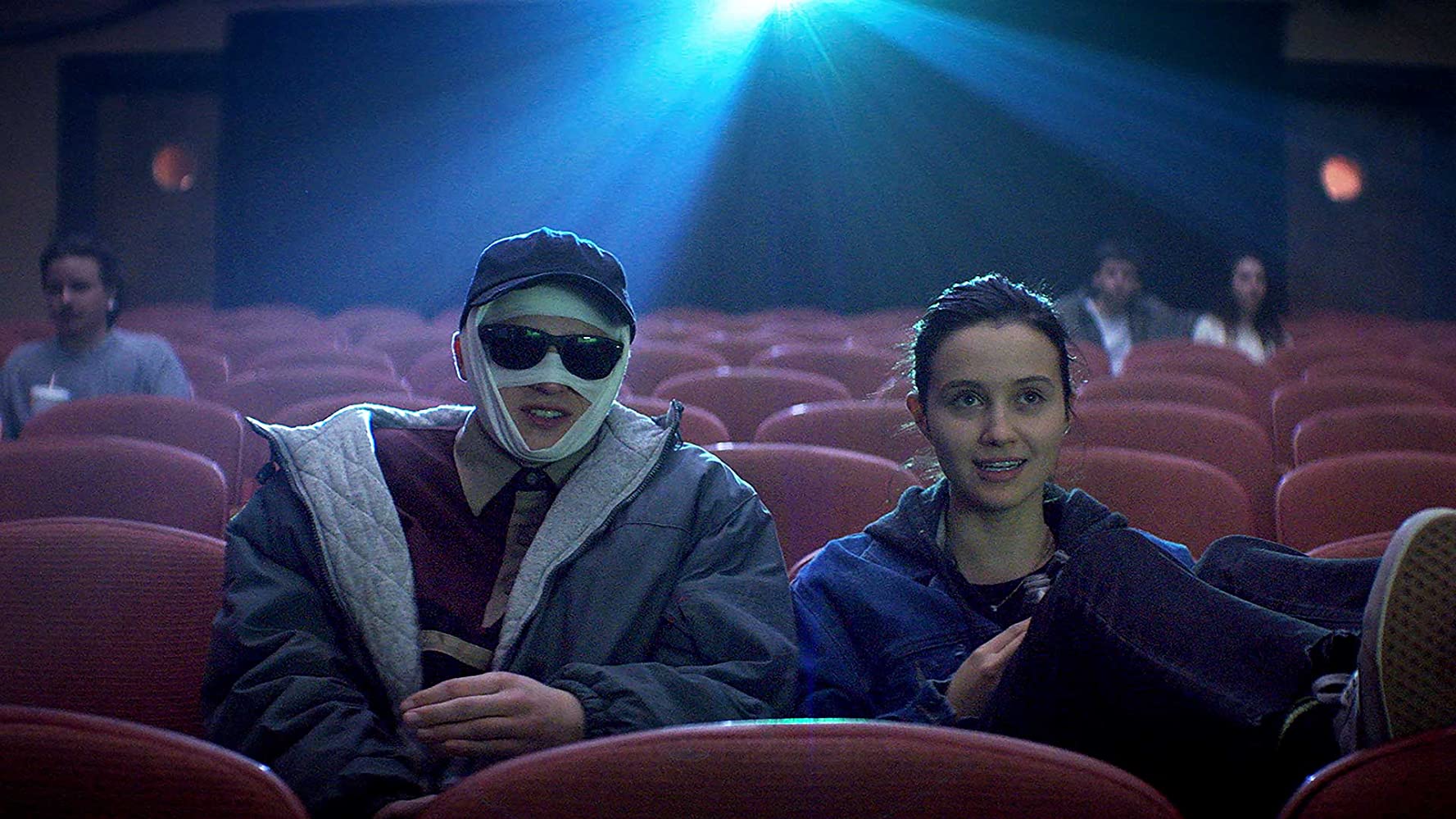 Looks That Kill ended up completely winning me over. If it wasn't the idea of a romantic comedy with such an offbeat premise, it was the wonderfully understated deadpan of Kellen Moore's sense of humour. This is a film that overspills with originality and quirkiness, The scenes with the first kiss under the blanket are quite magical. And the performance of Monique Kim as the exchange student, all delivered without a line of dialogue in English, is side-splitting in its deadpan sourness. It is a film that arrives on screen fully formed. There is not a single move that Kellen Moore makes that is out of place.
Chief among Moore's collaborators is Julia Goldani Telles whose performance has just the right mix of bubbly quirkiness – she bursts onto the screen with a freshness that sweeps you up. She gets Moore's sense of deadpan humour pitch perfect and the film would be a whole lot the lesser without her. It is almost impossible to discuss Brandon Flynn's performance as it is delivered with his face covered in bandages or sunglasses – even when he takes his bandages off, all we see of his face is only partial sections like a cheek or one eye.
The only aspect I might criticise is the ending, which is just a little too manically upbeat [PLOT SPOILERS], having Max regarded as a hero of the euthanasia movement. Go look up the story of Dr Jack Kevorkian to see how this would end as the Kevorkian story did in real-life – in all likelihood with Max in behind bars for the rest of his life.
Kellen Moore makes his feature-length debut with Looks Could Kill, having made a variety of short films since the early 2000s. On the basis of this, Moore has a promising career ahead of him and I am most interested to see what he makes next.
---
---