---
Crew
Director – Donald Petrie, Screenplay – Amy B. Harris & I. Marlene King, Story – Jonathan Bernstein, Mark Blackwell, James Greer & I. Marlene King, Producers – Arnon Milchan, Donald Petrie & Arnold Rifkin, Photography – Dean Semler, Music – Teddy Castellucci, Visual Effects Supervisor – Randall Balsmeyer, Visual Effects – Furious FX & Pacific Vision Productions, Special Effects Supervisor – Mike Meinardus, Production Design – Ray Kluga. Production Company – New Regency/Cheyenne Enterprises.
Cast
Lindsay Lohan (Ashley Albright), Chris Pine (Jake Hardin), Faizon Love (Damon Phillips), Samaire Armstrong (Maggie), Bree Turner (Dana), Missi Pyle (Peggy Braden), McFly (Themselves), Makenzie Vega (Katie), Carlos Ponce (Antonio), Chris Carmack (David Pennington), Tovah Feldshuh (Madame Z), Jacqueline Fleming (Tiffany), Mikki Val (Tough Jailbird), Strawn Bovee (Mrs Pennington)
---
Plot
Ashley Albright, a PR assistant in New York City, has perfect luck, always managing to find money on the street, win lottery tickets or have remarkable coincidences happen in her favour. After she receives a promotion due to one such coincidence, she is given the job of throwing a party for hotshot record producer Damon Phillips. At the same time, Jake Hardin is someone who has perpetual bad luck – always being splashed by puddles, tripping, having accidents and so on. Jake is trying to get an audition with Damon for McFly, a British band that he manages, and sneaks into Ashley's party. He and Ashley meet and the two kiss on the dancefloor. Afterwards Ashley discovers that she now has bad luck – in no time at all she is arrested, fired from her job and her apartment trashed – while Jake discovers that he has inherited Ashley's luck and is on the way to instant success. Having realised that her luck was transferred by their kiss, Ashley sets out to find Jake and get it back.
---
Just My Luck was a star vehicle for actress Lindsay Lohan. Lindsay Lohan's star rose in the early 2000s, while only in her teens, with roles in films like Freaky Friday (2003), Confessions of a Teenage Drama Queen (2004), Mean Girls (2004) and Herbie: Fully Loaded (2005). Just as much as Lohan's star rose, she also accrued an inordinate number of tabloid headlines over public spats and barroom brawls with other celebrities, concerning her quarrelling parents and their bitter public divorce, drug and alcohol busts, before the indignity of a very public rebuke from the studio head of having an unprofessional attitude on set, followed by a spate of DUI arrests and a revolving door of visits to court and rehab.
As with a great many other stars of recent – Jennifer Lopez, Paris Hilton, Mariah Carey – the paparazzi minutiae and obsession over the publicly played-out disasters of the stars' private lives ends up eclipsing any virtue their talent may hold. At one point – with her roles in Freaky Friday and Mean Girls – Lohan seemed a promising new talent. A couple of years later she seemed to not only be on the downside of a Who Cares crest, but also frittering away her talent with ill-advised films like Herbie: Fully Loaded and Just My Luck. By 2007, Lohan's career had become so much of a train wreck and she such a public joke that she was considered fairly much unemployable everywhere in Hollywood.
Just My Luck is a film that only leaves you thinking what an inanely silly and frivolous premise for a film it is. It is not that the idea of a film about luck doesn't have interesting possibilities – see works like the short-lived tv series Strange Luck (1995), or films like The Cooler (2003), Woody Allen's Match Point (2005) and especially the Spanish thriller Intacto (2001). Indeed, fate and luck have even been used as the basis for a romantic comedy before in Serendipity (2001), which is a much better film than this.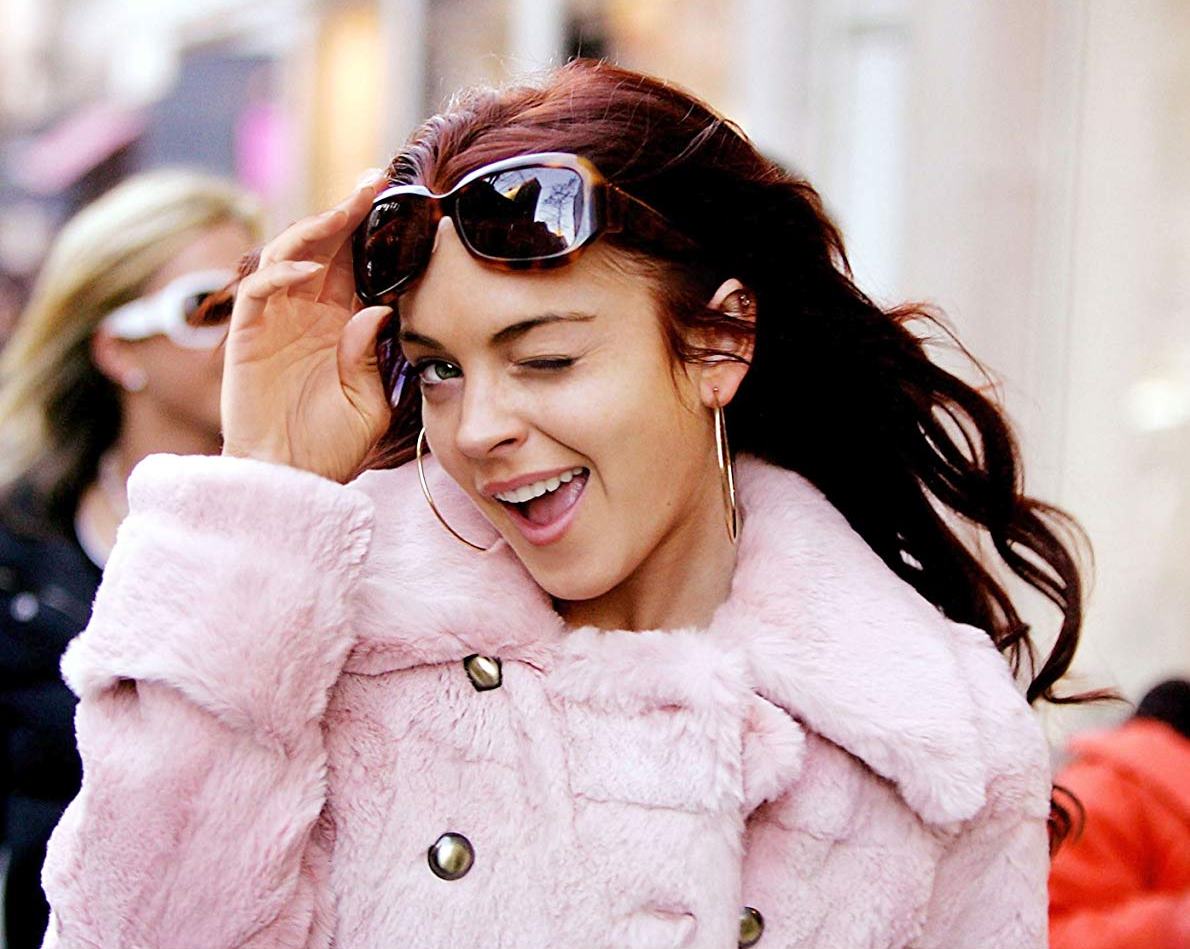 However, Just My Luck lacks even a fully developed premise – just the notion that Lindsay Lohan has amazing good luck, Chris Pine has very bad luck and then both of them swap lucks – and that is about it. It feels like a one-joke premise and certainly one that is never explored beyond the boundaries of the film's exceedingly lightweight romantic comedy premise. You keep wanting to ask more substantial questions like – why is it that luck/fate seems to favour people like Lindsay Lohan and dumps upon others like Chris Pine? Why is it that luck can be transferred by a kiss? Or even in that Lohan has never experienced the problem of losing her luck before, does that mean that she is virginal and unkissed? The tv series Strange Luck also featured a hero who had remarkable luck but managed to turn each episode into something clever in the unveiling of its plot twists. All Just My Luck does is to make a comedy based around people's misfortunes.
Just My Luck is directed by Donald Petrie, who has made various comedies like Grumpy Old Men (1993), The Associate (1996) and Welcome to Mooseport (2004) and in recent years has specialised in light romantic/comedic Chick Flicks such as The Favor (1994), Miss Congeniality (2000), How to Lose a Guy in 10 Days (2003) and My Life in Ruins (2009). Petrie has made a couple of unmemorable genre outings before with the comic-strip adaptation Richie Rich (1994) and the big screen remake of tv's My Favorite Martian (1999). None of these amount to anything memorable.
In Just My Luck, Donald Petrie construes most of the film around some incredibly inane slapstick sequences – a scene at the start with Chris Pine racing after record exec Faizon Love but tripping up, being splashed by passing cars, picking up a five dollar bill covered in dog shit, and then tripping over a jogger and being mistaken for a rapist; or others with Lindsay Lohan rushing around New York City having to kiss various guys to get her luck back; and a series of montages about her bad luck disasters at the bowling alley. As this kind of humour grinds on and on in a painfully unfunny way, you keep squirming in your seat and watching Lindsay Lohan's career being visibly flushed down the toilet. It is also near impossible from watching the film to think that Chris Pine, giving the embarrassing performance he does here, would go onto take on prominent roles like Captain Kirk in Star Trek (2009).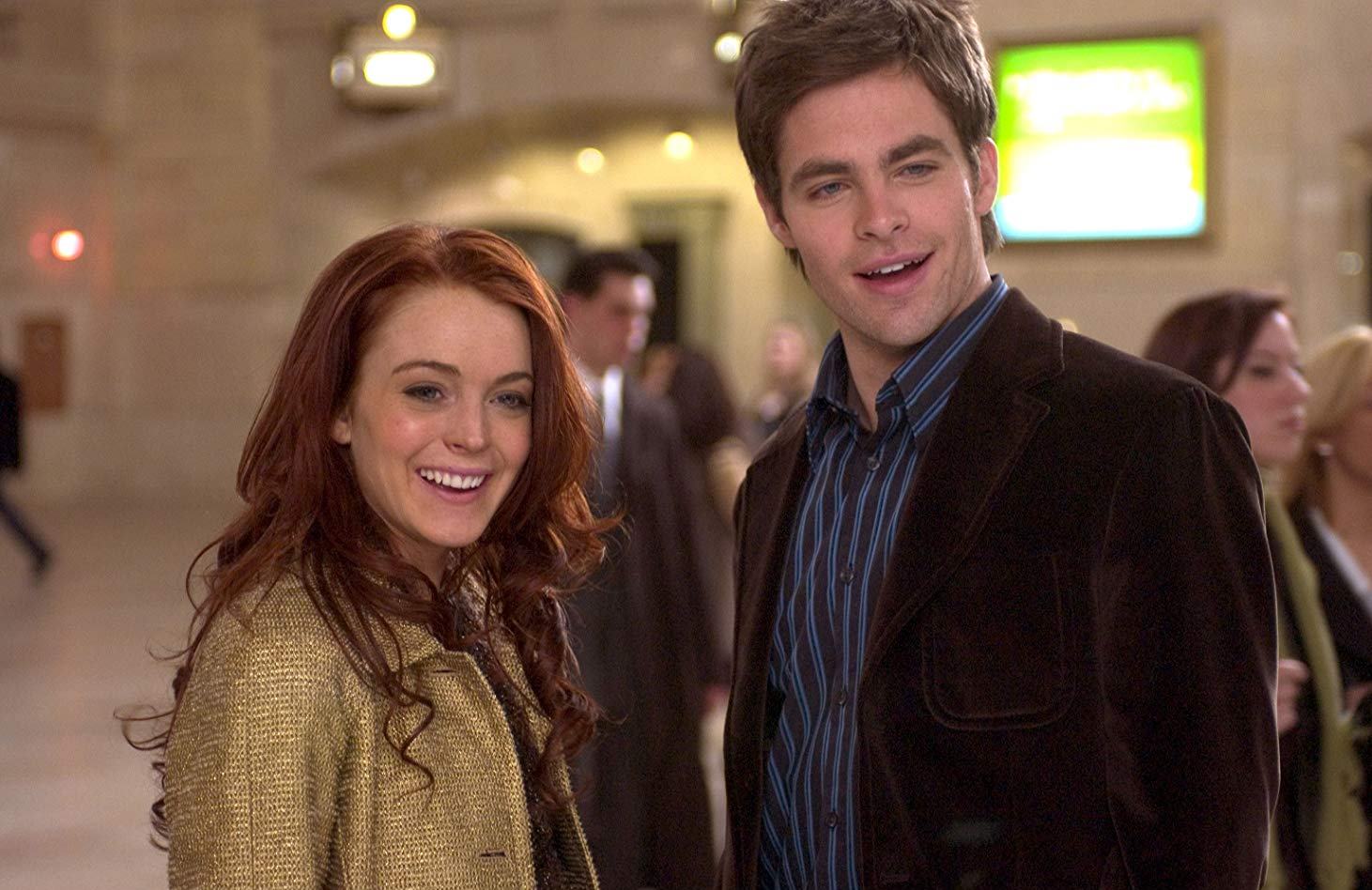 Oblivious to the disaster happening around her, Lindsay Lohan seems to regard much of Just My Luck as being conducted as an exercise in her own adulation. Rather than thinking you are looking at a character who seems unconsciously assuming of a life of privilege due to remarkable good luck, you feel like you are watching a glib, spoiled individual who regards such a world of privilege as her natural due. Indeed, the only virtue that Just My Luck might have is for the Lindsay Lohan haters is seeing her undergoing a series of ritual humiliations during the middle of the film – falling over, being splattered, electrocuted and so on.
Although in a film like this, and especially one starring a diva like Lindsay Lohan, you know that poverty and misfortune are no more than passing plot points that exist solely for a laugh and are at most a temporary misfortune that she must win her way out of, rather than an examination of the way some people really live.
There is also a cynicism undermining Just My Luck in that much of the film appears to have been conducted as an infomercial for British boy band McFly who appear throughout as themselves – the end credits even announce "The new McFly album Just My Luck available now."
(Winner in this site's Worst Films of 2006 list).
---
---