---
Crew
Director/Screenplay – Brian Duffield, Based on the Novel by Aaron Starmer, Producers – Nikki Cortese, Brian Duffield, Matt Kaplan & Jordan Levin, Photography – Aaron Morton, Music – Joseph Trapanese, Visual Effects – CBFX (Supervisor – Anthony Kramer) & CVD VFX Ltd. (Supervisor – Chris Van Dyck), Special Effects Supervisor – Darren Marcoux, Production Design – Chris August. Production Company – Jurassic Party.
Cast
Katherine Langford (Mara Carlyle), Charlie Plummer (Dylan Hovemeyer), Hayley Law (Tess McNulty), Rob Huebel (Charlie Carlyle), Piper Perabo (Angela Carlyle), Yvonne Orji (Agent Rosetti), Laine MacNeil (Jenna), Clive Holloway (Joe), Steve Bundic (Steve), Marlow Percival (Becky), Braeden Shrimpton (Cole), Luvia Petersen (Dr Rolanda), Jared Ager-Foster (Jed), Kaitlyn Bernard (Skye), Chris Shields (Mr Spiros), Jarrett Carlington (Perry Love), Chelah Horsdal (Denise), Mellany Barros (Katelyn Ogden), Doralynn Mui (Cranberry)
---
Plot
Calculus class at Covington High School is interrupted as Katelyn Ogden abruptly explodes, showering the room in a gout of blood. There is shock and panic in the aftermath as nobody knows how to react. In the midst of this, seventeen year-old Mara Carlyle is befriended by classmate Dylan Hovemeyer who admits an attraction to her. The two of them strike up a relationship. Meanwhile, other classmates keep spontaneously exploding at random. The FBI come in with scientists who determine to find out why students are exploding and put a stop to it.
---
Spontaneous is adapted from a 2016 Young Adult novel by Aaron Starmer who also executive produces the film. The film was a directorial debut for Brian Duffield, previously a screenwriter on films like Insurgent (2015), Jane Got a Gun (2015), The Babysitter (2017), Love and Monsters (2020) and Underwater (2020).
Spontaneous feels like it belongs to a spate of mid-1990s films that came out in the aftermath of Firestarter (1984). Several of these spun the pyrokinesis theme out into romantic comedies with the likes of Nice Girls Don't Explode (1987), Pyrates (1991), She Starts the Fire (1992) and Wilder Napalm (1993). I assumed that this what we had here, although this turns out to not quite be the case. The title 'spontaneous' cannot help but make you think of spontaneous human combustion, except that there is no combustion going on – rather than burst into flame, people explode in great gouts of blood that splatter everybody in the near vicinity. The film never offers any explanation for why the teenagers in one particular high school class are exploding. Various pills and treatments are offered as cures, although we get the indication that these are guesses as much as anything else, while the phenomenon ends just as abruptly as it began.
What Spontaneous seems to be intended as is a comedy. It sits with either feet in the Romantic Comedy and the Young Adult genre, although I would hesitate in completely labelling it as belonging as in either camp. What should be said is that it can be enjoyed as just a quirky comedy where one need not worry about throwing genre labels at it.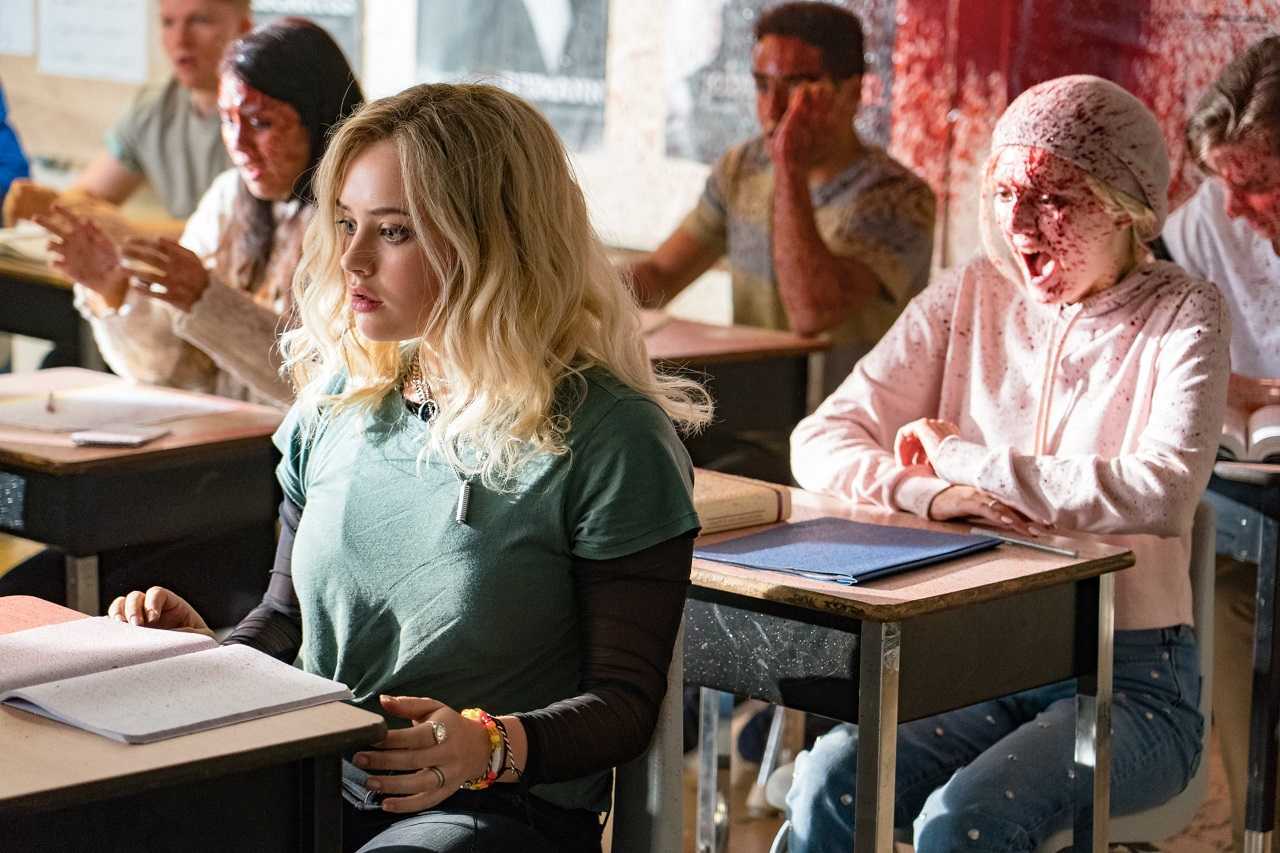 Almost as soon as the film begins, you are falling in love with Brian Duffield's witty play of dialogue. The overspills with move quotes and in-references – Charlie Plummer's compares the situation "It was like a Cronenberg movie," clearly referencing the head-exploding scenes in Scanners (1981). We even get jokes about Steven Soderbergh's Traffic (2000) and a recreation of a scene from E.T. – The Extra-Terrestrial (1982) in the isolation ward. Duffield has a great sense of humour and the film positively overflows with wryly ironic wit.
The film gets perfect casting from Australian actress Katherine Langford in the central role. She is the icing on the cake and mainlines the film's tone with a great sense of wry cynicism. By far her more entertaining scenes come after her slip into alcoholism, making specialty cocktails for her father, throwing bottles at the FBI agent's car and turning up to the prom, pouring a whole bottle of tequila into the punch bowl and going off to drink direct from the bowl. Langford projects such a strong screen presence I can easily see her going great places in the future.
She is wonderfully paired with Charlie Plummer – I stretch to think of any other screen pairing of recent where the couple seem to synch so well and create a natural energy and rapport together. This of course adds all the more to the abrupt and jolting twist that comes in the middle of the film.
(Winner in this site's Top 10 Films of 2020 list. Nominee for Best Actress (Katherine Langford) at this site's Best of 2020 Awards).
---
Trailer here
---