---
Crew
Director – Michael Gottlieb, Screenplay – Michael Gottlieb & Edward Rugoff, Producer – Art Levinson, Photography – Tim Suhrstedt, Music – Sylvester Levay, Special Effects – Phil Cory, Production Design – Josan F. Russo. Production Company – Gladden Entertainment.
Cast
Andrew McCarthy (Jonathan Switcher), Kim Cattrall (Emmy), Meshach Taylor (Hollywood), G.W. Bailey (Felix), Estelle Getty (Claire Timkin), James Spader (Richards), Carole Davis (Roxie), Stephen Vinovich (B.J. Wert), Christopher Maher (Armando)
---
Plot
In Ancient Egypt, the beautiful Emmy pleads with the gods to deliver her from an arranged marriage to a camel dung dealer. Her prayers are answered and she suddenly vanishes. In present-day Philadelphia, window dresser Jonathan Switcher is having difficulty keeping jobs due to his impractical artistic ambitions. When he saves the life of department store owner Claire Timkin, he asks for a job, much to the displeasure of her autocratic and double-dealing store manager. While dressing the window, a mannequin he created comes to life as Emmy, although she is only able to reveal herself to him. True love ensues between the two but what is an apparent romance between he and a mannequin causes quite a few raised eyebrows.
---
This is one of the most vapid of all 1980s light fantasy films. It is a far more stupid and vacant film than synopsis could adequately demonstrate. It is amazingly hard to believe that a film with a lame concept like this ever managed to get greenlit. Surprisingly, this was not the first filmed work about mannequins come to life before with the classic The Twilight Zone episode The After Hours (1960) starring Anne Francis, which interestingly enough played the concept seriously..
Mannequin is utterly inane. Director Michael Gottlieb throws in slapstick sequences involving a waiter's wig in a restaurant, people swinging around on neon signs and car and foot chases involving everybody becoming entangled in the lingerie department. Everything is overlaid with double entendres delivered with much frenetic eye-rolling. Scenes with Andrew McCarthy and Kim Cattrall running about the store in various costumes, as rockers, gangsters and opera divas have an emptiness that feels like an MTV clip waiting for the music to happen.
One cannot help but interpret Mannequin as the ultimate yuppie wet dream – unsuccessful guy falls in love with a woman who has no substance except as a fashion accessory, is then able to succeed in his job. There is an utterly insipid 80s score.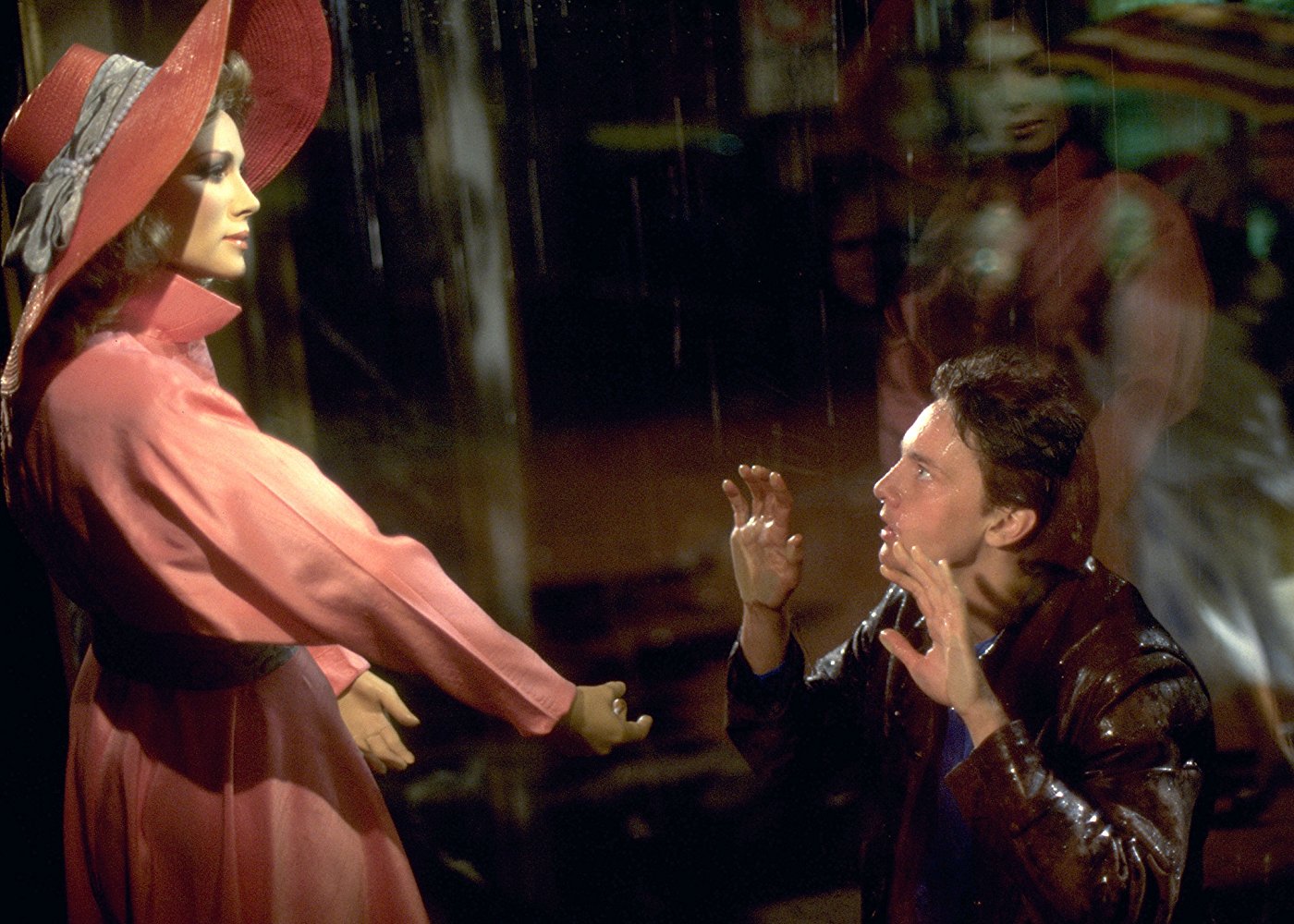 Among a host of bad performances, Meshach Taylor plumbs depths as a flamboyantly campy gay window-dresser. G.W. Bailey gives an embarrassing performance, while James Spader gives what must surely be the worst of his career. At least Spader and Kim Cattrall managed to live down fare like this done at the early stages of their careers and go onto far better things.
Mannequin on the Move (1991) was, believe it or not, a sequel starring Kristy Swanson as a statue brought back to life, and is actually a slightly better film.
Director Michael Gottlieb went onto such other undistinguished light comedy fare as Boyfriend from Hell (1990), Mr Nanny (1993) and A Kid in King Arthur's Court (1995).
---
---