---
Crew
Director/Screenplay/Producer – Dale Launer, Inspired by the Song by Jerry Leiber & Mike Stoller, Photography – William Wages, Music – Jed Leiber, Makeup Effects – David B. Miller, Production Design – Linda Pearl. Production Company – 20th Century Fox.
Cast
Tate Donovan (Paul Mathews), Sandra Bullock (Diane Farrow), Mary Mara (Marisa), Dale Midkiff (Gary), Anne Bancroft (Madame Ruth), Dylan Baker (Prince Geoffrey), Adrian Paul (Enrico Pazzoli), Bruce Clark (Motorcycle Cop), Rebecca Staab (Cheryl), Hillary Bailey Smith (Sally)
---
Plot
Paul Mathews visits the fortune-teller Madame Ruth. Upon reading his palm, she is surprised to find there is no love in his future at all. She gives him a sample of the love potion No 8. Back home, Paul throws it away only to see his cat lick it up and then attract every other cat in the neighbourhood. The next day, at the biochemistry lab where he works, Paul and nerdy co-worker Diane Farrow synthesize the potion and decide to use themselves as test subjects. Diane is amazed when this causes wealthy Italian heirs and British princes to be running after her. She and Paul admit an attraction for one another but then she abruptly reconciles with her ex Gary. As they make plans to marry, Paul discovers that Gary has been using the potion to control Diane's emotions.
---
This must be one of the few examples I have come across where we have an entire film based on a song. There have been plentiful examples where a song title is used as the basis of a film – La Bamba (1987), Great Balls of Fire (1989), Across the Universe (2007), Mamma Mia (2008), Bohemian Rhapsody (2018) etc – but not many that actually adapt the actual lyrics of the song into an entire film – Alice's Restaurant (1969) and Convoy (1978) are all I can think of. Although in genre material, there was the earlier entirely terrible Purple People Eater (1988).
The song in question here is Love Potion No 9, which was first recorded by The Clovers in 1959, although the version everyone is familiar with is the hit recording from The Searchers in 1964. It has been covered by a number of artists since then. The lyrics tell of a narrator who in his own words is "a flop with chicks" who goes to see a Gypsy fortune-teller and is given the titular love potion. After drinking it, the narrator then begins "kissing everything in sight" until they kiss a cop and the bottle of potion get broken. The film follows the basics of the song, although drops anything to do with kissing the cop. For some reason, in contrast to the song's title, the film concerns Love Potion No 8.
Love Potion No 9 disappeared in theatrical release, earning only $754,000, but found a modest afterlife on video thereafter. The only real distinction the film has in retrospect is that is features Sandra Bullock who shortly after this went on to become an A-list name and later an Academy Award-winning Best Actress. This was back when Bullock was a largely unknown name and a couple of years before her big breakout success in Speed (1994). In the first scene here, she is deliberately made down in hornrim glasses, ugly haircut and nerd clothing – although she does get a makeover during the course of the film and spend the latter half in a series of ball gowns and a wedding dress.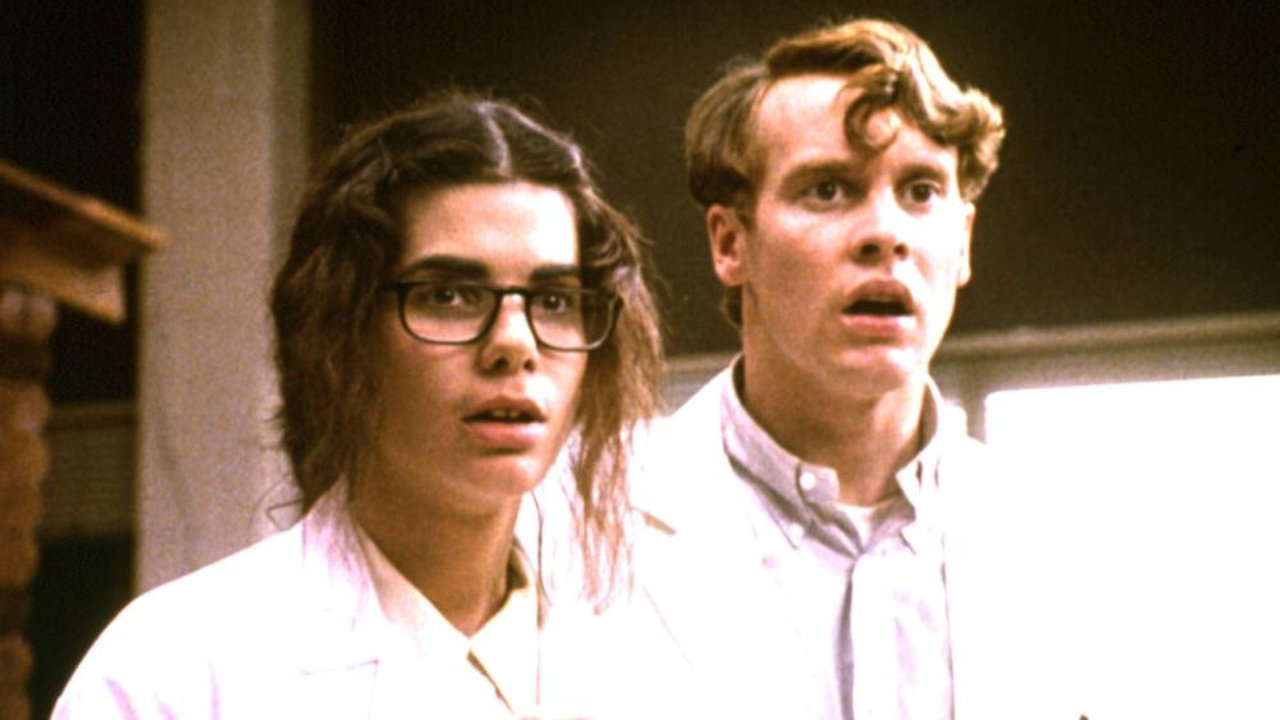 Love Potion No 9 is not a particular interesting film. It is largely dependent on gender and romantic comedy stereotypes. There are a number of scenes showing the potion in action, although almost all of these depict the effect it has by Sandra Bullock using it and attracting a string of traffic cops (although not kissing them), Italian heirs, British princes (a then unknown Dylan Baker) and her ex Dale Midkiff. Tate Donovan's usage of the potion doesn't get much of a look-in, apart from one scene where he uses it to get comeuppance against Rebecca Staab after she turned him down at a bar. Thereafter though he becomes the butt of a routine where Mary Mara (who the script seems awfully ambiguous coming and saying that she is meant to be a hooker) finding the spray and using it to make Tate (and other men) give her all their valuables.
The disappointment of the film is that about halfway through the script abandons interest in dealing with the possibilities the formula can be put to (although it does show both Mary Mara and Dale Midkiff as unscrupulous individuals using the formula to control and exploit individuals). Instead we get a standard Romantic Comedy plotline where Tate Donovan must try and rescue Sandra Bullock after Dale Midkiff uses the potion to control her mind and make her marry him. There's a contrived wrap-up involving an antidote to the potion that bring out people's genuine feelings for one another.
Love Potion No 9 was one of only two films directed by Dale Launer, the other being Tom's No Heaven (2005). Launer's greater success came as a screenwriter with the scripts for comedies like Ruthless People (1986), Blind Date (1987), Dirty Rotten Scoundrels (1988), My Cousin Vinny (1992) and The Hustle (2019).
---
Trailer here
---