---
Crew
Director/Screenplay – Tilman Singer, Producers – Dario Mendez Acosta & Tilman Singer, Music – Simon Waskow, Visual Effects – Patrick Buhr, Makeup Effects – Rudeina Konstantini, Production Design – Dario Mendez Acosta. Production Company – Kunstochschule Fur Medien Koln.
Cast
Luana Velis (Luz Carrara), Jan Bluthardt (Dr. Rossini), Julia Riedler (Nora Vanderkurt), Johannes Benecke (Olarte), Nadja Stubiger (Bertillon), Lilli Lorenz (Margarita)
---
Plot
Luz Carrara, a Colombian immigrant working as a taxi driver, walks into a police station following an accident. She is questioned by detectives Olarte and Bertillon and appears in a distressed state. Meanwhile, Nora Vanderkurt, who was the passenger in Luz's taxi, approaches psychologist Dr Rossini in a bar, telling a strange story about a girlfriend she had not seen for many years. She then takes over Rossini's body in the bathroom. The possessed Rossini heads to the questioning of Luz by the police. He places Luz into a hypnotic trance to get her to recall what happened during the accident. In the course of doing so, the entity in Rossini reveals that it is a demon that was summoned by a blasphemous ceremony conducted by the young Luz at Catholic orphanage and it has returned because it loves her.
---
Luz was a feature-length directorial debut for German director Tilman Singer who had previously made several short films. The film played at a number of international film festivals.
Luz immediately holds your attention. I watched it what would seem to me to be optimal way to do so – I first read the description of the plot – "Luz, a young cabdriver, drags herself into the brightly lit entrance of a run-down police station. A demonic entity follows her, determined to finally be close to the woman it loves" – and then sat down to watch. Of course, your puzzle immediately becomes that you are watching a film filled with slow, static camera movements that seem completely the opposite of anything you expect from such a description.
The first several minutes consist of a single shot – a wide angle on the foyer of the police station as Luana Velis enters, walks about and over to the snack machine before suddenly yelling at the man calmly sitting behind the reception desk. This is followed by a similar long scene with Jan Bluthardt and Julia Rielder sitting at a bar engaged in a nonchalant conversation that seems like two strangers meeting. This is all accompanied by a weirdly alienating score that reminds me of the work of Popol Vuh.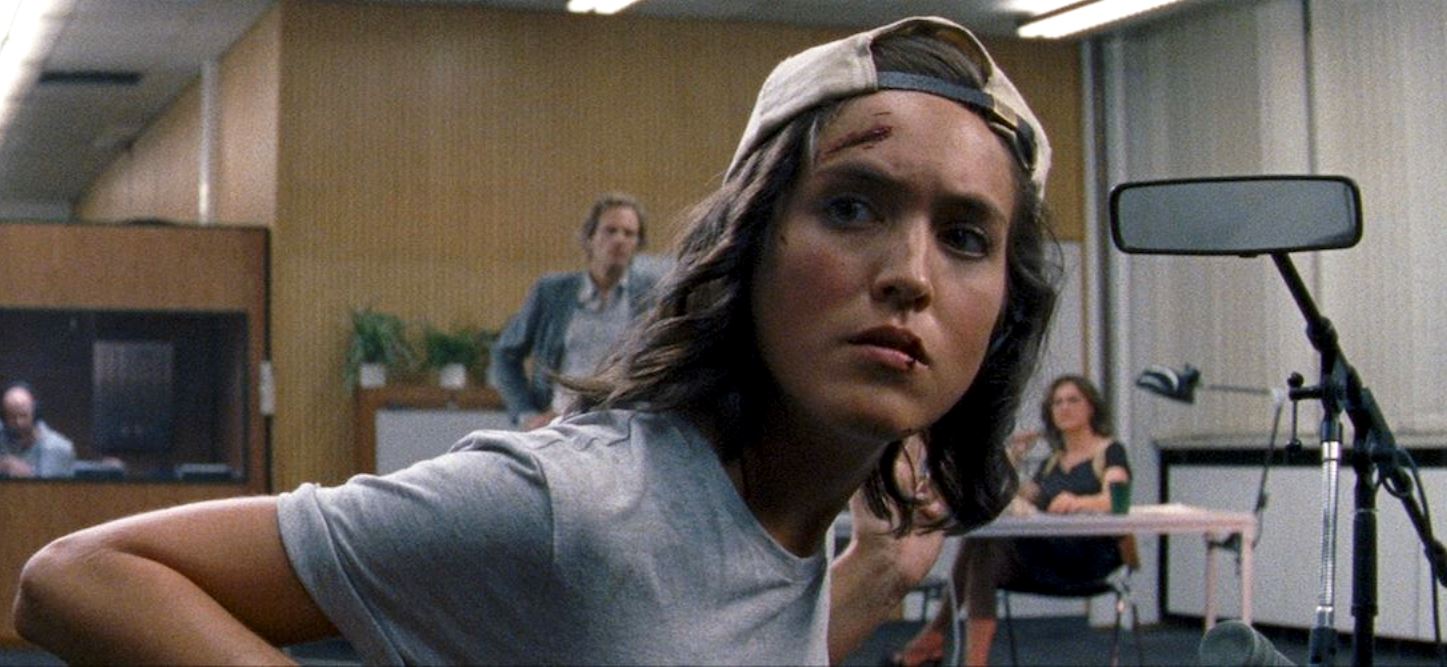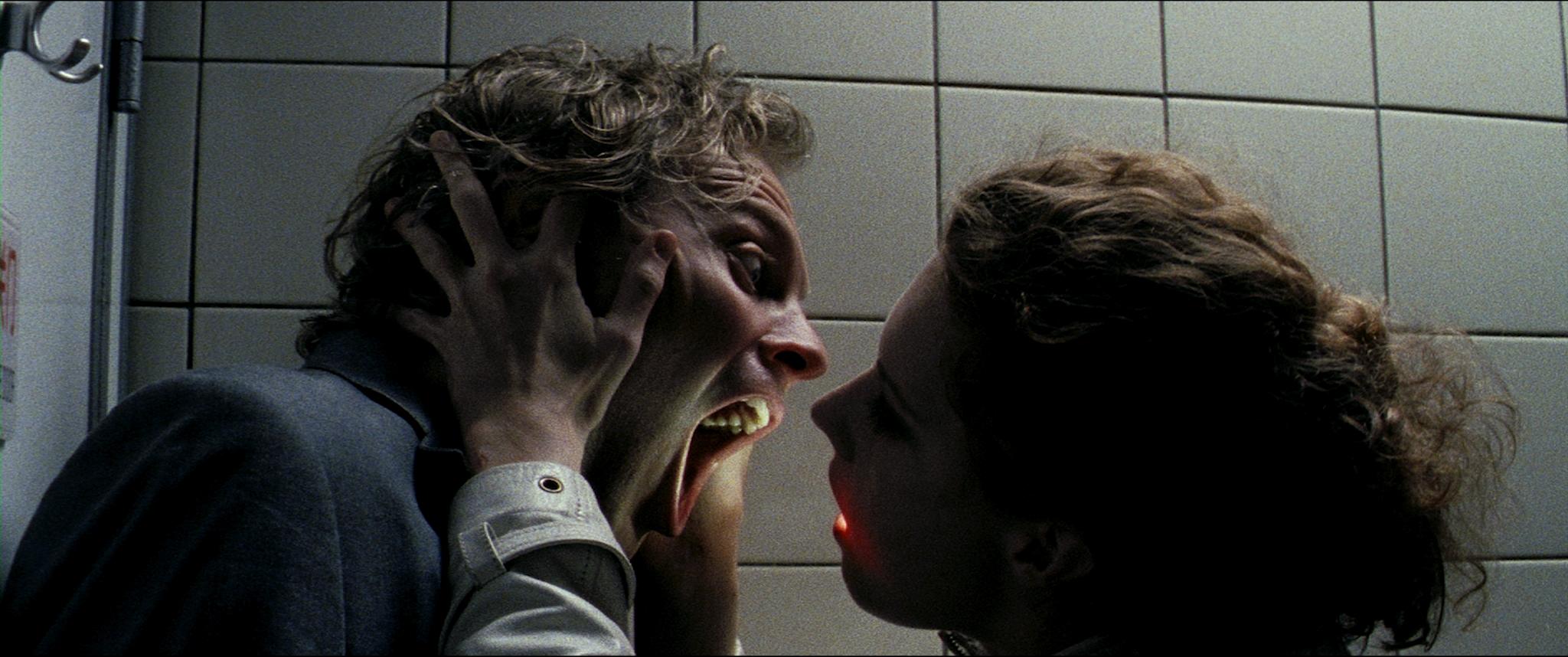 This is followed by even more puzzling scenes where the two detectives (Johannes Benecke and Nadja Stubiger) question Luana Velis. Interspersed with this are the scenes back at the bar where Julia Riedler sits down with Jan Bluthardt and begins drinking a strange series of cocktails while telling the story about her friend. At this point, some way into the film, you have no idea what is going on. If you have read the synopsis, you are even more puzzled trying to relate this to what is going on.
Things get even more strange when we get to the interrogation scenes. Here we have Jan Bluthardt's psychiatrist who has been taken over by Julia Riedler in the bathroom. He places Luana Velis's Luz into a hypnotic trance and gets her to re-enact what happened using chairs and a microphone as props. Julia Riedler, who we saw from the bar, turns up as the passenger in the backseat and occasionally seated a few chairs behind in the interrogation room. The scene flips and changes between the interrogation and flashbacks to events in the taxi. Things are made even more alienating due to the fact that the scenes with Luana are taking place in Spanish while being translated into German by Johannes Benecke in the cubicle behind them (and then being subtitled into English for us to read them).
Things become more outlandish as the possessed demon (?) emerges to take over Jan Bluthardt, the entire interrogation room is transformed into mist and the demon figure keeps changing between Bluthardt, Riegel and the girl from the original ceremony (Lilli Lorenz). It requires a considerable degree of mental agility to keep track of details and who is meant to be playing who and where things are meant to be happening according to the film's chronology – my viewing companion, for instance, gave up on the film two-thirds of the way through as being impossible to follow. However, keep up with it, and what you have is a possession and deviltry film quite unlike anything you have seen before.
---
Trailer here
---