---
Crew
Director/Screenplay – Maria Pulera, Producers – Eric Banoun, David Hillary & Maria Pulera, Photography – Thomas Hencz, Music – Jason Solowsky, Theme – Angelo Badalamenti, Special Effects Supervisor – David Waine, Production Design – Dins Danielsen. Production Company – Rise Up Productions.
Cast
Nicolas Cage (Joe Majors), Franka Potente (Julie Muller), Penelope Mitchell (Billie Muller), Garrett Clayton (Mike), Hopper Penn (Rick), Gwendolyn Mulamba (Nurse Astrid), Lydia Hearst (Mary Majors)
---
Plot
Truck driver Joe Majors stops at a gas station outside Mobile, Alabama while carting a haul to Biloxi. He intervenes to stop a man strangling a woman in a bathroom stall. He then agrees to give the woman, German immigrant Julie Muller, a ride to the hospital where her teenage daughter Billie has been taken following a motorcycle accident. Julie explains that what was happening in the bathroom was not what Joe thought was the case. She has the ability to astrally travel but only when she is in a state of near death and was trying to do so in order to aid Billie. Joe strangles her to help her complete the task. Afterwards, Julie invites him home and they have sex. He stays on for several days and helps around the house as Billie returns home. Joe goes on to deliver his haul but his truck is confiscated because he is three days late. With nowhere to go, he accepts Julie's offer to come and stay. There however Billie makes increasing sexual advances on him. She then reveals that Billie died in the hospital and that she is Joe's late wife Mary who has returned to inhabit Billie's body.
---
Between Worlds was the second film for Maria Pulera who had previously made the thriller Falsely Accused (2016). It is the oddity of what would otherwise by a B film being cast with an A-lister like Nicolas Cage and another well known name like Franka Potente.
Nicolas Cage is an actor that can always command an A-list payslip but the 2010s have been an odd period for him. You get the impression that Cage has an overdue tax bill to pay off and has started appearing in some really trashy junk where he hasn't bothered to read the script just to pay the bills – see the likes of Left Behind (2014), Pay the Ghost (2015), The Humanity Bureau (2017) and Jiu Jitsu (2020). It is also a period where these less-than-A budgeted Cage films have thrown out some interesting oddities like Mom & Dad (2017), Mandy (2018), Color Out of Space (2019), Pig (2021), Prisoners of the Ghostland (2021Prisoners of the Ghostland (2021), Willy's Wonderland (2021) and The Unbearable Weight of Massive Talent (2022) where you feel like Cage has chosen the scripts that offered the most demented results. I am not quite sure where Between Worlds belongs amid these.
Whatever his reasons for signing on here, Nicolas Cage uses the opportunity to let all stops go and give a completely lunatic performance. And when he does so is when he is usually at his most entertaining even if the film often collapses around him. Between Worlds is going to go down as some kind of future trash classic as a result. It is filled with prize Nic Cage moments. Bursting into a gas station bathroom stall to save Franka Potente from being strangled, he yells at her attacker: "Next time, go wrestle a mangator." Franka tries to explain the situation isn't quite what he thinks it is and Nic's response is: "What the hell does that have to do with getting strangled?" while gesticulating and waving his hand at her like a claw.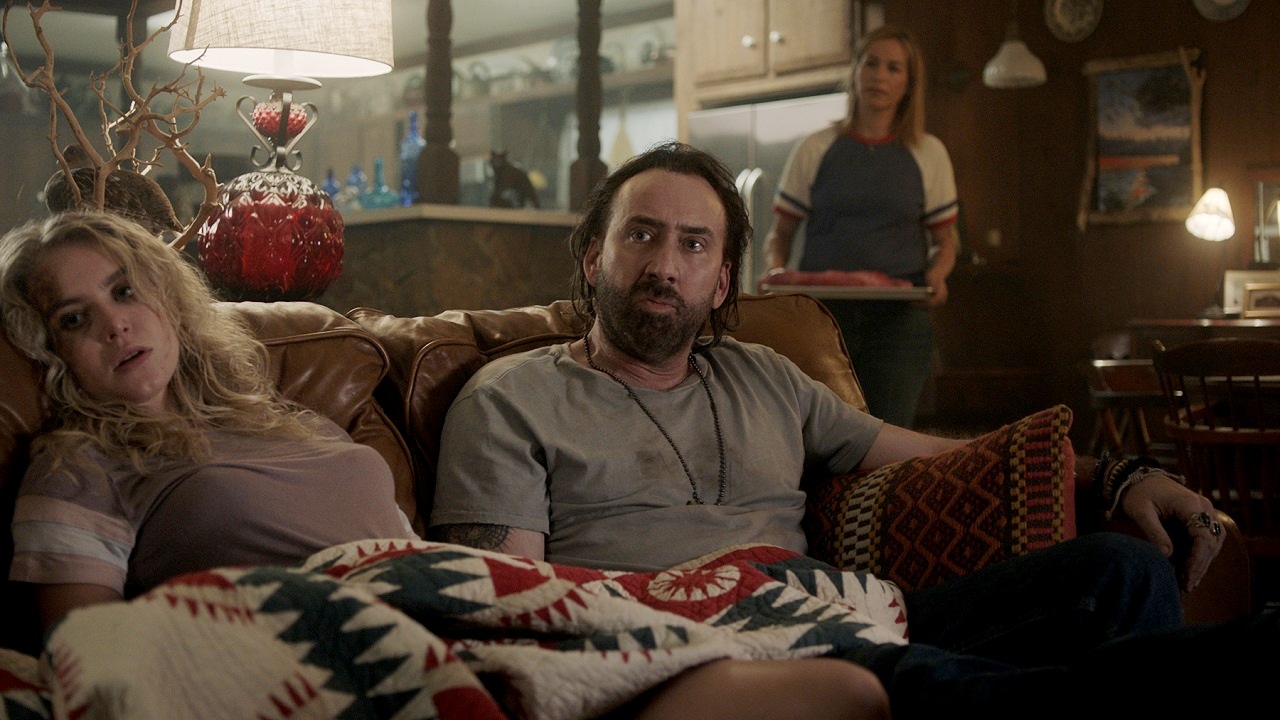 There are other pieces of classic Nicolas Cage expostulatory dialogue: "That's dogshit. That's not even bullshit, that's just dogshit." Or learning that his truck has been confiscated for late fees: "You're taking my truck? A man without a truck isn't a man." Asked by Franka "Do you want a beer?" his response is "Does the Tin Man have a steel metal cock?" In other scenes, we have Nic giggling like a madman while getting stoned with Franka and then the hilariously bizarre image of him reading poetry while having sex (if you look closely his readings come from a book called 'Memories by Nicolas Cage'). Upon the claim by Penelope Mitchell's teenager that she is possessed by the spirit of Nic's late wife, his response is: "Mary's dead so you have some respect for my wife or I'll spank it into you." It is the deadpan intensity of Nic's delivery that makes these lines side-splitting.
The astral projection scenes are standard B-movie stuff (albeit elevated by the dementia of Nic's performance). The latter half of the film gets a whole lot more interesting due to Penelope Mitchell as the daughter possessed by Nicolas Cage's late wife. Mitchell gives a sultry performance that positively burns up the screen. In one of the more entertainingly outrageous scenes, she starts jerking Nic off under a blanket while he is seated beside her on a couch and mother Franka Potente is preparing dinner unaware on the other side of the kitchen nook.
The film's hilarious ending has most of the characters gathered in an abandoned house while Nic sits in a corner and cranks the handle to wind up his late daughter's music box while sobbing with melodramatic exaggeration. In the next moment, he douses himself in gasoline and then lights a match, allowing the whole house to go up in flames. As this is happening, for some reason The Shangri-Las' Leader of the Pack (1964) plays on the soundtrack.
---
---